By Harley Lond - 09/08/20 at 12:40 AM CT
THIS WEEK'S BEST BETS
In "Graveyards of Honor" (1975/2002 -- Japanese) Two peerless masters of Japanese cinema - Kinji Fukasaku ("Battles without Honor and Humanity," "Battle Royale") and Takashi Miike ("Dead or Alive," "Audition") - present their own distinctive adaptations of yakuza expert Goro Fujita's gangster novel "Graveyard of Honor," each tapping into the zeitgeist of a distinct period of Japanese history. Set during the turbulent post-war years, Fukasaku's original 1975 film charts the rise and fall of real-life gangster Rikio Ishikawa (Tetsuya Watari). Shot through with the
same stark realism and quasi-documentarian approach as Fukasaku's earlier "Battles Without Honor and Humanity," Fukasaku nonetheless breaks new ground through his portrayal of a gangster utterly without honor or ethics, surviving by any means necessary in a world of brutal criminality. Meanwhile, Miike's 2002 retelling transplants the story to Tokyo at the turn of the millennium. Less a direct remake of Fukasku's film than a radical reimagining of the same overarching premise, Miike's film captures both the hedonism and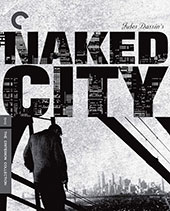 nihilism of the modern Japanese crime scene in deliriously stylish fashion, resulting in a fascinating companion piece to the original that nonetheless stands as its own entity. Graveyards of Honor
is available on Blu-ray. in a limited edition two-disc set package featuring newly commissioned artwork by Ian MacEwan; illustrated collector's booklet featuring new writing on both films by Jasper Sharp as well as copious other bonus features. From Arrow Video/MVD Entertainment ... "There are eight million stories in the Naked City," as the narrator immortally states at the close of this breathtakingly vivid film —- and this is one of them. Master noir craftsman Jules Dassin and newspaperman-cum-producer Mark Hellinger's dazzling police procedural "The Naked City
" (1948) was shot entirely on location in New York. Influenced as much by Italian neorealism as it is by American crime fiction, this double Academy Award winner remains a benchmark for naturalism in noir, living and breathing in the promises and perils of the Big Apple, from its lowest depths to its highest skyscrapers. On Blu-ray, with new 4K digital restoration by TLEFilms FIlm Restoration & Preservation Services, with uncompressed monaural soundtrack. From The Criterion Collection ...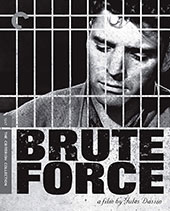 As hard-hitting as its title, "Brute Force
" (1947) was one of Jules Dassin's first forays into the crime genre, a prison melodrama with a scathing critique of the punitive American incarceration system at its heart. Burt Lancaster is the timeworn Joe Collins, who, along with his fellow inmates, lives under the heavy thumb of the sadistic, power-tripping guard Captain Munsey (a riveting Hume Cronyn). Only Collins's dreams of escape keep him going, but how can he possibly bust out of Munsey's chains? Matter-of-fact and ferocious, "Brute Force" builds to an explosive climax that shows the lengths men will go to when fighting for their freedom, and asks the question of who society's real brutes are. On Blu-ray, with new 4K digital restoration by TLEFilms FIlm Restoration & Preservation Services, with uncompressed monaural soundtrack. From The Criterion Collection.


BUZZIN' THE 'B'S:
Several years after their son's disappearance, a grieving couple adopts a feral boy, who begins to eerily resemble their child more with each passing day in
"Evil Boy
(aka Stray)"
(2019 -- Russia) . starring Elena Lyadova, Vladimir Vdovichenkov and Sevastian Bugaev. While the mother believes they have found their son, her husband is certain that he died. As strange accidents begin happening around the boy, the pair soon wonders whether they've adopted something not entirely ... human. With English subtitles and dub. From Well Go USA ... In
"Ballbuster
"
(2020), starring Jerry O'Connell, Elisabeth Röhm and Luenell, Rich (O'Connell) is an entitled all-star basketball icon who is suspended from the league just before the final championship due to poor judgment. If he wants another chance to play in game seven, he has
to tour with a charity league team of castoffs. In the "unfortunate" process, he encounters the most bizarre on-road experiences, endures wacky consequences and faces his craziest challenges yet. From Indican Pictures ... In
"Range Runners
"
(2019), starring Celeste M Cooper, Sean Patrick Leonard, Michael B. Woods and Tiffany Renee Johnson, a woman thru-hiking an isolated trail runs into trouble when her pack is hijacked by two men hiding out in the woods, desperate and on the run. Now, stranded and left to fend for herself, she has a choice: crawl back to her normal life in defeat, or push forward and take back what was stolen from her. From Dark Star Pictures/Uncork'd Entertainment ... In
"Retaliation
"
(2017), starring Orlando Bloom, Janet Montgomery, Charlie Creed-Miles and Anne Reid, Bloom stars as Malky, a demolition worker whose life receives a seismic shock when, out drinking with friends at a local pub, he sees a disturbing figure from his past: the man he holds responsible for a traumatic childhood incident. Fueled by anger, Malky sets out on a path of vengeance — and discovers that no one can escape the consequences of their sins. On DVD, Blu-ray, from Lionsgate ... In
"First Cow
"
(2019), starring John Magaro, Orion Lee,Toby Jones, Ewen Bremner, René Auberjonois and Alia Shawkat, two travelers, on the run from a band of vengeful hunters in the 1820s Northwest, dream of striking it rich — but their tenuous plan to make their fortune on the frontier comes to rely on the secret use of a wealthy businessman's prized dairy cow. With their scheme landing somewhere between honest ingenuity and pure grift,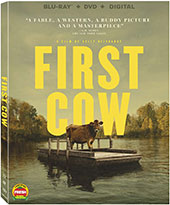 renowned filmmaker Kelly Reichardt finds a graceful and deeply moving origin story of America in their unlikely friendship and fragile life at the margins. The film world premiered at the Telluride Film Festival in August 2019 and screened to great acclaim at the New York Film Festival in September 2019 and the Berlin International Film Festival in February 2020. In a Blu-ray/DVD Combo from Lionsgate ... In
"Evil Under the Skin
"
(2019), starring Helene Udy, Carl Bailey, Tim O'Hearn, Donna Hamblin and Angela Barajas, a mother and daughter head off for a secluded weekend to reconnect but little do they know the sordid past of the home they're staying will drag them down into madness. From Midnight Releasing ... The
"Rob Zombie Trilogy
Steelbook"
includes the grizzled, horrifying films "House of 1000 Corpses," "The Devil's Rejects," and "3 From Hell." Baby Firefly, Otis Driftwood, Captain Spaulding, Sheriff Wydell, and Rob Zombie's other killer characters wreak havoc in the blood-soaked trilogy that made them famous. Two young couples cross paths with Otis Driftwood and the cannibalistic Fireflys while touring America's backroads in "House of 1000 Corpses" (2003). In "The Devil's Rejects" (2005), Sheriff Wydell deals with depraved, hostage-taking murderers holed up in a rundown motel in his uniquely unhinged way. Baby, Otis, and Captain Spaulding are finally put behind bars in "3 From Hell" (2019) ... but can evil really be locked away? On Blu-ray from Lionsgate.
ON THE INDIE FRONT:
In
"Straight Up
"
(2019), starring James Sweeney, Omar Guazzelli, Brendan Scannell and Katie Findlay, Todd is a hyper-articulate,
obsessive compulsive gay twentysomething whose fear of dying alone leads him to a baffling conclusion: he might not be gay after all. When he meets Rory, a whip-smart struggling actress with her own set of insecurities, the two forge a relationship that's all talk and no sex. Writer-director-star James Sweeney delivers a razor sharp rom-com that's equal parts Classical Hollywood and distinctly 21st century, exploring just how elastic our definitions of love and sexuality can get. From Strand Releasing ... In
"Up on the Glass
"
(2020), starring Chase Fein, Chelsea Kurtz and Hunter Cross, a wanderer named Jack DiMercurio secretly desires the life and wife of his more affluent friend, Andy Shelton. Past tensions surface between the two men during an informal reunion at Andy's cottage on Lake Michigan. One heinous act allows Jack to draw close to Andy's wife Liz, but Jack finds living Andy's life is a dangerous lie. On DVD, Blu-ray, from Gravitas Ventures.
FOREIGN FILMS:
"Pilgrimage
"
(2017 -- Portugal) is a remarkable imagining of the historic voyages of 16th-century explorer and writer Fernão Mendes Pinto, one of the first Europeans to sail to and travel the Orient -- India, Japan, and places in between. Pinto was a highly skilled writer and his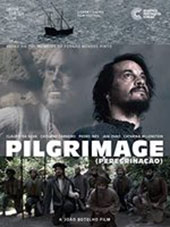 controversial memoir, "The Travels of Mendes Pinto," was published posthumously in 1614. The film is a lavish and sweeping epic imagining of these historic voyages. Hailing from the interior of Portugal, Pinto (Cláudio da Silva) wound up in Lisbon, where his uncle left him as a servant to a nobleman. In his mid-twenties, he ventured East, searching for both his brothers and a better fortune. The film details Pinto's unforgettable 20-year journey at sea and on land, and the film deftly combines literary storytelling and imagined family stories. Portugal's official entry for Best International Film, Academy Awards 2019. From IndiePix Films ... In
"Caro Diario
"
(1993 -- Italy), director Nanni Moretti recounts three entries from his "diary," a hilarious self-reflective comedy that follows the filmmaker's musing on cinema atop a Vespa, a trip to the Aeolian Islands to work on his new screenplay, and his search for health and wellness after breaking out with a nagging skin rash … all with the beautiful Italian scenery as a backdrop. Winner of Best Director at the 1994 Cannes Film, named "Best Film" by Cahiers du Cinéma, winner of the Italian Golden Globes and Italy's David di Donatello Awards, the FIPRESCI Prize at the European Film Awards and many more. In a new 2K digital restoration. On DVD, Blu-ray, from Film Movement.
FOR THE FAMILY:
"Superman: Man of Tomorrow
"
(2020) is the latest entry in the popular series of animated DC Universe Movies. It's the dawn of a new age of heroes, and Metropolis has just met its first. But as Daily Planet intern Clark Kent – working alongside reporter Lois Lane – secretly wields
his alien powers of flight, super-strength and x-ray vision in the battle for good, there's even greater trouble on the horizon. Follow the budding hero as he engages in bloody battles with intergalactic bounty hunter Lobo and fights for his life to halt the attack of power-hungry alien Parasite. The world will learn about Superman … but first, Superman must save the world. In a Blu-ray/DVD Combo, 4K Ultra HD/Blu-ray Combo, from Warner ...
"We Bare Bears The Movie"
(2020) is a TV movie based on the Cartoon Network's hit series. When the bears' love of food trucks and viral videos gets out of hand, it catches the attention of the menacing Agent Trout from the National Wildlife Control, who pledges to restore the "natural order" by separating them forever. Chased from their home, Grizz decides there's only one thing they can do to find refuge - move to Canada! The Bears embark on an epic road trip filled with new friends, dangerous obstacles, and massive parties. From Warner.
SPECIAL INTEREST:
"Swans: Where Does a Body End?"
(2019) is an intimate portrait of the band Swans, from their roots as a brutal, confrontational post-punk band that emerged from the same early 1980s era NYC that gave us Sonic Youth (and, somehow, Madonna) through their ill-fated bid at mainstream success in the 90s indie-rock gold rush, through breakups and chaos (on and offstage) to their odds-defying current status as one of the most accomplished and ambitious bands in the world, one whose concerts are more like ecstatic rituals than nostalgic trips back through their most popular songs. On DVD, Blu-ray, from MVD Entertainment.
Due September 11.
FROM TV TO DISC:
HBO's
"Bad Education
"
(2020), starring Hugh Jackman, Allison Janney, Geraldine Viswanathan, Alex Wolff, Rafael Casal, Annaleigh Ashford and Ray Romano, is the fascinating true story of one of the largest public-school embezzlement scandals in America. Inspired by the true story that rocked the town of Roslyn, NY in 2004 and garnered attention nationwide, the film centers on the stunning impact and aftermath of a multi-million dollar embezzlement scheme, and follows Frank Tassone (Jackman) and Pam Gluckin (Janney), who reign over a popular Long Island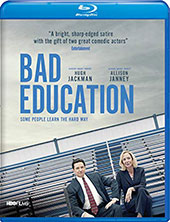 school district on the verge of the nation's top spot, spurring record college admissions and soaring property values. Between them, they racked up over $11.2 million dollars in extravagant personal expenses. On DVD, Blu-ray, from Warner ...
"Bull: Season Four"
(2019-20) is a four-disc set with all 20 episodes. Inspired by the early career of Dr. Phil McGraw, the founder of one of the most prolific trial-consulting firms of all time. Brilliant, brash and charming, Dr. Jason Bull is the ultimate puppet master as he combines psychology, human intuition and high-tech data to learn what makes jurors, attorneys, witnesses and the accused tick. His personal life proves harder to manage as he tries to live a healthier lifestyle following a heart attack and learns he is expecting a child with his ex-wife. Bull employs an enviable team of experts at Trial Analysis Corporation to shape successful narratives down to the very last detail. From CBS/Paramount ...
"Frankie Drake Mysteries, Season 3"
(2020) is a three-disc set with all 10 episodes. A slate of new adventures as the ladies of Drake Private Detectives take on more challenging cases and face off against some impressive foes in Toronto in the 1920s. From PBS Distribution ...
"Prodigal Son: The Complete First Season"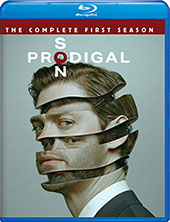 (2019-20) is a four-disc set with all 20 episodes. Criminal psychologist Malcolm Bright (Tom Payne) knows how killers think and how their minds work. Why? His father is "The Surgeon," a serial killer who has taken the lives of more than 20 people. He works with NYPD detective Gil Arroyo (Lou Diamond Phillips); Detective Dani Powell (Aurora Perrineau), a headstrong cop; Dr. Edrisa Tanaka (Keiko Agena), an off-center coroner; and Detective JT Tarmel (Frank Harts), who questions whether Bright is a psychopath himself. But Bright's best resource is his homicidal yet oddly loving father, Dr. Martin Whitly (Michael Sheen). As he helps track down dangerous criminals, Bright also battles his own demons – and it doesn't help that his mother, former leading socialite Jessica Whitly (Bellamy Young), has an opinion on every aspect of his life. Malcolm Bright isn't a serial killer, he was just raised by one. From Warner...
"Supergirl: The Complete Fifth Season"
(2019-20) is a four-disc set with all 19 episodes. In season five, Supergirl faces threats, both new and ancient. National City becomes enthralled with addictive virtual reality technologies created by CatCo's charming-but-secretive new owner, Andrea Rojas. As Kara uses the power of the press to try to expose this danger, she must contend with challenges put up by rival reporter William Dey, renegade Martian Malefic J'onzz, a shadowy organization called Leviathan, and the shocking return of Lex Luthor who, in addition to his plot for world domination, seeks to claim the soul of Supergirl's best friend (and his sister) Lena. On DVD, Blu-ray, from Warner.
Check out other new DVD/Blu-ray releases, streaming films, and information and reviews at OnVideo.
Comments