By Harley Lond - 04/14/20 at 06:42 AM CT
FROM THE BIG SCREEN:
"Underwater" and "Just Mercy."

THIS WEEK'S BEST BETS:
Widely recognized as the source of the Frankenstein myth, the ancient Hebrew legend of the Golem provided actor-director Paul Wegener with the substance for one of the most adventurous films of the German silent cinema, "The Golem" (1920). Suffering under the tyrannical rule of Rudolf II in 16th-century Prague, a Talmudic rabbi (Albert Steinruck) creates a giant warrior (Paul Wegener) to protect the safety of his people. When the rabbi's assistant (Ernst Deutsch) takes control of the Golem and attempts to use him for selfish gain, the lumbering monster runs rampant, abducting the rabbi's daughter (Lyda Salmonova) and setting fire to the ghetto. With its remarkable creation sequence (a dazzling blend of religion, sorcery and special effects) and the grand-scale destruction of its climax, "The Golem
" was one of the greatest achievements of the legendary UFA Studios, and remains an undeniable landmark in the evolution of the horror film. 4K restoration of German release version; music by Stephen Horne; music by Admir Shkurtai; music by Lukasz "Wudec" Poleszak. U.S. release version, with music by Cordula Heth. On DVD, Blu-ray, from Kino Classics ...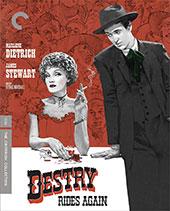 Marlene Dietrich and James Stewart ride high in the superb comedic western "Destry Rides Again
" (1939), both a boisterous spoof and a shining example of its genre. As the brawling, rough-and-tumble saloon singer Frenchy, Dietrich shed her exotic love-goddess image and launched a triumphant career comeback, while Stewart cemented his amiable everyman persona, in his first of many Westerns, with a charming turn as a gun-abhorring deputy sheriff who uses his wits to bring law and order to the frontier town of Bottleneck. A sparkling script, a supporting cast of virtuoso character actors, and rollicking musical numbers — delivered with unmatched bravado by the magnetic Dietrich — come together to create an irresistible, oft-imitated marvel of studio-era craftsmanship. On DVD, Blu-ray, with new 4K digital restoration by Universal Pictures in collaboration with The Film Foundation, with uncompressed monaural soundtrack on the Blu-ray. From The Criterion Collection ...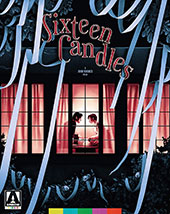 In his debut film as writer-director, "Sixteen Candles
" (1984), John Hughes immediately cemented himself as the king of teen cinema with "Sixteen Candles," and in the process also introduced one of the most iconic faces of 80s Americana: Molly Ringwald. For high schooler Samantha Baker (Ringwald), her 16th birthday might be the worst day of her life. Her entire family has forgotten about it due to her older sister's impending wedding; her biggest crush, high school hunk Jake Ryan (Michael Schoeffling) has discovered an embarrassing "sex quiz" filled out by Sam in which she details how she is saving herself for him; and to make matters worse, she is hounded by a relentless nerd (Anthony Michael Hall) who won't take no for an answer. But Sam's sweet sixteen isn't over yet, and before the end of the night, all her birthday wishes could still come true... Taking the rude and crude humor of the teen sex comedies that came before it and placing it within the intimately portrayed perspective of a girl's mid-teenage-life crisis, "Sixteen Candles" is a bombshell of 80s pop culture that continues to be debated and beloved over three decades after its release. New restoration from a 4K scan of the original negative. On Blu-ray from Arrow Video/MVD Entertainment ...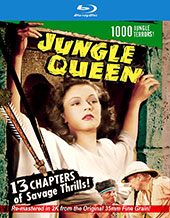 "Jungle Queen" (1945) is a 13-episode serial, making its appearance on Blu-ray for the first time, produced from a new 2K scan of the 35mm nitrate fine grain studio masters. During World War II, the Nazi High Command sends agents into the African jungle to stir up the local Tongghili tribes against the British Allies. This allows them to plant Commander Elise Bork, posing as a scientist, and her subordinate, Lang, within the Tambosa Experimental Farm. Along with the help of Maati, an evil rival tribesman, they search for the legendary "Secret Sword," which has mysterious powers. Two Americans, Bob Elliott (Edward Norris) and Chuck Kelly (Eddie Quillan) arrive to aid the Allies and meet Pamela Courtney (Lois Collier), who is looking for her father, an explorer who mysteriously disappeared. Bork and Lang feign friendship with the trio in order to find out what they know, before trying several ways to kill them. Their attempts always fail though, due to the well-timed appearances of Lothel (Ruth Roman), the beautiful and mysterious Queen of the Jungle, Tongghili's spiritual leader. In desperation, the Nazis try to kill Lothel by letting loose wild animals, and setting fire to the jungle. Lothel, however, walks through the flames unharmed and seems to tame even the wildest beast. And in the end, she helps end the Nazi terror and return peace to the jungle, before vanishing into a sheet of flame. From VCI Entertainment/MVD Entertainment.


BUZZIN' THE 'B'S:
In
"Lycanimator
"
(2018), starring Cayt Feinics, Joel D. Wynkoop and Briana Wyman, a group of friends break into an abandoned house for a weekend of partying only to discover a mad scientist in hiding ... who just happens to need subjects to try out his new monster-making formula. When some of that serum turns one of the group into a hungry, murderous were-beast, all hell breaks loose and everyone is on the menu. From Wild Eye Releasing/Music Video Distributors ...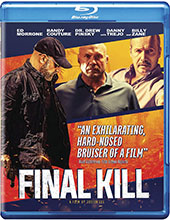 "Final Kill
"
(2020), starring Billy Zane, Randy Couture, Ed Morrone, Dr. Drew Pinsky, Danny Trejo and Johnny Messner, is an action-packed thriller about a mercenary hired to protect a couple hiding out in Central America from a ruthless crime family. This final assignment as a protector quickly turns deadly as a group of mafia henchman descend on the tranquil Costa Rican village. Soon the agent learns that the job is far more than it seems, and it will take all his experience to get them out alive. On DVD, Blu-ray, from Cinedigm ... There is a real-world phenomenon where strange, mysterious sounds ring across towns or regions heralding the arrival of something otherworldly. These haunting sounds happen across the globe and when heard, people disappear or die. In
"Infernum
"
(2020), starring Suziey Block, Clinton Roper Elledge, Sarah Schoofs and Michael Barbuto, Camille Williams has been hunting this phenomenon since the disappearance of her parents, and now that she has tracked the sound down, all hell breaks loose. From Indican Pictures ... In
"Raiga: God of the Monsters
"
(2009 -- Japan), starring Yukijiro Hotaru, Ryan Davies and Manami Enosawa, global warming leads to excessive melting of the southern polar ice cap, disrupting the Earth's ecosystem. The receding ice brings long dormant ancient sea creatures back to life, monsters that set their sights on Japan. Among the kaiju is an enormous sea beast the locals refer to as the legendary Raiga. The monster attacks the city of Asakusa, bringing death and destruction as he tramples building and lays waste to the military. Can Raiga be stopped, or will all of Japan be destroyed by his fury? From SRS Cinema/Music Video Distributors.
ON THE INDIE FRONT:
In
"Goldie
"
(2019), Goldie (Supermodel Slick Woods) is a star -- well, not quite yet, but at least in the eyes of her little sisters Sherrie and Supreme she is. The rest of the world is bound to take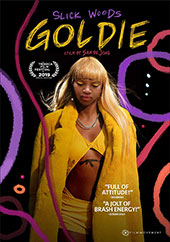 note soon too. Her big break surely awaits, she's just got to pick up that golden fur coat she's had her eye on first. And land a role as a dancer in a hip-hop video. And keep child welfare services from separating her from Sherrie and Supreme, after their mother is locked up. Holding onto those dreams isn't easy when fate has placed such daunting obstacles in her path. Dutch director Sam de Jong has delivered a real New York film: raw and glamorous, unflinchingly realistic and relentlessly optimistic, with a ton of heart and at least as much attitude. From Film Movement.
FOREIGN:
"Ricordi?
"
(2018 -- Italy) is a long love story, seen through the memories of one young couple: recollections altered by moods, their different perspectives, and time itself. The journey through the years of two individuals, united, divided, happy, unhappy, deeply in love, or in love with others, in a single stream of emotions and shades of feeling. Over the course of the film, he learns that love can indeed last, while she learns to live with nostalgia. Their memories, as well, change over time: fading or else bursting with happiness, in a present that fast slips away, becoming memories. Stars Luca Marinelli, Linda Caridi and Giovanni Anzaldo. From Icarus Films.
FOR THE FAMILY:
Is America's greatest super-spy living in your backyard? Bret and Kate don't think so until they learn that their beloved pet dog Toby is a secret agent working for the U.S. government. In
"Agent Toby Barks
"
(2020), with the voices Jon Lovitz, Dean Cain, Charlotte Ciano, Jonah Coppolelli, the two teen kids must join forces with their talking, fighting, computer-hacking pooch to rescue their beloved Auntie B—who's also a spy—from a mad villain who wants to use B's crazy inventions to rule the world. From Lionsgate.
FROM TV TO DISC:
"Balthazar, Series 1"
(2018 -- France) is a two-disc set with six episodes of the mystery procedural that follows the suave, smart, and somewhat strange, Raphaël Balthazar, who can make the dead speak like no one else. As a forensic pathologist in Paris, he works with chief inspector Hélène Bach to solve the city's most disturbing crimes. But there's one case that continues to haunt him--the murder of his wife over a decade ago. From Acorn Media ...
"The Heart Guy, Series 4"
(2019) is a three-disc set with all 10 episodes of the series, akin to an Aussie "Doc Martin" with its fish-out-of-water premise and eccentric characters, that follows Hugh Knight, a rising star in the Sydney heart-surgery ranks. Hugh is gifted,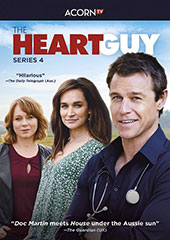 charming, and seemingly infallible, but after an incident involving drugs and alcohol, he's forced to practice as a GP in his rural hometown and deal with his complicated family situation. From Acorn Media ...
"The Righteous Gemstones: The Complete First Season"
(2019) is a two-disc set with all nine episodes of the series that centers on the Gemstones, a celebrity televangelist family behind a popular megachurch that is also a major money-making enterprise. Danny McBride stars as Jesse Gemstone, the eldest of three grown Gemstone children, who sees himself as a maverick in the ministry game but, as the series begins, receives a blackmail video that could put his reputation at risk. Getting caught up in the hunt for the blackmail culprits are Jesse's sister Judy (Edi Patterson), who is secretly "living in sin" with her fiancé and dreams of escaping the Gemstone compound, and Jesse's youngest sibling Kelvin (Adam Devine), a pseudo-hipster who always finds a way to get under his brother's skin. From Warner ...
"V: The Final Battle"
(1984) is a two-disc set. Is there life out there? Finally, we know. Because they are here. Alien spacecraft with humanlike passengers have come to Earth. They say they come in peace for food and water. The water they find in our reservoirs. The food they find walking about everywhere on two legs. That saga that began with "V" now culminates in a struggle to save the world in V: The Final Battle. Sci-fi film stalwarts Marc Singer, Robert Englund and Michael Ironside head a large cast in this tense adventure that leaps from the stunning revelation of reptilian beings concealed by human masks to the birth of the first human/alien child to the harrowing countdown to nuclear doomsday. The future begins or ends here. On Blu-ray from Warner.
Check out other new DVD/Blu-ray releases, streaming films, and information and reviews at OnVideo.
Comments