By Chris Kavan - 03/15/20 at 06:21 PM CT
The biggest news for the weekend doesn't concern any of the new wide releases, but rather the pandemic that is Covid-19. As concerns over the fast-spreading virus have ballooned, it has affected pretty much everyplace people gather in groups - including movie theaters. With production shut down on several films and TV series, this is the last week for wide releases in quite awhile as, for now, the next film scheduled is Trolls World Tour, which won't drop until April 10th. Meanwhile, AMC and Regal have both began instituting 50% capacity rules and it remains to be seen if theaters will remain open at all as countries like China, Italy and France have shut down all chains which, of course, has also affected the international box office. Given the unprecedented nature of the reaction in the modern era, people are hunkering down and given the result of this week's box office, the outlook is grim for at least the next month - and perhaps for much longer depending on how things play out. As it stands, the box office has the lowest week even since 1995 and each holdover dropped 60% or more and things aren't going to get better from here.

1) ONWARD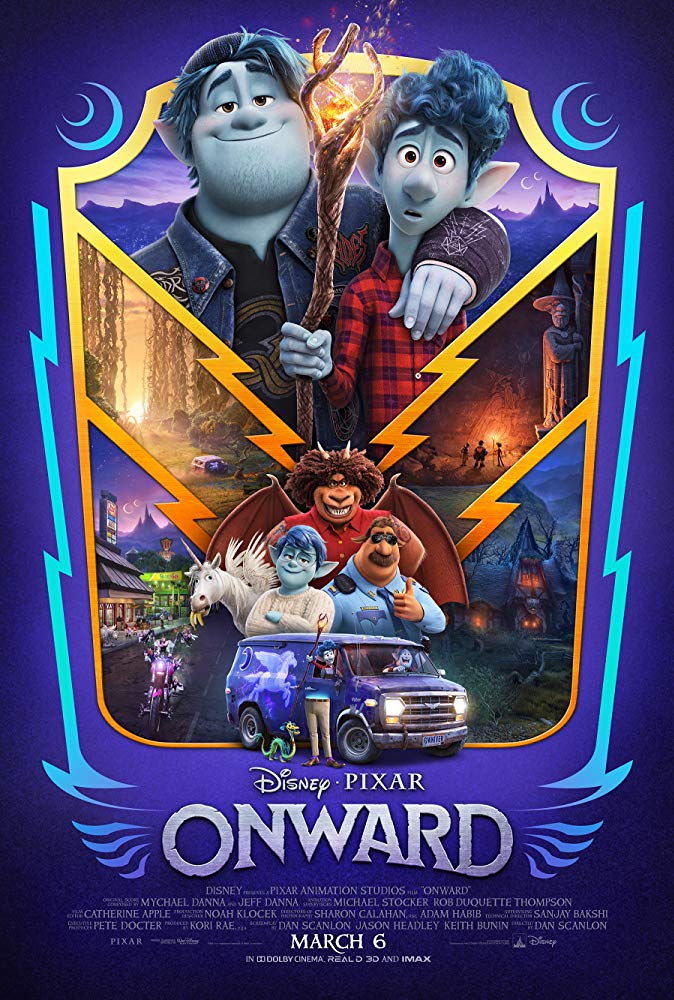 After a somewhat muted opening, Onward was the biggest loser due to Covid-19, dipping just over 73% in weekend two - a record drop for a Pixar film (easily worse than the 60% for Good Dinosaur) with a $10.5 million weekend and a new $60.2 million total. It is performing right in line with Good Dinosaur - as that film has $63 million after twelve days. That is not exactly the comparison Pixar was hoping for - but the filmmakers could obviously not have anticipated a global pandemic to contend with. And, with global markets either scaling back or closing entirely, it earned just $6.8 million overseas for a $101.7 million global total. This one looks like it's going to fall short of $150 million worldwide at this point, underscoring just how serious the current situation is for Hollywood.
2)
I STILL BELIEVE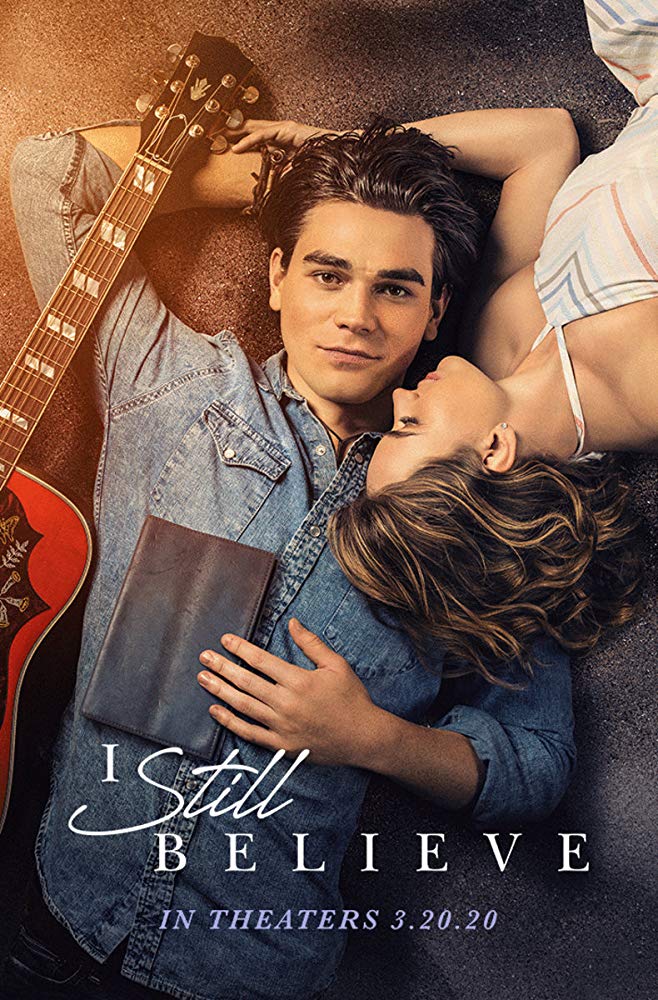 Given the situation, I Still Believe had a relatively robust opening, earning $9.5 million that, while short of expectations, was still within striking distance for the Christian-themed romance. Audiences in the Midwest and South were the main factor in its success, and audiences gave the film an "A" Cinemascore and was made up of 74% female with 73% coming in age 25 or older. Compared to like films in the past, I Still Believe opened along the same lines as Overcomer ($8 million), Breakthrough ($11 million), The Star ($9.8 million) and War Room ($11 million) while coming in under the likes of The Shack ($16 million) and I Can Only Imagine ($17 million). Had the virus not tempered expectations, I'm assuming I Still Believe would have opened in the $15-$17 million range but, given the circumstances, I still consider this opening a relative win for a more niche title. That being said, in many cases, Christian-themed films tend to be quite front-loaded and with holdover suffering such big losses, I don't see a big second weekend in its future. Of note this was the first faith-based film to open in IMAX theaters. Even if it falls flat in the coming weeks, it should be able to top its reported $10 million budget and become at least a minor hit.
3)
BLOODSHOT
If Onward was the biggest loser among holdovers due to the virus, Vin Diesel's latest action film, Bloodshot, was the biggest loser among new releases. And it's not really so much the domestic debut (where it hit $9.3 million), no, Bloodshot was hit hardest by the low overseas debut. Diesel has not proven that big of draw in the U.S. outside of the Fast and Furious franchise, with films like Last Witch Hunter opening to $10.8 million and even bigger films like Riddick or xXx: The Return of Xander Cage only flirting with $20 million. No, Diesel gets his biggest support on the international front where Last Witch Hunter made 82% of its total grosses overseas, while xXx 3 was 87% total overseas. Bloodshot, however, can't rely on that bump and thus the $42 million film (meant to jump start a potential Valiant comic franchise) is DOA. Audiences like it more than critics (78% on Rotten Tomatoes vs. 31% for critics) and awarded it an OK "B" Cinemascore but with just $13 million overseas, its cinematic potential is going to be heavily blunted by the ongoing pandemic.
4)
THE INVISIBLE MAN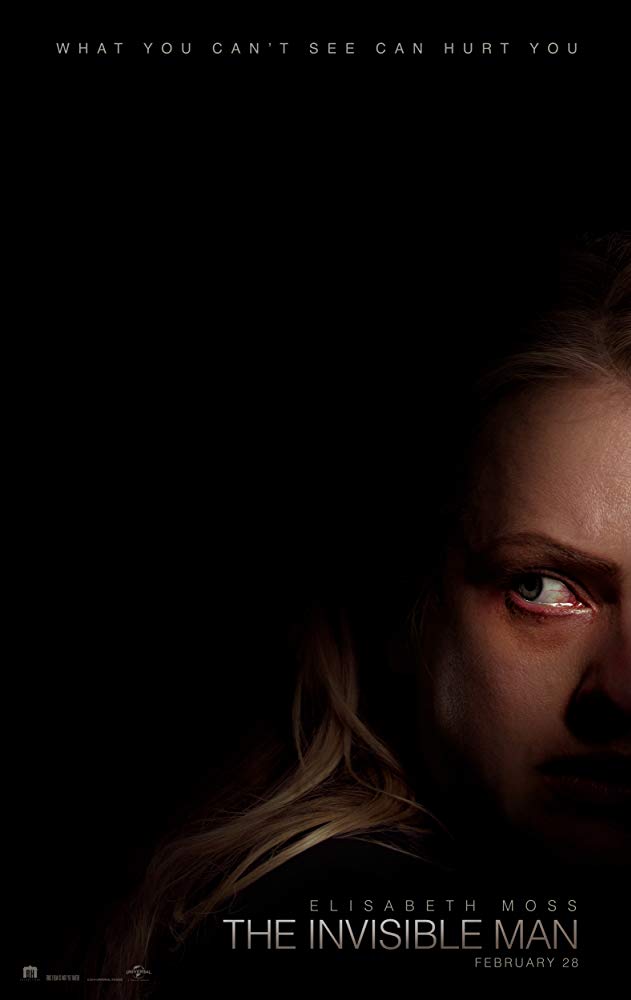 With a minuscule drop of JUST 60%, Blumhouse's Invisible Man had the best hold out of any film in the top 12, earning $6 million and bumping its total up to $64.4 million. The $7 million film still has a good shot of topping $75 million, even amidst Covid-19, but even if it falls short, with $122 million worldwide, this is definitely a hit and one of the few bright spots among new entries and looks to remain that way into the spring. Out of all the films, I dare say Invisible Man might have the best chance at weathering the storm. That's not going to say it won't suffer like every other film currently in theaters... just maybe not quite as muc.
5)
THE HUNT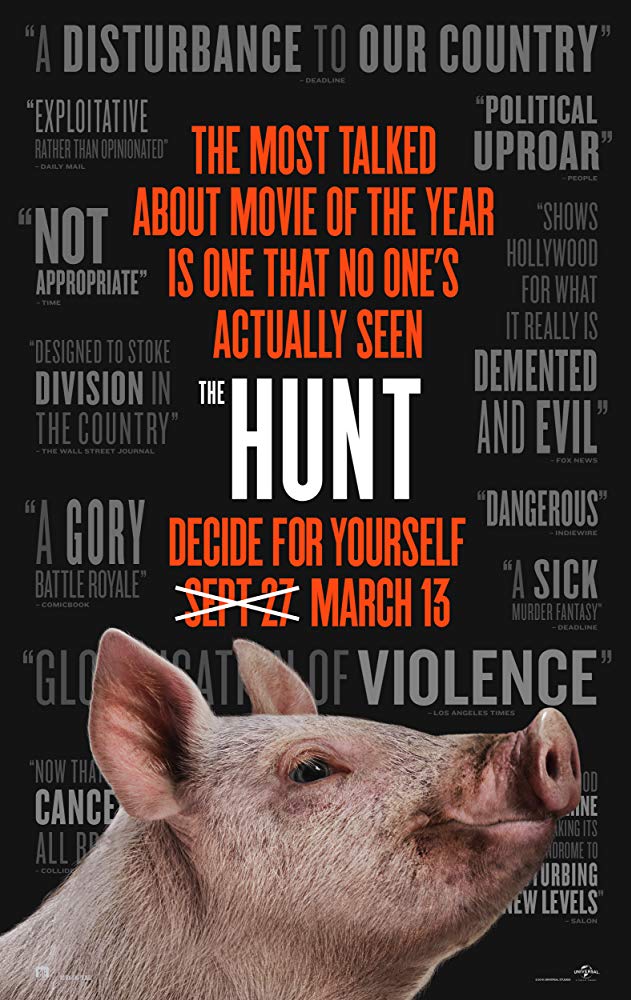 All the controversy surrounding the release of The Hunt didn't translate to audience interest as the film could only scare up a $5.32 million opening. All the controversy surrounding this was drowned out by an even bigger issue (which has been mentioned enough at this point) and thus audiences were ambivalent (with a "C+" Cinemascore and 65% Rotten Tomatoes rating) and critics were even less impressed with a 54% rating. It couldn't top the third weekend out for Invisible Man and opened about in line with Black Christmas (which wound up with $10.4 million) - thus I don't think The Hunt is long for this theatrical world, especially in this environment. It only launched in four overseas market with a $673k to show for it.
Outside the top five: Those thinking that only wide releases would be affected by the current pandemic are woefully wrong as even the limited releases came in well under expectations - even though that earned praise from festivals. Thus a powerful film like Never Rarely Sometimes Always earned just $18,000 from four theaters for a $4,500 per-theater average - well short of what it would normally bring in.
Next week - and for at least three more after - there are no new wide releases. A Quiet Place: Part II, Mulan, Antlers, New Mutants, The Lovebirds and Peter Rabbit 2 have all been postponed with many not even having new release dates yet. That leaves horror film Saint Maud and Trolls World Tour - both opening April 10th - as the closest new release dates scheduled (for now). As such, there will be no weekend blog previews unless something changes, through the MPAA Ratings Bulletin and Box Office blogs will go on as scheduled as long as theaters continue to remain open.
Comments