By Chris Kavan - 02/05/20 at 07:52 PM CT
It has been pretty much that same at the box office over the past few weeks, as no newcomers have been able to challenge the might of Bad Boys and 1917 atop the food chain. All that is about to change, however, as Margot Robbie is back as Harley Quinn - and she's brought some friends along - for Birds of Prey. With lots of energy to go around, this is going to have no problem topping the box office - the only question is how big will it open and how it will compare to other films in the superhero genre.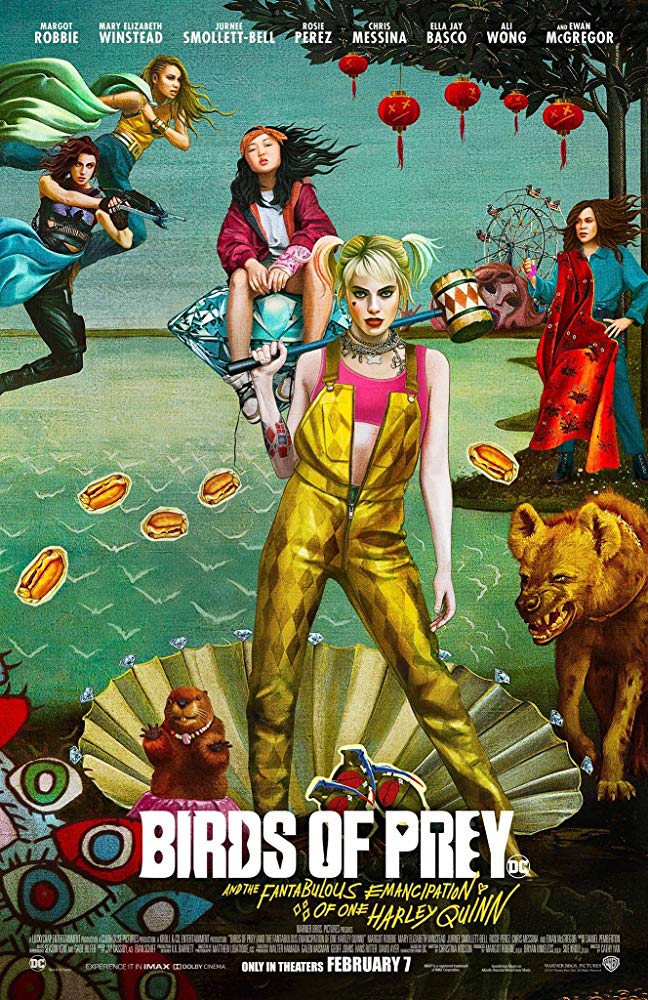 BIRDS OF PREY
It has been awhile since we've had a film that could be called a true blockbuster. Yes, Bad Boys and 1917 have been strong, but the two biggest films in the top 10 at this time: Jumanji and Star Wars - both came out last year. Thus 2020 has been begging for something big and Birds of Prey looks to deliver. Margot Robbie once again portrays the off-the-rails Harley Quinn - Joker's maniac side-kick who has apparently tired of the Clown Prince of Crime (that or he's dead - I'm not up to speed on what's happening here), and has decided to go solo. But just because she's ditched the Joker doesn't mean she's going to be solo for long, for Birds of Prey is all about girl power and soon we get The Huntress (Mary Elizabeth Winstead), Black Canary (Jurnee Smollett-Bell) and driven cop Renee Montoya (Rosie Perez) who find themselves forming an unlikely team when the narcissistic villain Roman Sionis (Ewan McGregor), along with his right-hand man Victor Zsasz (Chris Messina) kidnap Cassandra Cain (Ella Jay Basco) and the whole city is put on high alert to find her. The foursome make a formidable, quite unpredictable group and they won't stop until they deliver their unique brand of justice. The DCEU has been getting better and better since the massive disappointment of Justice League. And, with a (current) 90% Fresh rating on Rotten Tomatoes, it trails just Wonder Woman in terms of critical reception. I'm excited - this looks like loads of fun and certainly seems on better footing than the uneven Suicide Squad. Hopefully this continues the upward trend.
Birds of Prey should provide some much-needed box office fireworks this weekend. I'll be back on Sunday (after the Academy Awards, of course) to break down the box office.
Comments