By Harley Lond - 12/03/19 at 07:42 AM CT
FROM THE BIG SCREEN:
"Ready or Not," an entertaining, tongue-in-cheek horror thriller about a young bride (Samara Weaving) who competes in a time-honored tradition with her new husband (Mark O'Brien) and his insanely rich and eccentric Le Domas family (Adam Brody, Henry Czerny, and Andie MacDowell). The bride's wedding night takes a turn for the worst when she realizes she is at the center of a lethal game of "Hide and Seek" and must fight her not-so-lovable in-laws for her own survival. Ready or Not
comes trom Fox.


THIS WEEK'S BEST BETS:
Past, present and future collide in darkly satirical fashion in
"Slaughterhouse-Five
"
(1972). Based on Kurt Vonnegut's classic 1969 novel, this tale of time travel and alien abduction emerged as part of a wave of more cerebral science-fiction films in the late 60s to early 70s, elevating the genre beyond the B-movie fare of previous decades. Upstate New York, 1968: Mild-mannered Billy Pilgrim (Michael Sacks) finds himself "unstuck in time." Traveling
back and forth across the entire span of his existence, he experiences key events of his life in a random order, including his formative years, the firebombing of Dresden and finally, at some undefined point in the future, his surreal adventures on a distant planet. Praised by Vonnegut himself for its fidelity to his novel, "Slaughterhouse-Five" boasts assured direction by George Roy Hill. Hill was a idiosyncratic director, moving from such early films as the pat comedy "Period of Adjustment" to Lillian Hellman's "Toys in the Attic" to the offbeat "The World of Henry Orient" before hitting the jackpot with "Butch Cassidy and the Sundance Kid." "Slaughterhouse-Five" followed on that success but was not as enthusiastically received. "The Sting" restored Hill's position as a bankable director, and he went on to direct several more unusual projects, including the Paul Newman-starrer hockey film "Slap Shot" and an adaptation of John Irving's "The World According to Garp." Restored in 4K from the original camera negative, "Slaughterhouse-Five" features a memorable score by renowned concert pianist Glenn Gould. Stars Michael Sacks, Perry King, Valerie Perrine, Ron Leibman and Eugene Roche. On Blu-ray from Arrow Video/MVD Entertainment ...
"Joan the Maid
"
(1994 -- France), master filmmaker Jacques Rivette's ambitious historical epic about Joan of Arc, originally released in 1994, stars modern screen icon Sandrine Bonnaire as the young 15th century warrior who became a martyr and French national hero. For "Joan the Maid: The Battles," the first installment of his ambitious yet restrained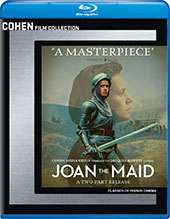 two-part study, director and co-screenwriter Rivette surveys the revelatory period where Joan met with royalty, joined the army and led the French into battle against the English. As Joan, Bonnaire gets at the reality behind the legend, showing the matter-of-fact courage of a teenage girl. "Joan the Maid: The Prisons," the second part of Rivette's diptych, brought Bonnaire a César Award nomination for her powerful performance, as she plays out windows in the final two years of Joan's life, from battlefield victory, to prison life, to horrific execution at the stake. Film critic-turned-filmmaker Rivette (1928-2016) was one of the pioneering figures of the French New Wave, but one whose work stood out in unique ways -- marked by improvisational performances, loose narratives and lengthy running times -- as he altered the cinematic landscape throughout his long career. His "Paris Belongs to Us," "L'Amour fou," "Celine and Julie Go Boating," "Le Pont du Nord," "La Belle Noiseuse" and the 13-hour "Out 1" are revered touchstones of modern art cinema. New 4K restoration, from Cohen Film Collection ...
"The Story of Temple Drake
"
(1933), loosely adapted from William Faulkner's controversial novel "Sanctuary," is a notorious pre-Code melodrama that stars Miriam Hopkins as Temple Drake, the coquettish granddaughter of a respected small-town judge. When a boozehound date strands her at a bootleggers' hideout, Temple is subjected to an act of nightmarish sexual violence and plunged into a criminal underworld that threatens to swallow her up completely. Steeped in Southern-gothic shadows by influential cinematographer Karl Struss and shot through with moral ambiguity, "The Story of Temple Drake" is a harrowing vision of sin and salvation that boasts an astonishing lead performance from the fiery Hopkins, whose passage through the stations of terror, trauma, and redemption is a true tour-de-force of screen acting. High-definition digital restoration. On DVD, Blu-ray Disc with uncompressed monaural soundtrack on the Blu-ray, from The Criterion Collection ...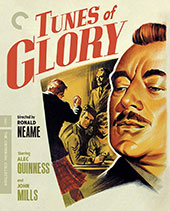 In Ronald Neame's
"Tunes of Glory
"
(1960), the incomparable Alec Guinness plays Jock Sinclair -- a whiskey-drinking, up-by-the-bootstraps commanding officer of a peacetime Scottish battalion. A lifetime military man, Sinclair expects respect and loyalty from his men. But when Basil Barrow (John Mills) -- an educated, by-the-book scion of a military family-enters the scene as Sinclair's replacement, the two men engage in a fierce struggle for control of both the battalion and the hearts and minds of its men. Based on the novel by James Kennaway and featuring flawless performances by Guinness and Mills, "Tunes of Glory" uses the rigid stratification of military life to comment on the institutional contradictions and class hierarchies of English society, making for an unexpectedly moving drama. New 4K digital restoration. On DVD, Blu-ray Disc, with uncompressed monaural soundtrack on the Blu-ray, from The Criterion Collection.
BUZZIN' THE 'B'S:
In
"The Shasta Triangle
"
(2019), starring Dani Lennon, Ayanna Berkshire, Helenna Santos and Madeline Merritt, a young woman returns to her hometown to uncover the truth about her father's disappearance. Deep in the woods, she and her childhood friends battle ancient and terrifying forces controlling the town. From Giant Pictures ... In
"Blood Bags
"
(2019 -- Italy), starring Makenna Guyler, Emanuele Turetta and Marta Tananyan, two friends break into an abandoned mansion and discover that a creature is stalking the corridors. With all the exits sealed off, the creature hunts them, growing hungry for their blood. Fron High Octane Pictures ...
"This is Our Home
"
(2019), starring Jeff Ayars and Simone Policano, is a chilling account of a struggling couple who, during a weekend getaway, are greeted in the middle of the night by a child claiming to be their son, from Uncork'd Entertainment ...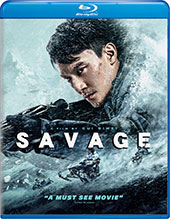 "Savage
"
(2018 -- China), starring Chang Chen, Ni Ni, Liao Fan, Huang Jue, Liu Hua, Zhang Yicong and Li Guangjie, is an action-packed heist thriller set on a remote mountain in northeastern China. The film follows a dogged detective as he squares off against a trio of violent crooks. Buried by treacherous conditions at the top of Mt. Baekdu, a policeman must brave the extreme conditions until he's relieved from his post. When a group of thieves stumbles into the station in search of safe shelter, the night turns into a fight for survival as the two sides must put aside their differences to outlast the night. On Blu-ray from Well Go USA ... In
"Low Tide
"
(2019), starring Keean Johnson, Alex Neustaedter, Daniel Zolghadri and Jaeden Lieberher, Alan, Red, and Smitty spend high summer on the Jersey Shore roving the boardwalk and getting into trouble. But the discovery of good old-fashioned treasure sets the friends on an escalating course of suspicion and violence. From Lionsgate ... In
"Semper Fi
"
(2019), starring Jai Courtney, Nat Wolff, Finn Wittrock, Beau Knapp, Arturo Castro and Leighton Meester, Cal (Courtney) is a by-the-book police officer who, along with his close-knit group of childhood friends, makes ends meet as a Marine Corps reservist. When Cal's reckless younger half-brother, Oyster (Wolff), is arrested after a bar fight and given an unfair prison sentence, Cal – driven by his loyalty to family and fierce code of honor – fights for Oyster in this gripping tale of brotherhood and sacrifice.On DVD, Blu-ray/DVD Combo, from Lionsgate ...
In
"Killerman
"
(2019), starring Liam Hemsworth, Emory Cohen and Diane Guerrero, Hemsworth stars as money launderer Moe Diamond in the dangerous criminal underworld of New York City. When a lucrative drug deal goes wrong, Diamond wakes up from a car crash with no memory, millions in cash, and a crew of dirty cops hunting him down. With a stranger who says he's his best friend and a fiancee he does't remember, Moe must race against the clock to discover his own identity–and escape his past, before it destroys any chance at a future. From Paramount ... When their father is murdered, three brothers descend upon an Oregon mountain river to spread his ashes in
"Red Handed
"
(2019), starring Michael Biehn, Christian Madsen, Owen Burke, Ryan Carnes, Kenzie Dalton and Michael Madsen. After they arrive, one of their children goes missing. One of the brothers was himself abducted 30 years ago when they visited this same river, but he has blocked the incident out of his mind. Only by unlocking the mysteries inside his subconscious, will they be able find the child and return him to safety. From High Octane Pictures ... When her sister is taken by a gang of white slavers, Margaret (Karen Kopins) knows she needs a hero with a difference to bring her home in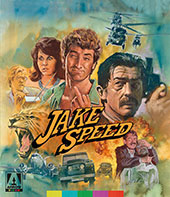 "Jake Speed
"
(1986). Enter Speed (Wayne Crawford), leaping from the pages of pulp thriller novels and into the real world. With Margaret and his trusty sidekick Desmond Floyd (Dennis Christopher), Jake arrives hot on the heels of the kidnappers in a southern African country gripped by civil war. But it soon turns out Jake got more than he bargained for when he discovers that the ringleader of the slavers is none other than his own arch-nemesis: the wicked, criminally insane Sid (John Hurt). A ripe slice of 80s action cheese with romance, death-defying stunts, spellbinding scenery shot on location in Zimbabwe ... and best of all, a wickedly off-the-wall performance by the late John Hurt. Brand new 2K restoration of the film from the original 35mm interpositive. On Blu-ray from Arrow Video/MVD Entertainment ... In
"Big Trouble in Little China
"
(1986), Kurt Russell stars as Jack Burton, a tough-talking truck driver whose life goes into a supernatural tailspin when his best friend's fiancée is kidnapped in John Carpenter's action film. Jack suddenly finds himself in a murky, danger-filled world beneath San Francisco's Chinatown, where Lo Pan, a 2,000-year-old magician, mercilessly rules an empire of spirits. Facing down a host of unearthly terrors, Jack battles through Lo Pan's dark domain in a full-throttle, action-riddled ride to rescue the girl. Co-stars Kim Cattrall, Dennis Dun and James Hong. In a two-disc Collector's Edition Blu-ray from Scream Factory.
ON THE INDIE FRONT:
In
"Adam
"
(2019), starring Nicholas Alexander, Bobbi Salvör Menuez and Margaret Qualley, awkward, self-conscious Adam Freeman (Alexander) has just finished his junior year of high school in 2006. When his cool older sister Casey (Qualley) suggests he visit her in New York for the summer, Adam has visions of meeting a girl and finally gaining some actual life experience. The fantasy doesn't materialize exactly as expected. Casey has enthusiastically embraced life amidst Brooklyn's young LGBTQ community and invites Adam to tag along with her to queer bars, marriage equality rallies and other happenings. When Adam falls at first sight for Gillian (Menuez), a smart, beautiful young woman in this new crowd, she mistakenly assumes he is trans. Flummoxed and enamored, he haplessly goes along with her assumption, resulting in an increasingly complex comedy -- and tragedy -- of errors he's ill-equipped to navigate. From Wolfe Releasing ... In
"Santa Fake
"
(2019), starring Damian McGinty, Heather Morris, John Rhys-Davies and Judd Nelson, Pat Keeley (McGinty), an undocumented Northern Irish immigrant, has made his way to NYC where he is taken in, unwittingly, by a crime boss (Rhys-Davies). Asked to deliver two mysterious briefcases, naive Pat in a panic ends up in the wrong destination: Santa Fe, New Mexico. There he finds a home and a job as the shopping mall Santa Claus, allowing him to hide in plain sight from both the authorities and the gangsters he is trying to evade. As Pat gets wrapped deeper into the spirit of Christmas and his role as Santa Claus, he finds that the phony white beard and big red suit are more than just a handy disguise, but instead his real destiny.From Gravitas Ventures.
FOREIGN:
"Funan
"
(2019 -- France), the winner of the top prizes at the Annecy Animation Festival and the Animation is Film Festival, the critically acclaimed drama Funan is a searing and remarkable debut from filmmaker Denis Do and is based on the true life stories of his family's harrowing experience under the Khmer Rouge. Cambodia, April 1975. Chou is a young woman whose everyday world is suddenly upended by the arrival of the Khmer Rouge regime. During the chaos of the forced exile from their home, Chou and her husband are separated from their 4-year-old son, who has been sent to an unknown location. As she navigates her new reality, working in the fields day and night under the careful watch of soldiers, and surviving the small indignities and harrowing realities of the increasingly grim work camps, Chou remains steadfast in her determination to reunite her family - even if it means risking everything. In a Blu-ray/DVD Combo from GKIDS/Shout! Factory ... World War II's Siege of Leningrad - in which Nazi Germany blockaded the major Soviet city for 28 months - ranks as perhaps the single most brutal and devastating military campaign in modern history. Now, the story of this unspeakable siege is told through the lives of people caught in the middle of it in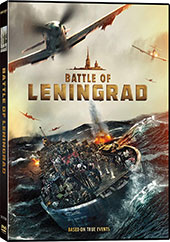 "Battle of Leningrad
"
(2019 -- Russia), starring Andrey Mironov-Udalov and Maria Melnikova. September 1941. In a turn of events young lovebirds Kostya and Nastya find themselves on board a barge that will evacuate people from sieged Leningrad. At night the barge gets into the storm. When it starts sinking, enemy planes - but not rescuers - are the first to arrive at the scene.On DVD, Blu-ray, from MPI Media Group ... In
"The Ground Beneath My Feet
"
(2019 -- Austria), starring Valerie Pachner, Pia Hierzegger and Mavie Hörbiger, Lola, not yet 30, controls her personal life with the same ruthless efficiency she uses to optimize profits in her job as a high-powered business consultant. But when she receives the news that her older sister Conny has attempted suicide, Lola's secrets begin to unravel into the workplace. As she tries to do what's best for her sister without jeopardizing all she's worked so hard for, Lola slowly finds her own grip on reality slipping away. From Strand Releasing.
FOR THE FAMILY:
"Buttons: A Christmas Tale"
(2018), starring Jane Seymour, Roma Downey, Abigail Spencer, Dick Van Dyke and Angela Lansbury, is a family film narrated by Kate Winslet and Robert Redford. It follows the heartwarming journey of two orphan girls whose only wish is to find a home for Christmas. With a little help from their guardian angels (Dick Van Dyke and Angela Lansbury), they discover that miracles really can happen when you find the power to believe. From Paramount ...
In
"Sesame Street: 50th Anniversary Celebration"
(2019), viewers can join host Joseph Gordon-Levitt and the residents of Sesame Street — humans and monsters alike — to celebrate 50 years of learning, laughter, and love. Familiar felt faces like Roosevelt Franklin, Don Music, Sherlock Hemlock, and The Amazing Mumford join original Sesame Street cast members and celebrity guests like Norah Jones, Nile Rodgers, Sterling K. Brown, Meghan Trainor, Patti LaBelle, Elvis Costello and more in this heartwarming special. "Sesame Street's 50th Anniversary Celebration" reimagines classic segments and songs as the Sesame Street gang gets ready for a big party to celebrate the neighborhood's 50th birthday. When the famous street sign goes missing before the party, it's up to Elmo, Rosita, Grover, and Abby to track it down, while Big Bird and Snuffy plan a surprise of their own. From Sesame Workshop/Shout Kids.
SPECIAL INTEREST:
"To Be of Service
"
(2019), from Oscar-nominated Josh Aronson and featuring a new song from Jon Bon Jovi, is a documentary about veterans suffering from PTSD who are paired with a service dog to help them regain their lives. Returning home for these vets is often plagued by depression and a painful disconnect from the world they once knew. Family, old friends and jobs seem foreign, and newly returned warriors often struggle to return to a normal civilian life. The film follows these warriors with their dogs as this deeply bonded friendship restores independence and feeling for the men and women who so courageously served our country. From First Run Features ...
"That Pärt Feeling - The Universe of Arvo Pärt
"
(2018) is an intimate documentary that follows the brilliant, reclusive Estonian composer as he
collaborates with the Cello Octet Amsterdam. Pärt is the most performed living composer in the world, but he is considered to be something of a recluse, and his person and work have rarely been documented on film. Here, home viewers get to know Pärt as an artist combining an incredible sensitivity with humor and energy in his work. His reputation stems from his deeply-held belief that it's not through words that a great artist communicates, but simply through music. Though he may seem reclusive in his person, what he wants to say and what he means is written in notes. From Film Movement ...
"Raise Hell: The Life and Times of Molly Ivins
"
(2019) is a relevant and razor-sharp look at the trailblazing career of political columnist Molly Ivins. Media firebrand Molly Ivins, six feet of Texas trouble, took on the Good Old Boy corruption wherever she found it. Her razor sharp wit left both sides of the aisle laughing and craving ink in her columns. She knew the Bill of Rights was in peril and said, "Polarizing people is a good way to win an election and a good way to wreck a country." Molly's words have proved prescient. Now it's up to us to raise hell. From Magnolia Home Entertainment.
FROM TV TO DISC: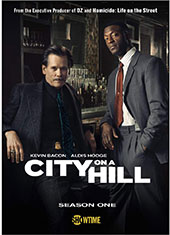 "City on a Hill: Season One"
(2019) is a four-disc set with all 10 episodes of the Showtime Original drama starring Kevin Bacon and Aldis Hodge. The show is set in the early 1990s, when Boston was rife with violent criminals emboldened by local law enforcement agencies in which corruption and racism was the norm, until it all suddenly changed in what was called the "Boston Miracle." In this fictional account, driving change is Assistant District Attorney Decourcy Ward (Hodge), who comes from Brooklyn and forms an unlikely alliance with a corrupt, yet venerated FBI veteran, Jackie Rohr (Bacon). Together, they take on a family of armored car robbers from Charlestown in a case that grows to involve, and ultimately subvert, the entire criminal justice system of Boston. From Paramount ... This is the one that millions have been waiting for:
"Game of Thrones: Season 8"
(2019), a four-disc DVD, three-disc Blu-ray set with all six episodes. Also available in Steelbook and 4K Ultra HD/Blu-ray Combos. For the ultimate gift, there's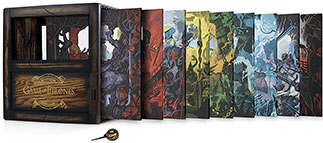 "Game of Thrones: The Complete Collection Limited Edition Blu-ray,"
packaged in a visually stunning wooden shadow box case, featuring beautiful, multi-layered panel designs by Robert Ball (the artist behind the "Beautiful Death" series) that summarize the "Game of Thrones" story. Each season is represented by a different layer, showcasing iconic characters and memorable moments from the show, all clambering toward the Iron Throne. The set also contains a "Hand of the King" pin clasp, which holds all nine custom plated disc sleeves.$249.00. A standard DVD + Digital set will retail for $166.99; Blu-ray + Digital, $199.99. From HBO ...
"The Simpsons: The Complete Nineteenth Season"
(2007-08) is a four-disc set with all 20 episodes. On DVD from Fox.
Check out other new DVD/Blu-ray releases, streaming films, and information and reviews at OnVideo.
Comments