By Chris Kavan - 12/01/19 at 07:17 PM CT
It was a definite feast for audiences over the long Thanksgiving holiday weekend. Frozen II set some new records - both for Thanksgiving and the weekend - while Knives Out performed great as counter-programming and the action-oriented and timely Queen & Slim found a place in the top five. All told, it was an excellent weekend all around and continues the strong push towards the end of the year, with plenty of big films still on the way.

1) FROZEN II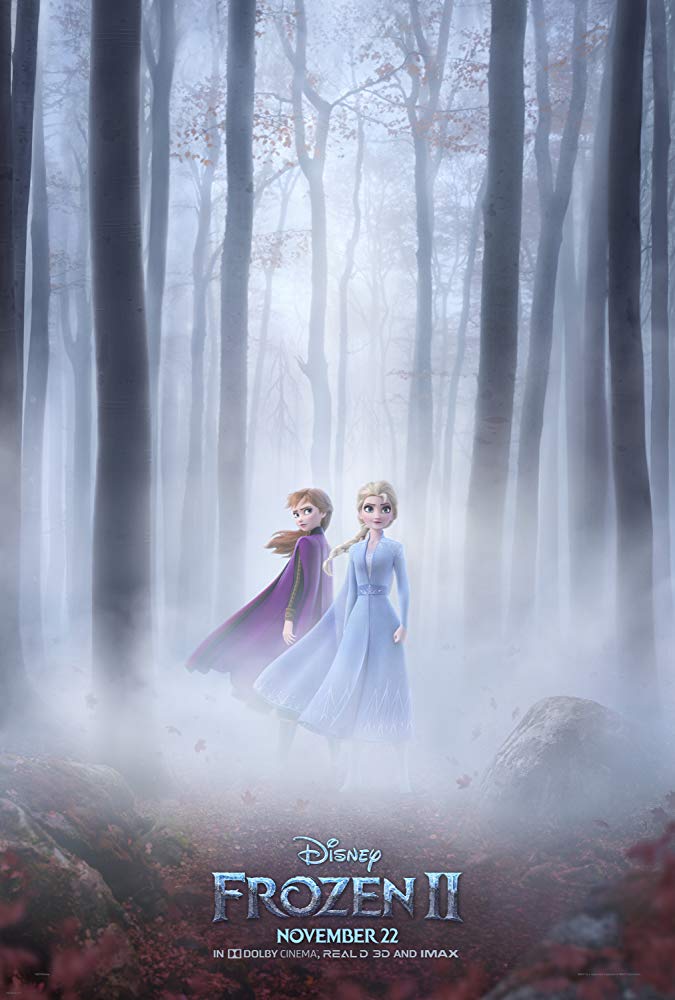 After serving up an impressive opening last weekend, Frozen II didn't show any sign of slowing down. In fact, its $85.2 weekend and $123.7 million five-day holiday totals both set records for Thanksgiving movies. That goes along with its 34.5% drop - the second best hold for a film opening above $100 million behind only Shrek 2 (33% drop). It's $85.2 million weekend is also the highest-grossing second weekend for any animated film, topping The Incredibles 2 ($80 million) and, outside of the MCU and Star Wars, it's the third best second weekend behind Beauty and the Beast ($90 million) and Jurassic World ($105 million). The film already stands at $287 million after 10 days, trailing only Incredibles 2 ($349.7 million) in that category and already it is the 17th highest-grossing animated film of all time (domestic). The film looks to top $400 million with relative ease - with $450 million not out of the question. Oh, and it added $163.8 million overseas, where it remained the top film in every market, save India, and has now earned $738.6 million worldwide in a mere 12 days. The $1 billion club seems like a lock at this point and it has topped Ralph Breaks the Internet ($529 million) to become Disney's (outside of Pixar) biggest sequel to date. The big test will be how it holds up against Jumanji: The Next Level - but it has room to breath as that doesn't drop until December 12th.
2)
KNIVES OUT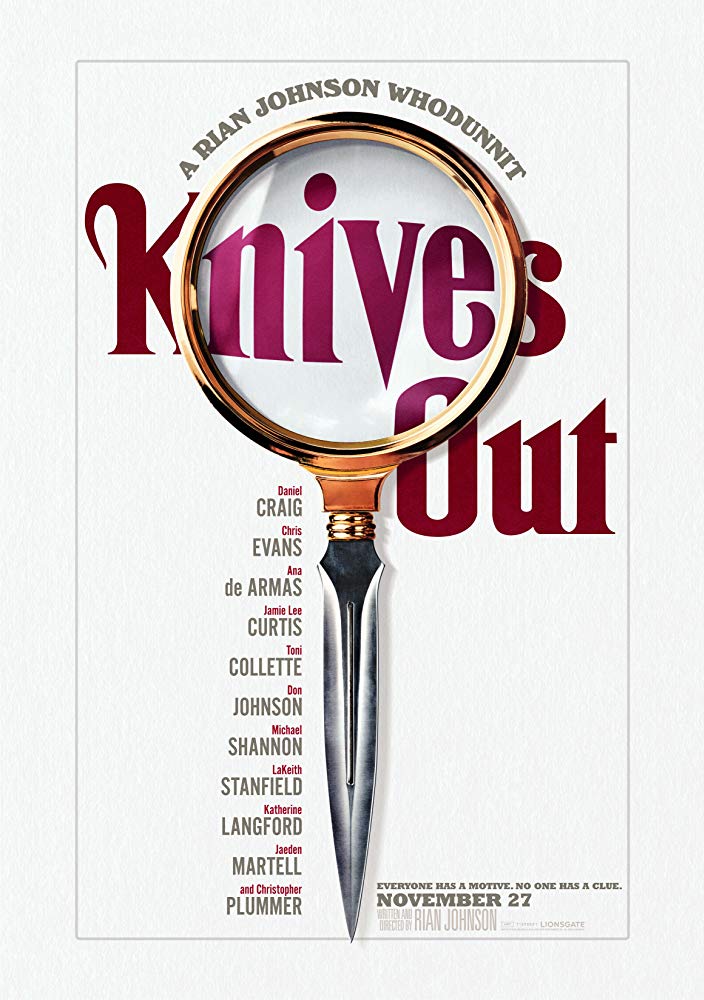 Rian Johnson's star-studded murder mystery brought in some big numbers as it was the obvious counter-programming winner over the weekend. With $41.7 million for the holiday ($27 million over the weekend), it came in ahead of expectations while delivering a solid "A-" Cinemascore from audiences. Males made up a slim lead (51%) with 68% coming in age 25 or older. It opened very near the $29 million weekend total of Murder on the Orient Express, and its Thanksgiving opening, even with Frozen II, is the 8th best among all live-action films for the holiday. For all the online grief Johnson experienced from butt-hurt Star Wars fans, I would say that any ill will was left at the door - though it certainly helps he had an amazing cast set up (Daniel Craig, Chris Evans, Jamie Lee Curtis, Ana de Armas, Michael Shannon, Toni Collette and LaKeith Stanfield to name a few). I'm going to watch this on Wednesday - and am looking forward to it.
3)
FORD V FERRARI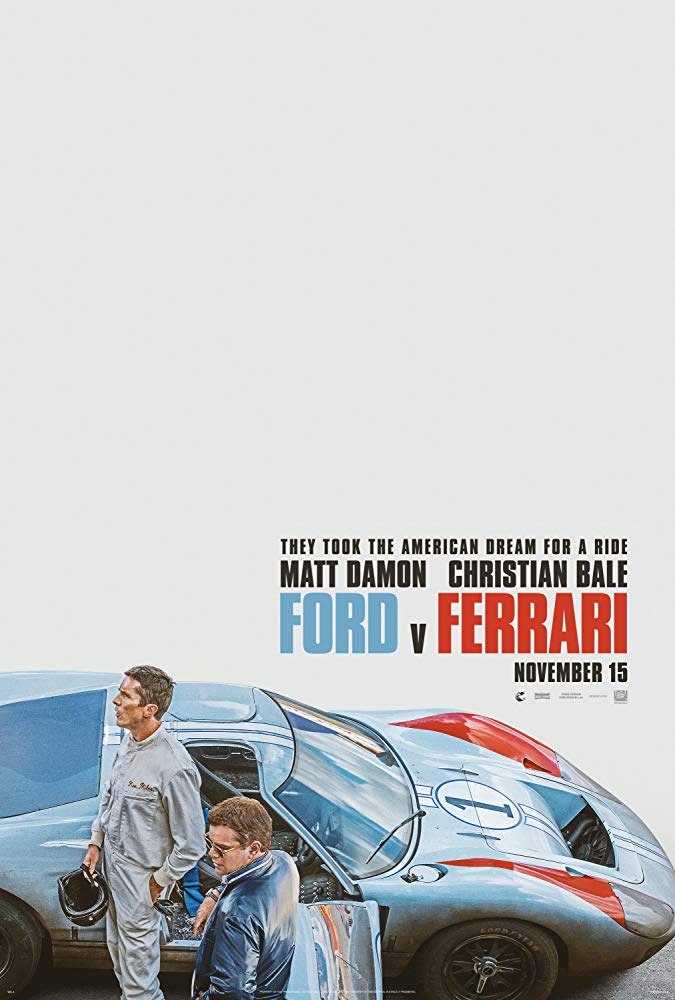 Still revving its engines, Ford v Ferrari continues to flex its award-hopeful muscles with a $13.2 million weekend and $19 million over the holiday - an impressive hold with just a 17% decrease over last weekend. That gives the true-life racing drama a total of just over $81 million. It also added $10.2 million overseas (with Russian being its top market) for an overseas total of $62.3 million and a global total of $143 million. The $98 million film looks to top $100 million domestic in the long run - providing Fox/Disney with the hit it sorely needed - and perhaps some awards (or at least nominations) coming in the future. While Knives Out certainly drew in adults - I still think Ford v Ferrari is going to be the choice of note among the older crowd for much of December and should hang around the top five for a bit longer.
4)
A BEAUTIFUL DAY IN THE NEIGHBORHOOD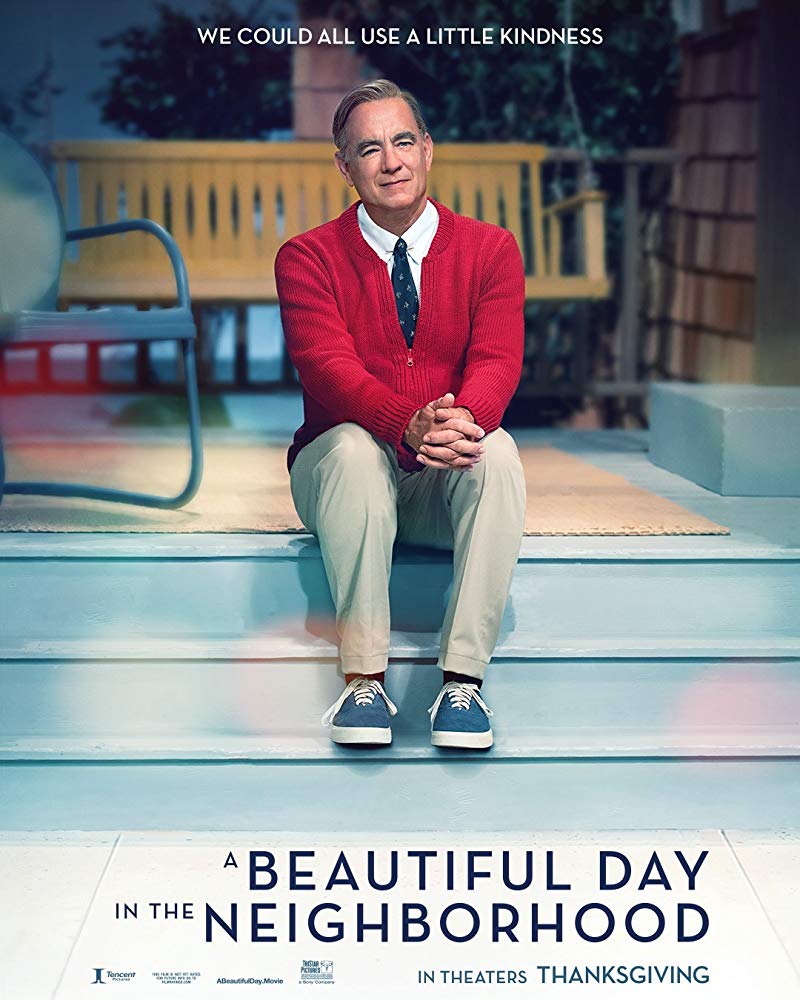 The other biopic, the feel-good Mr. Rogers story starring Tom Hanks and Matthew Rhys, also had an excellent hold - dipping mere 11%, adding $11.8 million for the weekend - with $17.3 million for the holiday frame - giving it a new total of $34.3 million. It should also play well with adults over the coming weeks, though I don't think it has quite the appeal as Ford v Ferrari despite the excellent casting choices. If it can hold on like The Blind Side and Wonder, it could also hang around through much of December. It will hit $50 million with relative ease - and it will be interesting to see where this one ultimately winds up.
5)
QUEEN & SLIM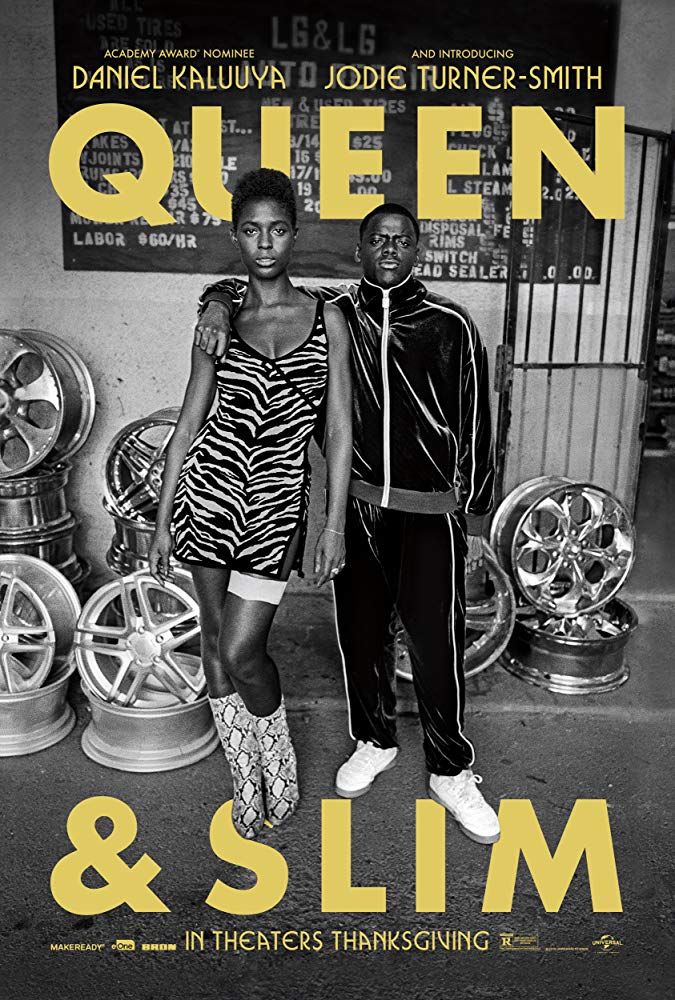 Finding a spot in the top five, the politically-charged Queen & Slim took in $11.7 million for the weekend ($15.8 million over the five-day holiday) and also earned an "A-" Cinemascore from audience. This time females made up the slim lead (51%) with 61% coming in age 25 or older. The film follows a young black couple (played by Daniel Kaluuya and Jodie Turner-Smith) who find themselves as fugitives from the law - and symbols of a nationwide movement - when a routine traffic stop winds up with an officer dead. A mix of Bonnie and Clyde/Thelma and Louise and BlackLivesMatters serves as something truly unlike anything else out there. The film should approach the $50 million mark in the long run - but even if it falls just short of the milestone, it seems like audiences are more than happy to support a bit of escapism that also delivers a powerful message.
Outside the top five: Roland Emmerich's war film, Midway, just managed to cross the $50 million mark itself, taking in $3.85 million for the weekend (8th place) and a new $50.27 million total. That serves as the only major milestone of note outside the top five.
Next week sees but a single new wide release, the animated Playmobil and I have a feeling the bumpy road the film has gone through doesn't bode well for its chances at making an impact in theaters.
Comments