By Chris Kavan - 11/24/19 at 09:49 PM CT
It was about time the box office had a hit and, wouldn't you know it, once again we can thank Disney. Frozen II easily topped the box office, and it didn't just perform well domestically, it can claim a record internationally as well. The win for the animated sequel meant there wasn't much left to go around, thus A Beautiful Day in the Neighborhood and 21 Bridges had to settle for much more muted openings. Joker celebrated one more major milestone as well we gear up for what is sure to be a busy month of new releases.

1) FROZEN II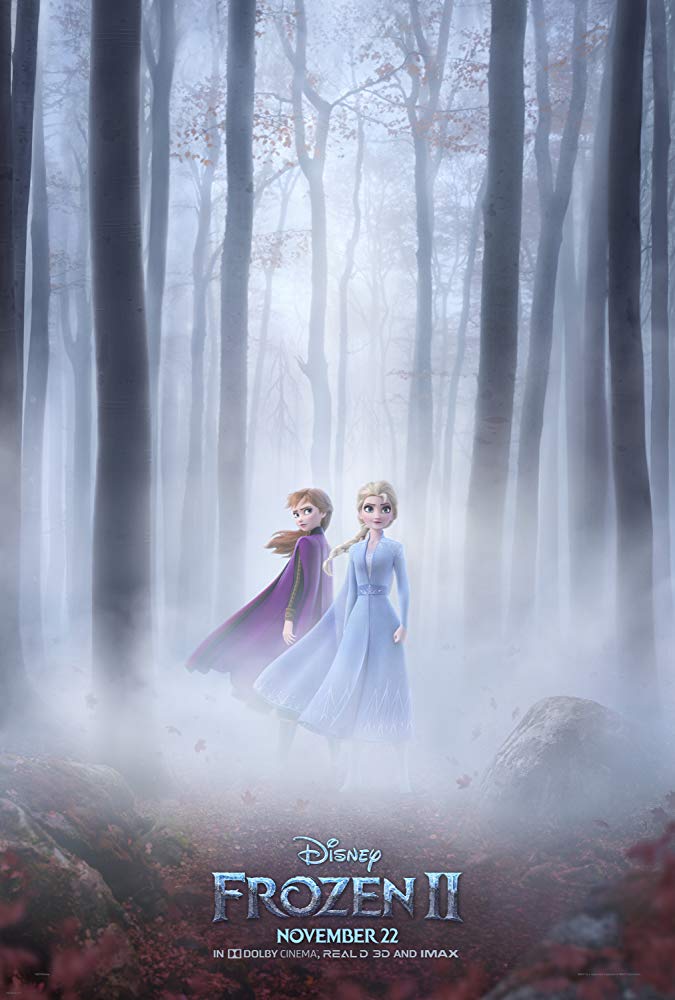 After several high-profile disappointments when it comes to sequels, Frozen II finally lifted the curse, delivering a major shot in the arm to the box office with a $127 million opening - the largest animated opening outside of the summer movie season, as well as the largest animated opening for November. It scored the fifth best November opening of all time, coming in just ahead of Harry Potter and the Deathly Hallows: Part 1 ($125 million) as well as the third best opening among all animated films behind just Finding Dory ($135 million) and Incredibles 2 ($183 million) - or fourth best if you consider The Lion King ($191 million) an "animated film" or not. No matter, Frozen II delivered on expectations and looks to hit $350 million on the low end - with $400 million possible, depending on how the competition plays out in the coming weeks. But domestic is only one part of the story, Frozen II made big waves overseas to the tune of $350.2 million global - a record opening for an animated film, topping Incredibles 2 ($242 million) easily. It was helped by a record Disney animated opening in China of $55 million. This is to be huge - we'll see how it holds up in the coming weeks, but my guess is that is will hang out through Christmas.
2)
FORD V FERRARI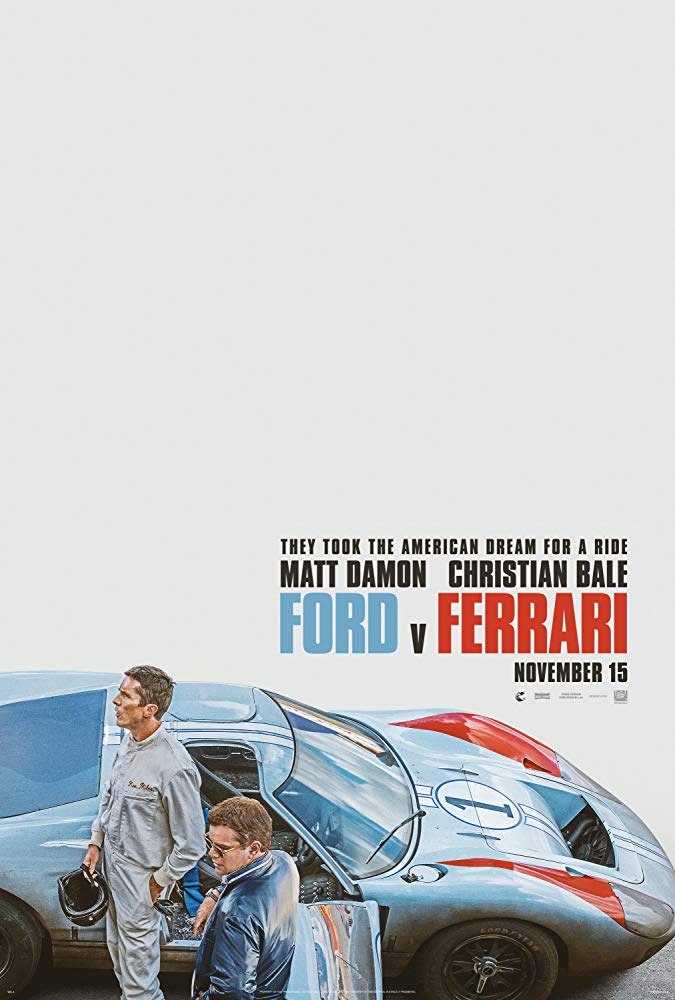 Last week's winning dipped 49%, adding $16 million to its total, which now stands at $58 million. While that drop is a bit higher than expected given its reception, but the Oscar hopeful is still looking at around a $90 million domestic total. The $98 million film has already made $103.8 million worldwide, so it's looking pretty good at this point. As has been proven, adults tend to leg out these kind of movies over time, so I expect this to stick around for several more weeks, even as the competition continues to heat up. I think it will level off over the next week or two, but it's not going away anytime soon.
3)
A BEAUTIFUL DAY IN THE NEIGHBORHOOD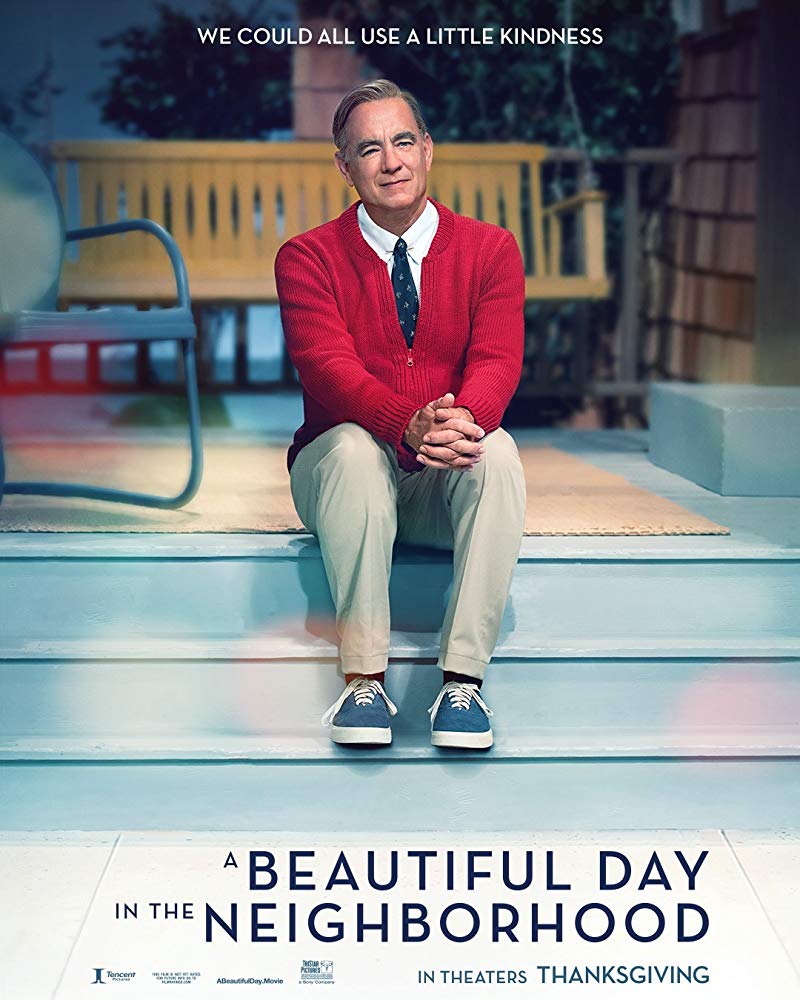 Speaking of adult-targeting biopics, the Tom Hanks/Matthew Rhys vehicle opened to $13.5 million - on the low end but still well within expectations. This is another film that should play well with audiences across the next several weeks. The film played to a 52% female audience with fully 75% coming in 25 or older. So while Ford v Ferrari will play better with men, this should play just a bit better with women, meaning there should be room for both films going forward. Considering its light $25 million budget, Beautiful Day should have no problem turning a profit in the end. Now we'll see if it can parlay its positive message into some awards season love. If it can hold up reasonably well through December, I don't see why it won't get at least a few glances its way.
4)
21 Bridges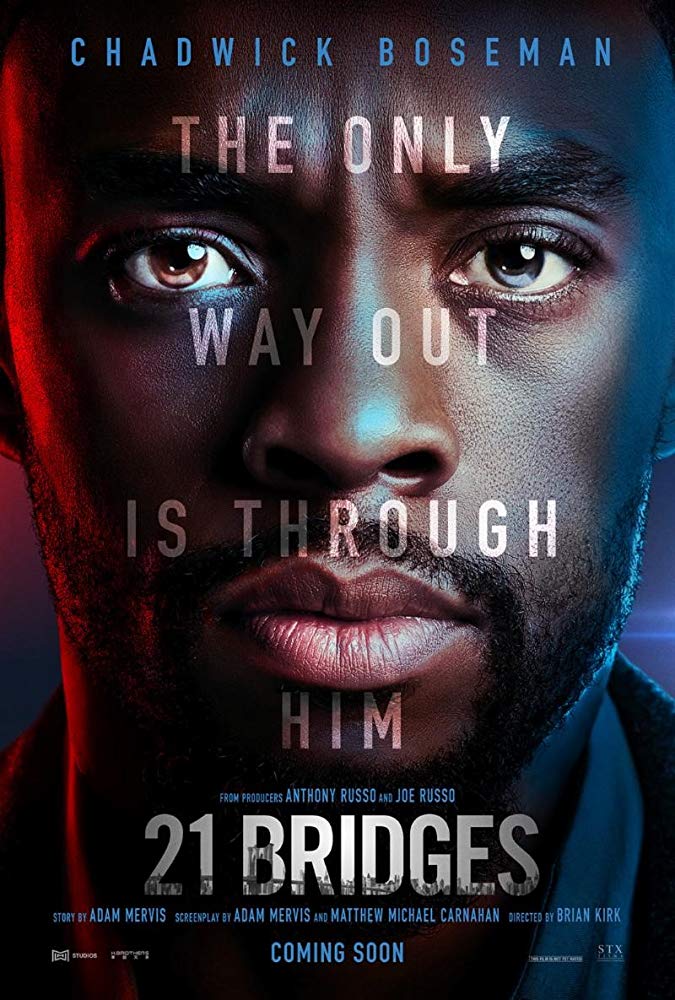 Despite being the only big action film to open in quite awhile, there wasn't much love for Chadwick Boseman and 21 Bridges. The crime/drama/action film took in just $9.3 million with families drawn to Frozen II and adults giving most of their attention to the Oscar-worthy biopics. Still, the film did earn a decent "B+" Cinemascore. with 56% male and 75% coming in age 25 or older. While that's not a terrible opening for the $33 million film, it's going to face an uphill battle to profitability. I have a feeling this is only going to find a real audience on home viewing.
5)
MIDWAY
Roland Emmerich's war drama suffered a 45% hit in its third weekend out, adding $4.7 million to its total, which is now at $43.1 million. Unfortunately the $100 million production has only made $81.7 million worldwide, and it's already winding down pretty hard. It might break $100 million, with about $60 million domestic - but it's not going to be enough for this to break out of the red. While it's not the most disappointing film of the year, it's certainly not going to be among the winners.
Outside the top five: Joker broke its last major domestic milestone with a $2.8 million weekend (10th place) and a new $326.9 million total. Crossing the $325 million mark also means Joker left some big films in its wake - namely Deadpool 2 ($324 million) and Suicide Squad ($325 million) and it should have enough left in the tank to top Batman v Superman ($330.3 million). With $1.03 billion worldwide, Joker is sitting pretty.
No other milestones this week and, due to Thanksgiving, next week we're getting some very early films - as both Knives Out and Queen and Slim will open on Wednesday - so you get look forward to that, even though I'm sure Frozen II will still easily win the holiday weekend.
Comments