By Chris Kavan - 10/27/19 at 07:09 PM CT
After dropping to second place last weekend against Maleficent: Mistress of Evil, Joker returned to the top of the box office with an exceptional hold. In the process, it passed both Deadpool and Deadpool 2 on the worldwide stage to take the title of the highest-grossing (global) R-rated film of all time. The newcomers weren't able to make many waves at the box office with Countdown, at the time of this writing, narrowly topping Black and Blue for the fifth-place spot at the box office. The Lighthouse also expanded after a great limited opening and found a spot in the top 10 itself. Halloween is still on the way and we'll see what audiences are going to support for the scary outing.

1) JOKER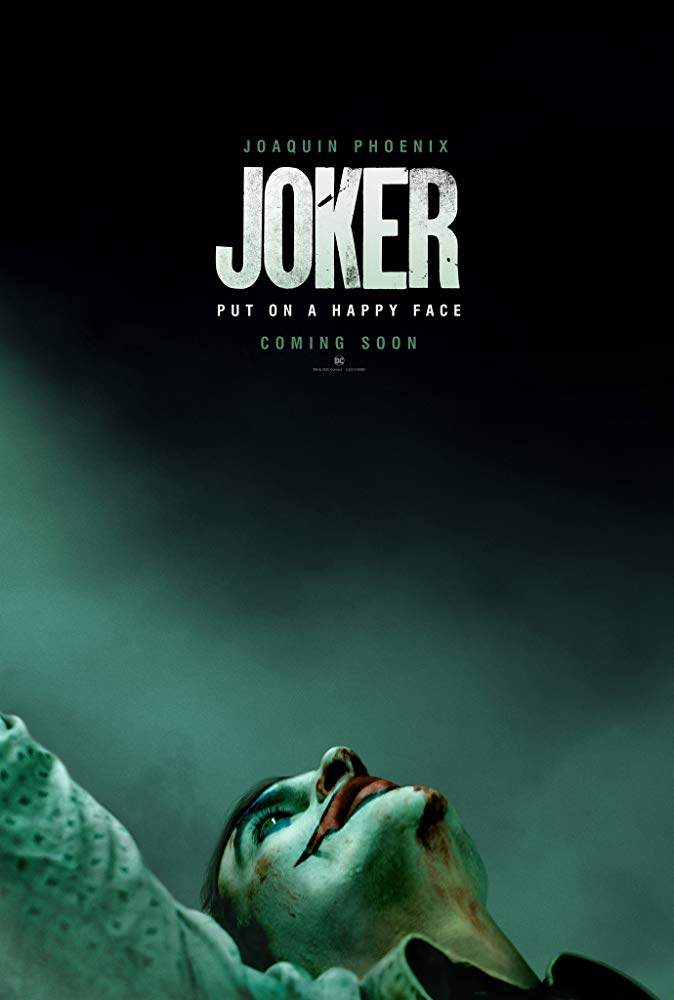 A brief respite wasn't enough to stop Joker for getting back on top of the box office. With a fantastic hold, dipping a mere 35%, Joker returned to the number one spot with $18.9 million. That gives it a new $277.5 million total - enough for the film to hit seventh all time among all R-rated releases. It also topped Gravity ($274 million) to become the biggest October release of all time. The film added $47.8 million overseas for an international total of $571.5 million and nearly $850 million worldwide - the first R-rated film to hit that mark on a global scale. It is also fifth largest DC adaptation, passing Wonder Woman ($821.8 million) and coming in just under Batman v. Superman ($873.6 million). It is also either already or very close to becoming the most profitable comic book film of all time - and, by the time it ends its run - with a possible $1 billion worldwide, it will certainly take that crown outright. Joker is a phenomenon here and abroad and even with competition coming up, I have a feeling it's going to hang out well through November.
2)
MALEFICENT: MISTRESS OF EVIL
Even though it may have topped the box office last weekend, Maleficent: Mistress of Evil's opening was still considered a disappointment. Now, after a nearly 50% drop, its sophomore showing isn't doing much to alleviate the pain. With $18.5 million, Mistress of Evil now sits at $65.4 million - a far cry from the first film. Even if it held better than Alice Through the Looking Glass (57% drop) and Dumbo (60% drop), its small consolation. The film is doing better overseas - with $64.3 international for $228.1 million total and $293.5 million global. The film looks to crawl across the $100 million mark domestic - and it might still make a profit if it can continue to post big numbers overseas. Compared to other live-action offerings from Disney, this is on the low end of the scale and I would be surprised if we get another Maleficent - unless it gets some direct-to-streaming offering.
3)
THE ADDAMS FAMILY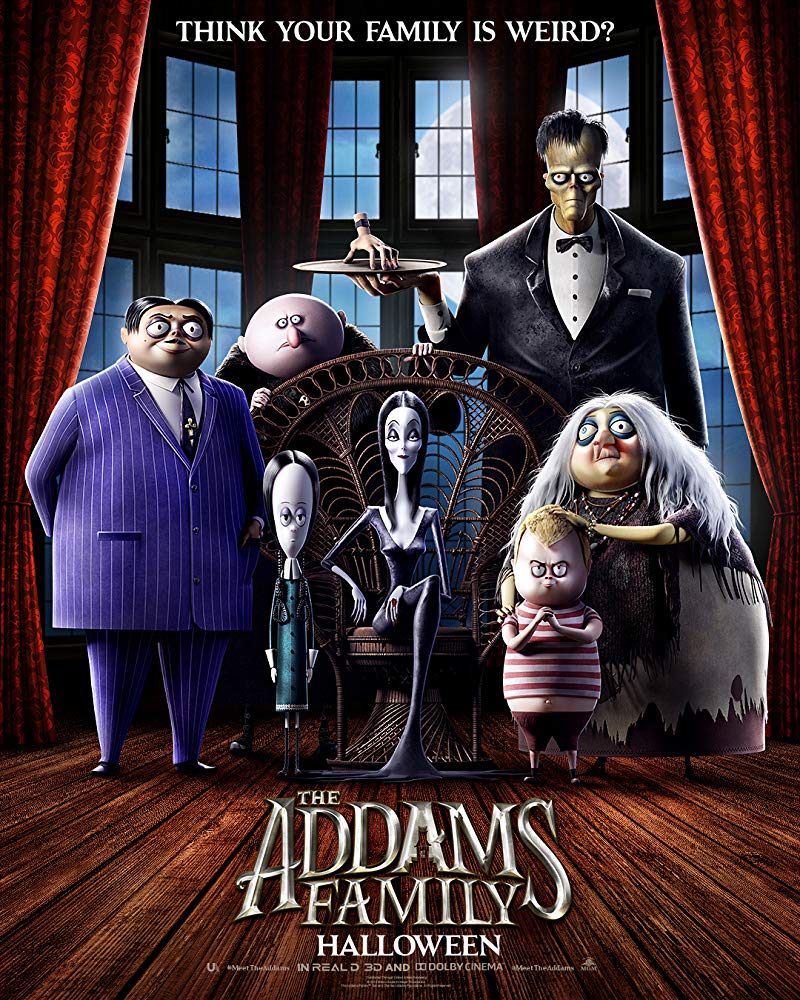 Also rising up one spot from last weekend, the animated Addams Family landed in third after a 28% drop (the best hold among the top 10) and a $11.7 million weekend. That gives the well-received family-friendly film a new $72.8 million total. The film is well on its way to double its $42 million budget on the domestic front alone - and with $83 million worldwide, it's going to have no problem making a nice profit. It's not going to join the highest-grossing animated club, but not every film has to break $300 million to be successful.
4)
ZOMBIELAND: DOUBLE TAP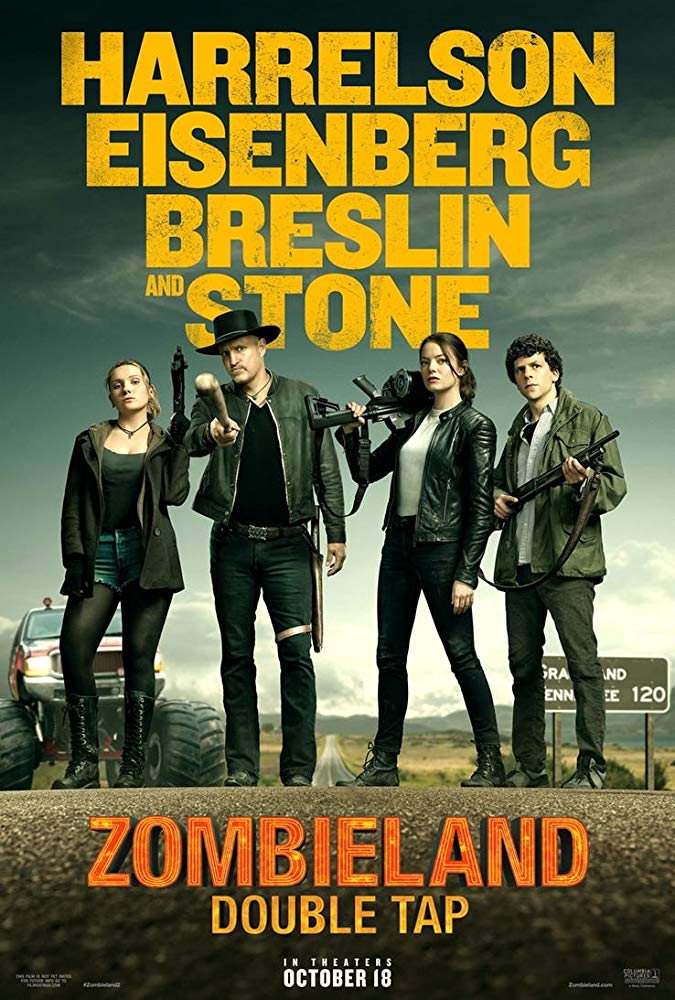 Zombieland: Double Tap switched places with The Addams Family, falling to 4th place with $11.6 million (down 57%) for a total just under $50 million at $47 million. That total, however, is under the second-week total for the first Zombieland ($47.6 million) and so we'll have to see if the sequel continues to fall behind or if Halloween will help it make up some ground. Regardless, it's looking like a good chance that Double Tap is going to wind up with around $70 million or so - and that's pretty good for a sequel coming ten years after the first - especially with so many sequels (see Maleficent above) disappointing this year.
5)
COUNTDOWN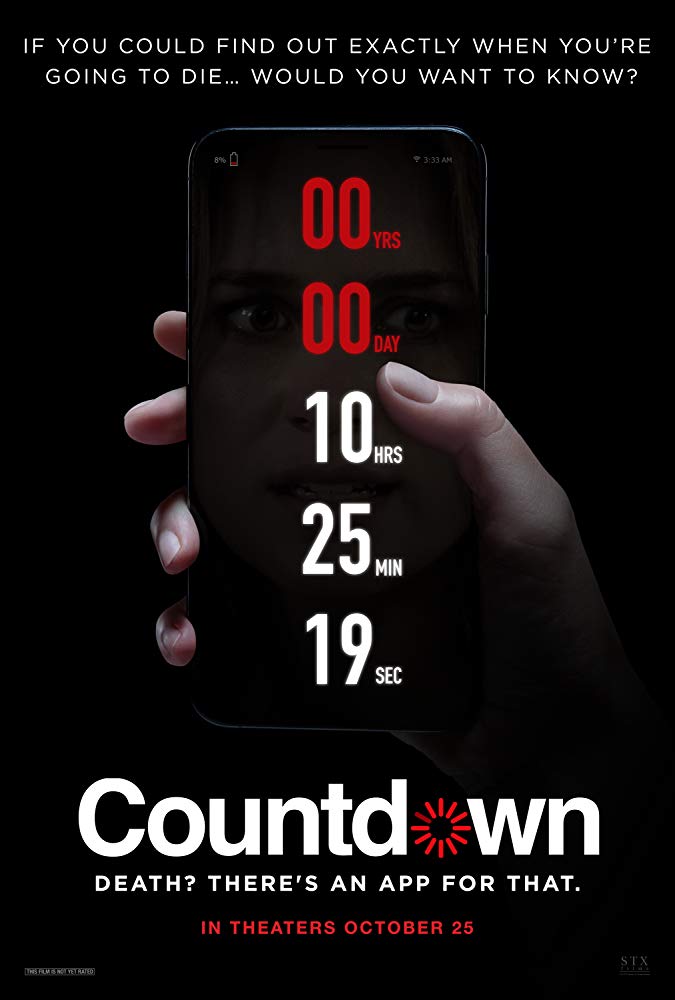 It's close call to see which newcomer breaks into the top five, but for now the horror film Countdown has the edge with $9 million. The film, about a truly killer app that predicts your death, has a reported budget of just $6.5 million, thus this result means the film should turn a profit. Audiences reacted with a "C+" Cinemascore - on par or maybe slightly better than typical horror offerings - with it being split evenly between men and women and 78% coming in under the age of 35. Halloween should probably help this one along, even if just slightly but young people doing stupid things and dying in crazy ways seemingly never gets old, thus as long as budgets are low and studios are willing, I'm sure we'll get a few of these type of films every year for the foreseeable future.
Outside the top five: Black and Blue, the film that mixes race with duty as a black police office fights off corrupt officers and drug dealers alike, came in just under Countdown in 6th place with $8.32 million. The $12 million action/thriller earned a rare "A+" Cinemascore from audiences, with 54% coming in male and 66% aged 25 or older. The film looks to play very near to The Intruder ($35 million following a $10.5 million opening).
The other wide release was the historical drama The Current War: Director's Cut, following titans Edison, Westinghouse and Tesla, opened in 9th place with $2.73 million - in line with most estimates and following a long and somewhat troubles release schedule.
Expanding over the weekend was The Lighthouse, the latest from director Robert Eggers (The Witch), as it added 578 theaters to play at 586 total. The film jumped from 15th to 8th place with a $3.08 million weekend and new $3.66 million total. The other-worldly Robert Pattinson/Willem Dafoe horror should do well enough among people who go for this kind of horror film.
No other milestones for the weekend, as well look forward to next week when the big film looks to be Terminator: Dark Fate, along with the animated Arctic Dogs, the historical drama Harriet and crime/drama Motherless Brooklyn.
Comments