By Chris Kavan - 10/23/19 at 10:24 PM CT
It was an up-and-down weekend last time around. While Maleficent: Mistress of Evil may have topped the box office, it was hardly a good win as it came in well under expectations. On the upside, The Joker continued it's strong run here and abroad while Zombieland Double Tap also exceeded expectations - not to mention a big win at the limited box office after a rather quiet year among indie films. This year brings three new wide releases - a horror film looking to capitalize on the holiday, a true-life drama based on two titans of industry and a rather topical drama about race and duty. I have a feeling that the competition will likely be drowned out by the current lineup, but we'll see.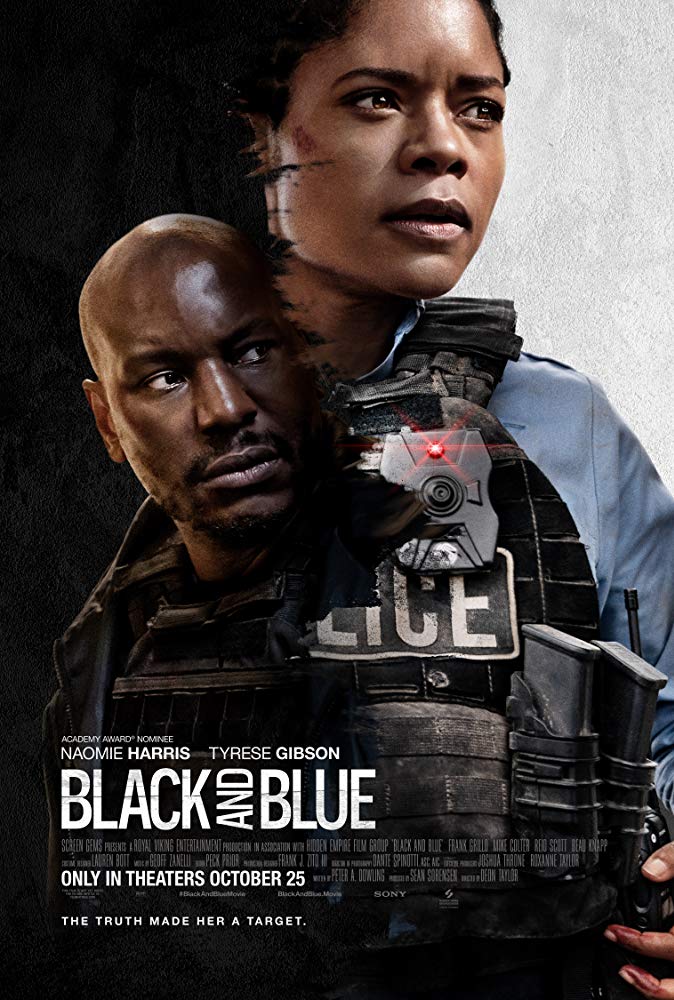 BLACK AND BLUE
Films that tackle current events, or at least capture the mood of said events, have tended by and large to do pretty good at the box office. You can go back to Training Day or Sicario for some inspiration that director Deon Taylor surely drew out for Black and Blue. The film follows rookie police officer Alicia West (Naomi Harris) who finds herself caught between the badge and her old neighborhood, which is made all the more difficult by the corrupt and racist nature of much of her team. Things escalate when fellow officer Terry Malone (Frank Grillo) kills a young drug dealer, which is recorded by West's bodycam. But as she runs from the crooked officers, Malone pins the murder on West, causing drug kingpin Darius (Mike Colter) to target her as well. On the run from both corrupt cops and gang member, she turns to one of the few friends she has left in the neighborhood, Milo 'Mouse' Jackson (Tyrese Gibson) hoping to survive as well as make sure the truth comes out. The film has a ripped-from-the-headlines angle of several events in the #BlackLivesMatter movement - and as long as the film had more drama than action, it could pay off. Even if the film doesn't dive in too deep, the cast, which also includes Reid Scott, Nafessa Williams and Beau Knapp, should be enough to drive in a decent audience. It's all about what audiences are in the mood to watch but it isn't likely to take the top spot.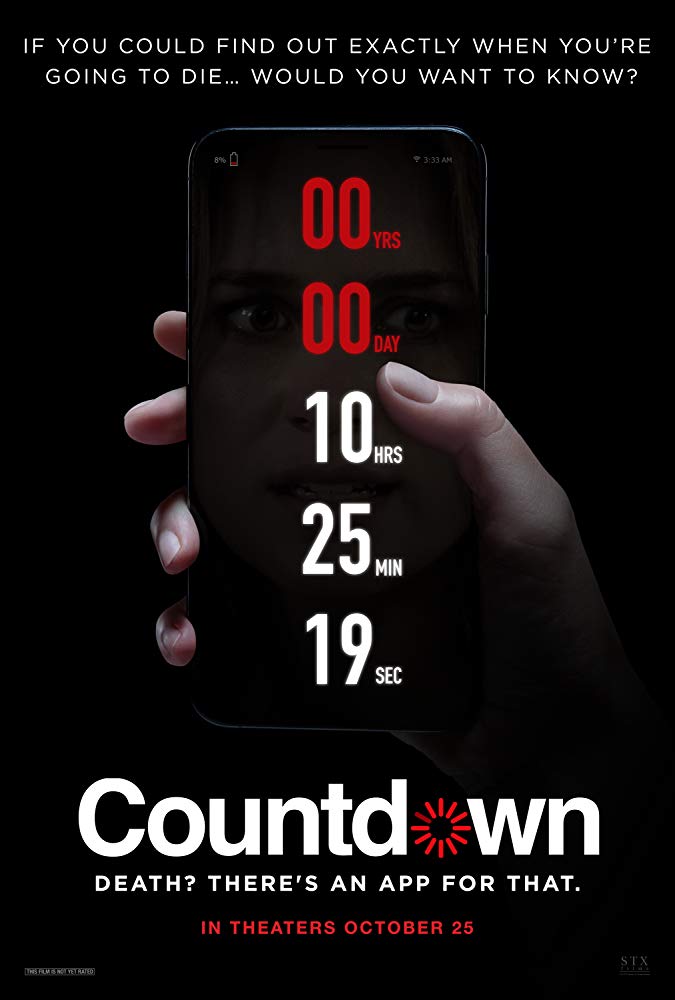 COUNTDOWN
I mean, you can't have a proper Halloween without a horror movie, can you? Granted, I'm all about the classics myself but if the young adults out there need a quick fix, Countdown looks to snag a few eyes. I'm always interested to see how modern technology fits into horror films (which, in like 5 years time will look hilariously out-of-date) and while social media has gotten its due with films like Friend Request and Unfriended, Countdown tackles something just as ubiquitous: the phone app. In this case, the app everyone is talking about is something that seems both simple and a complete joke: a Countdown app that supposedly counts down the time of your death down to the second. When a nurse, Quinn Harris (Elizabeth Lail) gives in to the craze, she is shocked when the app predicts her time of death in a matter of mere days. Thinking it's all a joke, she at first shrugs off the window - until she learns the app is eerily accurate - and she starts seeing a shadowy figure following her. Countdown seems like a bit of The Ring (SEVEN DAYS), a bit of Final Destination (you can't escape DEATH ITSELF) and any number of films where young people act as questionable as possible while trying to prevent something terrible from happening. I mean, it doesn't look bad - but it doesn't look particularly novel, either. The cast includes Jordan Calloway, Talitha Eliana Bateman, Peter Facinelli, Dillon Lane, Anne Winters and Tom Segura - so not big headliners here. If it can capitalize on Halloween, it should do well, but I think Zombieland Double Tap still has the horror edge for the holiday.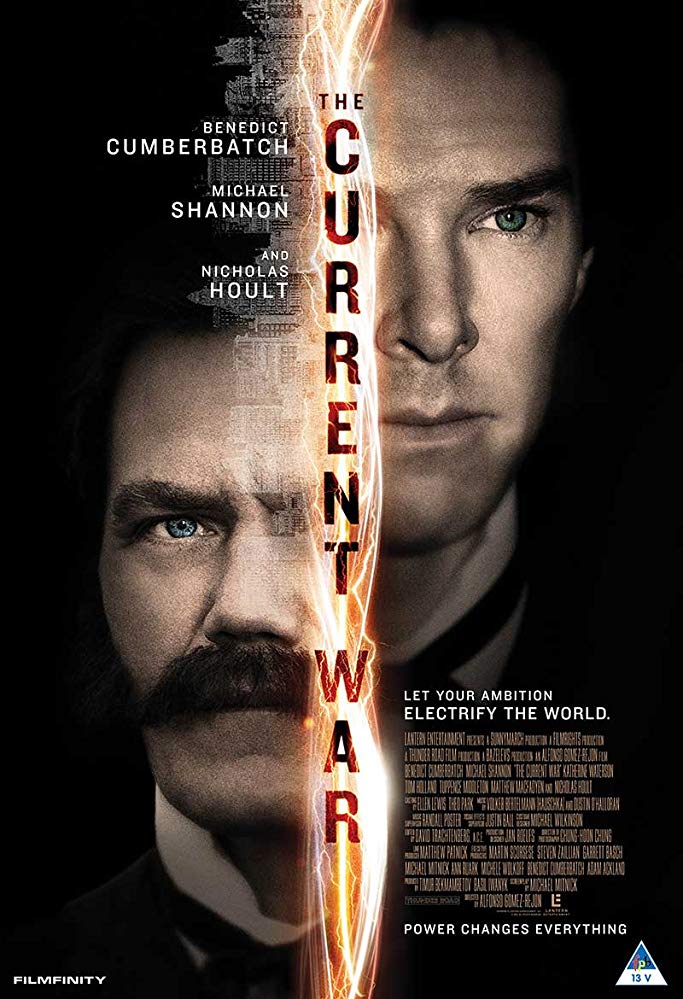 THE CURRENT WAR
A film that has had a bit of a rough time getting to theaters, the version being released is the Director's Cut from Alfonso Gomez-Rejon. The film technically was released two years ago in the festival circuit, to mixed-negative reviews. This re-cut version has been more well-received - and has a brand new score to go along with it - but I have a feeling it's not going to help it reel in general audiences. This is a historical piece that follows the fascinating battle between tow titans: inventor extraordinaire (and, by all accounts, kind of a huge jerk) Thomas Edison (Benedict Cumberbatch) who is about to power Manhattan with his revolutionary DC current... but businessman George Westinghouse (Michael Shannon) backing the too-often overlooked genius Serbian Nikola Tesla (Nicholas Hoult) offers their own revolutionary AC technology - sparking a race to power a nation... and the world. Reading several reviews, most people seem to think that Tesla is sidelined way too much - while Edison is too revered, despite the fact he was a well-known thief and patent troll. Besides, I've already seen how this story turns out thanks to my all-time favorite episode of Drunk History (never forget, Tesla was the electric Jesus). Despite the strong cast and premise, this is likely not to attract a big crowd.
With ghosts and ghouls and tricks and treats coming up, the box office should remain relatively unchanged, with the newcomers offering some challenge, but likely not enough to shake up the top of the box office. I'll be back on Sunday with the full rundown.
Comments