By Harley Lond - 08/06/19 at 06:58 PM CT
THIS WEEK'S BEST BETS:
"An Angel at My Table" (1990), Academy Award-winning filmmaker Jane Campion brought to the screen the harrowing autobiography of Janet Frame, New Zealand's most distinguished author. Three actors in turn take on the lead role (including Kerry Fox in a marvelous performance as the adult Frame), as the film describes a journey from an impoverished childhood marked by tragedy to a misdiagnosis of schizophrenia resulting in electroshock therapy and a narrowly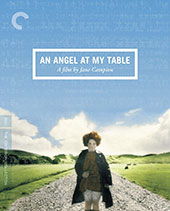 escaped lobotomy to, finally, international literary fame. Unobtrusively capturing the beauty and power of the New Zealand landscape while maintaining the film's focus on the figure at its center, Campion broke new ground for female filmmakers everywhere and earned a sweep of her country's film awards, along with the Special Jury Prize at the Venice Film Festival. Formats: Blu-ray Disc with high-definition digital restoration, supervised by director of photography Stuart Dryburgh and approved by director Jane Campion, with 5.1 surround DTS-HD Master Audio soundtrack. An Angel at My Table
is from The Criterion Collection ... From Billy Wilder, the legendary director of Five Graves to "Cairo," "Double Indemnity," "Some Like It Hot," "Irma La Douce" and "The Private Life of Sherlock Holmes," comes the classic comedy "A Foreign Affair
" (1948) that mixes romance with hard-boiled wit in a story about stiff-necked Iowa congresswoman Phoebe Frost (Jean Arthur) mired in jaded postwar Berlin. As she investigates the morale of American troops, she is cynically wooed by fellow Iowan Captain John Pringle (John Lund), who is trying to cover up his affair with Nazi-tainted chanteuse Erika von Schlütow (Marlene Dietrich). In this often amusing and forever endearing film, Wilder peppers the love story with tart dialogue and satiric jabs at Midwestern naïveté. From Kino Lober Studio Classics.


FROM THE BIG SCREEN:
There's not much coming from the big screen this week:
"Pokemon: Detective Pikachu
,"
an adventure for Pokemon fanatics;
"The Curse of La Llorona
,"
for horror fans who will do anything for a scare;
"Poms
,"
a comedy for seniors with nothing more to do with their retirement years;
"Tolkien
,"
a weak biopic of the Middle Earth creator; and
"The Souvenir
,"
a passable romance lifted up by the presence of Tilda Swinton. Next week brings us the eagerly anticipated release of
"Avengers: Endgame,"
so hold your breath.
BUZZIN' THE 'B'S:
In
"Alice, Sweet Alice
"
(1976), starring Linda Miller, Mildred Clinton and Paula E. Sheppard, a young Brooke Shields meets an untimely end in this religious-themed proto slasher par excellence from director Alfred Sole. On the day of her first communion, young Karen (Shields) is savagely murdered by an unknown assailant in a yellow rain mac and creepy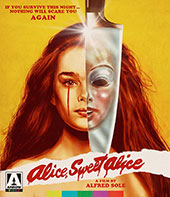 translucent mask. But the nightmare is far from over -- as the knife-wielding maniac strikes again and again, Karen's bereaved parents are forced to confront the possibility that Karen's wayward sister Alice might be the one behind the mask. Bearing influences from the likes of Hitchcock, the then-booming Italian giallo film and more specifically, Nicolas Roeg's "Don't Look Now," "Alice, Sweet Alice" is an absolutely essential -- if often overlooked -- entry in the canon of 1970s American horror. Brand new 2K restoration of the theatrical version from the original camera negative. On Blu-ray from Arrow Video/MVD Entertainment ...
"The Command
"
(2019 -- Belgium), starring Matthias Schoenaerts, Léa Seydoux and Colin Firth, is the true story of the K-141 Kursk, a Russian flagship nuclear powered submarine that sank to the bottom of the Barents Sea in August 2000. As 23 sailors fought for survival aboard the disabled sub, their families desperately battled bureaucratic obstacles and impossible odds to find answers and save them. Based on Robert Moore's book, "A Time to Die." On DVD, Blu-ray, from Lionsgate ... In
"The Night Sitter
"
(2018), starring Elyse DuFour, Jack Champion and Jermaine Rivers, a scheming con artist poses as an innocent babysitter to steal from a wealthy occult enthusiast. Just as the thief arrives to clean out the house, the home owner's reclusive son stumbles upon one of his father's artifacts and unwittingly summons a trio of witches known as The Three Mothers. As the playful, sadistic witches start picking people off, the humans form an unlikely bond and try to survive the night together. From Uncork'd Entertainment ... In
"Project Ithaca
"
(2018), starring James Gallanders, Deragh Campbell and Daniel Fathers, a malevolent alien species has been abducting humans for decades ... possibly centuries. Their endgame: to harvest enough human emotional energy to open a wormhole through which their spacecrafts can pass and conquer our world. To end this threat, the U.S. military initiates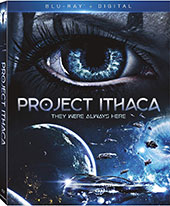 Project Ithaca, a top-secret plan to teleport a human-alien hybrid, SERA, aboard the "mother ship" to destroy it. SERA awakes inside the alien craft along with five others. Divided, they will die; only together, can they defeat the aliens and find a way home. On DVD, Blu-ray, from Lionsgate ... In
"American Killing
"
(2019), starring Trevor Peterson, Persia White and Caitlin Gerard, a writers retreat for a failing TV cartoon show takes a very dark turn when its obsessive showrunner manipulates his team into playing along in his disturbed, hidden-camera "masterpiece" that involves him murdering his writers one-by-one, on camera. From High Octane Pictures ... In
"D-Railed
"
(2019), starring Lance Henriksen, Shae Smolik, Frank Lammers, Carter Scott, Everette Wallin and Tonya Kay, a woman boards a train that derails into a lake in the middle of the night. She, along with other surviving passengers, find themselves trapped within the sinking wreckage ... but what they discover beneath the surface is far more terrifying as they fight to stay alive against a deadly predator determined to kill them all. From Uncork'd Entertainment ...
"The Outsider
"
(2019) starring Trace Adkins, John Foo, Sean Patrick Flanery and Danny Trejo, is a gritty tale of revenge in a small Western boomtown. In search of the American dream, a railroad worker (Foo) finds himself on the wrong side of a lawless frontier. As the Marshall (Adkins) attempts to control his corrupt town, tragedy strikes sending the railroad worker on a path of retaliation. On DVD, Blu-ray, from Cinedigm ...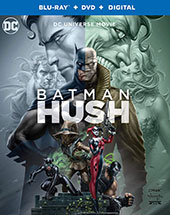 "Batman: Hush
"
(2019), the latest animated feature from Warner Bros. Home Entertainment and DC, centers on a shadowy new villain known only as Hush, who uses Gotham's Rogues Gallery to destroy Batman's crime-fighting career, as well as Bruce Wayne's personal life -- which has already been complicated by a relationship with Selina Kyle, aka Catwoman. In a Blu-ray/DVD Combo, from Warner ... In
"3 Lives
"
(2019 -- Germany), starring Mhairi Calvey, Anatole Taubman and Victor Alfieri, a woman on the run in the wilderness from ruthless kidnappers -- three ex-soldiers --discovers her rescuer is the man jailed for attacking her 15 years earlier. From High Octane Pictures ... In
"Wicked Witches
"
(2019), starring Duncan Casey, Justin Marosa and Samantha Schnitzler, after being thrown out of his home by his wife for being promiscuous, Mark finds himself back at Dumpling Farm, a place of youthful memories and parties, but things aren't quite right. His old buddy Ian, who has never left the place, is possessed by a group of demonic, flesh eating Witches. Using Ian and his farm, these beautiful Witches trap Mark and his friends to consume their souls. Due August 9 from Midnight Releasing.
ON THE INDIE FRONT:
"The Iron Orchard
"
(2018), starring Lane Garrison, Ali Cobrin, Austin Nichols and Lew Temple, is the story of Jim McNeely (Garrison), a young man thrust into the vibrant and brutal West Texas oilfields in 1939. In a state gushing with oil and filled with ambition, McNeely settles into a small-town community that is slowly overcoming the trauma of the Great Depression. The formidable path before him is riddled with obstacles -- overbearing bosses who try to keep him down, powerful oilmen who are reluctant to invest in a fresh face, and women who see salvation in his charms -- but he finds a glimmer of hope with his first loves: new wife Lee Montgomery (Cobrin) and drilling for oil. On DVD, Blu-ray, from Santa Rita Film Co ...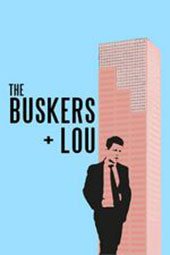 Determined to build a new life for himself, a young man returns home from prison to find work and a place to live and struggles to not fall back in with his old crowd in
"The Buskers and Lou
"
(2014), starring Marshall Walker Lee, Megan Carver and Tyler Andre. From Random Media ... In
"Off Season"
(2019), starring Jessica Cadden Osborne, Chance Kelly, Amanda Good Hennessey, Braedyn Clark and Sosie Bacon, a young woman takes work on a Martha's Vineyard farm and befriends the 10-year-old farmer's daughter only to discover present day horrors that stem from a dark past. From Indican Pictures ... In
"Plus One
"
(2019), starring Maya Erskine, Jack Quaid, Ed Begley, Jr., Beck Bennett, Rosalind Chao and Brianne Howey, long-time friends Alice and Ben find themselves in that inevitable year that all late twentysomethings experience -- in which seemingly every person they know gets married —- and agree to be one another's plus ones as they power through an endless parade of insufferable weddings. On DVD, Blu-ray, from RLJE Films.
FOREIGN FILMS:
"The Girl in the Fog
"
(2017 -- Italy), starring Toni Servillo, Jean Reno and Galatea Ranzi, is based on the internationally acclaimed novel of the same name. The film follows the sudden disappearance of Anna Lou, a 16-year-old girl, from a small mountain village in the Italian Alps. Called to investigate the mystery is the enigmatic Detective Vogel (Servillo), who soon realizes that this case is far from simple. Working against the clock and amidst an unprecedented media frenzy, Vogel must make use of his unconventional methods to uncover the truth, in a town where motives are obscure, facts are distorted – and everyone could be a suspect. From Icarus Films ...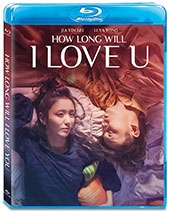 "How Long Will I Love U
"
(2018 -- China), starring Jia Ying Lei and Li Ya Tong, is a romantic comedy about a man and a woman living in the same apartment nearly 20 years apart who wake one day to find their timelines have merged. Now they're stuck with one another, unless they can work together long enough to find a way back to their normal lives ... if destiny will allow it. On Blu-ray from Well Go USA ... The visceral and compelling
"Girls of the Sun
"
(2018 -- France), starring Golshifteh Farahani, Emmanuelle Bercot and Zübeyde Bulut, is based on a true story that reveals the strange and unexpected turns modern warfare can take. Somewhere in Iraqi Kurdistan, Bahar, commander of the all-female "Girls of the Sun" battalion, is preparing to liberate her hometown from the hands of ISIS extremists, hoping to find her son who is being held hostage. A French journalist, Mathilde, comes to cover the attack and bear witness to the story of these exceptional warriors. As their lives are turned upside down, the Girls of the Sun find themselves fighting for women, life and liberty. On DVD, Blu-ray, from Cohen Media Group ... In
"Tiger Milk
"
(2017 - Germany), starring Flora Thiemann, Emily Kusche, David Ali Rashed, Narges Rashidi, Emil Belton and August Carter, best friends Nini and Jameelah are 14 years old. Summer has begun and Berlin is their playground. Sticky lipped and heavy-eyed from drinking tiger milk -- a mix of passion fruit, milk, and brandy -- they flirt and use their innocent charm for fun. This summer, it's going to happen -- sex and true love with Nico and Lukas. But when Jameelah's family is threatened with deportation back to Iraq, the two girls realize that their friendship is more important than ever. On DVD, Blu-ray, from Altered Innocence.
FOR THE FAMILY:
In
"Sesame Street: Dance Party"
(2018), celebrities such as Amy Ryan, Liev Schreiber, Maria Menounos, Naomi Watts, Nicole Kidman, Sutton Foster, Ne-Yo, Janelle Monae and Wendy Williams join the Sesame Street gang to sing and dance. This special collection includes over two hours of content that will make your child want to move and groove. Little ones will love to see real kids dancing flamenco, doing an Irish stepdance, clapping out West African beats, and cha-cha-ing all over the place. From Sesame Workshop/Shout Kids ...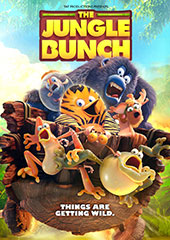 "The Jungle Bunch
"
(2017 -- France) is an animated family feature. Maurice may look like a penguin -- but he's a real tiger inside. Raised by a tigress, he's the clumsiest Kung-Fu master ever. Along with his friends, The Jungle Bunch, he intends to maintain order and justice in the jungle, as his mother did before him. But when Igor, an evil koala, wants to destroy the jungle once and for all with the help of his army of silly baboons, Maurice faces his biggest challenge yet. From Shout! Kids ...
"The Swan Princess: Kingdom of Music"
(2019) is the latest adventure in the animated "Swan Princess" franchise. Princess Odette is hosting a music competition to celebrate Princess Alise's birthday - the winner will sing at her grand birthday ball. Prince Li of Cathay has entered, but his sister Princess Mei Li has stowed away on his ship to seek help from Odette and Derek for Chen, who has been cursed to live as a dragon. Lucas and Alise are reunited but Prince Li's arrival makes Alise doubt her feelings. While Li and Lucas fight for Alise's heart, Derek and Odette try to help Mei Li and Chen break the curse. Who will win the music festival and will Chen ever be free from his curse? From Sony ...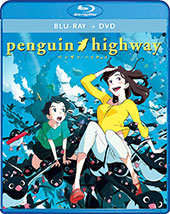 "Penguin Highway
"
(2018 -- Japan) is the winner of the 42nd Japan Academy Award for Excellent Animation of the Year. Budding genius Aoyama is only in the 4th grade, but already lives his life like a scientist. When penguins start appearing in his sleepy suburb, hundreds of miles from the sea, Aoyama vows to solve the mystery. When he discovers that the arrival of the penguins is somehow related to a mysterious young woman from his dentist's office, they team up for an unforgettable summer adventure. Based on the best-selling Japanese science fiction novel written by Tomihiko Morimi ("The Night Is Short, Walk on Girl"), "Penguin Highway" has also had its novel released in the US this year.On DVD, Blu-ray/DVD Combo, from Eleven Arts/Shout! Factory.
SPECIAL INTEREST:
"Amazing Grace
"
(2018) is a documentary presenting the live recording of Aretha Franklin's album "Amazing Grace" at The New Temple Missionary Baptist Church in Watts, Los Angeles in January 1972. From Universal ... In 1969 the police raided the Stonewall Inn, a gay bar in New York City's Greenwich Village, leading to three nights of rioting by the city's LGBT community. With this outpouring of courage and unity the gay liberation movement had begun.
"Before Stonewall: The Making of a Gay and Lesbian Community
"
(1984) pries open the closet door, setting free the dramatic story of survival, love, persecution and resistance experienced by LGBT Americans since the early 1900's. Revealing and often humorous, this widely acclaimed film relives the emotionally-charged sparking of today's gay rights movement, from the events that led to the fevered 1969 riots to many other milestones in the fight for acceptance. Newly restored from First Run Features ...
"Sex Trafficking in America"
(2019) is a Frontline documentary that tells the stories of young women coerced into prostitution -- and follows one police unit that's committed to rooting it out. In the film, award-winning director Jezza Neumann and producer Lauren Mucciolo immerse themselves with the Phoenix police unit that's tackling child sexual exploitation, offering an inside look at the lucrative industry through unique access to a series of undercover, high-stakes police operations. They also film with young women who have escaped the trade. What's revealed is a crime that's both hidden in plain sight and growing - due in part to social media, where traffickers often start to groom and recruit young women and girls. With extensive and intimate access to local law enforcement, prosecutors, service providers and the women themselves, the film shines a light on the hidden reality of sex trafficking in America. From PBS Distribution ...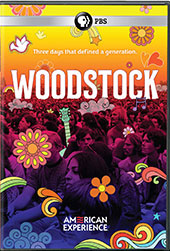 "Woodstock: Three Days That Defined a Generation"
(2019) is an American Experience documentary from award-winning filmmaker Barak Goodman that revisits the 1969 Woodstock concert for its 50th Anniversary. In August 1969, half a million young people from all walks of life journeyed from every corner of the country to a dairy farm in upstate New York for a concert unprecedented in scope and influence. The film examines the tumultuous decade that led to those three historic days — years that saw the nation deeply divided by Vietnam and racial, generational and sexual politics — through the voices of those who were present for the event that would become the defining moment of the counterculture revolution. Focusing on individuals that were at the concert including concert goers, security guards, performers, and local residents, "Woodstock" expands our understanding of the event as not only an unparalleled musical milestone, but a once-in-a-century cultural phenomena that served as a coda to the sixties and a harbinger of the decades to come. From PBS Distribution ... Tom Lehrer spent his brief, yet remarkable music career writing and performing brilliant satirical songs that entertained and enlightened millions. Biting, intelligent, and socially conscious, his songs were accessible and intimate commentaries on society and politics in the 1950s and 60s.
"Tom Lehrer: Live in Copenhagen"
(1967), originally filmed for Danish television in September 1967, captures a rare concert recording and features many of his best-known songs, including: "I Wanna Go Back To Dixie," "MLF Lullaby," "We Will All Go Together When We Go," "When You Are Old And Gray," "I Hold Your Hand In Mine," "Send The Marines," "The Irish Ballad," "The Elements," "Smut," "The Hunting Song," "My Home Town," "Who's Next," "Poisoning Pigeons In The Park," "National Brotherhood Week," "Wernher Von Braun," and "The Vatican Rag."From PBS Distribution.
FROM TV TO DISC:
"The Best of The Carol Burnett Show: 50th Anniversary Edition"
(1967-78) Twenty-one disc set with 60 hand-picked episodes covering every one of the 11 seasons.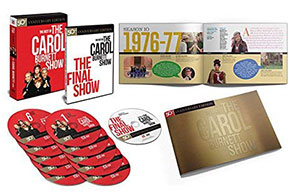 Includes "The Best of The Carol Burnett Show" (10 discs), "11 Years, Together Again" (10 discs) and "The Final Show" (March 29, 1978) (1 disc). Guest stars include Lucille Ball, Sammy Davis Jr., Phyllis Diller, Ella Fitzgerald, Rita Hayworth, Rock Hudson, Steve Lawrence, Bob Newhart, Bernadette Peters, Carl Reiner, Burt Reynolds, Don Rickles, Neil Sedaka, Lily Tomlin, Mel Tormé, Flip Wilson, Jim Nabors, Soupy Sales, Cass Elliot, Ben Vereen, Ray Charles, Andy Griffith, Chita Rivera and more. Extras include exclusive interviews with Carol, Vicki Lawrence, Tim, Alan Alda, Julie Andrews, Carol Channing, Steve Lawrence, Don Rickles, and more; a cast reunion and backstage tour of Studio 33; never-before-seen outtakes including Harvey Korman as Mother Marcus; newly produced featurettes including "11 Years of Laughter," "11 Years of Style" and "The End of 11 Years: Saying So Long." From Time Life.
Check out other new DVD/Blu-ray releases, streaming films, and information and reviews at OnVideo.
Comments