By Chris Kavan - 05/02/19 at 06:35 AM CT
In a staggering opening, Avengers: Endgame shattered pretty much every record over its opening weekend and looks to continue to dominate the box office despite competition from frou new films. In fact, I tend to think that the reason any of these films will do well is because people will still not be able to get into Endgame over the crowded weekend and will seek the next best thing according to their tastes. So you have UglyDolls looking to channel Trolls with its upbeat music and cast to target families. You have the R-rated Long Shot looking to draw in couples. You have The Intruder is hoping to serve up some thrills while El Chicano is going to expand just enough to be considered a wide release at 605 theaters. None of these films will be able to match Endgame - and I wouldn't be at all surprised if Endgame's second week numbers make more than the rest of the field combined (or close).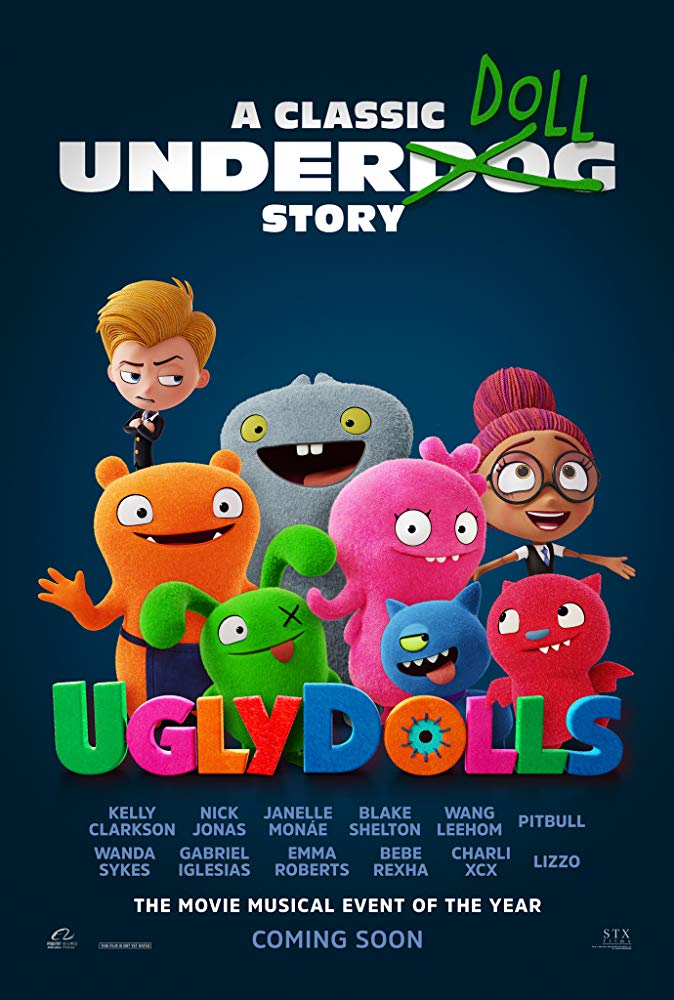 UGLYDOLLS
As I said above, STX, dipping their toes into the animation field, obviously studied Trolls for their inspiration for UglyDolls. Trolls and maybe a bit of Island of Misfit Toys from Rudolph the Red-Nosed Reindeer for good measure. It's a musical and it's an uplifting tale about being yourself - what more can families want? They do have the right cast to pull off the musical part with Kelly Clarkson, Nick Jonas, Janelle Monáe, Blake Shelton, Pitbull, Charli XCX taking on the singing, joined by Gabriel Iglesias, Wanda Sykes and Emma Roberts on the straight acting side of things. The film looks, fine, I guess - very colorful with the toys no one wants, but who just want to find that one child who will enjoy them even with their flaws. Of course, that means dealing with Perfection - a place where everyone is, well, perfect. This is a perfectly harmless animated feature. Not sure it's going to allow STX to compete with the big boys on the block, but it should make enough to break even, hopefully. There's talent there, if the music is halfway catchy, it could draw in the kids (and the adults who have to be with them). I don't expect huge numbers, but should do well enough.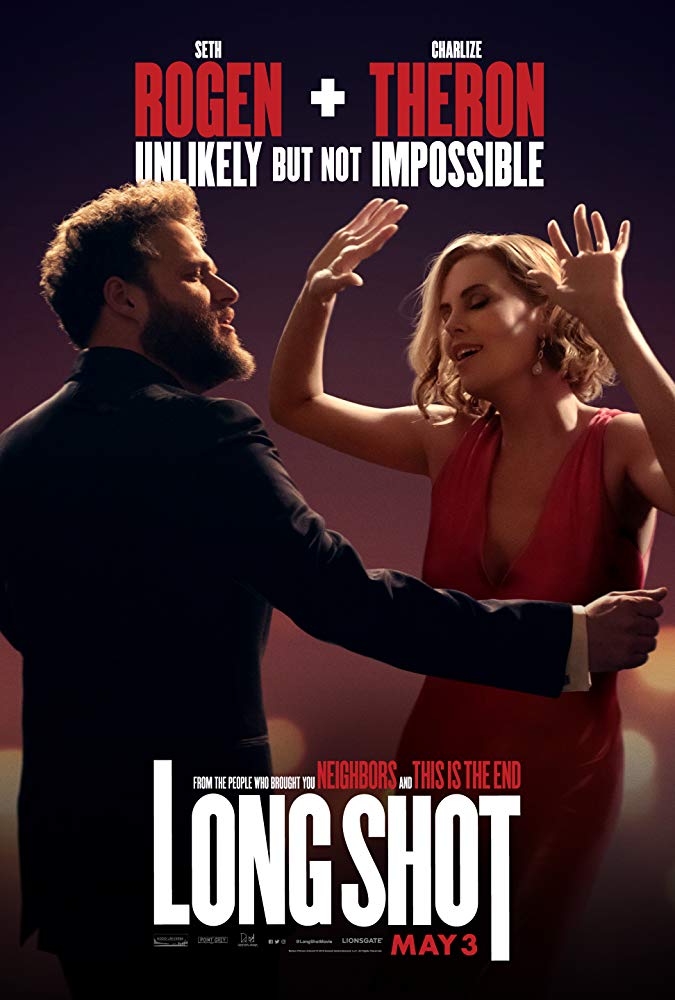 LONG SHOT
It's often the strangest combinations that make for the best duos. One would think that a romance between Seth Rogen and Charlize Theron would be pretty damn high on that list - and here we are. Long Shot follows Fred Flarsky (Rogen) a talented, free-spirited and often in hot water journalist. He finds himself coming into the orbit of Charlotte Field (Theron) a red-hot spark of a woman who look to become the next president. She also happens to be the former babysitter, and one-time crush, of Flarsky. Even as her advisers warn against it, she makes Fred a part of her team, and he not only writes some speeches, he shows her a good time and the two share undeniable chemistry - which takes a back seat when it becomes apparent Charlotte is in real danger. Andy Serkis, Bob Odenkirk, O'Shea Jackson Jr., Alexander Skarsgård, Randall Park and Ravi Patel help round out the cast. The film carries an R-rating and I'm guessing it's going to flaunt that will all kinds of language and violence and steamy situations. If more adults than families decide to go out - we'll see if this trumps UglyDolls.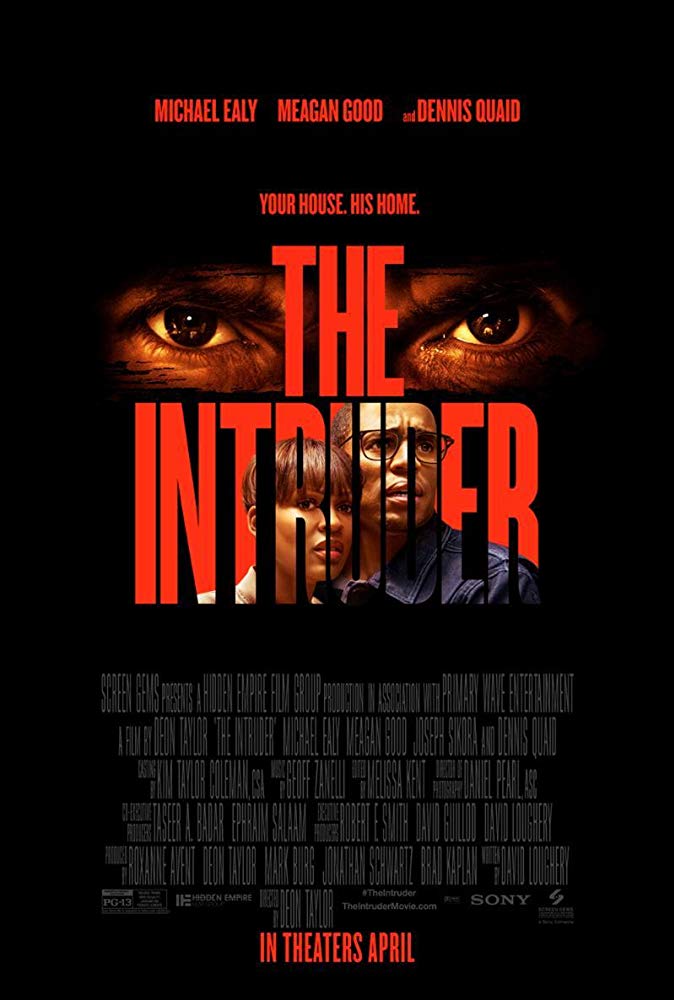 THE INTRUDER
If animation or spicy odd couples aren't your thing, join new couple Annie and Scott Russell (Meagan Good and Michael Ealy) who have made the choice to move into a beautiful new home on a nice acreage only to discover the previous owner, Charlie Peck (Dennis Quaid) is still a bit attached to the property - and is willing to go to great lengths to get it back. An older white dude terrorizing a young, black couple? Maybe hits a little too close to home in these times. Still, if it can find an audience - even a moderate one, it's bound to do... decent. I'm not going to predict anything amazing, but if it can hit double digits, that would be just fine. The Intruder is one of those films that is a basic filler - it will satisfy just find, but still leaves you feeling a bit empty once it's done.
EL CHICANO
In what is clearly targeted at a primarily Latino audience, the just over-wide expansion of El Chicano follows a detective whose brother is murdered and all signs point to the involvement of a drug cartel, one run by an old childhood friend who has grown up to be a gang boss for said cartel. The title refers to a legendary masked figure who prowls the streets (think Batman, but without all the money and gadgets) seeking justice/vengeance depending on semantics. The film stars Jose Pablo Cantillo, Raúl Castillo, David Castañeda, Marlene Forte, Aimee Garcia, George Lopez and Roberto Garcia. I'm sure there will be plenty of action here, considering the situation, but it will be interesting to see if this can at all branch out to a more general audience. My guess is it will be lucky to land a spot in the top 10, but we'll have to wait and see if targeting a more specific audience plays out in its favor.
No doubt that Avengers: Endgame is going to repeat atop the box office - and probably break even more records along the way. We'll have to see if any newcomers can stand out against such a monster film.
Comments