By Harley Lond - 03/26/19 at 08:14 AM CT
FROM THE BIG SCREEN:
"Aquaman": A fun take on the DC Comic Book superhero Aquaman, here giving the underwater denizen his own film in the DC Extended Universe ... but not taking it all too seriously. There's plenty of outrageous set-pieces, including battle sequences with sea dragons and armored sharks, and wacky dialogue and over-the-top action scenes. In this universe, Arthur Curry (Jason Momoa) is a child of Atlantis raised on land but still able to exist underwater with incredible powers. The kingdom of Atlantis is ruled by the power-hungry King Orm (Patrick Wilson) who, with a vast army at his disposal, plans to conquer the remaining oceanic people -- and then the surface world.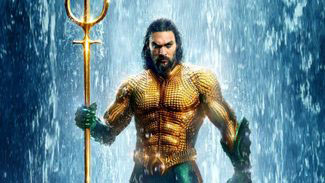 Standing in his way is Aquaman, Orm's half-human, half-Atlantean brother and true heir to the throne. Aquaman
also stars Amber Heard, Dolph Lundgren, Nicole Kidman, Willem Dafoe, Djimon Hounsou and Leigh Whannell. From Warner.

"Stan & Ollie
": Laurel & Hardy, one of the world's great comedy teams, set out on a variety hall tour of Britain in 1953. Diminished by age and with their golden era as the Kings of Hollywood Comedy now behind them, they face an uncertain future. As the charm and beauty of their performances shines through, they re-connect with their adoring fans. The tour becomes a hit, but Stan and Ollie can't quite shake the specter of Laurel and Hardy's past; the long-buried ghosts, coupled with Oliver's failing health, start to threaten their precious partnership. A portrait of the most tender and poignant of creative marriages, they are aware that they may be approaching their swan song, trying to rediscover just how much they mean to each other. One of the best films of the year. Stars John C. Reilly, Steve Coogan, Shirley Henderson, Stephanie Hyam and Danny Huston. From Sony.

"If Beale Street Could Talk
": From Academy Award-winner Barry Jenkins, adapted from James Baldwin's acclaimed novel, comes this timeless love story set in early 1970s Harlem. Newly engaged 19-year-old Tish (KiKi Layne) and her fiancé Fonny (Stephan James) have a beautiful future ahead. But their plans are derailed when Fonny is arrested for a crime he did not commit. Now the pair and their families must fight for justice in the name of love and the promise of the American dream. Beautifully directed and acted. Also stars Regina King, Colman Domingo, Teyonah Parris and Michael Beach. From Fox.

"Second Act
": Maya (Jennifer Lopez) is a 40-year-old woman struggling with the frustrations of not having achieved more in life. As an experienced, quick-witted, perceptive employee, she's passed over for a promotion solely because she doesn't have a college degree. Until, that is, she gets the chance to prove that street smarts are as valuable as book smarts, and that it is never too late for a second act. Lopez still is commanding on the big screen but the material she's working with here is too trite and predictable to allow her to really shine. Co-stars Leah Remini, Vanessa Hudgens, Annaleigh Ashford, Charlyne Yi, Treat Williams and Milo Ventimiglia. From Universal.


THIS WEEK'S BEST BETS
On February 9, 1964, the Beatles made their first live appearance on American television on "The Ed Sullivan Show," ratcheting up the frenzy of a fanbase whose ecstatic devotion to the band heralded an explosive new wave of youth culture.
"I Wanna Hold Your Hand
"
(1978) looks back to that fateful weekend, following six teenagers, each with their own reasons for wanting to see the Fab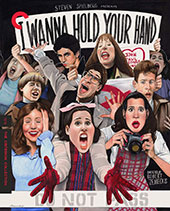 Four, from New Jersey to Manhattan on a madcap mission to meet the band and score tickets to the show. With this rollicking first feature, director Robert Zemeckis and co-writer Bob Gale established themselves as a filmmaking team par excellence, adept at mining America's cultural memory for comedy and adventure with a winning mixture of sweet nostalgia and playful irreverence. On DVD and Blu-ray, with new 4K digital restoration, approved by director Robert Zemeckis and co-writer Bob Gale, with 5.1 surround DTS-HD Master Audio soundtrack on the Blu-ray. From The Criterion Collection ... Set in the 1930s Depression era during Mardi Gras in New Orleans,
"The Tarnished Angels
"
(1958) covers three days in the lives of a trio of flying-circus performers, headlined by former WWI fighter-pilot hero Roger Shumann (Robert Stack) and his beautiful blonde wife, LaVerne (Dorothy Malone). Romantic complications arise when newspaper reporter Burke Devlin (Rock Hudson) falls in love with LaVerne while covering their daredevil aerial show. Legendary filmmaker Douglas Sirk ("Magnificent Obsession," "All That Heaven Allows," "Written on the Wind," "Imitation of Life") directed this masterpiece based on a novel by William Faulkner, adapted for the screen by George Zuckerman. Features Troy Donahue in one of his earlier roles. Also stars Robert Middleton, Alan Reed and William Schallert. On Blu-ray from Kino Lorber Studio Classics ... In
"Japón
"
(2002 -- Mexico), the preternaturally assured feature debut by Carlos Reygadas, a man (Alejandro Ferretis) travels from Mexico City to an isolated village to commit suicide; once there, however, he meets a pious elderly woman (Magdalena Flores) whose quiet humanity incites a reawakening of his desires. Recruiting a cast of nonactors and filming in sublime 16 mm CinemaScope, Reygadas explores the harsh beauty of the Mexican countryside with earthy tactility, conjuring a psychic landscape where religion mingles with sex, life co-exists with death, and the animal and spiritual sides of human experience become indistinguishable. A work of soaring ambition and startling visual poetry, "Japón" is an existential journey through uncharted cinematic territory that established the singular voice of its director. On DVD and Blu-ray, with new 2K digital restoration, supervised by director Carlos Reygadas, with 2.0 surround DTS-HD Master Audio soundtrack on the Blu-ray. From The Criterion Collection.
BUZZIN' THE 'B'S:
In
"The Vault
"
(2017), starring James Franco, Taryn Manning, Francesca Eastwood and Scott Haze, two estranged sisters are forced to rob a bank in order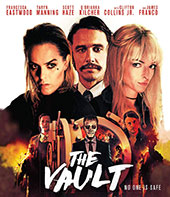 to save their brother. The heist begins smoothly, but mayhem ensues when the defiant bank manager sends them to a basement-level vault -- home to something truly evil. On DVD, Blu-ray, from Filmrise ... In
"King of Thieves
"
(2018), a star-studded cast (Michael Caine, Jim Broadbent, Tom Courtenay, Charlie Cox, Michael Gambon, Ray Winstone) pulls off one of the biggest bank heists in history when a band of misfit criminals plot an unprecedented burglary at the Hatton Garden Safe Deposit. The thieves, all in their 60s and 70s except for one, manage to escape with allegedly £200. On DVD, Blu-ray, from Lionsgate ... In
"Blood Hunger: The Films of Jose Larraz
,"
one of the most underrated and oft-neglected genre filmmakers of his generation, Spanish-born director José Ramón Larraz finally receives his due with this collection of his work, the first of its kind, bringing together a fascinating cross-section of films from the first half of his lengthy cinematic career. In Larraz's debut feature, the hitherto ultra-rare "Whirlpool" (1970), Vivian Neves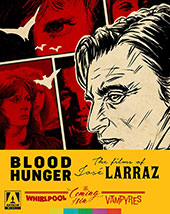 stars as Tulia, a young model invited to a photographer's secluded country home for what purports to be a quiet weekend retreat -- but soon transpires to be anything but. 1974's "Vampyres" -- perhaps the best known and most widely-released of all José Larraz's films -- sees a duo of blood hungry female vampires prowling the British countryside, from where they lure unsuspecting male motorists back to their imposing, dilapidated mansion for draining... in more ways than one. Meanwhile, in 1978's "The Coming of Sin (La Visita del Vicio)," a young gypsy girl experiences a violent sexual awakening as her dreams of a naked young man on horseback become reality. By turns terrifying, titillating, artful and scandalous, these three films collected here -- all newly restored from original film elements, with "Whirlpool" and "The Coming of Sin" making their Blu-ray world premieres -- collectively offer film fans a unique perspective on the fascinating, highly-varied career of one of the horror genre's most overlooked auteurs. On Blu-ray from Arrow Video/MVD Entertainment ... In
"Greasy Strangler
(Special Director's Edition)"
(2017), starring Michael St. Michaels, Sky Elobar, Elizabeth De Razzo and Darrell Keith Harris, when Big Ronnie and his son Brayden meet female tourist Janet on Big Ronnie's Disco Walking Tour -- the best and only disco walking tour in the city -- a fight for Janet's heart erupts between father and son, and the infamous "Greasy Strangler" is unleashed. On Blu-ray from Filmrise ...
"Nemesis: Triple Feature
"
brings together three sequels to 1992's "Nemesis," about cyborgs fighting humans in the near future. "Nemesis 2: Nebula" (1995) takes place 73 years later; humans have lost the Cyborg Wars and they are now slaves to the cyborg masters. Rebel scientists have developed a new DNA strain, which could signal the end of the cyborgs, and it is injected it into a pregnant volunteer. When the cyborgs learn of the woman and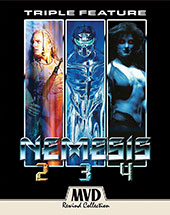 her baby, both are listed for termination. To escape, the woman steals a cyborg ship and is transported back in time to East Africa in 1980, where the mother is killed, but the baby -- named Alex -- is saved. In "Nemesis 3: Time Lapse" (1996), Alex has grown up and discovers she has 20 half-sisters who are waiting for her to return to the year 2077. In "Nemesis 4: Death Angel" (1996), Alex is making a living in the future working as a cybernetically-enhanced assassin but, when she accidentally targets the wrong man and kills the son of a major crime syndicate head, she finds herself on the run once again as every assassin in town comes to collect the bounty on her. On Blu-ray from MVD Rewind ...
"The Street Fighter Collection
"
(2018) Contains all three "Street Fighter" films with uncut versions and new 2K scans of the original film elements. Meet the meanest and most lethal karate master ever to rule the streets. He's Sonny Chiba, one of the greatest martial arts actors to ignite the screen. In "The Street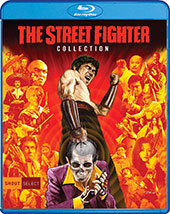 Fighter," Chiba stars as Terry Tsurugi, a mercenary who has been hired by both the yakuza and the mafia to kidnap a wealthy heiress, but when he isn't paid, a violent clash ensues. Chiba is back in "Return of the Street Fighter." This time Tsurugi is hired by the mob to kill two informants, but when he realizes one is an old friend, he refuses, and he becomes the one being hunted. When Tsurugi is double crossed by the Ôwada clan, he takes off with something they want in "The Street Fighter's Last Revenge." Soon he's being chased by a group of deadly assassins. On Blu-ray from Shout! Factory Select ... Shout! Factory/Scream Factory has three Blu-ray debuts this week: In
"The Body Snatcher
"
(1945), the two titans of horror, Boris Karloff and Bela Lugosi, come together in their last on-screen pairing. Karloff plays the title role in the Val Lewton adaptation of Robert Louis Stevenson's fictional short story "The Body Snatcher," directed with subtle calculation by versatile Robert Wise ("West Side Story," "The Sound of Music"). A doctor (Henry Daniell) needs cadavers for medical studies and Karloff is willing to provide them one way or another. New 4K scan of the original camera negative ...
"Warning Sign
"
(1985), stars Sam Waterston, Kathleen Quinlan, Yaphet Kotto.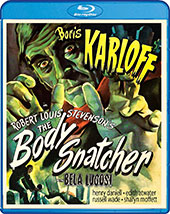 In the rolling Utah countryside, a small town is host to a fortress-like research facility that the townspeople believe is developing new advancements in agriculture. But deep within is a top-secret project to create a bioweapon that turns anyone exposed to it into a raging, psychotic killer. When the unthinkable happens and the facility is locked down, Sheriff Cal Morse (Waterston) must choose between keeping the town safe and rescuing his wife Joanie (Quinlan), who is trapped inside. But for Major Connolly (Kotto), there is only one remorseless solution: contain the deadly virus ... at all costs ...
"Brighton Beach Memoirs
"
(1986) stars Jonathan Silverman, Blythe Danner, Bob Dishy and Judith Ivey. Fifteen-year-old Eugene Jerome (Silverman) is desperately trying to uncover life's mysteries, but his family keeps hiding the clues. Even so, he manages to keep his priorities -- baseball and girls -- firmly in order. Neil Simon's hilarious adaptation of his Broadway smash about growing up in Brooklyn is a wonderful, semi-autobiographical comedy with heart, wit and hysterical insights into family life and growing up just a little off-center.
FOREIGN FILMS:
Winner of the Grand Jury Prize at the Cannes Film Festival,
"Capernaum
" (Chaos)
(2018 -- Lebanon), a new film by Nadine Labaki, depicts the journey of a clever, gutsy 12-year-old boy, Zain Al Rafeea, who survives the dangers of the city streets by his wits. He flees his parents and, to assert his rights, takes them to court, suing them for the "crime" of giving him life. On DVD, Blu-ray,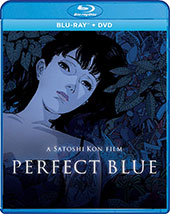 from Sony ...
"Perfect Blue
"
(1997 -- Japan) is the directorial debut of acclaimed director Satoshi Kon ("Paprika," "Millennium Actress"). The critically-acclaimed animated film has frequently been hailed as one of the most important animated films of all time. This new Blu-ray edition features both a newly digitally remastered version of the film and an original definition presentation. Rising pop star Mima has quit singing to pursue a career as an actress and model, but her fans aren't ready to see her go. Encouraged by her managers, Mima takes on a recurring role on a popular TV show, when suddenly her handlers and collaborators begin turning up murdered. Harboring feelings of guilt and haunted by visions of her former self, Mima's reality and fantasy meld into a frenzied paranoia. As her stalker closes in, in person and online, the threat he poses is more real than even Mima knows, in this iconic psychological thriller. In a Blu-ray/DVD Combo from GKIDS/Shout! Factory.
SPECIAL INTEREST:
The documentary
"Life After Flash
"
(2017) looks at the roller coaster life of Sam J. Jones since his role as Flash Gordon, his struggles and successes, and the aftermath of when he went up against one of the most powerful producers in Hollywood. Features Melody Anderson, Brian Blessed, Topol, Peter Wyngarde, Richard O'Brien, Deep Roy, Brian May, Peter Duncan, Howard Blake, Stan Lee and Brian May. From Cleopatra Entertainment.
Check out other new DVD/Blu-ray releases, streaming films, and information and reviews at OnVideo.
Comments