By Chris Kavan - 03/14/19 at 06:39 AM CT
With Captain Marvel blasting its way to the top of the 2019 charts, and giving the year the first, big hit it needs, there will have to be something special to top it. This weekend shouldn't prove much of a challenge as all three newcomers, animated Wonder Park, teen romance Five Feet Apart and sci-fi thriller Captive State aren't likely to bring in a big enough audience to stop the MCU. I expect at least two out of the three to hit the top five, at least, but with so much competition, it may be tough to make anything more than a middling dent over the weekend.

WONDER PARK
It's going to be a race to see what film ultimately comes out on top among the newcomers, but family-friendly animated films often have the edge because they tend to draw out the most well-rounded crowd. But Wonder Park does face some serious competition, now just from Captain Marvel, but also from How to Train Your Dragon: The Hidden World and even The LEGO Movie 2 - and all those choices may mean Wonder Park will have a more difficult time standing out. The film follows June (Brianna Denski), an imaginative and quite effervescent girl, who stumbles upon a run-down amusement park in the forest, along with a group of talking animals. She soon realizes the park runs off her own imagination and in order to bring it back to life, she will have to use the power of her mind, along with some help from her new friends. The animals are voiced by the likes of Kenan Thompson, Mila Kunis, John Oliver and Ken Jeong with Matthew Broderick and Jennifer Garner providing the voices for June's parents. With a reported budget of $100 million, Wonder Park faces an uphill battle to become solvent and I don't think it's going to draw a huge crowd over the weekend, so the international box office may make or break this one. This is the kind of film that looks great for the younger kids, but doesn't look to attract a much older audience or entrance many adults (who aren't there with their kids). It will open in the top five for sure, but profit may escape it in the long run.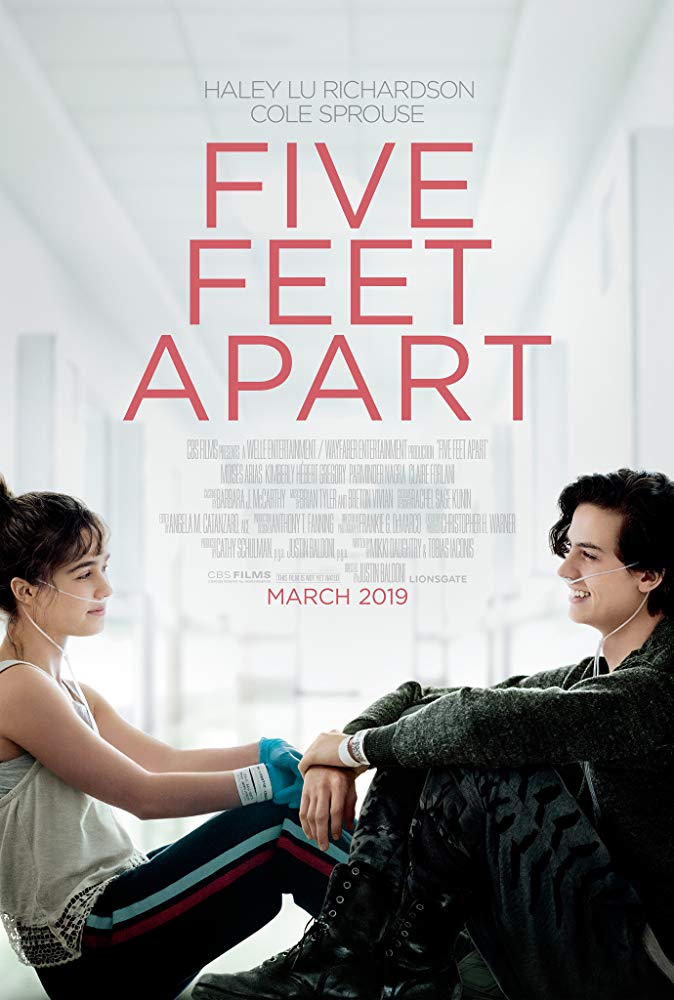 FIVE FEET APART
If Wonder Park is for the younger crowd, Five Feet Apart is targeting the teen crowd. With a plot that reminds me a lot of The Fault in Our Stars, the film follows Stella (Haley Lu Richardson) and Will (Cole Sprouse) who meet in the hospital while each are battling life-threatening illnesses and, of course, they team up to murder their parents whilst also taking revenge on the hospital staff who cannot cure them... JUST KIDDING - they actually fall in love (but I think my idea sounds so much more interesting). Teen romance is nothing new - Fault in Our Stars, If I Stay, The Space Between Us and probably a few hundred more have done it all before. Yet, the genre remains a pretty solid draw (with some hiccups here or there) and it should prove as if not more popular than the above-mentioned animated entry. This doesn't have nearly as much direct competition, so it all depends on if its targets audience shows up in any force. Once again, I expect this to have finish in the top five, but don't expect anything huge.
CAPTIVE STATE
That leaves Captive State as the odd man out - and not in a good way. The sci-fi thriller take place in Chicago - but not like we know it. It is set ten years after an alien invasion and follows people who fight against the occupation and those working with the invaders - and I'm sure the comparison to modern struggles with be a subtle as using a sledge hammer to kill a fly. Hey, at least the film has John Goodman! It also has some other people you may recognize: Vera Farmiga, Kevin Dunn, James Ransone, Alan Ruck, Madeline Brewer, Ashton Sanders and Jonathan Majors. But none of these names are exactly big-name draws and the film just looks like too generic a sci-fi film to compete - especially with Captain Marvel dominating and I expect this to fall outside the top five by a fair margin. This screams "streaming title" and probably should have gone that route as I expect it to barely last through March, if that.
Those are the challengers to Captain Marvel - a film that should have no problem topping the box office once again. I'll be back on Sunday with the full breakdown.
Comments