By Chris Kavan - 03/07/19 at 11:17 AM CT
It was nice that How to Train Your Dragon: The Hidden World gave 2019 a little shot in the arm, but now it's time to bring out the big gun. Disney and the MCU are about as big as you can get and the next entry in the superhero saga looks to continue the winning streak. No doubt that Captain Marvel is going to rule the weekend - and 2019 for that matter - the only question is how it's going to stack against the previous entries and if can finally give 2019 the major hit it so sorely needs.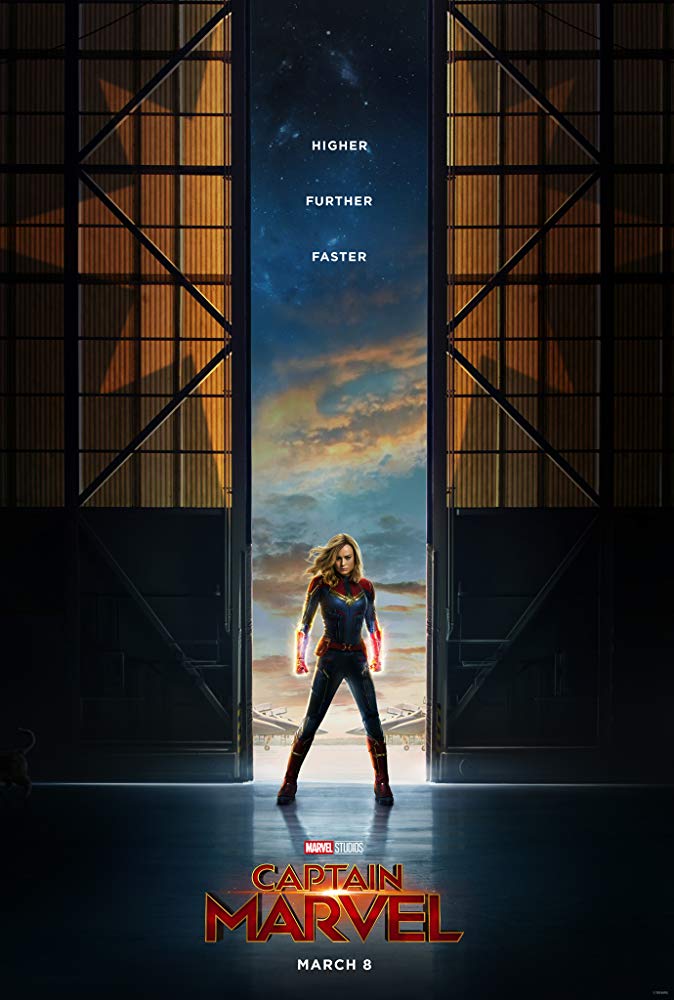 CAPTAIN MARVEL
Hey, it's only taken 21 films for Marvel to deliver the first female-led superhero film (the struggling but lately vastly improved DCEU only needed four to get to Wonder Woman). I'm still miffed we never got that Black Widow solo film, but now we get a strong, female lead, totally 90s references and a de-aged Samuel L. Jackson and Clark Gregg that also serves as an origin story for Nick Fury and S.H.I.E.L.D., oh, and a cat named Goose as well. We also get a look into one of the greatest rivalries from the comics, the intergalactic war between the Kree; those blue-skinned guys represented formerly by the rather radical Ronan the Accuser (Lee Pace) in Guardians of the Galaxy and the Skrull - shape-shifting baddies that gave us that moment in the trailer when Brie Larson punches an old lady in the face, like really hard. The film opens with Vers (Larson), a high-ranking member of the Kree special forces unit known as Starforce, working with her mentor Yon-Rogg (Jude Law) before facing a Skrull interrogation and eventually landing on a backwater planet (aka Earth) where she coming into contact with Fury. Our main bad guy is Talos (Ben Mendelsohn) a Skrull who in short order assumes the identity of Keller, the leader of the fledgling S.H.I.E.L.D. But aside from the action, the film is also praised for the relationship between Larson's Carol Danvers and Maria Rambeau (Lashana Lynch) who meet up as Air Force pilots and develop a close relationship. While a small but vocal minority have taken issue with recent statements made by Larson and have attempted to torpedo early audience reaction (see also Star Wars: The Last Jedi), something tells me this is not going to have much of an impact on the film's bottom line (as it didn't have much effect on Star Wars) and many are predicting $150 million on the low end (and around $350 million worldwide) - which would be a spectacular start.
No doubt Captain Marvel is going to rule the weekend - and most likely the rest of March - and we'll find out Sunday just where the film ranks in terms of the MCU.
Comments