By Harley Lond - 02/13/19 at 09:59 AM CT
FROM THE BIG SCREEN:
"Bohemian Rhapsody" and "The Front Runner."


THIS WEEK'S BEST BETS
One of the most shocking J-horror films ever made, "Audition" (1999 -- Japan) exploded onto the festival circuit at the turn of the century to a chorus of awards and praise. The film would catapult director Takashi Miike to the international scene and pave the way for such other genre delights as "Ichii the Killer" and "The Happiness of the Katakuris." Recent widower Shigeharu Aoyama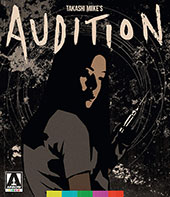 is advised by his son to find a new wife, so he seeks the advice of a colleague having been out of the dating scene for many years. They take advantage of their position in a film company by staging an audition to find the perfect woman. Interviewing a series of women, Shigeharu becomes enchanted by Asami, a quiet, 24-year-old woman, who is immediately responsive to his charms. But soon things take a very dark and twisted turn as we find that Asami isn't what she seems to be... Audition
pulls the audience into a story that will lead to one of the most harrowing climaxes in cinema history, Miike twists and turns us through delirious editing and shocking visuals for one of the most depraved nightmares of all time. Brand new 2K restoration of original vault elements. On Blu-ray from Arrow Video/MVD Entertainment ...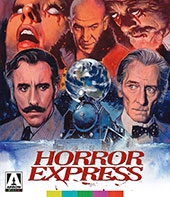 Horror royalty and Hammer alumni Peter Cushing and Christopher Lee reunite for this tale of mad monks, primitive humanoids and bloodthirsty zombies set aboard a train bound for Moscow -- all aboard the "Horror Express
" (1972). Renowned anthropologist Saxton (Lee) boards the Trans-Siberian Express with a crate containing the frozen remains of a primitive humanoid which, he believes, may prove to be the missing link in human evolution. But all hell breaks loose when the creature thaws out, turning out to be not quite as dead as once thought. Directed by Spanish filmmaker Eugenio Martin, "Horror Express" remains one of the most thrilling (and, quite literally!) chilling horror efforts of the early 1970s. Brand new 2K restoration from original film elements. On Blu-ray from Arrow Video/MVD Entertainment ...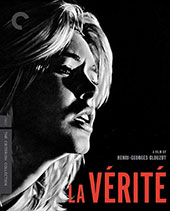 Beautiful, troubled Dominique Marceau (Brigitte Bardot) came to bohemian Paris to escape the suffocation of provincial life, only to wind up in a courtroom, accused of a terrible crime: the murder of her lover (Sami Frey). As the trial commences and the lawyers begin tangling over Dominique's fate, Henri-Georges Clouzot's Oscar-nominated "La vérité
" (1960) delves into her past, reconstructing her struggle to find a foothold in the city. What emerges is a nuanced portrait of an impulsive young woman misunderstood and mistreated by those around her, and of her ultimately tragic affair with an up-and-coming conductor. With an astonishing performance by Bardot, Clouzot's affecting and intricately constructed film -- a huge late-career success for the French master -- renders a harsh verdict against a hypocritical and moralistic society. On DVD and Blu-ray, with new 4K digital restoration, with uncompressed monaural soundtrack on the Blu-ray, from The Criterion Collection ... Rainer Werner Fassbinder's controversial, 15-hour "Berlin Alexanderplatz
" (1980), based on Alfred Döblin's great modernist novel, was the crowning achievement of a prolific director who, at age 34, had already made over 30 films. Fassbinder's immersive epic follows the hulking, childlike ex-convict Franz Biberkopf (Günter Lamprecht) as he attempts to "become an honest soul" amid the corrosive urban landscape of Weimar-era Germany. With equal parts cynicism and humanity, Fassbinder details a mammoth portrait of a common man struggling to survive in a viciously uncommon time. On DVD and Blu-ray, with high-definition digital restoration by the Rainer Werner Fassbinder Foundation and Bavaria Media, supervised and approved by director of photography Xaver Schwarzenberger, with DTS-HD Master Audio soundtrack. From The Criterion Collection.


BUZZIN' THE 'B'S:
In
"The Happy Prince
"
(2018), starring Rupert Everett, Colin Firth, Colin Morgan, Edwin Thomas, Emily Watson and Tom Wilkinson, Oscar Wilde lies on his deathbed in a cheap Parisian hotel, and recalls his past with wit and irony. Was he once the most famous man in London? He reviews the failed attempt to reconcile with his long-suffering wife, the ensuing reprisal of his love affair with Lord Alfred Douglas and the devotion of Robbie Ross, who tried and failed to save him from himself. From Dieppe to Naples to Paris, Oscar is a penniless vagabond, shunned by his old acquaintances, but still revered by a strange group of outlaws to whom he tells the old stories -- his incomparable talent still sharp. Written and directed by Rupert Everett. On DVD, Blu-ray, from Sony ...
"At Eternity's Gate
"
(2018), starring Willem Dafoe, Rupert Friend, Mads Mikkelsen and Oscar Isaac, is an unbridled portrait of the painful but productive final years in the life of Vincent van Gogh (Dafoe). During a self-imposed exile in Arles and Auvers-Sur-Oise, France, Dutch painter Vincent van Gogh develops his unique, colorful style of painting. While grappling with religion, mental illness and a tumultuous friendship with French artist Paul Gauguin, van Gogh begins to focus on his relationship with eternity rather than the pain his art causes him in the present. On DVD, Blu-ray, from Lionsgate ... In
"Possum
"
(2018), starring Sean Harris and Alun Armstrong, Philip (Harris), a disgraced children's puppeteer, returns to his dilapidated childhood home and lecherous stepfather, Maurice (Armstrong). Philip is intent on destroying "Possum," a hideously malformed spider-puppet he carries with him in a brown leather case. Unfortunately, and horrifically, Possum refuses to be abandoned. Philip's mind is flooded with painful half-memories and nightmarish visions, and when he finds himself embroiled in a local investigation surrounding a missing boy, he grows progressively unsure of what's real and what's not. All the while Possum seems to mock his suffering at every turn. From Dark Sky Films ...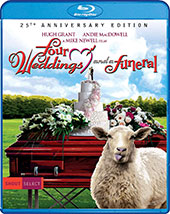 "Four Weddings and a Funeral
(25th Anniversary Edition)"
(1994), starring Hugh Grant, James Fleet, Simon Callow, John Hannah, Kristin Scott Thomas, David Bower, Charlotte Coleman and Andie MacDowell, comes to Blu-rat this week in a new 4K scan from the original camera negative, from Shout! Factory ... and sister label Scream Factory has three Blu-ray debuts this week:
"Man's Best Friend
"
(1993), starring Ally Sheedy and Lance Henriksen. When an ambitious news journalist (Sheedy) breaks into a genetic research facility, she uncovers the biggest story of her career and unleashes the lab's most dangerous experiment: Max, a genetically enhanced guard dog with a vicious killer instinct. Superior sight, hearing, strength, and intelligence make him faster, stronger, and smarter than almost any other animal alive -- and deadlier. Without the neuropathic drugs needed to curb his aggressive nature, his predatory urge runs out of control ... and once he tastes blood, nothing can stop him. New 2K scan of the original film elements ...
"The Poison Ivy Collection
":
The delightfully sleazy neo-noir sinister psychodrama "Poison Ivy" films make their Blu-ray debut in a four disc box set with both the rated and unrated versions of each film: "Poison Ivy" (1992) with Drew Barrymore, "Poison Ivy 2: Lily" (1996) with Alyssa Milano, "Poison Ivy: The New Seduction" (1997) with Jaime Pressly, and "Poison Ivy: The Secret Society" (2008) with Miriam McDonald ... and
"Valentine
"
(2001), starring David Boreanaz, Denise Richards, Marley Shelton, Katherine Heigl. Be my Valentine ... or else. Broken hearts and other mortal wounds await a cast of contemporary young stars when they play dating-scene veterans dying for love in this humor-laced, twist-filled teen slasher about a Cupid-masked killer. New 2K scan of the original film elements supervised and approved by director Jamie Blanks and director of photography Rick Bota.
FOREIGN FILMS:
"Shoplifters
"
(2018 -- Japan), starring Lily Franky, Sakura Andô and Mayu Matsuoka. On the margins of Tokyo, a dysfunctional band of outsiders are united by fierce loyalty, a penchant for petty theft and playful grifting. When the young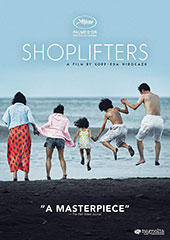 son is arrested, secrets are exposed that upend their tenuous, below-the-radar existence and test their quietly radical belief that it is love -- not blood -- that defines a family. Nominated for Best Foreign Language Film from Japan. From Magnolia Home Entertainment ... In
"Down By Love
"
(2016 -- France), starring Adéle Exarchopoulos and Guillame Gallienne, life is turned upside down for newly incarcerated Anna when she meets Jean, the warden of her detention center. As the pair quickly becomes immersed in a whirlwind romance, their high stakes relationship leads to grave consequences. Based on a stunning true story, this steamy prison romance explores the power of right, wrong and impossible love. From Icarus Films ...
"Moko Jumbie
"
(2017 -- Trinidad and Tobago), starring Vanna Girod and Jeremy Thomas, is a gothic punk Caribbean love story arises in the ruins of a coconut plantation in rural Trinidad. Set in 1990 against the backdrop of the country's failed coup attempt, Young Asha has just returned from her home in England to her native island seeking her roots. What should be a brief visit turns into much more as she's drawn to Roger, an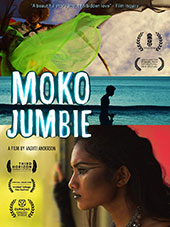 idealistic, pan-platying, crab-catching Afro-Caribbean fisherman across the road. The taboo attraction between the two teenagers grows despite family disapproval, political turmoil, a clash between cultures, and mysterious hauntings by ancestral spirits. From IndiPix Films ...
"Peppermint Soda
"
(1978 -- France) captures a particular moment in the tumultuous life and development of two young people. Anne (Eléonore Klarwein) and Frederique (Odile Michel) are teenage sisters in 1963 France, torn between divorced parents and struggling with the confines of their strict school. Along the way, they undergo an awakening both political and romantic. Diane Kurys' celebrated film -- with cinematography by Oscar winner Philippe Rousselot -- revels in the comedy and tragedy of the seemingly mundane, weaving a complex tapestry of everyday existence that also touches on the universal. The film received a 2K restoration for its 40th-anniversary theatrical re-release in 2018. On DVD, Blu-ray, from Cohen Film Collection.
FOR THE FAMILY:
"Norm of the North: Keys to the Kingdom
"
(2018) is the Dove Family-Approved sequel to the 2016 animated "Norm of the North." Norm, the newly crowned polar bear king of the Arctic, travels to New York to accept the keys to the city. But Norm goes from hero to villain when he's framed for a crime he didn't commit. While he's trying to clear his good name, back in the Arctic a vicious bottled-water company has moved in and is starting to steal the ice. Norm must rely on his friends, both old and new, to clear his good name and help save his kingdom in a winner-take-all hockey match. From Lionsgate.
SPECIAL INTEREST:
"Maria By Callas
"
(2018) brings to life the remarkable story of the legendary Greek/American opera singer Maria Callas. Told completely in her own words, the film includes performances, TV interviews, home movies, family photographs, private letters and unpublished memoirs, most of which have never been seen by the public. The documentary reveals the essence of an extraordinary woman who rose from humble beginnings in New York City to become a glamorous international superstar and one of the greatest artists of all time. The film is narrated by contemporary opera star Joyce DiDonato. On DVD, Blu-ray, from Sony ...
"Antonio Lopez 1970: Sex Fashion & Disco"
(2018) is a vibrant time capsule of the decadent world of '70s haute couture as viewed through the eyes of Antonio Lopez, the dominant fashion illustrator of the era whose distinctive drawings graced the pages of Vogue and Elle. A Puerto Rican native raised in the Bronx,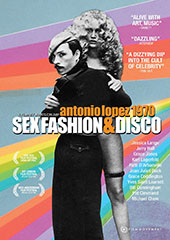 Antonio was a seductive arbiter of style and glamour who brought urban street elements to a postwar fashion world desperate for change and diversity. Counted among Antonio's discoveries were iconic beauties such as Grace Jones, Jessica Lange and Jerry Hall. Antonio's inner circle was also comprised of celebrated photographer Bill Cunningham and rival designers Karl Lagerfeld and Yves Saint Laurent. All these characters and more come together to create a vivid portrait of Antonio Lopez and the revolutionary fashion world he helped create. Through archival footage and stills of studio life in Carnegie Hall, infamous venues such as Max's Kansas City and Hotel Chelsea and original interviews with principal characters from the time, the documentary takes audiences back to the swinging seventies when fashion designers and their entourages gained the prominence of rock stars. Features interviews with Lange, Pat Cleveland, Warhol superstars Donna Jordan, Jane Forth and Patti D'Arbanville, as well as revered fashion photographer Bill Cunningham in his very last interview, and fashion world luminaries including Grace Coddington, Joan Juliet Buck, Michael Chow, Bob Colacello, Corey Tippin, and Paul Caranicas, among others. The film perfectly captures Lopez and his entourage, blithely on a quest for beauty and pleasure before the decade, saturated by drug use, addiction and sexual promiscuity came to a crashing halt. From Film Movement.
FROM TV TO DISC:
"American Vandal: Season One"
(2017): The freshman season of the Netflix Original Series that's a true-crime satire investigating the high school prank of a clever criminal. Follows aspiring student documentarian Peter Maldonado (Tyler Alvarez) as he investigates the crimes of a high school prankster with the help of his friend, Sam Ecklund (Griffin Gluck). On behalf of the suspected culprit, Dylan Maxwell (Jimmy Tatro), the two examine the aftermath of the prank that left 27 faculty cars vandalized with phallic images. Through highly-intense and hilarious interviews with students, staff and witnesses, Peter and Sam attempt to collect evidence, connect the dots and finally solve the crime that has the whole school talking. Was it really Dylan? Or is this a major high school conspiracy? Two-disc set with all eight episodes. From CBS/Paramount ...
"Ken Follett's The Key to Rebecca"
(1985): Based on the best-selling novel by Ken Follett, this two-part television movie adaptation stars Cliff Robertson as British Major William at. In Cairo, during World War II, German spy Alex Wolff (David Soul) attempts to infiltrate the British command during General Erwin Rommel's (Robert Culp) conquest of Egypt. In hopes of drawing out the elusive spy, Vandam enlists the help of exotic dancer Sonja El Aram (Lina Raymond) and Elene Fontana (Season Hubley).From CBS/Paramount ...
"Rick and Morty: The Complete Seasons 1-3"
(2013-17) is a three-disc set with all 31 episodes of the animated series that follows the bizarre exploits of a super scientist and his not-so-bright grandson. From creators Dan Harmon ("Community") and Justin Roiland ("Adventure Time"), the award-winning comedy has amassed a major following to become a pop culture phenomenon, garnering almost 1.6 billion views since its launch in December 2013. Featuring fan favorites such as "The Ricklantis Mixup," the #1 watched telecast in Adult Swim's history, "Total Rickall" and "Pickle Rick," the Rick and Morty box set is bursting with laugh-out-loud hilarity including all bonus content from the three previous seasons on DVD. The box set also includes an exclusive poster that features a custom, never-before-seen robot illustration of Rick and Morty. On DVD, Blu-ray, from Warner.
Check out other new DVD/Blu-ray releases, streaming films, and information and reviews at OnVideo.
Comments