By Chris Kavan - 01/10/19 at 12:38 PM CT
With January now in full swing, Hollywood is unleashing a wide assortment of films - including on expansion. The one holdover horror film, Escape Room, is likely to take a big second-week drop - as is usual for horror films - leaving the door wide open for A Dog's Way Home to pull on those awwww heartstrings, The Upside to put some drama back into your life, Replicas giving Keanu Reeves some more sci-fi to enjoy and On the Basis of Sex providing yet another side of Ruth Bader Ginsburg. That's a lot to get through, but one must still give the edge to Aquaman, even after four weeks looks like he's still going to power through and win the weekend.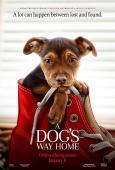 A DOG'S WAY HOME
Just about any film that features an animal as the focal point is going to pull at those old heartstrings (well, maybe not Cujo...) and A Dog's Way Home (from the author of A Dog's Purpose - but not a sequel) looks to continue this fine tradition. And, bonus, the dog is voiced by Bryce Dallas Howard - and she is desperately trying to make her way back to Lucas (Jonah Hauer-King) after being separated - no small feat since this will be a 400-mile journey. Look, the trailer pretty much gives away everything - raising the puppy, losing the dog, dog befriends cougar (the animal, not an attractive older lady), dog finds her way back to Lucas (at his wedding or something?), heartfelt reunion ensues. No, I didn't spoil anything - that is literally the trailer. Still, despite knowing everything this is exactly the family-friendly film that will drive in, well, families and probably a majority female audience. And bring the Kleenex if you like animals - because it will be a tear-jerker for sure. Co-stars Ashley Judd, Alexandra Shipp, Edward James Olmos, Wes Studi, Barry Watson and Chris Bauer. Sure to please all the animal fans out there.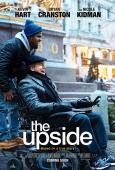 THE UPSIDE
Because Hollywood is bad at coming up with original ideas (I kid - or do I?), the often steal the best ideas from other countries and remake them for a US audience. That is what is happening with The Upside, which stars Kevin Hart as an unemployed ex-con who somehow finds himself as the perfect candidate to take care of Bryan Cranston - a super-rich quadriplegic. If this sounds familiar - you've probably seen the 2011 French film, The Intouchables (which won numerous awards). Still, not all remakes are to be reviled and The Upside looks to be one of the better ones to come along recently. Sure, Hart is dealing with his own issues - but controversy aside, this feel-good drama is the kind of film that draws out an adult crowd - one not likely to be into Aquaman or Spider-Man or most of the other films dominating the box office. Thus if The Upside can draw in a bigger crowd than A Dog's Way Home - it could be the top draw among the new films. It certainly has a good chance, with Nicole Kidman, Julianna Margulies and Tate Donovan helping things along.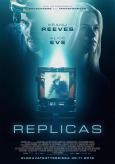 REPLICAS
Replicas is exactly the kind of movie I expect Keanu Reeves to star in... if it was like 2004 after the Matrix films wrapped up. But it's 2019, and Reeves has made a name for himself playing the badass John Wick - so what the hell is he doing in this second-rate sci-fi mystery? Guess he just liked the way it sounded - but I have a feeling we're getting dangerously close to Transcendence-level disappointment here. In any case, Reeves plays scientist (synthetic biologist to be exact) Will Foster, who becomes obsessed with the idea of bringing back his family, who has died in a car accident. Of course such a thing runs him afoul of the people funding his lab, along with a police task force and of course those pesky laws of science. But I guess family is everything, right? He won't be lonely with Alice Eve, Emily Alyn Lind, Thomas Middleditch, John Ortiz, Emjay Anthony and Aria Lyric Leabu all along for this ride. For some reason, this sounds like it should be a Netflix original film rather than a full-fledged theatrical release. I don't think it's going to do particularly well in this crowded box office so I hope it's budget isn't too high.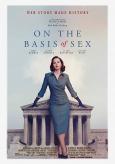 ON THE BASIS OF SEX
It seems all the limited-to-wide released of late have focused on strong female leads with both The Favourite (what is likely to be an awards-season
favorite
- ha, I made a funny!) and Mary Queen of Scots featuring some stellar performances. Thus it seems On the Basis of Sex is going to follow their lead with another strong female lead, Felicity Jones, portraying one of the most iconic women of this generation, current Supreme Court Justice Ruth Bader Ginsburg. Ginsberg has had a stellar year, both personally and in theaters with the documentary RBG also being a standout film. On the Basis of Sex follows a much younger Ginsberg who struggles with standing out in a male-dominated society, but perseveres until she reaches the apex she stands at today. Armie Hammer, Justin Theroux, Sam Waterston, Kathy Bates, Cailee Spaeny, Jack Reynor, Stephen Root and Chris Mulkey round out the impressive cast. Director Mimi Leder (who directed some of my favorite episodes of The Leftovers) seems like a good fit here and I have a feeling it will be able to match the success of the previously-mentioned films.
The box office champ is likely still going to be Aquaman for the fourth straight weekend. The Upside and A Dog's Way Home will certainly challenge it, but I don't think either will have enough strength to topple the superhero. I'll be back on Sunday with the results.
Comments