By Chris Kavan - 01/07/19 at 01:13 AM CT
The DCU continues to benefit from Aquaman, which easily topped the box office for the third straight weekend. It also continues to dominate overseas as its overall worldwide total nears the $1 billion mark. Meanwhile, it was good news for Escape Room and it turns out January is still a fertile field for horror movie openings. Escape Room, surprisingly, may have affected the other holdovers with Mary Poppins Returns taking the biggest hit - though the rest of the holdovers still look strong for the rest of the month.

1) AQUAMAN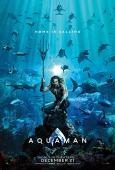 For the third week in a row, Aquaman dominated the box office, raking in $30.7 million (down 41.1%) and giving the film a new $259.7 million total. The film had no problem hitting that $250 million mark with $300 million a given and is now on equal pace with Wonder Woman (which wound up with $412.5 million). It is also now the highest-grossing DCU film on the worldwide market with $940 million and sits third among all DC film adaptations behind just The Dark Knight Rises ($1.084 billion) and The Dark Knight ($1 billion) - and it should be able to top both films quickly. It is also the highest-grossing film in the DCU on the international market as well with $681 million. While it's not going to catch Wonder Woman's domestic total, it could wind up in the $325-$330 range - depending on how Glass and LEGO Movie 2 ultimately affect its bottom line. No matter the case, Aquaman is a massive hit and James Wan, Jason Momoa, Amber Heard and everyone else involved should be proud of the result.
2)
ESCAPE ROOM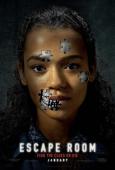 As no one predicted, Escape Room had a fantastic opening with $18 million - well above weekend estimates. I didn't think this knock-off Saw/Cube film had a chance, but I also mentioned that January has been very kind to horror films - both good and bad. Escape Room managed to snag in a younger audience (with its PG-13 rating) and probably benefited from horror-starved fans. The film earned a "B" Cinemascore, which, for horror, is pretty darn good. The audience was split evenly between men and women and came in 53% 25 or older. As a comparison, Breaking In earned $46.5 million after a $17.5 million debut. Now, January horror also tends to fall hard and fast and with Glass upcoming Escape Room is going to take a big hit soon enough. Still, I'm guessing a $35 million or so total is not out of the question and for a film with a reported $9 million budget, that's is going to be just fine.
3)
MARY POPPINS RETURNS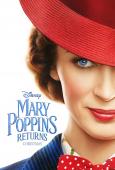 Mary Poppins Returns took a 44.4% hit in its third weekend, bringing in $15.77 million and raising its total to $138.7 million, finally topping its $130 million budget. The film is still showing some remarkable legs and has a long run ahead of it as pretty much it's clear sailing for family-friendly films until LEGO Movie 2 in early February. On the worldwide front, the film topped $250 million with a new $257.9 million total. Depending on how things play out, a total anywhere in the $175 - $200 million range is possible but even on the low end the film should still wind up in the black, especially with the overseas total taken into account. Like Aquaman, it looks like clear sailing ahead for at least a few weeks.
4)
SPIDER-MAN: INTO THE SPIDER-VERSE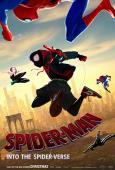 The margin is razor thin, but by a scant $235,000, Spider-Man: Into the Spider-Verse has the fourth place position over Bumblebee with a $13.01 million weekend, giving the film a new $133.86 million total. It also has $275 million worldwide. It might not catch up to The LEGO Batman Movie ($175 million), at least on the domestic front, but Spider-Verse is electric and has opened the doors wide for a sequel (which is a given at this point) and spin-offs should the studio go forward. The $90 million film doesn't have to earn MCU-like numbers to be impressive and it bodes well for the future of this series - of which I'm looking forward to seeing much more.
5)
BUMBLEBEE
By the slimmest of margins, Bumblebee rounds out the top five with $12.77 million and a new total of $97.1 million. It will cross that $100 million mark in the next day or so. I still want it to pass the $130 million total of The Last Knight - but it may fall just short. Worldwide, Bumblebee already has $289 million ($59 million from China alone) well on its way to hopefully also passing The Last Knight's $400 million total. I like the way this spinoff/soft reboot or whatever you want to call it has played out. It's not a massive hit, but maybe if Transformers can keep the budget low and come up with some smarter stories, the series can thrive. I'm sure we'll be seeing plenty more Transformers, the question remains what form the films are going to take.
Outside the top five: The biggest expansion of the weekend was from the drama
If Beale Street Could Talk, which added 270 theaters and jumped from 21st to 14th place and earned $1.84 million (an increase of 141.4%) and a new total of $4.4 million.
Likewise, On the Basis of Sex had a big jump by adding 79 theaters (for a total of 112) and earned $1.67 million (a 143.5% increased) jumping from 22nd to 16th place in the process. This is expanding nationwide next week.
Next week brings us the heart-warming A Dog's Way Home, mystery Replicas and the Intouchables remake The Upside.
Comments