By Chris Kavan - 01/03/19 at 06:55 AM CT
Out with the old in with the new as 2019 rings in with a mighty... squeak. That's right, our first weekend of the new year brings us just a single new film, and Escape Room is not likely to be much of a challenge to holdovers like Aquaman or Mary Poppins Returns. Granted, there were supposed to be two horror films... but Eli got shipped to Netflix and is unknown whether the streaming giant will release it in theaters or simply on their own platform. Thus, there aren't going to be many fireworks as the box office should look very similar to the past two weekends.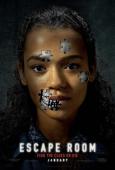 ESCAPE ROOM
If there is one thing Escape Room does have going for it, it is that January seems to be kind to horror film. Bad or good, they seem to all have an uncanny ability to rise above bad review and competition and somehow do pretty good. Escape Room will certainly need all the help it can get as the might of Atlantis, the Spider-Verse, a magical nanny and an old man peddling drugs are pose a significant challenge to overcome. It doesn't help that Escape Room seems like a warmed-over of Cube combined with Saw. A group of six strangers finds themselves brought together, and trapped, in a series of twisted puzzle rooms they have to solve or, you know, die horribly. The cast has recognizable names, but none I would call big names with Deborah Ann Woll, Taylor Russell, Tyler Labine and Logan Miller the biggest among them. Director and star Adam Robitel has one other horror film, The Taking of Deborah Logan, under his belt - which was decent for being yet another possession film. Escape Room faces an uphill battle and even a top five finish would be considered a win.
The weekend is going to be a quiet one and is going to look very familiar. I don't think Escape Room is going to have that big of an impact but I'll be back on Sunday with the full rundown.
Comments