By Chris Kavan - 12/31/18 at 02:22 AM CT
Aquaman had little competition and easily topped its second weekend in row. It was another good sign for DC as their cinematic universe continues to look better after a rough start. Mary Poppins Returns and Bumblebee also held strong while Spider-Man: Into the Spider-Verse hit a major milestone and Clint Eastwood likewise had reason to celebrate. Neither Vice nor Holmes & Watson were able to crack the top five after opening Christmas Day. January doesn't looks like it's going to offer much in the way of competition, so it's going to be all about post-holiday legs to see which blockbuster film can stay on top.

1) AQUAMAN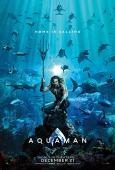 Jason Momoa's aquatic superhero easily swam away in first place with a $51.5 million second weekend and a $188.78 million total. It breezed across the $175 million mark with ease and now stands in 11th place for DC movies after just 10 days in release. The drop of 23.5% over its huge opening is also better than Batman (29%) and Teenage Mutant Ninja Turtles (26%). It will also soon power past A Star is Born ($200 million) to become the highest-grossing film for Warner Bros. for the entire year. It also looks to be able to pass Venom, Solo: A Star Wars Story, Ant-Man and the Wasp and Mission: Impossible Fallout ($215 million) to take the 7th place spot for domestic releases in 2018. Internationally, it also continues to dominate with $85.4 million and new international total of $560 million, leading to a $748.8 million global total - passing Suicide Squad to become the third highest-grossing DCU film worldwide (5th overall for DC properties) and for international only it sits just behind The Dark Knight ($636.8 million). All told, Aquaman should wind up close to $300 million domestic and $900 million worldwide before it ends its run.
2)
MARY POPPINS RETURNS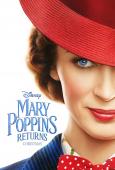 The world's most recognizable nanny enjoyed a nice 19.1% bump, adding $28 million to its total and nearly topped the $100 million mark, sitting just under it with $98.9 million. With a $28.9 million international take, the film also sits at $173.3 million worldwide and with a $130 million budget, this looks like it will certainly wind up in the black by the time everything is said and done. Domestic total should be around the $175 million mark - with a chance to go higher should New Year's legs prove strong. Overall, the Emily Blunt musical is doing just fine - maybe not quite supercalifragilisticexpialidocious - but close enough that Disney should be more than happy with the results.
3)
BUMBLEBEE
The Transformers soft reboot (I'm calling it now) took a light 5.3% drop and added another $20.5 million to its total, which now stands at $66.77 million. While the film seems to have audiences more interested, it will be interesting to see if it can ultimately top the $131 million of The Last Knight. I, for one, am rooting for it all the way. The biggest obstacle is the competition from Aquaman, Spider-Man and Mary Poppins - as not every movie it likely to survive several weeks and the big reveal will be when the kids go back to school. Internationally Bumblebee added $45.7 million and now stands at $156.7 million worldwide - with China coming up. Bumblebee cost $132 million and if it can continue to hold steady, there is no reason why it won't remain profitable in the end.
4)
SPIDER-MAN: INTO THE SPIDER-VERSE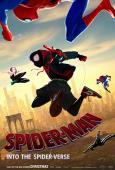 The animated phenom jumped 11.2% over last weekend, adding $18.3 million, enough for the film to cross the $100 million mark with a new $103.6 million total. It is very close to tripling its $35 million opening as it looks likely to close in on $150 million before it ends its run. The film added $27.4 million overseas and has a global total of $213 million worldwide and on just a $90 million budget, this one is certified to make money. There front-runner for Oscar's best animated film (sorry Ralph and Incredibles) should have several more weeks of decent business ahead of it and while it may not wind up as the highest-grossing animated film of all time, in terms of influence I think it's going to change things going forward.
5)
THE MULE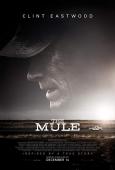 The Mule rounds out our identical top five from last weekend, enjoying a hefty 24% increase (second best among the top 12) and adding $11.78 million to its total of $60.7 million. The Mule is excellent counter-programming to pretty much everything else out there and is taking full advantage of that fact. It continues to climb the ranks of Clint Eastwood-directed films, blasting past Jersey Boys ($47 million) and Absolute Power ($50 million) and next sets its sight on Sudden Impact ($67.6 million). If it continues to play this well, it should be able to top the $90 million totals of Mystic River and Space Cowboys and ultimately challenge the $125 million total of Sully in the long run. As I've said before, it this winds up being Eastwood's swan song - as either director or actor - it's a good way to go out.
Outside the top five: Vice, the award-season darling, wound up with $7.79 million in 6th place, and $17.69 million including its early Christmas opening. The "C+" opening suggests audiences aren't as enraptured as critics, though it is already the highest-grossing domestic film for Annapurna (just topping Sorry to Bother You at $17.4 million) after just six days of release. And, outside of musicals, is also one of the highest-grossing films likely to be up for a lot of Oscars, and it could even challenge Green Book ($31 million) in the coming weeks.
Not nearly looking so rosy is the Will Ferell/John C. Reilly film Holmes & Watson. After being savaged by critics and earning a "D+" Cinemascore from audiences, the film brought in $7.3 million for the weekend (7th place) with a $19.7 million total. For perspective, Step Brothers earned $30.9 million on its opening weekend alone. It also came out that Netflix - who seems to green-light anything even remotely interesting, passed on this film - and I have a feeling this $42 million production isn't going to make any money.
In milestone news, Ralph Breaks the Internet enjoyed the biggest increase in the top 12, jumping 38.9% and adding $6.53 million (8th place) and crossing the $175 million mark in the process, with a total of $175.7 million.
On the worldwide front, Bohemian Rhapsody crossed $700 million, pretty much the new gold standard for musical biopics going forward.
In limited release, On the Basis of Sex won the per-theater average with a $690,000 on 33 screens for a $20,909 average. The bleak Nicole Kidman drama Destroyer wasn't far behind with $58,472 on three screens and a $19,491 per-theater average.
Next week brings just one new wide-release film, in the Saw-esque film Escape Room, which isn't likely to shake up the box office too much.
Comments