By Harley Lond - 12/19/18 at 12:49 AM CT
FROM THE BIG SCREEN:

"Venom" is another slam-bang comic book movie -- here the very popular evolution story of Marvel's most enigmatic, complex and badass character. Eddie Brock (Tom Hardy) is a broken man after he loses everything, including his job and fiancee. Just when his life is at its lowest, he becomes host to an alien symbiote which results in extraordinary superpowers -- transforming him into Venom. Stultifyingly boring. Co-stars Michelle Williams, Riz Ahmed, Jenny Slate, Woody Harrelson. Extras include a Venom Mode, with informative pop-ups throughout the film to provide insight on the movie's relationship to the comics, and to reveal hidden references that even a seasoned Venom
-fan may have missed; deleted and extended scenes; several featurettes and music videos. From Sony.

Also due this week: "The House with a Clock in Its Walls
" starring Jack Black, Cate Blanchett, Owen Vaccaro, Renée Elise Goldsberry, Sunny Suljic and Kyle MacLachlan in a family fantasy about a young orphan who aids his magical uncle in locating a clock with the power to bring about the end of the world; from Universal ... "The Predator
," in which a young boy accidentally triggers the return to Earth of the universe's most lethal hunters; naturally only a ragtag crew of ex-soldiers and a disgruntled scientist can prevent the end of the human race; from Fox ... "A Simple Favor
" a mystery that centers around Stephanie (Anna Kendrick), a mommy vlogger who seeks to uncover the truth behind her best friend Emily's (Blake Lively) sudden disappearance from their small town. From Lionsgate.


THIS WEEK'S HIGHLIGHTS:
There's two interesting releases from The Criterion Collection this week.
"Panique
"
(1946): Proud, eccentric, and antisocial, Monsieur Hire (Michel Simon) has always kept to himself. But after a woman turns up dead in the Paris suburb where he lives, he feels drawn to a pretty young newcomer to town (Viviane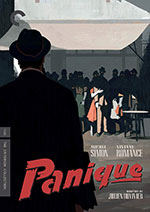 Romance), discovers that his neighbors are only too ready to be suspicious of him, and is framed for the murder. Based on a novel by Georges Simenon, Julien Duvivier's first film after his return to France from Hollywood finds the acclaimed poetic realist applying his consummate craft to darker, moodier ends. Propelled by its two deeply nuanced lead performances, the tensely noirish Panique exposes the dangers of the knives-out mob mentality, delivering as well a pointed allegory of the behavior of Duvivier's countrymen during the war. On DVD, Blu-ray Disc, with new 2K digital restoration, with uncompressed monaural soundtrack on the Blu-ray ...
"Sawdust and Tinsel
"
(1953): Ingmar Bergman presents the battle of the sexes as a ramshackle, grotesque carnival of humiliation in "Sawdust and Tinsel," one of the master's most vivid early works and his first of many collaborations with the great cinematographer Sven Nykvist. The story of the charged relationship between a turn-of-the-20th-century circus owner (Åke Grönberg) and his younger mistress (Harriet Andersson), a horseback rider in the traveling show, the film features dreamlike detours and twisted psychosexual power plays, making for a piercingly brilliant depiction of physical and spiritual degradation. On Blu-ray Disc, with new 2K digital restoration, with uncompressed monaural soundtrack.
In
"Bloody Birthday
"
(1981), The Bad Seed meets Halloween in a deliciously twisted early '80s slasher offering directed by Ed Hunt ("The Brain") and starring the always loveable Lori Lethin ("Return to Horror High," "The Pre"y). Debbie, Curtis and Steven may seem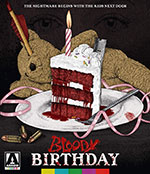 cute as buttons. But their angelic facade conceals the wicked, murderous streak given to them having all been born under the same solar eclipse. With the grown-ups around them blissfully unaware of their little darlings' homicidal tendencies, the evil brats begin to bump off the adults one-by-one. By gun. By arrow. By cake. Bye-bye! Mixing the killer-kid subgenre with elements of the then-booming slice-and-dice movie, "Bloody Birthday" shocks and appalls with its scenes of young children shooting, strangling and bludgeoning their way through the local population. Blu-ray with original uncompressed mono audio. From Arrow Video/MVD Entertainment.
BUZZIN' THE 'B'S:
In
"Assassination Nation
"
(2018), starring Odessa Young, Hari Nef, Suki Waterhouse and Abra, high school senior Lily and her three best friends live in a world of selfies, emojis, snaps and sexts. But when their town of Salem is besieged by a massive data hack, resulting in half the citizens' private info spewed into the public view, the community descends into anarchy. Lily is targeted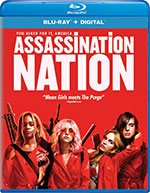 after being falsely blamed for the hack—and bands together with her friends to survive a long, blood-soaked night. On DVD, Blu-ray, from Universal ... In
"Monster Party
"
(2018), starring Julian McMahon, Robin Tunney, Sam Strike, Erin Moriarty, Lance Reddick, Brandon Micheal Hall, Virginia Gardner and Diego Boneta, three thieves plan a daring heist posing as waiters at a fancy Malibu mansion dinner party in hopes of paying off an urgent debt. When their plan goes horribly wrong, the trio realizes the dinner guests are not as innocent as they seem and their simple cash grab becomes a violent and desperate battle to get out of the house alive. On DVD, Blu-ray, from RLJE Films ... In
"The Super
"
(2017), starring Patrick John Flueger, Val Kilmer and Louisa Krause, former cop Phil takes a job as a superintendent in a Manhattan apartment building. When a teen goes missing, along with several other tenants, Phil suspects a sadistic murderer may be roaming the eerie corridors and that his daughters' lives are in danger. But whom can he trust when everybody around him has something to hide? On DVD, Blu-ray, from Lionsgate ...
"Air Strike
"
(2018 -- China), starring Ye Liu, Bruce Willis, Nicholas Tse, Su Ma, William Wai-Ting Chan, Bingbing Fan, Wei Fan and Adrien Brody, ios an action-adventure about the courage of China's citizens during WWII. As a U.S. Army colonel (Willis) trains Chinese aviators to battle Japanese fighters, a hotheaded pilot begs to fly a powerful bomber that could stop the attacks. Meanwhile, a team of spies and refugees must carry a game-changing decoder device through the war-torn countryside. On DVD, Blu-ray/DVD Combo, from Lionsgate ...
"Life Itself"
(2018), starring Oscar Isaac, Olivia Wilde, Mandy Patinkin, Annette Bening, Antonio Banderas and Samuel L. Jackson, is the tale of two long-lived lovers highlights the splendors of life. From their lighthearted romance to the arrival of their baby, every rewarding aspect of life is touched upon. Though the couple endures a series of hardships, the moral is that life's wonders invariably eclipse periods of woe. With a healthy dose of laughter, love, and resilience, this New York duo discovers a profound appreciation for both the certainties and unpredictability in life. On DVD, Blu-ray, from Amazon.
Heading up the reissues this week is the Blu-ray debut of
"The Jerk
"
(1979), directed by Carl Reiner and starring Steve Martin (in his feature film debut), Bernadette Peters, Rob Reiner, Bill Macy and M. Emmet Walsh. Martin stars as Navin Johnson, the adopted son of a poor black sharecropping family in Mississippi. When he learns that the world is a much bigger place than he'd ever imagined, Navin sets out on a quest to find his "special purpose." His adventures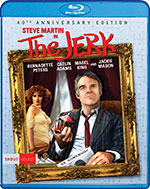 lead him to encounter a would-be assassin, jobs in carnivals and gas stations, a life-saving dog, romance with the girl of his dreams and more money than he could ever spend. But his life in the clouds may come crashing down when the source of his new fame and fortune creates disastrous side effects. 40th Anniversary Edition remastered from a brand-new 2K scan. From Shout! Factory ...
"Dracula: Prince of Darkness
"
(1966): This ghoulish tale from Hammer's golden era includes both the UK and US version of the film and a new 4K scan of the US version of the interpositive from the 20th Century Fox vaults. Four English tourists find themselves stranded in the mysterious village of Karlsbad, a sinister and remote place with a deadly, dark legend. Their journey leads them to an abandoned castle where a nightmarish destiny awaits them: an evil in need of resurrection, a blood-craving beast known only as Count Dracula, Prince of Darkness (Christopher Lee).On Blu-ray from Scream Factory ...
"Topper Takes a Trip
"
(1938): Starring Constance Bennett, Roland Young, Billie Burke, Alan Mowbray, Verree Teasdale and Franklin Pangborn. Second in the "Topper" series. To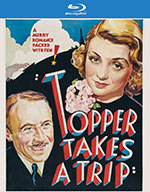 gain entry to heaven, ghost Marion Kirby (Bennett) has to do some good on earth. That means reuniting a divorcing couple, Cosmo (Young) and Clara Topper (Burke). To be fair, Marion played a part in their troubles: Clara mistakenly thought Marion was Cosmo's mistress. On Blu-ray from VCI Entertainment ...
"Starman
Collector's Edition"
(1984): Directed by John Carpenter and starring Jeff Bridges, Karen Allen, Charles Martin Smith, Richard Jaeckel. Visionary filmmaker John Carpenter presents a romantic science fiction odyssey starring Jeff Bridges as an innocent alien from a distant planet who learns what it means to be a man in love. When his spacecraft is shot down over Wisconsin, Starman (Bridges) arrives at the remote cabin of a distraught young widow, Jenny Hayden (Karen Allen), and clones the form of her dead husband. The alien convinces Jenny to drive him to Arizona, explaining that if he isn't picked up by his mothership in three days, he'll die. Hot on their trail are government agents, intent on capturing the alien, dead or alive. En route, Starman demonstrates the power of universal love, while Jenny rediscovers her human feelings for passion. On Blu-ray from Scream Factory.
FOREIGN FILMS:
"An Afghan Love Story
"
(2013 -- Afghanistan/France), starring Mustafa Abdulsatar, Wajma Bahar and Haji Gul Aser, is a Grand Jury Prize Nominee and Winner of the World Cinema Screenwriting Award at Sundance and an Official Selection at Cannes. In Kabul, Mustafa, a handsome waiter, charms a pretty young law student named Wajma. The pair begin a clandestine relationship, ever mindful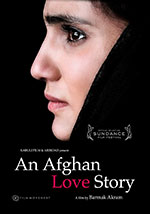 of the societal rules that forbid intimacy. But when Wajma discovers she is pregnant and Mustafa refuses to commit to marriage, she is left to face the terrifying consequences of their actions on her own. The volatile situation quickly turns violent when Wajma's father enters the picture, and is compelled to take action. But how will he direct his anger, and who will ultimately bear the brunt of his rage? On DVD from Film Movement ...
"Not of This World
"
(1999 -- Italy), starring Margherita Buy and Silvio Orlando, is a magical story of love, family, and self-discovery. The Academy Award-winning film follows the lives of a nun named Caterina, a lonely laundry owner named Ernesto, a baby named Faunto, and everyone else that are unknowingly a part of this dramatic tale. Caterina, a young nun, is about to take her final vows, but her life is turned upside down when fate literally places an abandoned infant, Faunto, into her arms. As she searches for the child's mother, she meets Ernesto. Together, they search for Faunto's mother, and re-evaluate their own lives. On DVD from Facets.
SPECIAL INTEREST:
"Dust 2 Glory
Special Edition"
(2018) is from acclaimed director Dana Brown ("Step Into Liquid," "Highwater"). This much-anticipated follow-up to "Dust to Glory" tracks the world's toughest point-to-point desert race, the SCORE Baja 1000. Chronicles the brutal beauty of the race and high-octane action sequences as these ground-pounding, 900-horsepower Trophy Trucks, Motorcycles, ATVs and everything in between roar through the Baja Peninsula. The two-disc set also includes the mini-documentary "Baja Desert Championship: Origins," which explores the terrain, beauty, culture and people who make the world's longest point-to-point race as unique as it is. On DVD from Magnolia Home Entertainment/Magnet Label ... In the small town of Chagrin Falls, Ohio, deep in the American Midwest, Suzanna begins a gender transition to become a boy, named
"Coby
"
(2017). Throughout this period of transformation, Coby and his loved ones must confront their own preconceived notions of gender and sexuality while facing difficult decisions and prejudice. Combining excerpts from Coby's video dairy with candid, heartfelt interviews from his closest friends and family, Christian Sonderegger's debut feature is an intimate and sensitive look at this timely subject. On DVD from Film Movement ... MVD Entertainment has two volumes of TV shows by the inimitable Dick Cavett, who since 1968 has been host of his own talk show, in a variety of formats and on a number of television and radio formats.
"The Dick Cavett Show: And That's The Way It Is"
includes episodes that aired between 1968 through 1996 and feature some of the best known news reporters of the era including Walter Cronkite, Dan Rather, Tom Brokaw, Walters, Barbara Wallace and Diane Sawyer;
"The Dick Cavett Show: Inside The Minds Of: Vol. 1"
includes episodes that aired between 1968 through 1996 and feature some of the wittiest, edgy comics of the era including Robin Williams, Bobcat Goldthwait, Richard Lewis and Gilbert Gottfried ...
"Jane Fonda: Lean Routine and Lower Body Solution"
packages together two of the best-selling fitness videos of all time, digitally remastered. "Lower Body Solution" is a complete workout for abs, buns, and thighs. Adaptable for all fitness levels, the low-impact choreography is user friendly to beginners, while optional bench aerobics add variety and challenge for intermediate and advanced exercisers. "Lean Routine" is the ultimate fat-burning workout for everyone. It includes low impact high energy aerobics, applicable for beginners through advanced. On DVD from Lightyear Entertainment ...
"Mantovani -- The King of Strings"
(2014): Annunzio Mantovani was the most successful orchestra leader ever, selling 70 million records from the 1950s to the 1970s. Known for his unmistakable cascading strings, this documentary is the story of the man and his music. Performing for sell-out crowds across the world throughout the '50s with hits such as "Charmaine," "Moon River" and "Some Enchanted Evening," he was Britain's most successful recording star before The Beatles. On DVD from Filmrise ...
"The Zen Diaries of Garry Shandling
"
(2018) is Judd Apatow's remarkable portrait of the exceptionally complex, deeply spiritual and endlessly funny comedy icon Garry Shandling. From a 10-year-old Garry losing his big brother Barry to cystic fibrosis at age 13 in 1960, to a chance encounter with comic legend George Carlin and an impulsive, post-college move to Los Angeles in 1976, Shandling's unlikely path toward commercial success consistently remained at odds with his own personal search for inner peace. The documentary spans the decades from Shandling's early childhood in the 1950s in Arizona up to his untimely death in 2016, taking viewers on an intimate journey through a collage of personal testimonials, archival footage and most importantly Shandling's own handwritten words on life, loss, love, meditation and more, captured in an extensive library of personal notebooks. On DVD and Blu-ray from HBO.
Check out other new DVD/Blu-ray releases, streaming films, and information and reviews at OnVideo.
Comments