By Chris Kavan - 12/10/18 at 03:16 AM CT
As there were no new wide releases over the weekend as December braces for an onslaught of new releases, the top five remained exactly the same as last weekend, but with obviously lower grosses across the board. But Hollywood can breath a sigh of relief - this was only the second lowest-grossing weekend of 2018 with the top 12 bringing in $77.8 million - at least above the Feb. 2-4, which had a mere $71.2 million. But things look much better for the rest of December with heavy hitters like Aquaman, Spider-Man Into the Spider-Verse and Mary Poppins Returns among the blockbusters looking to make a mighty impact before the end of the year.

1) RALPH BREAKS THE INTERNET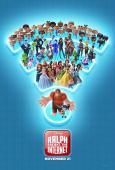 Ralph Breaks the Internet dipped about 37%, a pretty good hold, and added $16.1 million to its total, which now stands at $140.8 million. It is knocking on that $150 million milestone. It continues to perform right between Coco and Moana and is still looking to top $200 million overall. It is still slowly rolling out overseas, with $117 million thus far for a $258.2 global total. It will be interesting to see how much more the film brings in as it expands its international reach even as it slows down on the domestic front. In any case, Disney should be just fine with how this one is going to turn out in the long run.
2)
THE GRINCH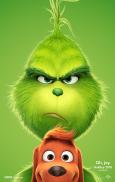 Dropping a very light 15.4%, The Grinch gave Ralph Breaks the Internet a run for its first-place finish with a close $15.1 million second-place showing. That brings The Grinch up to $223.4 million, flirting with that $225 million milestone. This means The Grinch is looking at a likely $250 million total and with $98.9 million on the international front, that $322.4 million looks good next to its $75 million cost. And it's still December, so you know it's going to play well through Chirstmas at least, even with the increased competition coming in the next few weeks.
3)
CREED II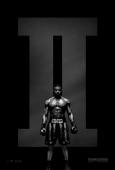 Creed II once again found itself in the third place position, adding $10.3 million and bumping its total up to $96.4 million. That represents a drop of 38% as this film is also looking at a new milestone - that $100 million mark - in the next few days. It looks like it will be able to top the $109 million of Creed with little effort and still has a good shot of topping Rocky IV's $127 million total. Even if Stallone is calling it quits on Rocky, I believe Michael B. Jordon is still going to have plenty of room for expanding his character with results like this.
4)
FANTASTIC BEASTS: THE CRIMES OF GRINDELWALD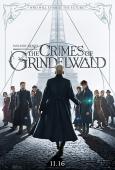 Crimes of Grindelwald took a 40.1% hit and stood firm in fourth place with $6.8 million and a new $145.2 million. It's also going to hit that $150 million milestone soon enough. Even though its domestic performance continues to look a bit on the weak side, it earned $22 million overseas for a mighty $423,3 million international total and a global cume approaching $600 million ($568.5 million and counting). That is still a worthy number, but one has to think this should have done much better considering the pedigree. I don't think it's going to affect too much going forward on this series, but we'll have to wait and see what happens in the long run.
5)
BOHEMIAN RHAPSODY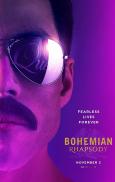 Rounding out the top five yet again, the Queen frontman biopic dipped just over 25% and brought in $6 million for a new total of $173.5 million. Just like every other film before it, it is also close to a milestone - $175 million to be exact, which it will hit in the next few days. It is doing just as good overseas with a red-hot $423 million - just under $600 million and breaking into the top 10 among 2018 worldwide releases. That is impressive to say the least, especially for a film that is well outside the typical "blockbuster" mold. We'll see if it retains that position considering the upcoming slate, but wherever it winds up it's going to be a major accomplishment and if it can get a little awards love - well, skies the limit.
Outside the top five: The re-release of Schindler's List for its 25th Anniversary brought in $551,000 (14th place) - about right for a film that, while an important film, is not exactly feel-good holiday fare.
The big overseas news was Aquaman and its crazy-good launch of $93.6 million in China. That is the biggest launch for a Warner Bros. film (topping the $62 million opening of Ready Player One) and already topped Wonder Woman ($91 million) and nearly Batman v Superman ($95 million) in just three days. It's the biggest December opening in China on record and if you compare it to any domestic release in December, it would be near the top. That means good things ahead for this film, which has been receiving very positive early reviews and maybe, just maybe, DC can recover from their early stumbles and get back on track.
The Favourite continued its excellent run, expanding again by adding 57 theaters and now playing in 91 total. The film brought in $1.4 million (12th place) and jumped 33.4% compared to last weekend and a still-impressive $15,714 per-theaters average. With $3.4 million so far, it's still poised for more exansion in the coming weeks. The weekend's limited-release winner was Mary Queen of Scots, with Saoirse Ronan in the starring role. The film earned $200,000 from 4 theaters for a $50,000 per-theater average. It will also expand, though may find it tough to compete with the aforementioned Favourite.
Next week things will start to pick up with the release of Mortal Engines, Spider-Man: Into the Spider-Verse and The Mule as well as the limited re-release of the PG-13 Once Upon a Deadpool.
Comments