By Chris Kavan - 11/18/18 at 09:01 PM CT
Even though the new films might have been a bit under expectations for the weekend, it doesn't mean the good news stopped. Despite some lower-than-expected opening, November is pacing ahead of last year - even if the weekend itself was down compared to last year. Still, as long as things can chug along at a fairly decent pace, November should wind up better than last year as 2018 keeps moving along in record pace.

1) FANTASTIC BEASTS: THE CRIMES OF GRINDELWALD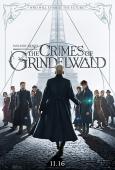 As I said, Fantastic Beasts 2 didn't quite meet expectations, as the film opened with $62.2 million, a bit lower than the $75 million opening for the first film. While that doesn't spell doom for the series, it is a bit concerning, especially as there is still a five-film order for this Harry Potter spinoff. It also doesn't help the reviews for this film are also not nearly as strong as the original and the "B+" Cinemascore is also down from the "A" the first film earned. The audience breakdown (57% female, 69% over 25) is within a few percentage points of the first film. The film also opened a bit lower in China ($38 million versus $40 million) but its overall international total of $191 million is right in line with the first film. In total, the sequel earned a solid $253.2 million worldwide and now the big question is how it's going to hold up in the coming weeks. If it plays like the first film or other Harry Potter films, it should wind up right around the $200 million mark. But that isn't a given and, worst-case scenario, it will fizzle out quickly and may not even get to $175 million, which wouldn't be a nail in the coffin, but it would be disappointing and could affect the next several films going forward. Still, Fantastic Beasts should hold out at least on the international front, with a total in the $500 million range just from those markets. So it remains to be seen if the film plays good or just good enough. Stay tuned.
2)
THE GRINCH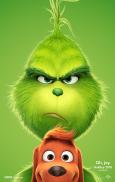 After a stellar opening weekend, The Grinch took a 43.5% hit, adding $38.1 million and crossing the $125 million mark with a new $126.5 million total. That hold is much better than Daddy's Home 2 (51% drop), which went on to double its 10-day total, and if The Grinch follows a similar path, it will wind up with $265 million. If it falls short, well, $200 million still looks mighty fine next to a $90 million budget - and a $25 million international total, it's going to wind up just fine. The big test will be over the busy Thanksgiving holiday period - when Wreck-It Ralph 2 - Ralph Breaks the Internet debuts. It will be interesting to see what kind of effect he animated sequel has on the perennial holiday favorite. I think there is more than enough room for two big features, but it's going to get really crowded at the box office soon - and there is only so much room to be had.
3)
BOHEMIAN RHAPSODY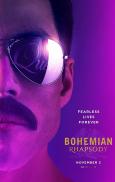 Is this the real life? Is this just fantasy? Well, audiences are still happy to escape from reality and Bohemian Rhapsody continues to rake in the dough. With a drop of 49.7% the biopic/Queen celebration added $15.7 million and also crossed the $125 million mark with a new $127.9 million total - and it will soon triple its $52 million budget. It is officially the second-biggest musical biopic now, behind just Straight Outta Compton ($161 million) and it's doing great overseas, with a mere 29% drop and a $45.5 million total for a global tally of $384.3 million. $400 million is guaranteed with $500 million likely as the film continues to impress audiences worldwide.
4)
INSTANT FAMILY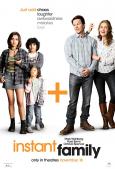 It was a good news/bad news scenario for Instant Family. In the bad news - Instant Family opened well on the low end of expectations with just a $14.7 million debut - and compared to its modest $48 million budget, it looks pretty weak. But, fear not, as the film was a hit with both critics and audiences (79% on Rotten Tomatoes and an "A" Cinemascore) and it also had a fantastic 3.26x weekend multiplier and is in a similar position to crowd-pleasing films like The Blind Side and Wonder. If it can parlay the good will into a must-see for Thanksgiving families, it could have a decent run ahead of it. Still, there is going to be a lot of competition and nothing is set in stone. We'll have to see if it can hold up in the next few weeks and deliver a win.
5)
WIDOWS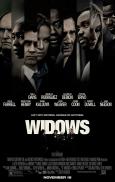 The other new wide-release film of the weekend rounded out the top five with a $12.3 million opening - also below the studios expectation of an opening in the mid-teens. Widows had even better reviews than Instant Family (91% on Rotten Tomatoes), but audiences weren't as swayed, awarding the film a mere "B" Cinemascore. Despite a dynamite cast (Viola Davis, Elizabeth Debicki, Michelle Rodriguez, Robert Duvall, Cynthia Erivo, Jon Bernthal, Colin Farrell, Carrie Coon and Jacki Weaver among them) and a smart crime story, it just didn't capture the attention it probably deserved and any hopes for award-season love have probably been dashed by the sub-par response. I don't think this is going to recover much and I have a feeling it's not going to last long amidst the competition.
Outside the top five: Ahead of its nationwide expansion, the well-received Green Book, about an Italian-American driving a black man around the rural south in 1960s America (with Viggo Mortensen and Mahershala Ali playing the main characters) earned an "A+" Cinemascore and brought in $312,000 from 25 theaters for a decent $12,480 per-theater average. That is just a step lower than the $14,500 average for The Hate U Give, but I think it looks to play better among general audiences when it expands over the Thanksgiving holiday to 1000 plus theaters.
Speaking of next week, prepare yourselves for an avalanche of new films with Wreck-It Ralph 2: Ralph Breaks the Internet, Creed II, Robin Hood and Green Book all vying for your holiday attention.
Comments