By Chris Kavan - 11/15/18 at 06:41 AM CT
It's going to be a fantastic weekend, thanks to the Fantastic sequel. Crimes of Grindelwald is going to have no problem topping the box office - and it should do so in pretty spectacular fashion. If the Harry Potter spinoff isn't up your alley, Mark Wahlberg and Rose Byrne are here with the heartwarming Instant Family and we also have four big actresses (Viola Davis, Michelle Rodriguez, Elizabeth Debicki and Cynthia Erivo) dealing with the fallout of their husbands' bad decisions in Widows. Fantastic Beasts should have no problem crushing the competition and knocking The Grinch off its perch.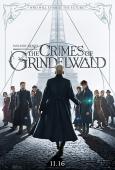 FANTASTIC BEASTS: THE CRIMES OF GRINDELWALD
When it was announced that there would be a Fantastic Beasts movie - essentially a Harry Potter film without Harry Potter, one wondered if this new, more adult version would be able to capture the magic. I would say that $234 million later (or over $800 million worldwide) that answer was a resounding yes. Thus Eddie Redmaybe is back as the quirky magizoologist Newt Scamander, and David Yates is returning to direct. Pretty much everyone is returning - Dan Fogler as muggle and super baker Jacob Kowalski, Katherine Waterston as love interest and fellow wizard Tina Goldstein, Alison Sudol as her peppy sister Queenie Goldstein, Ezra Miller as the somehow not-dead Credence Barebone, Carmen Ejogo as Seraphina Picquery and Johnny Depp as the big bad Gellert Grindelwald - setting the stage for the rise of Voldemort and the Death Eaters. Joining the cast is Jude Law as a young Albus Dumbledore, Claudia Kim as Voldemort's future super snake Nagini and ZoŽ Kravitz (seen as just a picture in the first film) as Leta Lestrange - maybe a former girlfriend of Newt? In any case, the cast was good before, it's even better now. It's a bit surprising they stuck with Depp following a series of messy allegations - but, if he's not going to be in Pirates anymore, Fantastic Beasts is a nice consolation. As said, this time I think there will be less beasts and more drama, and this one may be a bit darker as we're essentially witnessing the rise of darkness. If analysts are right, this sequel is set to be at least 15% ahead of the first film at the combined box office (domestic, international) even if the reviews haven't been nearly as kind. In any case, this will be the first film I watch in theaters since Mission:Impossible Fallout back in July and I am pretty excited.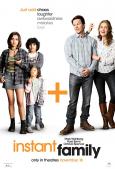 INSTANT FAMILY
If you want something a bit more grounded in reality, Mark Wahlberg and Rose Byrne are here to grant your wish with Instant Family. The two play a couple who adopt three children (Isabela Moner, Gustavo Quiroz and Julianna Gamiz) only to find themselves a bit in over their head. Lucky they have a great case worker (Octavia Spencer) to help them through the process. Wahlberg might best be known as an action star - but don't forget he also has films like Daddy's Home, Ted and Date Night on his resume. It seems like the chemistry is there with Byrne (at least based on the trailers) and who doesn't like a great family film? This looks really sweet and should bring in a nice female crowd - at least those who aren't enamored with fantastical wizardry. I think it will easily land in the top five - though it will probably not be able to top The Grinch. Still, this is the kind of film that appeals to a wide range and I think it will perform just fine over the weekend.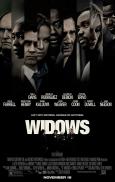 WIDOWS
If you want something with a bit more bite, there's nothing like several women scorned - or at least dealing with the mess left behind by their husbands. Four women (Viola Davis, Michelle Rodriguez, Elizabeth Debicki and Cynthia Erivo) would regularly have nothing in common - but each have to deal with a debt left behind by their husbands to the same criminal organization. But rather than rolling over - each decide to take fate into their own hands and forge their own future. A strong female cast for sure, the film also features Carrie Coon, Jacki Weaver, Liam Neeson, Jon Bernthal, Manuel Garcia-Rulfo, Robert Duvall, Colin Farrell, Brian Tyree Henry, Daniel Kaluuya and Garret Dillahunt. That's an impressive cast no matter how you slice it and if the plot is as slick as the cast, this should be a thrilling watch. Granted, no matter how good the cast, I just don't think it is going to be enough to stand out in a tough crowed. It's not going to tank, but if it had been released at a different time, I think it would probably have done better against the competition.
It should be a big weekend with crowd-pleasing family films leading the way. I'll return on Sunday with the full breakdown.
Comments