By Chris Kavan - 11/11/18 at 07:21 PM CT
While the weekend delivered three new movies for audiences, only one was readily embraced. The animated Grinch brought in families to rule the roost, while Overlord and The Girls in the Spider's Web had to deal with the scraps. It was better news for Bohemian Rhapsody and also for Venom, which enjoyed a mighty opening in China. Still, 2018 continues to perform and if the weekends continue this strong, the year should end on a big high note.

1) THE GRINCH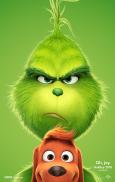 It's never too early to celebrate Christmas, right? The Grinch proves that with a very impressive $66 million debut - the third-best opening for an animated film in November, behind just The Incredibles ($70.4 million) and Frozen ($67.39 million). It is also the best opening for a Christmas-themed film. Overall, it may be among the lower opening for Illumination (the studio behind Despicable Me, Minions and Sing among others), but with a mere $75 million budget and even with marketing, this is going to be a very popular for the studio. Critics may have been a bit underwhelmed, but with an "A-" Cinemascore, audiences were more than happy with the results. Considering his is the only Christmas-themed film for the rest of the year, it should play out just fine through December. This one should cruise to $200 million easy, with plenty more likely on top of that as $250 million isn't out of the question. The big test will see how it does against Fantastic Beasts and Ralph Breaks the Internet - but if it can harness in families and the Christmas crowd, it should survive.
2)
BOHEMIAN RHAPSODY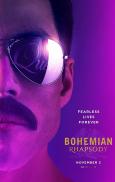 The Freddie Mercury biopic starring Rami Malek as the Queen frontman had a bigger opening than expected and with a drop of just under 40%, the second weekend brought in $30.8 million, boosting the film to just over the $100 million mark. That is a better hold than Straight Outta Compton (56%) and nearly as good as A Star is Born (33%). With those kind of numbers, $150 million seems likely - and even $170 million isn't out of the question. It could easily become the biggest musical biopic of all time if it continues to get audience support. Even better news is the overseas total, where the film actually going up in five territories and it had a scant 15% overall drop, giving it an impressive $63 million for a international total of $185 million and $285 million worldwide. This one is going to continue to have success and we'll see where it ultimately winds up, but my guess would be it's going to one for the record books.
3)
OVERLORD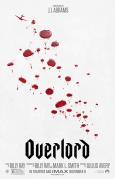 4)
THE NUTCRACKER AND THE FOUR REALMS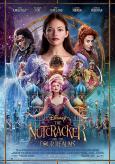 That other Christmas-themed film took a hefty 53% hit thanks to The Grinch, and after an underwhelming debut, the days are numbered for Disney's holiday whiff. Nutcracker added just $9.5 million for a new total of $35.2 million. Its global total is just under $100 million and even if it makes it to $200 million, it won't be enough to save the $130 million production from losing money. I have a feeling this one won't survive November, let alone be around to reap in December's Christmas bump. Maybe it will do better on the home market to make up for its weak box office, but not even Disney can avoid missteps.
5)
THE GIRL IN THE SPIDER'S WEB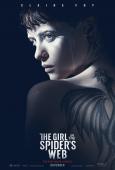 Those hoping that a new director and actress would bring about a healthy new life for the Dragon Tattoo series... I'm sorry to say your hopes are all but dashed. With a disappointing $8 million opening, the film opened much lower than David Fincher's $12.7 million for The Girl in the Dragon Tattoo. Yes, this film cost much less ($43 million compared to $90 million) but with that low of an opening, it doesn't matter. The film will be lucky to hit $30 million domestic. Audiences gave the film just a "B" Cinemascore and was 52% female with 74% coming in 25 or older. Neither the stars nor the story were a big enough draw for audiences and I don't think we'll be seeing another Dragon Tattoo in the near future. It's too bad, as I think the novels and original Swedish films are both well done - but maybe that's where things should stay.
Outside the top five: Venom was already a huge hit here and abroad, but things got even better for Tom Hardy's villainous turn with a debut in China of $111 million. To put that in perspective, it's the second-biggest opening for a superhero film behind just Avengers: Infinity War ($190 million) and already puts it ahead of the lifetime totals for the likes of Logan ($106 million), Black Panther ($105 million), Wonder Woman ($90 million) and Amazing Spider-Man 2 ($94 million). When it reaches $123 million (in, like, a few days) it will become the biggest non-Avengers film in China. Not only is Venom the biggest opening among Spider-Man films, it has a chance to top the combined total of all previous Spider-Man films ($289 million) before it leaves. It also means that Venom could be looking at $800 million worldwide - which would be one of the biggest of the year (5th place if it tops Mission:Impossible Fallout with $794 million). The question now remains how this will play out with both Disney/Marvel's version and Sony's strong debut.
In milestone news, A Star is Born added $8 million (6th place - barely below Girl in the Spider's Web) for a new total of $178 million, crossing that $175 million mark in the process. That also puts it ahead of The Greatest Showman ($174 million) to become the third biggest live-action musical and it could go much higher with $200 million still likely as its legs continue to be amazing.
Also hitting milestones were The Hate U Give, which crossed $25 million after a $2 million weekend and Night School, which just crossed $75 million.
Next week brings us Fantastic Beasts: The Crimes of Grindelwald, Instant Family and Widows.
Comments