By Chris Kavan - 10/21/18 at 08:31 PM CT
No tricks, but plenty of treats as October continued on its record pace as Halloween helped deliver the second-best October weekend on record. Meanwhile, it was good news for The Hate U Give, which not only impressed audiences, but nearly cracked the top five while the final film (allegedly) of actor Robert Redford, The Old Man and the Gun, cracked the top 10. All told, the weekend brought in over $160 million - and is helping 2018 keep up that record pace.

1) HALLOWEEN


Just how big was Halloween? Let me count the ways - the $77.5 million debut is the second-best October opening on record (just behind Venom at $80.2 million) but it did beat Venom in having the biggest opening October day - $33.2 million on Friday, topping Venom's $32.5 million. It also had the biggest opening for any film in the Halloween franchise (by a long shot - Rob Zombie's Halloween is next with $58 million) and topped Paranormal Activity 3's opening of $52.5 million to become the biggest opening for Blumhouse. And it's the second-best debut for an R-rated horror film behind It ($123 million). It is also among the top 10 for any R-rated film, period. All this on a mere $10 million budget means Halloween is going to make scary money for the studio and will surely wind up as one of the highest-grossing horror films of all time. Audiences were happy - awarding the film a "B+" (on the high end for horror) and coming in nearly evenly split between men and women (53% male) with 59% coming in 25 years or older. Internationally the film took in $14.3 million - which means it is also the biggest-grossing Halloween film worldwide with $91.8 million - again topping Zombie's Halloween at a mere $80 million. Given that the actual Halloween holiday is just around the corner, I'm guessing this will play well and a total of $170 million seems within reach - maybe even giving Get Out ($175 million) a run for its money, and becoming the highest-grossing Blumhouse film. We'll see, but I have a feeling this reunion of Michael Myers and Jamie Lee Curtis is going to scare up plenty of money.
2)
A STAR IS BORN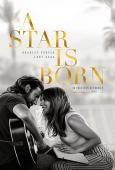 Retaining its second-place position, the Lady Gaga/Bradley Cooper drama dipped 32.2%, adding $19.3 million to its total, which now stands at $126.3 million. It had no trouble crossing that $125 million mark and will likewise have little problem hitting that big $150 million mark soon enough, on its way to a likely $200 million plus total. Worldwide, the film held incredibly well, dropping less than 20% in holdover territories, adding $22.8 million and giving it a grand total of $201.1 million. Adults are holding up their end of this deal and giving A Star is Born plenty of legs - and probably increasing its awards-season chances as well. I have a feeling it's not going to drop much until November, when it faces serious competition, but even then, I think it will play out well and has a lot left in its tank.
3)
VENOM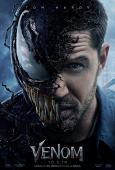 Although it faced a lot of competition in the form of Halloween, Venom help up pretty well, dipping 48.3% while adding another $18.1 million to its total, which is now $171.1 million - just under that magic $175 million total. In this case, the PG-13 is clearly still working in its favor, bringing in the crowd that's too young for Halloween. It remained the top draw on the international front with $32.3 million, giving it a worldwide total of $461.2 million. We'll see how it keeps up in November, but $200 million seems like it's a lock at this point and the interesting bit will be to see how much higher it climbs in the coming weeks and whether it also gets a Halloween bump.
4)
GOOSEBUMPS 2: HAUNTED HALLOWEEN
Speaking of Halloween treats, the Goosebumps sequel held up pretty well itself, dipping 38.5% and bringing in $9.7 million for a very cool $28.8 million total. That second-week drop is well in line with the first film, which dipped 34%, and even if Goosebumps 2 opened lower, a $50 million total will be just fine for the $35 million production. It will help a bit if the overseas market can add in a bit of cheddar as well, and with $6.2 million and a $39.9 million global total, it's coming along nicely. While the film may not be able to match the original, I think it's doing fine for a sequel without most of the original cast on board. We'll see if that's enough to bring us a third entry, but I'm thinking that it's leaning towards a better than average chance at this point.
5)
FIRST MAN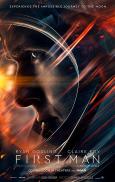 Though Ryan Gosling's Neil Armstrong biopic was supposed to be the next big thing for adults, it turns out A Star is Born holds much more interest. First Man dipped 46.5%, adding $8.5 million and giving the adult-skewing drama a new $30 million total. The $60 million film will be lucky to hit $50 million, and not all the glowing reviews in the world is going to help it become the next Argo or Captain Phillips. It just launched at an unfortunate time and simply put got lost in the mix. If it garners some awards attentions, it may still have a bit left in the tank, but for right now it looks like it's fading a bit fast and will drop out of the top five next weekend.
Outside the top five: After a great limited release run, The Hate U Give finally launched nationwide, adding over 2000 theaters to its count, jumping 331.8% and from 9th to 6th place with $7.5 million. The audience wound up 64% female and nearly split between those over and under the age of 25. The best news for the film, however, was the "A+" Cinemascore, which means audiences are more than happy to support this film that has a powerful message. It should have a good run ahead of it and the $10.64 million it has made thus far looks promising next to its $23 million budget.
Also expanding, Robert Redford's The Old Man and the Gun added 574 theaters (802 total) and jumped from 15th to 10th place with $2 million and a new $4.2 million total. We'll see if this sendoff for a true Hollywood legend continues to play well and if it can parlay that into a few nominations.
In limited release news, Jonah Hill's directorial debut, Mid90s, opened with $249,500 in just four theaters for one of the year's best per-theater averages of $62,375. It was a bit front-loaded but we'll see if this one continues to expand and lure in some nostalgic adult eyes.
Next week brings us submarine thriller Hunter Killer along with faith-based war drama Indivisible.
Comments