By Chris Kavan - 05/21/18 at 12:32 AM CT
It's all superheroes, all the time at the box office. Deadpool 2 set several records in its chart-topping opening weekend while Infinity War continued its impressive run even in the face of the Merc with a Mouth. Book Club managed a decent opening as counter-programming but the fate of Show Dogs was wasn't as good as the film failed to reach the top five. All told, it continues to be an early-summer blast and things don't look likely to slow down over Memorial Day weekend when Solo joins the superheroes and we should see some more fireworks.

1) DEADPOOL 2


Deadpool 2 opened with an R-rated record Thursday preview of $18.6 million and a likewise R-rated record Friday with $53.3 million. Hopes that Deadpool 2 would top the original Deadpool and become the new R-rated champ fell short, however, but the $125 million consolation prize is still a fantastic debut. Sure, it didn't top the $132.4 million of Deadpool, but it did top the $123.4 million that It opened with to take second place, as well as being the second-place opener for Fox (also behind Deadpool). The film earned a (deserving) "A" Cinemascore from audiences, which was 62% over 25 (compared to 53% for the original) and once again was mostly male (61%) much like the first film. If taken as a comedy, it has the best numbers for any comedic sequel, easily topping the $66 million for Rush Hour 2 and it is the second-best opening for a (non-MCU) superhero film behind Spider-Man 3 ($151 million). Even though Deadpool 2 doubled its budget over the original (a point of contention with original director Tim Miller, who was replaced by David Leitch), $110 million is still on the low end for superhero films. With that opening, and if it can keep momentum over Memorial Day, Deadpool 2 is looking at $300 million, with a good chance to go much higher. We'll see how things play out with Solo on the way. If that wasn't enough, Deadpool 2 also hit $176.3 million international, a new opening record for Fox (topping the $174 million for X-Men: Days of Future Past) and helping Deadpool 2 to a $301 million worldwide - a record for an R-rated film and the second-best total for any film not rated PG-13 (behind just the $354 million launch for Beauty and the Beast). In any case, Deadpool 2 is going to be another amazing superhero film and it will be interesting to see where the series goes from here.
2)
AVENGERS: INFINITY WAR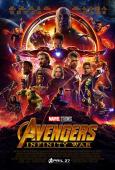 Though Deadpool 2 was the big star, Infinity War wasn't in the mood to slow down much. Yes, it dipped nearly 54%, but the $28.67 million gives the film a new $595 million total. That moves it up to 8th place on the domestic list and it should cross $600 million in short order. It does look like Infinity War is going to stop short of Black Panther ($697.8 million and still counting) with a total likely around the $650-$660 million mark. I doubt Disney is going to shed too many tears over that. It continues to really shine on the international front where it has hit $1.218 billion ($1.81 billion worldwide) passing Furious 7 ($.1.163 billion) to move up to third all time internationally and fourth all-time globally (behind Star Wars: The Force Awakens $2.068 billion). It has also moved to fourth place all-time in China as well with industry records set in several markets including Brazil ($60.8 million), the Philippines ($22.8 million), Indonesia ($25.1 million) and others. It will cross $2 billion before long and not even Deadpool 2 or Solo will slow it down that much.
3)
BOOK CLUB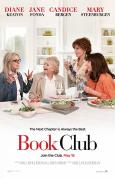 The counter-programming offering of Diane Keaton, Jane Fonda, Candice Bergen and Mary Steenburgen getting their lives steamed up by the steamy Fifty Shades of Grey managed to meet expectations with a $12.5 million opening. It also earned a solid "A-" Cinemascore from audiences that was, no surprise, overwhelmingly female (80%) with 88% coming in over 35 (60% over 50). Older audiences tend to stick with a movie over time, thus Book Club could have an extended stay in the top 10 even if it won't break out into huge numbers. With just $10 million on the line, Paramount should have no trouble turning a nice profit as long as adults stick with this one in the coming weeks ahead.
4)
LIFE OF THE PARTY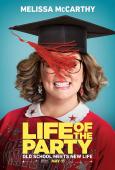 After a record-low opening for Melissa McCarthy, Life of the Party also tied McCarthy's worst second-week drop with The Boss with a big 56.8% hit and just a $7.7 million weekend. It has earned just $31 million and is looking at a domestic total of around $42 million. The $30 million film should wind up a minor money-maker, but it's not going to be a highlight on McCarthy's filmography as it is going to fade quickly in the coming weeks and will be out of sight by early June.
5)
BREAKING IN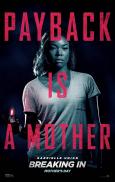 Much like Life of the Party, Breaking In suffered a deep second week drop of 63.3% - but this was much expected. The $6.47 million still helped raise the total of the film to $28.75 million - which looks much better by comparison as this Gabrielle Union-led action/thriller cost a mere $6 million. It should have little trouble hitting at least 5x its budget - a great result that we usually heap praise upon horror films, but this one will do just fine as well. Like Life of the Party, this one is going to fade fast, but with $40 million or so in the bank by the end, Breaking In should wind up in positive territory by a large margin.
Outside the top five: Show Dogs, featuring the voice talent of Will Arnett, Alan Cumming, Stanley Tucci and Shaquille O'Neal failed to reach the top five, settling in at just $6.03 million in sixth place. Even though it earned an "A-" Cinemascore, it ranks among the worst opening for a film debuting in 3000 or more theater (13th place to be exact). About the best that can be said for this is its 94% increase from Friday to Saturday, meaning the kids must have liked this one but if it can hit $20 million, it will be a success.
In milestone news A Quiet Place added $4 million (8th place) over the weekend for a new total of $176.1 million, crossing that $175 million mark, passing Get Out in the process and becoming the highest-grossing "original" film since Interstellar ($188 million) back in 2014. It is also approaching $300 million worldwide after a $17.7 million opening in China.
While not a milestone, the Ruth Bader Ginsberg documentary RBG added $1.28 million (up 7.7% after adding 196 theaters) in 10th place with $3.88 million total, landing just outside the top 50 in terms of documentaries, a list it will surely climb in the coming weeks.
Next weekend, the long Memorial Day brings us Solo: A Star Wars Story, the only new wide release. It will be interesting to see how this new spinoff compares to Infinity War and Deadpool 2 in terms of openings.
Comments