By Chris Kavan - 05/17/18 at 06:39 AM CT
Avengers: Infinity War is about to get some superheroic competition as the Merc with a Mouth (along with the X-Force) arrive on the scene, looking to make a lot of noise. While the two heroic behemoths duke it out, a bunch of famous actresses are going to get hot and bothered by a trashy novel while some other famous people are going to lend their voices to some lovable canines in a fish (dog)-out-of-water comedy. Deadpool 2 is looking at a pretty impressive opening (not Infinity War impressive - but damn good enough) and the two combined should make for an impressive weekend.

DEADPOOL 2
There's a reason the original R-rated Deadpool was such a hit - Ryan Reynolds was the perfect choice for the lead, the movie reveled in both crass humor and over-the-top violence while breaking the fourth wall and holding back nothing. By all accounts, Deadpool 2 does all that, along with introducing some amazing new characters with Zazie Beetz (as Domino), Julian Dennison (as Russell, a fire-slinging morose teen) and Josh Brolin (as the time-hopping mercenary Cable) getting the lion's share of the praise. Of course Reynolds is still his old, fun self and familiar faces - Morena Baccarin, Brianna Hildebrand, Leslie Uggams, T.J. Miller are back for more as well. Cable is after our boy Russell for something that directly affects Cable in the future. Deadpool has a soft spot for the boy, however, and will put together a team (X-Force) to stop him. This includes Domino, as well as Shatterstar (Lewis Tan), Zeitgeist (Bill Skarsgård), Bedlam (Terry Crews) and his pal Colossus (Stefan Kapicic). Juvenile humor, lots of violence and probably something emotional follows. I have a feeling this is going to be just as much fun as the original and can't wait to see what happens.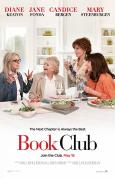 BOOK CLUB
In terms of subjecting myself to movies I know I would probably seriously dislike, Book Club falls somewhere between God's Not Dead and whatever Netflix original movie Adam Sandler is currently starring in. Let's just say, there is little chance I'm going to be watching this in the future. The cast is fine - Diane Keaton, Mary Steenburgen, Candice Bergen, Jane Fonda, Andy Garcia, Craig T. Nelson, Alicia Silverstone, Richard Dreyfuss and Don Johnson - but it's the story that leaves me cold. It's about a book club all the women belong to who find a new, exciting lease on life after they read Fifty Shades of Grey. I get it, the book was popular, but wasn't the movie trilogy enough? Why promote this even more. Eh - I have nothing more to say other than I hope the film has a beating heart under that premise, which, consiering the people involved, I'm sure it will, but it's just not for me. If women flock to this, it could do decent.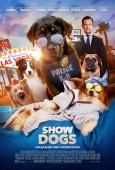 SHOW DOGS
Maybe I'm barking up the wrong tree, but something about Show Dogs is a little arf. It looks a little ruff around the edges for me, but get this - Max (voiced by Ludicrous) is a police dog, a Rottweiler who is as tough as they come, with a human partner Frank (Will Arnett), who may not be as tough. But this big and burly dog is going to have to learn a much different set of skills when he has to go undercover at a prim and proper dog show in order to stop a nefarious plot. Voices for our show dogs include Alan Cumming, Stanley Tucci, Shaquille O'Neal and Gabriel Iglesias with actual human actors including Natasha Lyonne, RuPaul, Delia Sheppard and Omar Chaparro. The PG endeavor looks to attract mostly families, with children who are still enamored by talking animals in film. Despite the talented cast, this looks pretty harmless all around and shouldn't have too big an impact at the box office.
The weekend is going to dominated by the two superhero films. It will be interesting to see how big of an impact Deadpool 2 has on Infinity War. I'll be here Sunday with the results.
Comments