By Chris Kavan - 05/10/18 at 06:43 AM CT
Avengers: Infinity War continues to impress and Mother's Day doesn't look to slow the MCU behemoth down much. There are just two new films to contend with - a comedy with Melissa McCarthy as a middle-age mom who decides to go back to college following a messy divorce - and just so happens to land in the same school and class as her daughter. You also have Gabrielle Union n a completely different mom mode when her family is on the wrong end of a home invasion and she has to use her wits and skills to save them. I don't think either film is going to be able to touch Infinity War, no matter how many mothers see them.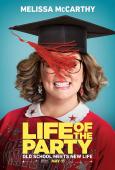 LIFE OF THE PARTY
One thing you can say about Melissa McCarthy is that she is consistent. Whether headlining or part of an ensemble, she tends to do well with comedy (yes, even Ghostbusters). This film is right in her wheelhouse and looks to play to her strength. McCarthy plays Deanna, who is abruptly left by her husband of many years. Looking to fill the void in her life, she decides to go back to college - much to the embarrassment of her daughter (Molly Gordon) as she lands in not just her college, but even her very class. This, of course, involves a sorority, headed by mean girl Jennifer (Debby Ryan) and several other sisters played by Adria Arjona, Gillian Jacobs and Jessie Ennis. Other stars include Matt Walsh (as Deanna's ex-husband), Stephen Root (as Deanna's dad), Jacki Weaver (Deanna's mom), Julie Bowen (Dan's lover and Deanna's nemesis), Maya Rudolph (Deann's best friend), Luke Benward, Chris Parnell, Jimmy O. Yang and Christina Aguilera (as herself). This is the fourth pairing of director/husband Ben Falcone and wife/actress McCarthy following Bridesmaids, Tammy and The Boss - a team that has worked well in the past. If anything can rule Mother's Day, it's a feel-good comedy about mother/daughter and other relationships. I don't think it's going to stand a chance against Infinity War, but should do just fine over the holiday.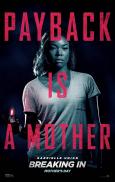 BREAKING IN
A different kind of mother is going to rise in Breaking In. Gabrielle Union plays single mother Shaun Russell, who, along with her two children Jasmine and Glover (Ajiona Alexus and Seth Carr) find themselves at a Malibu mansion following the sudden death of Shaun's father. Too bad they won't be alone for long as four criminals (led by Billy Burke) show up with the intent of making off with the lucrative contents of the safe. Once Shaun realizes the danger, she will stop at nothing to save her children, and with her knowledge of the house, some useful skills and a mother's determination - nothing will stop her. The trailer makes this looks like a nice female-led action film - plenty of tension and badass moments alike. Director James McTeigue knows badass females and action, having helmed the excellent V for Vendetta, along with Ninja Assassin and 2015 film Survivor. I don't think action is going to win out over comedies with most mother's but I hope for the best as this looks far more entertaining to me.
Despite Mother's Day sure to draw in crowds for the two new films, Infinity War should have no problem three-peating and adding to its already eye-popping total. I'll be back on Sunday the breakdown.
Comments