New in Theaters February 02: Winchester
By Chris Kavan - 02/01/18 at 05:26 PM CT
This weekend brings us one of the biggest television events of the year - grown men running, throwing and hitting each other with overzealous zeal - oh, and some pretty good trailers and commercials too! That's right - Super Bowl Sunday baby! And with most couch potatoes content to sit at home, yell at those grown men and eat unhealthy combinations of snacks, Hollywood isn't going to challenge them and thus is only releasing a single new wide release. Winchester is a fact-based horror film and though it has the incomparable Helen Mirren as the lead, I don't see it making many waves as the opening February box office salvo looks to be more of a whimper than a bang.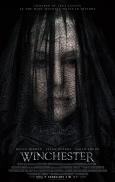 WINCHESTER Winchester brings us the story of Sarah Winchester (Mirren), the widow of and heiress of the firearms magnate. She is convinced that her family is cursed by the spirits of the dead who have been killed by the guns manufactured in her family's name. While some think the woman mad, it doesn't stop her from spending vast amounts of her fortune constructed a home like no other - non-stop construction begins on a vast house with doors leading to nowhere, hallways that shrink, staircases that end abruptly - this is a house she believes doubles as a prison for these restless spirits, and for decades she added to it in order to appease their haunting. The Winchester House is real, and it was built for that reason so it makes for a compelling story. Still, there has been little fanfare and almost no advertising I have seen, thus it will fade away and likely be overshadowed by last week's winners and continued success of Jumanji and The Greatest Showman. Mirren is joined by Jason Clarke, Sarah Snook, Angus Sampson and Eamon Farren. It might crack the top five, if it's lucky, but I don't see it generating much box office love.


That is your one and only new wide release. While most people are going to be focused on the big game, the box office will likely look a lot like last weekend. I'll be back on Sunday with the final numbers.