New in Theaters September 15: Mother!, American Assassin
By Chris Kavan - 09/14/17 at 06:57 AM CT
With It taking the box office by storm, and breaking just about every record for a horror movie along the way, September, following a dismal Labor Day Weekend, is looking much stronger. Joining Pennywise and The Loser's Club this weekend will be Darren Aronofsky, with his own horror offering in the form of Mother!. We'll also join up with Dylan O'Brien, Michael Keaton and Michael Keaton in American Assassin. I have a feeling that with the tide of good reviews and audience reaction, It is going to take top billing once again, Aronofsky is just too niche to top the child-murdering clown.

MOTHER! I have always been intrigued by the films of Darren Aronofsky. Ever since Pi, I have followed his work and, even when I'm a little disappointed, I'm never bored. Mother! looks to follow more in the footsteps of Black Swan than The Wrestler, otherwise known as it will totally screw with your head. The film follows a couple, played by Jennifer Lawrence and Javier Bardem (known as Mother and Him respectively) as they try to make a home for themselves, far away from everyone else. Bardem is a writer who has is suffering from a sever case of writer's block, but he still has fans, it seems and one of them (Ed Harris) shows up at their isolated home and, though he is a stranger, Him seems more than happy to let him stay. He is soon joined by another, played by Michelle Pfeiffer, and soon more and more people are showing up (including also Brian Gleeson and Domhnall Gleeson) while Lawrence finds herself suffering from disturbing visions. The trailer really doesn't get in to too much detail - is this a cult or just hallucinations or something else entirely? Damned if I know, but I know that I like Aronofsky and I'm still looking forward to a sordid, twisted tale, the likes I doubt we'll ever see anywhere else.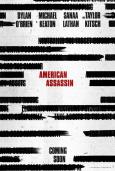 AMERICAN ASSASSIN Those looking for something that doesn't involve horror have another choice this weekend. American Assassin follows the story of Mitch Rapp, who lost his parents in a car crash and then his girlfriend to a terrorist attack. With revenge on his mind, he finds himself recruited to the CIA where he is taught by the best, Stan Hurley (Michael Keaton) and both find themselves on a trail of man who is known only as Ghost (Taylor Kitsch), who wants to ignite WWIII in the Middle East and is soon revealed to have a past with Hurley, and the agency who trained him. All this machismo might outweigh the benefits, but, like Taken, Bourne and the rest, American Assassin is sure to please the action-centric crowd. Whether that will be enough to make it a hit remains to be seen, but considering Jack Reacher got a sequel, there is plenty to go around.


Those are the new contenders but I have a feeling nothing is going to topple It, at least not this week, as the monster-sized hit looks to continue its dominance.