By Chris Kavan - 07/06/17 at 06:48 AM CT
After a long holiday weekend, things are going to return to normal. This weekend another superhero looks to take a big swing at the top of the box office. That's right, Spider-Man is back and, going by the early reactions, better than ever. After Sam Raimi's popular trilogy and a not-so-amazing reboot, Spider-Man gets to join the MCU in a big way. I have to say, I'm looking forward to this one and with little in the way of big competition at the box office, I expect Spider-Man to fly high indeed.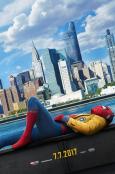 SPIDER-MAN: HOMECOMING
After a trilogy, an attempted reboot and Disney managing to snag the rights from Sony, it has been a long road for Spider-Man to officially join the MCU. It's looking more and more like the wait will be worth it. Although I was a bit skeptical about casting a bit younger in the role, after seeing Tom Holland in his role during Civil War, I was quite happy with the results. Unlike previous Spider-Man films, it looks like Homecoming is going to skip the standard origin story and jump right in with Peter Parker having already established his alter ego Spider-Man. Also coming along for the ride is Robert Downey Jr. as Tony Stark/Iron Man who acts as a kind of smart-ass mentor while trying not to ogle the way too attractive new Aunt May (Marisa Tomei). He returns home to Queens trying to balance his daily school life, where he interacts with Michelle (Zendaya), Flash (Tony Revolori) and Ned (Jacob Batalon) among other students but can't help but dream of bigger and better things beyond being just your friendly neighborhood Spider-Man. However, when the power-hungry Vulture (Michael Keaton) emerges, he will threaten all that Peter holds dear. My biggest concern about Homecoming is that the villain is going to be too vanilla, but with an estimated $100 million plus opening predicted, and plenty of praise being thrown around, I'm guessing Keaton more than holds his own while the film looks to strike that great MCU balance between fun and emotion. Given there's already a planned trilogy (and maybe much more), Spider-Man looks to be a big part of the next phase of the MCU and if the previous films are any indication, he is going to be in very good hands.
That's the big new film as Wonder Woman, Despicable Me 3 and Baby Drive try to hold their own against the summer's next big thing. I'll be back Sunday to see how they all fare.
Comments