By Chris Kavan - 06/29/17 at 06:41 AM CT
Well, I hope you're ready to settle in for a long, long weekend. For the first time since 2005, July 4th falls on a Tuesday, which essentially means a five-day weekend for a lot of people. No one is going to be happier than Hollywood, as it gives every film an extra-long time to shine. That's good, because this weekend is packed with some big-name new films. Edgar Wright takes us on the world's worst-planned heist (with the best soundtrack), we get to visit Gru and family in a new Despicable Me installment, Will Ferrell and Amy Poehler find an inventive way to earn back their daughter's college fund after they lose it and a knockout female ensemble cast gives us a different view of the Civil War when their boarding school takes in a wounded Union soldier. Of course, Wonder Woman will still be flexing her muscles, and we'll see how Transformers: The Last Knight weathers the storm, along with Cars 3 and 47 Meters Down.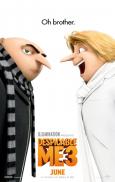 DESPICABLE ME 3
I have been a fan of this animated series since the first film, including the Minions spinoff. The characters are engaging, the stories have both heart and humor and, most importantly, adults can get just as much fun out of these as the kids. In this third installment of the popular films (having made over $2.68 billion over the entire series), Gru finds his long-lost brother, Dru (both voiced by Steve Carell), who happens to be charming, successful and totally looking to join the super-villain game. Gru, in the midst of an identity crisis, finds that maybe being bad is just what he needs to get his groove back.They plan a heist with their nemesis this time being Balthazar Bratt (voiced by Trey Parker), a former child star who finds it hard to let go of that past. Oh, we also get a Minions prison break - so there's that. In any case, all the main cast is back - Kristen Wiig as former agent Lucy, Miranda Cosgrove, Dana Gaier as Margo and Edith (apparently Elsie Fisher aged out as NevScharrel has been re-cast as the youngest, Agnes) along with Steve Coogan as the awesomely-named Silas Ramsbottom and Julie Andrews as Gru's mother. Jenny Slate is on board as Valerie Da Vinci as well. All told, this looks like it will continue in the tradition of providing plenty of heart, laughs and just a good time. Cars 3 didn't exactly light up the box office, I think Despicable Me 3 will do much better.
BABY DRIVER
Edgar Wright, the director responsible for the frankly freakin' amazing Three Flavours Cornetto film trilogy (Shaun of the Dead, Hot Fuzz and The World's End) may not be teaming back up with Simon Pegg and Nick Frost, but even so, Baby Driver looks like a welcome return. The film follows the titular Baby (Ansel Elgort), a young getaway driver who, due to a childhood accident, suffers from major tinnitus but finds his own personal soundtrack enhances both his mood and his skills behind the wheel. He does most of his work for Doc (Kevin Spacey), driving getway for many heists as he owes him a debt for having tried to stealing one of his cars. The typical crew consists of Griff (Jon Bernthal), Buddy (Jon Hamm) and Buddy's girlfriend, Darling (Eiza González), JD (Lanny Joon) and Bats (Jamie Foxx). Nearing the end of his obligation to Doc, Baby looks towards the future - out the crime game, and finds himself falling for a waitress (Lily James) at a local diner. But going straight turns out to be harder than expected when his last job turns complicated following a death. Baby Driver has a chance to be a rare original film that breaks out big - it already earned an impressive $2.1 million in early Tuesday showings, we'll see if Wright can have a breakout weekend as well.
THE HOUSE
If The House had been released in the middle of Will Ferrell's heyday (think 2005-2007), I would have no problem betting on it coming out on top. However, Ferrell hasn't had a a truly great (live-action) film in quite awhile. Even with Amy Poehler, Nick Kroll, Jason Mantzoukas, Rob Huebel and Ryan Simpkins on board, I don't see this reversing the trend. Plus, they really haven't been marketing this very well and I think it's going to find a hard time finding a decent audience and the R rating isn't going to help any. I believe the crowded box office is going to mean The House is going to fly under the radar and have a minimal impact, even with the extended holiday time frame. It may make the top five, but I give is a 50/50 shot at best.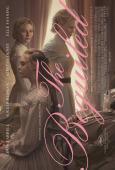 THE BEGUILED
People get up in arms about how Hollywood treats women both in front of and behind the camera. For my money, Sofia Coppola is one of the best directors out there, no matter the gender. The Virgin Suicides and Lost in Translation are among my favorite films. While her other recent efforts haven't impressed me as much, I think she's back on the right track with The Beguiled. A remake of the 1971 film, the film takes place during the Civil War where a wounded Union solider (Colin Farrell) finds himself being tended to at an all-girls boarding school. Soon enough tensions and rivalries rear their ugly heads, as things come to a head. Now, the original film had Clint Eastwood as the male soldier and the story was told from his perspective - as he uses his charm to weasel his way into each girls' heart, only to tear them apart, before they turn on him. Now, this update instead focuses on the women and I'm sure they are going to have a bit more depth to them and will probably play the soldier as much as he tries to play them. It helps that the women are played by a stellar cast: Nicole Kidman, Kirsten Dunst, Elle Fanning and Oona Laurence. The Beguiled had a solid debut in limited release last weekend - earning $229,292 from four theaters for a nice, round $57,323 per-theater average. Sure, it was overshadowed by the performance of The Big Sick - but I think Coppola's vision should turn a few heads and hopefully leads to some decent box office returns.
It's going to be a long weekend - hopefully it will also be a lucrative one. No matter, I will forgo the usual Sunday roundup and won't probably be back until Wednesday - provided I survive yet another 4th of July (with my family, it's not guarantee).
Comments