By Chris Kavan - 05/18/17 at 11:34 AM CT
It has been two weeks of Guardians of the Galaxy taking control. Last week certainly didn't offer up much competition as King Arthur fell on his sword and Snatched, while doing better, didn't set the world on fire, either. This week brings a few different breed of movies. First up is the return of Ridley Scott to his horror roots with Alien: Covenant (which looks much better than the meandering Prometheus to me). If sci-fi horror isn't your bag, baby, hopefully you're young - because the only other offerings are a new Diary of a Wimpy Kid (featuring an all-new cast) and the clearly female-targeting teen romance Everything, Everything. Alien will have the most impact in perhaps being able to dethrone Guardians, but it's still going to be an uphill battle.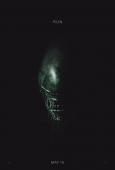 ALIEN: COVENANT
In 2012, Ridley Scott introduced a new generation to his Aliens franchise with Prometheus. However, the film was a bit short on actual aliens, as most of the films was a setup - and tried to be too philosophical for its own good with not nearly enough tension and horror. It wasn't a bad film, but it also wasn't the movie I was expecting. On the other hand, from what I've seen of Alien: Covenant - this is exactly the Alien film I have been waiting for. Facehuggers, acid-dripping, double-mouthed monsters, chest-bursters - all the old friends are back. Also back are Michael Fassbender (playing two roles - as the same, but different android), as well as (and in uncredited so thus probably minor roles) Guy Pearce and Noomi Rapace. Our new crew consists of Katherine Waterston (as our new kick-ass heroine), Billy Crudup, Danny McBride, Demián Bichir, Carmen Ejogo and Amy Seimetz among others. The premise is simple - a colony ship is brought out of its journey a bit early and, despite being well short of their destination, they pick up a distress signal and, against better judgement, decide to investigate the signal in the middle of nowhere. Of course this leads them directly to the planet where Prometheus took place on - and it seems it is even more dangerous now. Thus all hell breaks loose. Some say the violence isn't as subtle as it has been - more gore, less surprise, but that doesn't bother me. As long as I get a proper Alien movie, I'll be happy.
DIARY OF A WIMPY KID: THE LONG HAUL
It has been five years since we were last graced with a Wimpy Kid film with Dog Days. In that time, all the Wimpy Kid actors have aged out of their roles, thus we're getting a new cast (not sure why the adults were recast too - but, whatever). In this case our Wimpy Kid,
Greg Heffley (Jason Drucker) follows the entire family on a road trip to visit Meemaw on her 90th birthday, but is really a cover for Greg to attend a video gaming convention. The whole gang is here - Rodrick (Charlie Wright), Mom (Alicia Silverstone), Dad (Tom Everett Scott) and little Manny (twins Dylan and Wyatt Walters) and, of course, we can't forget
Rowley (Owen Asztalos). Eh, the trailers pretty much paint this as a picture for fans of this series - younger fans mostly, but it's unknown how that five-year gap is going to affect the bottom line. It is coming out at a good time - school is pretty much out (or about to be out) for a lot of kids, so maybe it can grab a family audience. I don't think it will have a huge impact on the box office, but we'll see how it does compared to the three earlier films in this series.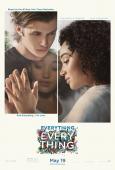 EVERYTHING, EVERYTHING
If Wimpy Kid is going after a general family crowd, the teen romance Everything, Everything wants to corner the market on the women - young and old. Amandla Stenberg (who might be most well known as her turn as Rue in the original Hunger Games), takes on the role of Maddy Whittier, a 17-year-old who suffers from a rare disease that makes her allergic to pretty much everything. She lives her life indoors at all times, breathing filtered air, with only books, her mother (Anika Noni Rose) and her nurse, Carla (Ana de la Reguera) offering her any contact. But everything changes when Olly (Nick Robinson) moves in next door. The same age as her, the two begin conversing by email, where they form an instant connection. Soon enough, Maddy realizes she has not really been living her life and, despite the huge hurdles, begins to live anew. This is pretty much in the exact same wheelhouse as The Fault in Our Stars and the like - is there such a genre as slightly-depressing teen romance? Hopefully it turns out more like that than the overly-sentimental (and poorly-received) The Space Between Us. In any case, this is going to rise or fall based on if it can bring in that coveted female audience.
Those are the three new entries - but it's going to take a lot to dethrone the Guardians of the Galaxy. We'll find out on Sunday how the heroes hold up.
Comments