By Chris Kavan - 05/04/17 at 11:41 AM CT
While Fate of the Furious has dominated the box office for the last three weeks, that is about to come to an abrupt end. Yes, the Guardians of the Galaxy are back, and they have no competition to speak of, meaning this weekend is going to belong to Marvel. It remains to be seen if it can live up to, or even top, the first film. We'll also have to see if last week's surprisingly strong How to Be a Latin Lover and Indian film Baahubali 2: The Conclusion can have anything resembling a decent second weekend.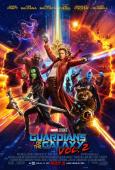 GUARDIANS OF THE GALAXY, VOL. 2
Fire up that Awesome Mixtape 2, our favorite family of heroes are back: Star-Lord (Chris Pratt), Gamora (Zoe Saldana), Rocket (Bradley Cooper), Drax (Dave Bautista) and Baby Groot (Vin Diesel) are in business and, once again, in trouble. It turns out that pissing off a race of genetically enhance beings (led by Elizabeth Debicki) is a bad idea - all because they want to free the not-dead Nebula (Karen Gillan) who has a reason to hold a grudge. It doesn't take long for Yondu (Michael Rooker) to get the job to bring them in. But some of Yondu's crew thinks the leader is too soft on ole Peter Quill and they mutiny, with the apty-named Taserface (Chris Sullivan) leading this even less-nice mercenary crew. But Quill has got other problems when his father, the living planet Ego (played in human form by Kurt Russell) reaches out. He loans them Mantis (Pom Klementieff) to help their cause. It's going to be a lot of fun, but reviews also suggest this one just can't live up to the original. It still has a good chance at surpassing the $333 million domestic and $773 worldwide total of the original film anyway. The first film was a bit of an unknown (though it wound up being one of my favorite Marvel films in the end) but now that we know these characters, a lot of people are going to be happy to come back to them. There are only a handful of films that are going to hit $1 billion in total, and I think this stands a very good shot at that mark, even if it may fall short of the original. But, come on, you have to admit the previews make this look like a great time and that soundtrack - it's worth it for that alone. Five post-credit scenes may be pushing it but we're getting really close to wrapping up this phase of Marvel movies, so they may as well go out with a bang.
That's it, one big movie should equal one epic box office. It will be interesting to see how big Guardians of the Galaxy Vol. 2 opens, but we'll have to wait until Sunday for the results.
Comments