By Harley Lond - 09/27/16 at 06:55 AM CT
FROM THE BIG SCREEN:
"Wind River" is a well-written, well-acted and well-directed chilling thriller that follows a rookie FBI agent (Elizabeth Olsen) who teams up with a local game tracker with deep community ties and a haunted past (Jeremy Renner) to investigate the murder of a local girl on a remote Native American Reservation in the hopes of solving her mysterious death. Written and directed by Taylor Sheridan, who previously directed the fabulous modern-cowboy thriller "Hell or High Water,"
starring Chris Pine, Ben Foster and Jeff Bridges, and the war against drugs thriller "Sicario," starring Emily Blunt, Josh Brolin and Benicio Del Toro. Extras for Wind River
include a behind-the-scenes video gallery, deleted scenes. From Lionsgate.

While "Wind River" was a surprise hit, "Atomic Blonde
" was a horrible let-down. The film -- directed by David Leitch ("John Wick" and "John Wick: Chapter 2") -- and set in Berlin in the late 1980s, just before the fall of the Iron Curtain, stars Charlize Theron as the crown jewel of England's MI6, agent Lorraine Broughton, who is tasked with taking down a ruthless espionage ring that has just killed an undercover agent. Anyone expecting an intelligent, hard-as-nails, slick spy version of Theron's "Mad Max: Fury Road" Imperator Furiosa will be disappointed; anyone looking for a clever, witty spy thriller headed up by a female James Bond need look elsewhere. What we get are stinky double-crosses, over-the-edge acting outbursts by co-star James McAvoy, and a muddled and convoluted storyline. This Atomic Blonde is a dud. Extras include deleted/extended scenes; a "Welcome to Berlin" location featurette; "Blondes Have More Gun" featurette; a "Spymaster" cast and crew behind-the-scenes featurette; storyboards; and more. From Universal.


DVD COLLECTIBLES:
Donna Deitch's swooning and sensual first narrative feature,
"Desert Hearts
"
(1985), was groundbreaking upon its 1985 release: A love story about two women, made entirely independently, on a self-financed shoestring budget, by a woman. In the 1959-set film, an adaptation of a novel by Jane Rule, straitlaced East Coast professor Vivian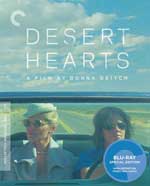 Bell (Helen Shaver) arrives in Reno to file for divorce but winds up catching the eye of someone new, the younger free spirit Cay (Patricia Charbonneau), touching off a slow seduction that unfolds against a breathtaking desert landscape. With undeniable chemistry between its two leads, an evocative jukebox soundtrack, and vivid cinematography by Robert Elswit, "Desert Hearts" beautifully exudes a sense of tender yearning and emotional candor. On DVD and Blu-ray, with new, restored 4K digital transfer, supervised by cinematographer Robert Elswit and created by the UCLA Film & Television Archive in conjunction with the Outfest UCLA Legacy Project and the Sundance Institute, with uncompressed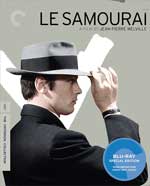 monaural soundtrack on the Blu-ray. From The Criterion Collection ... Also from Criterion this week is the superb French masterpiece
"Le samouraï"
"
(1987), starring Alain Delon in a career-defining performance. Delon plays Jef Costello, a contract killer with samurai instincts. After carrying out a flawlessly planned hit, Jef finds himself caught between a persistent police investigator and a ruthless employer, and not even his armor of fedora and trench coat can protect him. An elegantly stylized masterpiece of cool by maverick director Jean-Pierre Melville, "Le samouraï" is a razor-sharp cocktail of 1940s American gangster cinema and 1960s French pop culture -- with a liberal dose of Japanese lone-warrior mythology. On DVD and Blu-ray, with new high-definition digital restoration, with uncompressed monaural soundtrack on the Blu-ray.
The folks at Arrow Video/MVD Entertainment have put together a fitting homage to the great director George A. Romero, who died this year at age 77.
"George A. Romero "Between Night and Dawn"
"
is a limited Edition six-disc box set. Three films made between "Night of the Living Dead" and "Dawn of the Dead" showcase the extraordinary versatility and dynamism of this irreplaceable American auteur. When Romero passed away in July, the film world didn't just lose its beloved "King of Zombies," but also a groundbreaking and fearless innovator who inspired not only generations of genre directors, but also experimental and guerilla filmmakers for whom he laid down the template. The three films collected in this box set -- two early Seventies "lost films" and a classic plague panic thriller -- show there's more to the legendary director than simply gut-munching ghouls. The comedy romance "There's Always Vanilla," psychological thriller "Season of the Witch," and infection horror "The Crazies" -- all filmed in and around Pittsburgh -- serve to
display the broader thematic concerns and auteurist leanings of a skilled craftsman too often pigeonholed within the genre. "The Crazies" is one of his strongest horror offerings, with memorable performances from Lynn Lowry and Richard Liberty. Romero managed to inject his films with subtle social allegories, nuanced examinations of the human condition, and just the right amount of black humor, so that they were immediately recognized as his and his alone. The box set showcases the director feeling his way towards the mainstream and showing a formidable assurance in three very distinct genres. Includes brand new restorations of the three films, a lavish 60-page booklet featuring new writing on this fascinating chapter of Romero's career, a wealth of extras including interviews, featurettes and behind the scenes documentaries, reversible sleeves for all three films featuring original and newly-commissioned artwork, and a beautifully designed and striking slipcase featuring an iconic image of the man himself. In a Blu-ray/DVD Combo.
BUZZIN' THE 'B'S:
In director Michael Apted's action-thriller
"Unlocked
"
(2017), Noomi Rapace stars as Alice Racine, one of the CIA's top interrogators, whose career is sidelined after she fails to unlock a prisoner in time to save the lives of dozens of innocent people from a terrorist attack in Paris. Now, leading a quiet life in London as a caseworker, Alice is unexpectedly called back into action when the CIA apprehends a suspect believed to have direct knowledge of another imminent attack. Turning to the few people she can trust (Michael Douglas, John Malkovich, and Toni Collette), Alice seeks out the responsible parties as she races against the clock to prevent a deadly biological attack on the citizens of London. On DVD, Blu-ray Disc from Lionsgate ...
It wasn't long before the 1970's Blaxploitation boom moved into the horror market, bringing the world "Blacula," "Blackenstein," "Abby" (Blaxploitation's "The Exorcist") and cult favorite
"J.D.'s Revenge
"
(1976) Law student Ike is enjoying a night on the town with his friends when his life changes dramatically. Taking part in a nightclub hypnosis act, he becomes possessed with the spirit of a violent gangster murdered in the 1940s. Believing himself to be the reincarnation of murderous J.D., Ike launches a revenge campaign against those who had done "him" wrong all those years ago. Directed by Arthur Marks ("Bucktown," "Friday Foster") and starring Glynn Turman ("Cooley High") and Academy Award-winner Louis Gossett Jr., "J.D.'s Revenge" is alternately tough and terrifying -- a Blaxploitation gem waiting to be rediscovered. New 2K restoration from original film elements, produced by Arrow Films exclusively for this release. From Arrow Video/MVD Entertainment ... In
"Amityville: The Awakening
"
(2017), starring Bella Thorne, Jennifer Jason Leigh, Cameron Monaghan and Taylor Spreitler, Belle and her family move
into a new house, but when strange phenomena begin to occur, she begins to suspect her mother isn't telling her everything. She soon realizes they just moved into the infamous Amityville house. On DVD, Blu-ray Disc, from Lionsgate ...
"The Incredible Shrinking Woman
"
(1981), starring Lily Tomlin, Charles Grodin, Ned Beatty and Henry Gibson, makes its Bli-ray debut this week. Exposed to a heady mix of household chemicals, housewife Pat Kramer (Tomlin) contracts a strange side effect: She begins to shrink! Baffling doctors, Pat's diminishing size starts to really bring her down -- until her story captures the hearts of the American people and the attention of a sinister group of scientists bent on world domination. Getting out of this predicament while still taking care of her family will be no small feat. 2017 high-definition transfer. From Shout! Factory.
FOREIGN FILMS:
"Kedi
"
(2017 -- Turkey) is a documentary profile of an ancient city and its unique people, seen through the eyes of the most mysterious and beloved animal humans have ever known, the Cat. Hundreds of thousands of Turkish cats roam the metropolis of Istanbul freely. For thousands of years they've wandered in and out of people's lives, becoming an essential part of the communities that make the city so rich. Claiming no owners, the cats of Istanbul live between two worlds, neither wild nor tame -- and they bring joy and purpose to those people they choose to adopt. In Istanbul, cats are the mirrors to the people, allowing them to reflect on their lives in ways nothing else could. On DVD, Blu-ray Disc from Oscilloscope Laboratories ...
"Afterimage
"
(2016 -- Poland), legendary director Andrzej Wajda's final film, is a passionate portrait of renowned avant-garde painter Wladyslaw Strzeminski, who challenged Stalinist orthodoxy. Looking at the last years of the controversial and visionary artists' life, "Afterimage" follows Poland's best-known interwar artist and theoretician as he wages war against Stalinism. Though he didn't start painting until after becoming a double amputee, the ever-compelling and charismatic Strzeminski eventually became a professor at the National School of Fine Arts in Lodz. It's there that students treat him like the "messiah of modern painting," but university authorities and the Ministry of Culture have a differing opinion. Refusing to comply with Party regulations, the rebellious artist is eventually expelled from the university and the artists' union. And as the Communist authorities continue their efforts to ruin him, Strzeminski, brilliantly played by Polish superstar Boguslaw Linda, remains steadfast in his political and artistic convictions. On DVD, Blu-ray Disc from Film Movement ...
"Eight Films By Jean Rouch
":
Jean Rouch was an inspiration for the French New Wave, and a revolutionary force in ethnography and the study of Africa. Beginning in 1955 with his most controversial film "The Mad Masters" through 1969's darkly comic "Little By Little," these films represent the most sustained flourishing of Rouch's practice of "shared anthropology" -- a process of collaboration with his subjects. Astonishing on their own terms, now restored in high definition and released for the first time, "Eight Films By Jean Rouch" is essential for anyone interested in better understanding the development of ethnography and the cross-currents of colonialism and post-colonial social change in Africa, as well as documentary film practice, film history, and world cinema as a whole. The four-disc set includes eight newly restored films, a 24-page booklet with two essays about Rouch and his methodology, and a new documentary about Rouch, his films, and his influence on African cinema: "The Adventurous Filmmaker." The eight titles: "The Mad Masters" (1955), "Mammy Water" (1956), "The Human Pyramid" (1961), "The Lion Hunters" (1965), "Jaguar" (1967), "Little By Little" (1969), "The Punishment" (1962) and "Jean Rouch, The Adventurous Filmmaker" (2017). In French & English w/English subtitles. From Icarus Films ...
"The Sissi Collection
"
(1955-57 -- Austria): At the age of 17, Romy Schneider vaulted to international stardom through her portrayal of Princess Elisabeth (Sissi) of Austria in the first of three lavish films directed by Ernst Marischka. And, while she would go on to work with some of the most influential and daring European directors of the era, Schneider will always be remembered by this defining role in the internationally beloved series. Five-disc set, newly restored in 2K and available for the first time ever on Blu-ray in North America. Includes the Cannes Golden Palm-Nominated "Sissi Trilogy" along with "Victoria In Dover" (1954), a precursor to the Sissi films in which Schneider plays Britain's Princess Victoria; and "Forever My Love" (1962), a condensed English-dubbed version of the trilogy. Blu-ray Disc. Includes a 20-page collector's booklet. From Film Movement ...
"Tormentero
"
(2017 -- Mexico), starring Jose Carlos Ruiz, Gabino Rodríguez and Monica Jimenez, is an award winning-film that uses the beautiful backdrop of a Mexican fishing village to tell a story of betrayal, love, honor and delusion. Ruiz plays Romero Kantun, a retired fisherman who discovered an oil field in his village. This discovery caused his friends and neighbors to lose their livelihoods, leaving him alienated. Now an alcoholic schizophrenic haunted by his past, Romero sets out to reclaim the love and honor he lost decades ago after he betrayed his village. From FilmRise ...
"Zoology
"
(2016 -- Russia) is writer-director Ivan I. Tverdovsky's prize-winning sophomore feature (Special Prize of the Jury at Karlovy Vary Film Festival, Best Picture at Fantastic Fest) that deftly mixes the deadpan humour of Aki Kaurismäki with a poignant examination of social issues including loneliness and aging. Natasha is a middle-aged admin employee at a zoo where her female co-workers take pleasure in making fun of her. She lives with her God-fearing mother and leads a dull existence without prospects, until one day she grows a tail. Medical examinations follow where she meets Peter, a young radiologist and her dreary life is turned upside down. Described as "Kafka meets Cronenberg," Tverdovsky's film is a beautifully photographed portrait of Eastern Europe that recalls the recent New Romanian Cinema and features a brave and brilliant central performance from Natalya Pavlenkova. In a Blu-ray/DVD Combo from Arrow Video/MVD Entertainment.
FOR THE FAMILY:
In the animated
"The Nut Job 2: Nutty By Nature
"
(2017), with the voices of Will Arnett, Katherine Heigl, Maya Rudoplh, Bobby Moynihan, Isabela Moner, Jeff Dunham and Gabriel Iglesias, Surly Squirrel (Arnett) and the gang are back, returning to Liberty
Park after they are forced to leave their easy life at the nut store. Getting back to nature is the last thing Surly wants to do, but when a greedy mayor decides to destroy the park to build an amusement park, Surly and his ragtag critter friends must band together to save the place they call home. The film introduces new characters including Mr. Feng (Jackie Chan), the adorable but deadly city mouse, and Frankie, the love-struck bulldog (Bobby Canavale). On DVD, Blu-ray Disc, from Universal ... Narrated and executive produced by Mariah Carey, the animated family film
"Mariah Carey's All I Want for Christmas Is You"
(2017) follows little Mariah as she chases her dream of having a puppy of her very own, making her ultimate wish for Christmas come true. Joining Carey in the voice cast are Breanna Yde as little Mariah; Henry Winkler as Grandpa Bill; Lacey Chabert as Mariah's mother Penelope; and Phil Morris as Mariah's father Bud.
Formats:
DVD, Blu-ray Disc, Digital. From Universal.
SPECIAL INTEREST:
"Hamilton: Building America"
(2017) is a HISTORY documentary that captures the amazing life and times of our nation's forgotten founding father: Alexander Hamilton. Explores the iconic American political and financial institutions he helped to create -- from the U.S. Mint and Wall Street to the two-party political system. Ron Chernow, whose biography of Alexander Hamilton served as the basis for the hit Broadway play, along with other notable names including Tom Brokaw and Maria Bartiromo, contribute to an all-encompassing look at one of our nation's most accomplished leaders. From Lionsgate ...
Told by the activists and leaders who live and breathe this movement for justice,
"Whose Streets?
"
(2017) is an unflinching look at the Ferguson uprising. When unarmed teenager Michael Brown is killed by police and left lying in the street for hours, it marks a breaking point for the residents of St. Louis. Grief, long-standing racial tensions, and renewed anger bring residents together to hold vigil and protest this latest tragedy. Empowered parents, artists, and teachers from around the country come together as freedom fighters. As the national guard descends on Ferguson with military-grade weaponry, these young community members become the torchbearers of a new resistance. From Magnolia Home Entertainment.
FROM TV TO DVD:
"D.C. Follies: The Complete Series"
(1987-89) is a four-disc set with all 44 episodes. Brought to you by those masters of trippy TV, Sid & Marty Krofft ("H.R. Pufnstuf," "Land of the Lost"), "D.C. Follies" stars the one and only Fred Willard as the bartender in the hottest joint our nation's capital has ever seen ... and where the clientele is made up of puppet caricatures of the biggest names in show biz and affairs of state. From the world stage to the puppet stage, Fred and his most-irregular regulars sock it to the culture of the day with a satiric style like none other: President Reagan tries to wipe out the national debt with a TV home shopping show, Dolly Parton gives
makeup tips to Barbara Bush, Margaret Thatcher confers with Madonna to find a new image, and Nixon's Presidential Library ... is a bookmobile. Includes non-puppet guest stars such as Betty White, Martin Mull, Bob Uecker, Mike Tyson, Whoopi Goldberg, Leslie Nielsen, "Weird Al" Yankovic, and many more. From Shout! Factory ...
"Indiscretion"
(2016) is a TV movie starring Mira Sorvino, Cary Elwes, Katherine McNamara, Christopher Backus. While her politician husband (Elwes) and precocious teenage daughter (McNamara) are away, New Orleans psychiatrist Veronica Simon (Sorvino) enjoys a weekend fling with Victor (Backus), an alluring young sculptor. But after Veronica calls off the affair, Victor refuses to let go -- and will stop at nothing to have Veronica for himself. From MPI Home Video ...
"Preacher: Season Two"
(2017) is a three-disc set with all 13 episodes. The second season is a genre-bending thrill ride that follows West Texas preacher Jesse Custer (Dominic Cooper), his bad ass ex-girlfriend Tulip (Ruth Negga) and Irish vampire Cassidy (Joseph Gilgun) as they embark on a road trip to find God (upon learning He is absent from Heaven) and are thrust into a twisted battle spanning Heaven, Hell and everywhere in between. Finding themselves in New Orleans, the gang must dodge local gangsters, dangerous secret agents and the Saint of Killers, an unstoppable murderous cowboy from Hell.On DVD, Blu-ray Disc from Sony ...
"Thanks For The Memories: The Bob Hope Specials Deluxe Collection":
Bob Hope, America's greatest entertainer of the 20th century, is celebrated with the most complete collection of his television specials ever assembled, culled from the very best of Hope's 250 network specials spanning five decades, many in support of the
U.S. Armed Forces. This one-of-a-kind collection is packed with comedy, music, dancing, movie stars, and, of course, Bob's memorable monologues -- all perfect for family viewing. Across 19 DVDs, fans will find more than 37 hours of specials, including 20 that have not been seen since their original broadcast, as well as an incredible collection of celebrity guest appearances from the biggest stars of the era such as John Wayne, Bing Crosby, Raquel Welch, Desi Arnaz, Jack Benny, Don Rickles, Barbra Streisand, George Burns, Dean Martin, Ann-Margret, Lucille Ball, Steve McQueen, Lola Falana, Tom Jones, Carol Burnett, Angie Dickinson, Andy Williams, Lana Turner, Jayne Mansfield, Redd Foxx, Zsa Zsa Gabor and many others. Included here: "Thanks for the Memories: The Bob Hope Specials" (six discs) featuring 13 specials from 1956 to 1996; "Bob Hope: Entertaining the Troops" (four discs) featuring 10 shows from 1950 to 1993, including several USO Christmas specials filmed in front of troops serving in locations all over the world, from the Cold War through the Vietnam years to the Persian Gulf; "Bob Hope: TV Legend" (eight discs), a collection of 16 classic variety specials from 1958-1973; "The Dean Martin Celebrity Roasts: Bob Hope" (one disc). Includes a 32-page memory book filled with rare, archival photos and stories, all housed in a deluxe collector's box.
Formats:
On DVD, $249.95 from Time Life.
Check out other new DVD/Blu-ray releases, streaming films, and information and reviews at OnVideo.
Comments