By Harley Lond - 09/06/16 at 09:45 AM CT
THIS WEEK'S HIGHLIGHTS:
Patrick Swayze's unfortunately short career was highlighted by several films in which he took very different lead roles: a sexy dance instructor in "Dirty Dancing" (1987), a gentle husband in "Ghost" (1990), a thrill-seeking robber in "Point Break" (1991), and a drag queen in "To Wong Foo Thanks for Everything, Julie Newmar" (1995). One of his most memorable roles was in "Road House" (1989), where he starred as Dalton, the best bar bouncer in the business. He's anything but "typical" -- he's a little small for his trade, has a degree in philosophy and he believes in "being nice." But when he's hired to clean up the Double Deuce in the small town of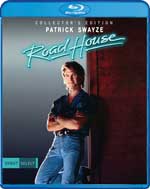 Jasper, he's pushed to his breaking point. Turns out Jasper is controlled by an evil sadist (Ben Gazzara) who doesn't want anyone meddling with "his" town. After he sends his goons to bust up the Double Deuce, all hell breaks loose. Now it's "no more nice guy" for Dalton as he starts busting heads, leading him to the all-time, no-holds-barred showdown of the century. The film co-starred Kelly Lynch, Sam Elliott, Marshall R. Teague, Julie Michaels, Red West, Sunshine Parker, Jeff Healey, Kevin Tighe. Shout! Factory has added Road House
to its new Select line of overlooked but must-have films, here presenting the movie in a new 2K Scan of the inter-positive, supervised and approved by director of photography Dean Cundey and packaging it in a two-disc Blu-ray set loaded with new extras ... Bryan Cranston puts in a tour-de-force performance in "All the Wa
" (2016), HBO's presentation of the Broadway play that earned a Tony for the star as President Lyndon B. Johnson in a riveting behind-the-scenes look at the president's tumultuous first year in office in the wake of President Kennedy's assassination. The film follows LBJ during his early administration, as he stakes his presidency on what would be an historic, unprecedented Civil Rights Act. Johnson finds himself caught between the moral imperative of Dr. Martin Luther King Jr. and the expectations of the southern Democratic Party leaders who brought Johnson to power. As King battles to press Johnson while controlling more radical elements of the Civil Rights movement, Johnson navigates the bill through Congress, winning a landslide victory against Barry Goldwater, but causing the South to defect from the Democratic Party. Co-stars Anthony Mackie, Melissa Leo, Bradley Whitford, Frank Langella, Joe Morton, Stephen Root, Marque Richardson, Aisha Hinds, Todd Weeks, Mo McRae, Spencer Garrett. On DVD and Blu-ray.

Though not a box office smash, the 1999 "The Iron Giant
" is about as good as animated films can get. It's a simple tale -- a young boy befriends a giant robot from outer space that a paranoid government agent wants to destroy -- but it explores so many tropes -- friendship, love, loyalty, fear -- that your mind and heart are overwhelmed with joy. Winner of nine Annie Awards, "The Iron Giant" is the tale of an unlikely friendship between a rebellious boy named Hogarth (voiced by Eli Marienthal) and a giant robot, voiced by a then little-known actor named Vin Diesel. The voice cast also included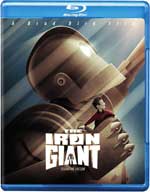 Jennifer Aniston and Harry Connick Jr. The film was the directorial debut of Brad Bird ("The Incredibles," "Ratatouille"), and was Adapted from poet Ted Hughes' book, "The Iron Man." The Blu-ray contains the Signature Edition of the film (fully remastered and enhanced with two all-new scenes) and the original theatrical version in high definition. $14.97 from Warner ... "Night Train to Munich
" (1940 - UK), from writers Frank Launder and Sidney Gilliat and director Carol Reed, is a twisting, turning, cloak-and-dagger delight. Paced like an out-of-control locomotive, this gripping, occasionally comic confection takes viewers on a World War II–era journey from Prague to England to the Swiss Alps, as Nazis pursue a Czech scientist and his daughter (Margaret Lockwood), who are being aided by a debonair British undercover agent, played by Rex Harrison. This captivating adventure -- which also features "Casablanca's" Paul Henreid -- mixes comedy, romance, and thrills with enough skill and cleverness to give the Master of Suspense himself pause. The Criterion Collection gives the film its Blu-ray debut this week, with a restored high-definition digital transfer and uncompressed monaural soundtrack.


FROM THE BIG SCREEN:
"Now You See Me 2
,"
"A Bigger Splash
,"
"Love & Friendship
,"
"Money Monster
,"
"The Darkness
"
and
"The Meddler
."
For a complete look at all the new releases, please visit the
calendar
at onvideo.org
BUZZIN' THE 'B'S:
"The Bodyguard
(aka My Beloved Bodyguard)" (2016 -- Hong Kong): Directed by and starring Sammo Hung, co-stars Andy Lau. In a small town bordering China and Russia, a retired bodyguard with early dementia (Sammo Hung) makes friends with a young girl. But when she and her father disappear, he must recall long-abandoned skills to take down the mob and save her. On DVD, Blu-ray Disc from Well Go USA.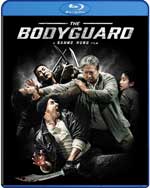 "Center Stage: On Pointe
" (2016): Peter Gallagher, Sascha Radetsky, Kenny Wormald, Ethan Stiefel, Nicole Muñoz, Chloe Lukasiak. In the third installment of the franchise, Jonathan Reeves (Gallagher) is tasked with infusing more contemporary styles and modernism into the American Ballet Academy, and enlists his top choreographers Charlie (Radetsky), Cooper (Stiefel) and Tommy (Wormald) to recruit dancers to compete at a camp where the winners will be selected to join the Academy. Bella Parker (Muñoz), who has always lived in the shadow of her hugely successful sister Kate, finally gets her chance to step into the limelight as one of the dancers recruited for the camp. From Sony.
"Compadres
" (2016): Omar Chaparro, Aislinn Derbez, Joey Moirgan, Eric Roberts, Camila Sodi, Kevin Pollak. Action buddy comedy from the studio behind the record-breaking "Instructions Not Included." After his release from prison, a former Mexican lawman (Omar Chaparro) works with a teenage hacker (Joey Morgan) to find the crime boss (Erick Elías) who framed him. From Lionsgate.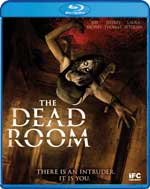 "The Dead Room
" (2016): Jed Brophy, Jeffrey Thomas, Laura Petersen. Inspired by a 1970s urban legend, this atmospheric nerve shredder follows two scientists and a young psychic as they investigate mysterious occurrences at a remote farmhouse. Skepticism quickly turns to terror as the researchers' visit unsettles a seriously angry demonic presence possessing the home. On DVD, Blu-ray Disc from IFC Midnight/Scream Factory.
"Equals
" (2016): Nicholas Hoult, Kristen Stewart, Jacki Weaver, Guy Pearce. In this sci-fi romance, Kristen Stewart and Nicholas Hoult play Nia and Silas, two people who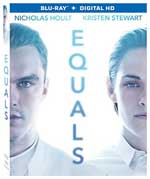 work together in a futuristic society known as "The Collective." A seemingly utopian world, "The Collective" has ended crime and violence by genetically eliminating all human emotions. Despite this, Nia and Silas can't help noticing a growing attraction between them, leading them to a forbidden relationship -- at first tentative, but then exploding into a passionate romance. As suspicion begins to mount among their superiors, the couple is forced to choose between going back to the safety of the lives they have always known, or risking it all to try and pull off a daring escape.On DVD, Blu-ray Disc from Lionsgate.
"Fishes 'N Loaves: Heaven Sent" (2016): Patrick Muldoon, Diana Meyer, Dominique Swain, William McNamara, Bruce Davison. When his parish closes, a big-hearted California preacher is dispatched to a church in tiny Eufala, Arizona (pop. 4,521), a land of rodeos, square dances, love-struck goats, and amateur musicals. Can Pastor Randy (Patrick Muldoon) and his loved ones keep their sanity long enough to inspire a community that's gone astray? Awarded the Dove "Faith Friendly" seal. From Lionsgate.
"Genius
" (2016): Colin Firth, Nicole Kidman, Jude Law, Laura Linney, Guy Pearce. Based on the biography "Max Perkins: Editor of Genius." Tells the story of the riveting friendship between author Thomas Wolfe and book editor Maxwell Perkins, who had published works from Ernest Hemingway and F. Scott Fitzgerald. Frem Lionsgate.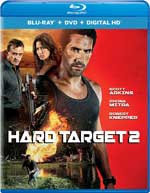 "Hard Target 2
" (2016): Scott Adkins, Robert Knepper, Rhona Mitra, Ann Truong, Temuera Morrison, Adam Saunders, Sahajak Boonthanakit. Retired mixed martial artist Wes "The Jailor" Baylor (Scott Adkins) can't refuse a million-dollar purse he's offered for one final bout in Myanmar. But when he arrives for the fight, he learns he's been tricked into becoming the target of a human hunt. Carrying only water and a ruby-filled money belt for the last person standing, Wes must outsmart the heavily armed group that has paid to kill him. As he fights for his life in the treacherous jungle terrain, the hunters become the hunted. On DVD, Blu-ray Disc. From Universal.
"Honey 3: Dare to Dance
" (2016): Cassie Ventura, Kenny Wormald. At a prestigious South African school, Melea and her boyfriend imagine a hip-hop version of Romeo and Juliet, but Melea's dreams are dashed when she's unable to pay tuition and is forced to leave. Determined to fulfill her destiny, she does the unthinkable -- persuades the community to support her artistic and unique vision. When adrenaline-filled rehearsals cause dance crew rivals and egos to get in the way, everything falls apart. Once again, Melea dares to dream and risks it all. On DVD, Blu-ray Disc. From Universal.
"Night of the Living Deb
" (2016) Maria Thayer, Michael Cassidy, Ray Wise, Chris Marquette. After a girls' night out, endearingly awkward Deb wakes up in the apartment of the most attractive guy in Portland, Maine. She's thrilled, but can't remember much about what actually got her there. Pretty boy Ryan, who's engaged to be married, only knows her presence is a mistake and he ushers her quickly out the door - right into a full-scale zombie apocalypse! Now the mismatched pair must team up to survive. On DVD, Blu-ray Disc. From Dark Sky Films/MPI.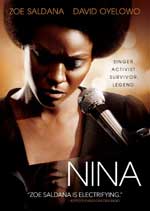 Nina
" (2016): Zoe Saldana, David Oyelowo, Mike Epps, David Keit, Ella Joyce. Biopic about the great singer and activist Nina Simone (Zoe Saldana). She was one of the century's most extraordinary talents, a 15-time Grammy nominee and Grammy Hall of Fame recipient; her mesmerizing songs and passionate politics combined to make her unforgettable. But fame and fortune came with a price, and her later years were riddled with depression, alcohol abuse and isolation. Rediscovering the meaning of her life and work took courage, strength and one true friend: Clifton Henderson (David Oyelowo), the man who started out as her assistant and eventually became her loyal manager. With Clifton's encouragement, the "high priestess of soul" began a courageous journey back to her music ... and, eventually, herself. On DVD, Blu-ray Disc from RLJ Entertainment.
"The Ones Below
" (2015): Clémence Poésy, David Morrissey, Stephen Campbell Moore, Laura Birn. A dark, modern fairy tale in which the lives of two families become fatally intertwined. A couple expecting their first child discover an unnerving difference between themselves and the couple living in the flat below them who are also having a baby. On DVD, Blu-ray Disc, Digital, from Magnolia Home Entertainment.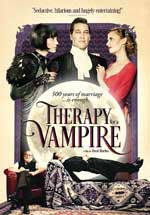 Therapy for a Vampire
" (2014 -- Austria): Tobias Moretti, Jeanette Hain, Karl Fischer Dominic Oley, Cornelia Ivancan. Count von Kozsnom (Tobias Moretti), a vampire in 1930s Vienna, is trapped in an eternally long marriage to the Countess Elsa von Kozsnom (Jeanette Hain), and has lost his thirst for life. After seeking out marriage counseling from the legendary Dr. Sigmund Freud (Karl Fischer), The Count, in an effort to appease his vain wife's desire to see her own reflection, commissions a portrait of her by his assistant Viktor, an aspiring painter. But it's Viktor's headstrong girlfriend Lucy who most intrigues The Count, convinced that she's the reincarnation of his one true love. It doesn't take too long for a wave of mistaken identities and misplaced affections to envelop the hapless group. On DVD from Music Box Films.
"Urge
" (2016): Pierce Brosnan, Justin Chatwin, Alexis Knapp, Ashley Greene, Bar Paly, Danny Masterson, Alison Lohman. A weekend getaway takes a dangerous turn when a mysterious nightclub owner (Brosnan) introduces a group of friends to a new designer drug. Stripped of their inhibitions, they start living out their wildest fantasies -- but what starts out as a fun night of partying quickly turns deadly, as the island paradise deteriorates into a tropical madhouse. On DVD, Blu-ray Disc from Lionsgate.
ON THE INDIE FRONT:
"In-Lawfully Yours
"
(2016), staring Chelsey Crisp, Philip Boyd, Joe Williamson, Corbin Bernsen and Marilu Henner, is a family-friendly Christian comedy about a recently divorced woman who moves to her cheating ex-husband's home town to help her recently widowed mother-in-law and falls for the local town's pastor, who also happens to be her ex-husband's brother-in-law. From Cinedigm.
FOR THE FAMILY:
"The Swan Princess: Princess Tomorrow, Pirate Today"
(2016) is the sixth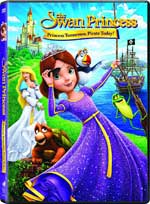 installment of the animated franchise follows young Princess Alise and her friends as they embark on a pirate quest that leaves them stranded on a mysterious island. With her parents away for the summer, fun-loving, young Princess Alise must spend her time with Queen Uberta, training to be the perfect, proper royal. But what she really wants is to become a swashbuckling pirate, so she sets sail with Lord Rogers, Jean-Bob the frog and Speed the turtle on a bold, high seas journey filled with adventure, danger and discovery. After a shipwreck leaves the brave crew stranded on a wild, mysterious island, they meet Lucas, a young boy who has been living in seclusion. Now the faithful friends must work together to escape the island and the ferociously hungry creatures that dwell there. From Sony ...
"R.L. Stine's Mostly Ghostly: One Night in Doom House"
(2016), starring Corey Fogelmanis, Sophie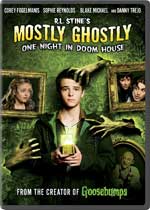 Reynolds, Blake Michael, Morgan Fairchild and Wyatt Bernard, is the third feature-length film based on the internationally beloved book series from legendary children's writer R. L. Stine. This film is packed with new ghosts and new thrills. Just one enchanted jewel stands between earth and an army of evil spirits led by the devious ghoul, Phears. With the help of his new girlfriend and ghost pals, Max Doyle (Fogelmanis) races to find the crystal and save the world. From Universal ... In
" Sesame Street: Love to Learn"
(2016), Elmo and his friends are a curious bunch and love to learn about the world around them, and they discover that they can learn anytime, anywhere -- whether they're exploring animals in their natural habitat on a camping trip or admiring a rainbow when playing in the park. This DVD is a fun, educational-packed special in which Elmo helps his friends explore their natural curiosity. From Warner.
FROM TV TO DVD:
"CSI: Cyber The Final Season"
(2015-16) is a five-disc set with all 18 episodes. Investigator D.B. Russell (Ted Danson) transfers from Las Vegas to become the director of the newly created division of Next Generation Cyber Forensics. He joins Avery Ryan (Patricia Arquette) and specialists Elijah Mundo (James Van Der Beek), Daniel Krumitz (Charley Koontz), Brody Nelson (Shad "Bow Wow" Moss) and Raven Ramirez (Hayley Kiyoko) to track down the most dangerous cyber criminals. When confronted with old enemies, secrets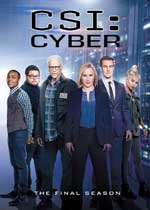 and lies, the team must work together to unravel webs of evidence and solve some of the most bizarre cyber attacks yet. From CBS/Paramount ...
"The Flash: The Complete Second Season"
(2015-16) includes all 23 episodes from the second season, as well as the Arrow crossover episode. Last season, the S.T.A.R. Labs Particle Accelerator exploded, creating a dark matter storm that struck forensic scientist Barry Allen — bestowing him with super-speed and making him the fastest man alive. But Barry wasn't the only person who was given extraordinary abilities that night. The dark matter also created meta-humans — many of whom have wreaked havoc on the city. With the help of the S.T.A.R Labs team, Caitlin Snow, Cisco Ramon and Dr. Harrison Wells, Barry protects the people of Central City from these powerful new threats as The Flash.cIn a six-disc DVD, four-disc Blu-ray set from Warner ...
"Limitless: Season One"
(2015-16) is a six-disc set with all 22 episodes. Based on the feature film, the TV series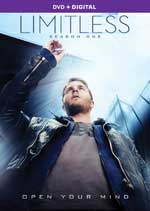 follows Brian Finch (Jake McDorman), a man who discovers the brain-boosting power of the mysterious drug NZT and is coerced by the FBI into using his extraordinary cognitive abilities to solve complex cases for them. Working closely with Brian in the major case squad in New York City is Special Agent Rebecca Harris (Jennifer Carpenter), a formidable investigator with a dark past, and Special Agent Boyle (Hill Harper), a former military officer and Rebecca's confidante. They report to Special Agent in Charge Nasreen "Naz" Pouran, a canny manipulator of the reins of power. Unbeknownst to the FBI, Brian also has a clandestine relationship with Senator Edward Mora (Bradley Cooper), a presidential hopeful and regular user of NZT who has plans of his own for his new protégé. From CBS/Paramount ...
"South Park: The Complete Nineteenth Season"
(2015) is a two-disc set with 10 episodes. On DVD, Blu-ray Disc from Paramount ...
"Supernatural: The Complete Eleventh Season"
(2015-16) features all 23 episodes. Season Eleven plunges Sam and Dean Winchester into extreme peril as they face The Darkness, a sinister new menace unleashed upon the Earth. They continue their monster-hunting missions, battling the usual werewolves, black-eyed demons and even a vengeful ghost in a stuffed bunny costume, but with a sharp new focus: destroy The Darkness. From Warner.
Check out other September 6-September 12 DVD/Blu-ray releases and reviews at OnVideo.
Comments