By Chris Kavan - 08/07/16 at 09:39 PM CT
It was really no contest. Even with the pretty awful reviews, Suicide Squad came out on top and destroyed the previous August record. The only dark cloud on the horizon for the DC film is that it played incredibly front-loaded and considering the massive drops both Star Trek and Jason Bourne have both taken, it's a pretty good bet Suicide Squad is also going to have a big drop-off next weekend. Still, for time being it's looking very good as the weekend was up an astounding 87% compared to the same weekend last year.

1) SUICIDE SQUAD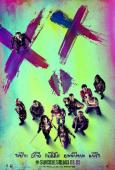 Considering the amount of hype leading up to the villains-turned-reluctant heroes Suicide Squad, the weight was on the shoulders of director David Ayer to improve upon the somewhat disappointing Man of Steel and Batman v. Superman. Early reviews were brutal for the film that was described as messy and lacking a clear vision. Audiences still seemed plenty happy as Suicide Squad opened to $135.1 million, easily blowing away the August record of Guardians of the Galaxy at just $94.3 million. It also scored the record for best single August day ($65.2 million Friday) as well as the best August Thursday with its $20.5 million preview. It's the third best opening of the year behind Batman v Superman ($166 million) and Captain America: Civil War ($179 million). It's also the second-biggest non-sequel debut behind The Hunger Games ($152 million). The film scored a "B+" from the audience (certainly better than the 26% it earned among critics on Rotten Tomatoes) and it broke down to 54% male and 76% under 35. The most worrying thing for Suicide Squad is that it dropped 41% from Friday to Saturday and another 20% from Saturday to Sunday. It has a $175 million budget, so it's going to be find as even the worst-case scenario has the film reaching $250 million with a more likely result at $300 million - though it could come up just a bit short if it drops as hard as Star Trek and Bourne have been doing.
2)
JASON BOURNE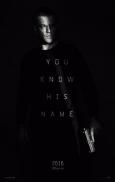 Speaking of Jason Bourne, the action-packed spy had a bumpy second weekend, taking a pretty stiff 61.6% hit. It wound up with a $22.7 million weekend and crossing the $100 million mark with a new $103.4 million total. There is no question that Suicide Squad was the main factor in the big drop, as the previous films all suffered a drop of no less than 55% in their respective second weekends. It will still hit its $120 million budget without much effort (and it has nearly hit $200 million worldwide already). It seems the new reality is that if you release a big tent-pole every week, you're previous tent-pole film is going to find it hard to survive. Matt Damon doesn't have too much to worry about, and neither, really, does Star Trek but let's face it, if they studios would spread things out a little more, those films would do a lot better.
3)
BAD MOMS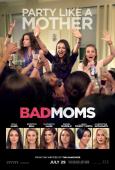 Weathering the storm quite a bit better than Jason Bourne, Bad Moms dropped 40.4% in its second weekend and held on to the third spot with $14.2 million. That raised its total to $51.05 million - more than double its $20 million budget. In the process it passed The Gift ($43 million) to become the biggest film yet for STX Entertainment. It's looking like Bad Moms is eyeing an $80 million total - a great accomplishment for the ensemble R-rated comedy, and that doesn't even include whatever it might bring in overseas.
4)
THE SECRET LIFE OF PETS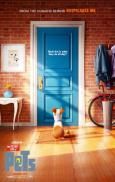 Also hanging on to its 4th-place spot, the animated hit The Secret Life of Pets had an even better hold, dropping about 39% and taking in $11.56 million for a new total of $319.57 million. Rolling out a bit overseas, including a nice $28.9 million in China, Pets also crossed the $500 million mark worldwide. With a light $75 million budget, Secret Life of Pets is looking like one of the bigger success stories of the summer.
5)
STAR TREK BEYOND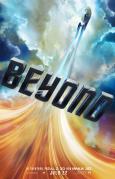 After it took a big tumble in its second weekend, things aren't looking much better for Star Trek Beyond in its third weekend. It took another big hit with a 58.8% drop and earned just $10.2 million for a new $127.9 million total. It's looking bleak for the film to hit its $185 million budget in the states, as about $150 million is its best bet. It is nearly $200 million worldwide and it has a bunch of markets to go through September and if can at least hit $300 million worldwide, it will at least be a win for the somewhat disappointing sequel.
Outside the top five: The week's other wide release, Nine Lives (which scored an amazing 4% on Rotten Tomatoes) opened to $6.5 million (6th place). It did score a "B+" with audiences, so there is that but Kevin Spacey as a talking cat apparently isn't the draw it should have been. With Pete's Dragon on the way, it should be on its way out sooner rather than later.
In milestone news both Lights Out and Ice Age: Collision Course crossed the $50 million mark. It looks a lot better for Lights Out (which only had a $4.9 million budget) than Ice Age (which had a $105 million budget). Lights Out stands at $54.7 million after a $6.4 million weekend while Ice Age took in $4.3 million and landed at $53.5 million.
Next weekend brings us Pete's Dragon, along with the R-rated Sausage Party and the Meryl Streep vehicle Florence Foster Jenkins.
Comments