New on DVD and Blu-ray Week of July 19-July 25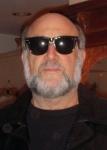 By Harley Lond - 07/18/16 at 10:45 PM CT
FROM THE BIG SCREEN:

"Batman v Superman: Dawn of Justice" is another in the long line of director Zack Snyder's genuflections at the altar of mindless violence and negativity. Movies have always taken a look at the dark side of the human psyche (as have novels, comic books and, more recently, video games) but this guy takes it over the top -- and with no redeeming social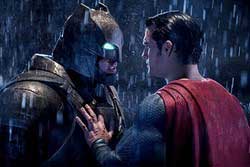 qualities. Oh well, I guess you know where I stand with this stuff. The story line: Fearing the actions of a god-like Super Hero left unchecked, Gotham Cityís own formidable, forceful vigilante takes on Metropolisís most revered, modern-day savior, while the world wrestles with what sort of hero it really needs. And with Batman and Superman at war with one another, a new threat quickly arises, putting mankind in greater danger than itís ever known before. Despite most critics panning the film, Batman v Superman: Dawn of Justice
went on to make north of $327 million in the U.S. alone. Stars Ben Affleck, Henry Cavill, Amy Adams, Jesse Eisenberg, Diane Lane, Laurence Fishburne, Jeremy Irons, Holly Hunter, Gal Gadot. Extras include several behind-the-scenes featurettes. From Warner.

Also due this week: "Miles Ahead
," a pleasing (if you're a jazz fan) look at the life of jazz innovator and musical genius Miles Davis. The film zeros in on a fallow period in Miles' career, when he virtually disappeared from public view in the late 1970s, his musical voice stifled and numbed by drugs and pain medications. Don Cheadle plays the trumpeter and Ewan McGregor stars as a reporter who tracks Miles down and spends some time with him; the conceit here is that the pair get to know each other when they embark on a wild and sometimes harrowing adventure to recover a stolen tape of the musician's latest compositions. From Sony.


THIS WEEK'S BEST BETS:

The folks at The Criterion Collection are bringing out two Alain Resnais films this week on Blu-ray and DVD. First up is "Muriel, or the Time of Return
" (1963), Resnais's follow-up to "Last Year at Marienbad"; it's as radical a reflection on the nature of time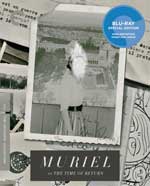 and memory as its predecessor. The always luminous Delphine Seyrig ("Jeanne Dielman, 23, quai du Commerce, 1080 Bruxelles") stars as an antique shop owner and widow in Boulogne-sur-Mer, whose past comes back to haunt her when a former lover reenters her life. Meanwhile, her stepson is tormented by his own ghosts, related to his service in France's recently ended war in Algeria. Featuring a multilayered script by Jean Cayrol, and inventively edited to evoke its middle-class characters' political and personal realities, the fragmented, emotionally powerful "Muriel" reminds viewers that the past is always present. In a new 4K digital restoration, with uncompressed monaural soundtrack on the Blu-ray ... Criterion follows that with "Night and Fog
" (1955)" Ten years after the liberation of the Nazi concentration camps, Resnais documented the abandoned grounds of Auschwitz and Majdanek in "Night and Fog (Nuit et brouillard)," one of the first cinematic reflections on the Holocaust. Juxtaposing the stillness of the abandoned camps' empty buildings with haunting wartime footage, Resnais investigates the cyclical nature of humanity's violence against humanity, and presents the devastating suggestion that such horrors could occur again. new 4K digital restoration, with uncompressed monaural soundtrack on the Blu-ray.

Also noteworthy this week: Scream Factory is bringing out this week the Blu-ray debut of "The Return of the Living Dead
" (1985) in a Collector's Edition. Writer-director Dan O'Bannon ("Alien," "Lifeforce") puts an uproarious spin on the zombie apocalypse movie in this cult classic, starring Clu Gulager, James Karen, Don Calfa. Considered one of the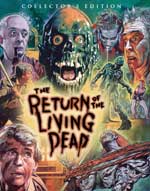 campiest undead romps of its time, the film helped launch the career of scream queen Linnea Quigley and features a killer soundtrack with tracks from many punk artists such as The Cramps, T.S.O.L. SSQ and 45 Grave. The two disc set, which features a new 2K scan of the inter-positive, is just loaded with bonus features, documentaries, interviews and commentaries ... "Visionary" barely begins to describe "A Touch of Zen
" (1971) by King Hu, the masterpiece of Chinese cinema and martial arts moviemaking that depicts the journey of Yang (Hsu Feng), a fugitive noblewoman who seeks refuge in a remote, and allegedly haunted, village. The sanctuary she finds with a shy scholar and two aides in disguise is shattered when a nefarious swordsman uncovers her identity, pitting the four against legions of blade-wielding opponents. At once a wuxia film, the tale of a spiritual quest, and a study in human nature, "A Touch of Zen" is an unparalleled work in Hu's formidable career and an epic of the highest order, characterized by breathtaking action choreography, stunning widescreen landscapes, and innovative editing. On DVD, Blu-ray Disc, with a new 4K digital restoration, with uncompressed monaural soundtrack on the Blu-ray.


BUZZIN' THE 'B'S:

In "The Perfect Match
" (2016), starring Terrence Jenkins, Cassie Ventura, Paula Patton, Kali Hawk, Lauren London, Brandy Norwood and Donald Faison, a playboy, convinced that all relationships are dead, meets his match when he agrees to a casual affair with the beautiful and mysterious Eva ... Michael Pare, Mason Gamble and Mariel Hemmingway star in the Blu-ray debut of "Bad Moon
" (1996), a thriller in which a photojournalist visiting his family in the Pacific Northwest transfigures into a horrific werewolf at night and goes on a horrific killing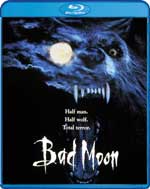 spree. He's eventually undone by the family's dog, Thor, who is devoted to defending the household. From Scream Factory ... "Elvis & Nixon
" (2016), starring Michael Shannon, Kevin Spacey, Alex Pettyfer, Johnny Knoxville, Colin Hanks, Evan Peters and Ashley Benson, is the untold true story behind the meeting between Elvis Presley, the King of Rock 'n Roll, and President Richard Nixon, resulting in this revealing, yet humorous moment immortalized in the most requested photograph in the National Archives. On DVD, Blu-ray Disc from Sony ... In "Kill Zone 2
" (2015 -- Hong Kong), starring Tony Jaa, Zhang Jin, Simon Ya and Louis Koo, an undercover cop gets too close to revealing the mastermind of a drug syndicate and blows his cover. Double-crossed and under a false identity, he's thrown into a Thai prison, where a guard discovers the inmate -- claiming he's a cop -- is a bone marrow match for his dying daughter ... and his warden may have an even deadlier operation hidden within the prison walls. On DVD and Blu-ray from Well Go USA.


FOR THE FAMILY: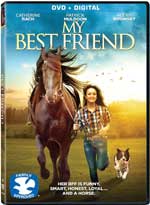 After moving away from the city, a tweenage girl must adjust to her new country lifestyle and -- with the help of a telepathic horse named Sanford -- she's finally able to fit in, in "My Best Friend
" (2016), starring Dane Jamieson, Patrick Muldoon and Catherine Bach. The film has been awarded the Dove Seal of Approval. From Lionsgate ... "Caillou Goes for the Gold" (2016) features 11 sports-themed stories from the PBS KIDS series. Caillou loves staying active and playing sports with his friends! He quickly learns that playing soccer, baseball, and running aren't as easy as they look, but itís always fun to try something new. From PBS Distribution.


FROM TV TO DVD:

"Bitten: The Final Season" (2016) is a three-disc set with all 10 unedited episodes of the Syfy Channel's steamy, supernatural saga following Elena Michaels, the world's only female werewolf. From Entertainment One ... "The Magicians: Season One" (2015-16) includes all 13 episodes of the series based on Lev Grossman's New York Times best seller about a brilliant grad student chosen to attend Brakebills University for Magical Pedagogy,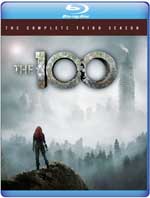 a secret upstate New York university specializing in magic. He and his twentysomething friends soon discover that the magical fantasy world they read about as children is all too real -- and poses grave danger to humanity. In a four-disc DVD, three-disc Blu-ray from Universal ... "The 100: The Complete Third Season" (2016) is a four-disc set with all 16 episodes of The CW sci-fi series about 100 juvenile delinquents sent back to Earth form an ark-like space ship in hopes of possibly re-populating the planet almost a century after a nuclear war destroyed civilization and made the planet uninhabitable. On DVD, Blu-ray Disc *only via online retailers) from Warner ... "Orphan Black: Season Four" (2016) includes all 10 episodes of the series about clones and conspiracies. United in their mission to end the constant threats to their lives once and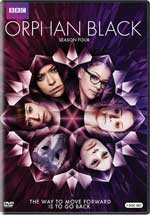 for all, the sisters are taking matters into their own hands. No more looking for guidance, permission or consensus on decisions -- the clones are taking full ownership ... no matter the cost to those around them. Retracing steps from the beginning will uncover revelations that had been there all along, and will ultimately shake their fragile world to the core. On three-disc DVD, two-disc Blu-ray Disc from BBC America ... "Person of Interest: The Complete Fifth and Final Season" (2016) is a six-disc set with all 13 episodes. For years, the Person of Interest team has been protected by The Machine. As worlds collided, however, and a rival AI known as Samaritan finally cornered The Machine inside the nation's power grid, it was the POI team's turn to protect Finch's creation. In season five, the cold war is over. The world might appear to look the same, but something has drastically changed. Samaritan's lethal "correction" has initiated its control. POI tech genius Harold Finch's Machine is essentially dead. And missing-in-action operative Sameen Shaw is still missing. And the team is once again hiding in plain sight. But with Samaritan's invisible grip tightening everywhere, will Finch be able to rebuild and resurrect The Machine? And if he does, will it be the same Machine when it comes back online? On DVD, Blu-ray Disc from Warner.

Check out other July 19-July 25 DVD releases and reviews at OnVideo.