By Harley Lond - 05/31/16 at 03:09 AM CT
THIS WEEK'S BEST BET:
The films of Roger Corman are often as well-known for their behind-the-scenes stories as they are the ones unfolding on the screen. He famously made "Little Shop of Horrors" in just two days using sets left over from "A Bucket of Blood" and shot "The Terror" over a long weekend because bad weather prevented him from playing tennis. But none of these tales is quite so complex, or quite so extraordinary, as the making of "Blood Bath
"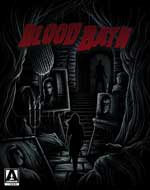 (1966). The saga began when Corman invested in a Yugoslavian Krimi-like picture entitled "Operation Titian" just prior to it going into production. Insisting it be filmed in English, he sent actors William Campbell and Patrick Magee, and uncredited story editor Francis Ford Coppola (all fresh from "Dementia 13"), to Dubrovnik to make a U.S.-friendly movie but wasn't satisfied with the end results. First it was re-cut and re-scored to create "Portrait in Terror," a film more in line with drive-in tastes, then it was handed over to Jack Hill ("Spider Baby"), followed by Stephanie Rothman ("Terminal Island"), each undertaking reshoots that resulted in a vampire picture by the name of "Blood Bath." One final twist was provided when a TV version was required, chopping scenes and adding others to create "Track of the Vampire." For this release, Arrow Video has searched through the vaults to bring you all four versions of "Blood Bath," newly restored from the best materials available to provide a definitive release of one of Corman's craziest ventures. Brand new 2K restorations of "Portrait in Terror," "Blood Bath" and "Track of the Vampire" from original film materials. Brand new reconstruction of "Operation Titian" using original film materials and standard definition inserts. On Blu-ray from Arrow Video/MVD Entertainment.


FROM THE BIG SCREEN:
There's three mediocre outings due this week:
"Pride and Prejudice and Zombies
,"
a flaccid reimagining of Jane Austen's classic tale of the tangled relationships between lovers from different social classes in 19th century England set against the backdrop of a zombie outbreak; from Sony ...
"Race
,"
based on the incredible true story of Jesse Owens, the legendary athletic superstar whose quest to become the greatest track and field athlete in history thrusts him onto the world stage of the 1936 Olympics, where he faces off against Adolf Hitler's vision of Aryan supremacy; from Universal ... and
"Gods of Egypt
,"
a misguided fantasy action-adventure that pits a mortal against Set, the Egyptian god of darkness, who has usurped Egypt's throne, plunging the empire into chaos and conflict; from Lionsgate.
BUZZIN' THE 'B'S:
In
"Triple 9
"
(2016), starring Woody Harrelson, Anthony Mackie, Chiwetel Ejiofor, Aaron Paul, Norman Reedus, Casey Affleck and Kate Winslet, a bank robbery is just the tip of the iceberg when two cops in Atlanta start suspecting members of their own team are involved. Not knowing who to trust and how deep the corruption goes, time is ticking for them to uncover the truth -- before they become the target for the next deadly job. On DVD, Blu-ray Disc from Universal ... Here's a cool bargain:
"12 Sci-Fi Cult Classics Collection"
is a three-disc set with "Metropolis" (1927), "Phantom From Space" (1953), "The Attack of the Giant Leeches" (1959), "The Giant Gila Monster" (1959), "The Killer Shrews" (1959), "Teenagers From Outer Space" (1959), "The Wasp Woman" (1959), "The Amazing Transparent Man" (1960), "The Phantom Planet" (1961), "The Brain That Wouldn't Die" (1962), "The Atomic Brain" (1963) and "Destroy All Planets" (1969). On DVD, $19.98 from Film Chest Media Group.
FOREIGN FILMS:
In
"City of Women
"
(1980), in a railway coach, Snàporaz (Marcello Mastroianni) wakes from a nap and seduces a beautiful stranger. Then he follows her through a forest to a weird hotel where a feminist convention is being held. He is so unnerved by the vociferous hostility of the militants that he hides in the mansion of a female killer who has wooed and won a thousand hearts. Snàporaz will be forced to run the gauntlet before waking up and realizing that his adventure was only a crazy nightmare. Federico Fellini's surrealistic and over the top fantasy earned him four Silver Ribbons by the Italian National Syndicate of Film Journalists. On DVD, Blu-ray Disc from the Cohen Film Collection.
FOR THE FAMILY:
Robin, Cyborg, Raven, Starfire and Beast Boy are back in 26 all-new adventures of DC Comics crime-fighting Teen Titans in
"Teen Titans Go!: Eat. Dance. Punch! Season 3 Part 1"
(2016). From Warner.
FROM TV TO DVD:
"The Last Panthers"
(2015) is a two-disc set with four episodes. A daring diamond heist in the south of France bears the hallmarks of the supposedly retired "Pink Panthers," a gang famed for their bold daylight raids and movie-style getaways. It seems like the perfect crime -- until a young
girl is killed in their escape. This sets a British insurance-loss adjuster (Samantha Morton), a former MI-6 officer (John Hurt), a French-Algerian cop (Tahar Rahim), and a Serbian soldier-turned-thief (Goran Bogdan) on a dangerous collision course across Europe. What starts with diamonds leads to guns, drugs, high finance, and corruption at the heights of power. Shot in seven countries and five languages, this reinvention of the heist drama was inspired by the real-life Pink Panthers, who terrorized Europe's jewelers for a decade. It features the theme music "Blackstar," written and performed by David Bowie especially for the series.On DVD, Blu-ray Disc from Acorn Media ... Famed for his beloved operas, Giuseppe Verdi endured a lifetime of personal turmoil and popular acclaim. Marked from childhood by his musical talent, Verdi rose to become the preeminent composer of his era amidst family heartbreak, societal upheaval, and a scandalous love affair. In the
"The Life of Verdi"
(1982) biographical miniseries seen on PBS, Ronald Pickup gives a captivating performance as Verdi, and ballerina Carla Fracci dazzles as his second wife, opera star Giuseppina Strepponi. Filmed on location in Italy, London, and Paris, the seven-episode series is narrated by Burt Lancaster and features clips of Verdi's music, including the perpetual favorites, "La Traviata" and "Aida." In a four-disc DVD set from Acorn Media.
Check out other May 31-June 6 DVD releases and reviews at OnVideo.
Comments