New in Theaters May 27: X-Men: Apocalypse, Alice Through the Looking Glass
By Chris Kavan - 05/26/16 at 07:01 AM CT
With Memorial Day Weekend nearly upon us, studios are bringing out the big guns hoping to snare audiences. Disney has had a record-breaking year already, and they are unleashing a seqeul to their popular live-action Alice in Wonderland with the original cast returning. Meanwhile, 20th Century Fox is hoping their superheroes will prove as popular as Marvel as the X-Men return, facing their biggest threat yet. In any case, with a Civil War still going strong and Angry Birds taking wing it should be a very profitable Memorial Day Weekend.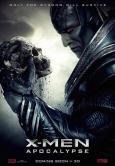 X-MEN: APOCALYPSE Ever since Bryan Singer took over the reigns to the X-Men franchise, things have been looking up. Both First Class and Days of Future Past were excellent in both character and story. The culmination of those films is Apocalypse, introducing one of the most iconic and dangerous villains in the X-Men cannon, being played by the talented Oscar Isaac. Besides our returning cast - Jennifer Lawrence as Mystique, James McAvoy as Professor X, Michael Fassbender as Magneto, Evan Peters as Quicksilver, Nicholas Hoult as Beast and Rose Byrne as Moira Mactaggert we have new mutants in the form of Sophie Turner as Jean Grey, Tye Sheridan as Scott Summers / Cyclops, Kodi Smit-McPhee as Nightcrawler, Ben Hardy as Angel, Alexandra Shipp as Storm, and Lana Condor as Jubilee. Now, early reviews haven't given this as good a rating as the recent Civil War and the main issue seems to be too many characters, not enough story to back them up. I had the same issue with Avengers 2, which is why I felt it was one of the weaker Marvel films. It seems Apocalypse is falling into the same trap and it's too bad. It's going to be one of the films of style over substance - all too common these days. Still, I have a deep affinity for the X-Man series and I won't be missing this one. If it turns out to be a bit weaker, it should still make a sack full of money and probably take the weekend.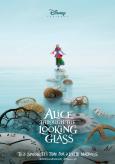 ALICE: THROUGH THE LOOKING GLASS In 2010, Disney began their live-action revolution with Alice in Wonderland. It was a smash, earning $334.1 million in the U.S. and over $691 million worldwide. It helped launch a series of films that continue to do well - Maleficent, Cinderella and, soon enough, Beauty and the Beast. But before we revisit that tale as old as time, we get Alice Through the Looking Glass. Mia Wasikowska returns as the titular character and this time the future of Wonderland is at stake and in order to save that future, she will have go back in time and help the Mad Hatter (Johnny Depp) and stop the evil machinations of Time himself (Sacha Baron Cohen). Also returning is Helena Bonham Carter as the Red Queen, Anne Hathaway as the White Queen and Matt Lucas as Tweedledee and Tweedledum. Now, lightning never seems to strike twice when it comes to movies and their sequels (though there are always exceptions to the rule) but Disney has been on such a hot streak of late, I don't see this breaking that streak. Now, will this be as popular as Civil War or The Jungle Book or Zootopia? That's hard to say - and I'm going to venture a "no". The budget on this is $170 million and while I have no doubt it is going to make that back and some - this is likely not going to be a $1 billion worldwide picture. Still, I don't think Disney has much to worry about - this isn't going to bomb and even if it underperforms, they have Finding Dory right around the corner.


It should be a very busy Memorial Day Weekend. With both the holdovers and new films looking to impress, I don't know if any records will be broken, but things are looking quite impressive.