New in Theaters March 25: Batman v. Superman: Dawn of Justice, My Big Fat Greek Wedding 2
By Chris Kavan - 03/24/16 at 07:05 AM CT
Zootopia has been the king of the roost for most of March but that's all about to chance. The arrival of Batman v Superman (which is looking to capture the March opening record ahead of some strong advanced ticket sales) should spell the end to the animated film's dominance. There is only one other film going up against the superhero smackdown and it's a romantic comedy sequel 14 years in the making. While it does offer up decent counter programming, something tells me it isn't going to make anywhere near the waves as the original film it's following.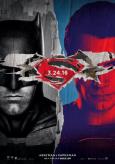 BATMAN V SUPERMAN: DAWN OF JUSTICE Not since Daniel Craig was cast as James Bond has there been so much uproar over a part in a movie. But Craig has proven to be one of the best Bonds - and I have a feeling Ben Affleck will be just fine as Batman. The trailers certainly make him seem like a capable choice. Now, Man of Steel, on the other hand, was a bit of a letdown. The whole "gritty" superhero take just isn't suited to Superman and Henry Cavill seems like only a so-so choice to play the nigh-impervious title role. That being said, DC is gearing up to create their own cinematic universe and Dawn of Justice is going to go a long way in establishing whether they can hang with The Avengers and Marvel. If advanced ticket sales are anything to go by, the film is going (to at least) open big - with $150 million being touted with a worldwide opening near $350 million. Early critical reviews haven't been as kind. I think this is going to be a movie where fans are going to turn out in droves even with the elite bashing it. The only concern with that is the film's long-term prospects, as a big opening doesn't necessarily mean it will have a long run. The real story is going to come next week (and the week after) as we see how it holds up in April to competition. Still, the film also brings us Jesse Eisenberg as a tech mogul (and somewhat annoying) take on Lex Luthor, we get Jeremy Irons as the new Alfred, Bruce Wayne's ever-present butler and don't forget Gal Gadot as the captivating Amazon known as Wonder Woman. Amy Adams, Diane Lane and Laurence Fishburne also return to their roles as Lois Lane, Martha Kent and newsman Perry White. All told, even if the film is just a collection of angst and explosions - I want to be entertained, not bummed out. Here's hoping there's more good to find here than the morose Man of Steel.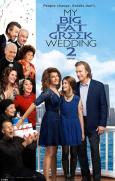 MY BIG FAT GREEK WEDDING 2 Back in 2002, My Big Fat Greek Wedding made history when it become the highest-grossing romantic comedy of all time with a $241.4 million total - and one of the biggest success on a mere $5 million budget. Now, 14 years later, Nia Vardalos and her assorted family returns for this long-time coming sequel. Now, the original film pulled off its success after a 9th-place opening in its first week, only to catch steam and play very well due to word of mouth, steadily gaining an audience. This sequel is going to have to work a few miracles if it wants to perform anywhere near that feat. I have a feeling it's just going to be another middle-of-the-road comedy. It has waited too long to come out and is simply going to get lost among the crowded box office. I doubt it will make even half of what the original film managed - but, who knows, maybe that same audience who supported it will come back and make this one a hit too. I'm just not going to be holding my breath over it.


The weekend it going to belong to Dawn of Justice, there is not doubt. It has a very good chance of breaking the March record, but the more interesting aspect will be to see how it performs in the weeks ahead. I'll see you Sunday with the results.