New on DVD and Blu-ray Week of March 1-7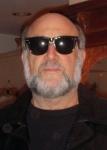 By Harley Lond - 03/01/16 at 04:06 AM CT
THIS WEEK'S THEATRICAL RELEASES:

"The Danish Girl": Alicia Vikander and Eddie Redmayne give tour-de-force performances in this quietly enthralling love story inspired by the lives of married artists Einar and Gerda Wegener. Set in 1920s Copenhagen and Paris, the film follows the transformation of successful landscape artist Einar into Lili Elbe -- a woman inside him that he has had difficulty keeping down and who comes to the fore (in the film, at least), after he poses in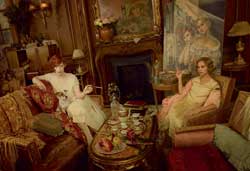 female garb for Gerda, a struggling portrait artist. Their strong and loving marriage is shaken, but not destroyed, and Gerda supports Einar/Lili as he becomes a transgendered woman -- and undergoes one of the first male to female gender change operations. Redmayne's transformation is amazing and Vikander, at once soft and strong, standing up for her feelings yet not denying those of her "husband," is stunning -- she won an Oscar for Best Supporting Actress. The film is impeccably directed with a sure hand by Tom Hooper, who gave us "The King's Speech" (2010) and "Les Miserables" (2012). Co-stars Ben Whishaw, Sebastian Koch, Amber Heard and Matthias Schoenaerts. The DVD and Blu-ray contain a behind-the-scenes featurette, "The Making of The Danish Girl
." From Universal.

Also due this week: "Creed
," which brings Sylvester Stallone reprises his iconic role as Rocky Balboa, here cojuled back into the world of boxing to become trainer to Adonis Johnson (Michael B. Jordan), Apollo Creed's son; it's a straight-ahead, predictable outing, with a strong Oscar-nominated performance by Stallone. The DVD and Blu-ray come with a pair of behind-the-scenes featurettes and deleted scenes. From MGM/Warner ... "The Night Before
" is a throw-away comedy starring Anthony Mackie, Joseph Gordon-Levitt and Seth Rogen as a trio of young men finally realizing that they've left childhood behind and must become adults -- but not before they celebrate by having one more night of debauchery and fun at a Christmas party to end all Christmas parties. The release is loaded with featurettes and a gag reel for those who appreciate sophomoric humor. From Sony ... And, just confirmed before "press time," Lionsgate has released "Room
," the amazing story of a young woman and her son who have been confined for seven years to a windowless, 10-by-10-foot space, euphemistically named "Room"; Brie Larson won an Academy Award and a Golden Globe for Best Actress for her role as "Ma." Unfortunately, a copy of "Room" was not yet available for review.


BUZZIN' THE 'B'S:


"The Boy" (2015): David Morse, Jared Breeze, Rainn Wilson, Bill Sage, Mike Vogel. An intimate portrait of a 9-year-old sociopath's growing fascination with death. Named one of the best under the radar films of 2015 by Indiewire and Hitfix. Formats: DVD, Blu-ray Disc. Extras: Behind-the-scenes featurette. From Scream Factory.



"Childhood's End" (2015): Mike Vogel, Osy Ikhile, Daisy Betts, Georgina Haig, Charles Dance, Ashley Zukerman, Jake Greggson, Hayley Magnus. Syfy Channel three-part miniseries. Omnipotent aliens arrive to save humanity from self-destruction. Under their benign gaze, war, famine and injustice become things of the past. But a small group of people are beginning to question whether this "Golden Age of Man" comes at a secret and terrible price. And when the Supervisor for Earth, Karellen, finally reveals his true form to the world, the sight is as profound as it is disturbing. On DVD, Blu-ray Disc from Universal.



"Don Verdean" (2015): Sam Rockwell, Amy Ryan, Jemaine Clement, Leslie Bibb, Will Forte, Danny McBride. Hired by an ambitious small-town pastor to find sacred relics in the Holy Land, a self-proclaimed biblical archaeologist comes up short and his attempt to cover up his failure fuels a comic conspiracy. On DVD, Blu-ray Disc from Lionsgate.



"Dudes & Dragons" (2015): Kaitlin Doubleday, James Marsters, Luke Perry. When a powerful wizard (Marsters) vows to rid the land of love through the use of his fire-breathing dragon, a brave team of eccentric warriors embark on a grand quest to break the curse, defeat the wizard, and slay his terrible beast. From Momentum Pictures.



"God's Club" (2015): Stephen Baldwin, Corbin Bernsen, Lorenzo Lamas. Following his wife's death, public high-school teacher Michael Evens (Baldwin) re-launches the Bible Club she originally founded. When upset parents cite the separation of church and state and want the group disbanded, a passionate dispute erupts and threatens to destroy their small Vermont community. From Cinedigm.



"Home" (2016): Carrie, a young religious fundamentalist, is abandoned by her missionary father and has to move in with her mother, who has come out of the closet and married another woman; the two women have a biological child. When the women leave on a business trip, Carrie must take care of her small stepsister in a strange new house and deal with creepy occurrences that lead to full blown terror. From Inception Media Group.



"Intruders" (2015): Beth Riesgraf, Jack Kesy, Martin Starr, Rory Culkin. After three criminals break into a supposedly empty house, they find themselves in a deadly game of cat and mouse with the occupant, a shy young woman with a few nasty tricks of her own to play on the invaders. From Momentum Pictures.



"Kill or Be Killed" (2015): Justin Meeks, Paul McCarthy-Boyington, Greg Kelly, Luce Rains, Arianne Margot, Bridger Zadina. A gang of cutthroat outlaws -- the most wanted men in Texas -- on a desperate ride across five hundred miles of badlands to recover a fortune in hidden loot are being picked off one by one by bounty hunters. What began as a hard journey driven by greed becomes a feverish race to survive. From RLJ Entertainment.



"Legend" (2015): Dir.: Brian Helgeland; Stars Tom Hardy, Taron Egerton, Emily Browning. Crime biography follows the lives of Ronald and Reginald Kray -- identical twin brothers, both portrayed by Tom Hardy in a double performance -- who rose to power and terrorized London's underworld in the 1950s and 60s. On DVD, Blu-ray from Universal.



"Life" (2015): Robert Pattinson, Dane DeHaan, Peter Lucas. Inspired by the true story of photographer Dennis Stock and Hollywood's rebel actor James Dean, brought together for a LIFE Magazine assignment. Their journey leads to an unbreakable friendship and some of the most iconic images of the age. From Cinedigm.



"The Midnight Man" (2015): Will Kemp, Doug Jones, William Forsythe, Brent Spiner, Vinnie Jones. When Grady (Kemp), an assassin with a genetic disorder that renders him unable to feel pain, is sent on a high-stakes assignment, his world is turned upside-down after an attack when he awakens to discover that he can feel pain for the first time in his life. With the clock ticking and his greatest asset gone, Grady will go head-to-head with his worst fears and unspeakable enemies, while experiencing a tactile world he never could have imagined. From Cinedigm.



"Miss You Already" (2015): Director: Catherine Hardwicke. Stars: Toni Collette, Drew Barrymore, Dominic Cooper, Paddy Considine, Frances De La Tour, Jaqueline Bisset. The friendship between two life-long girlfriends is put to the test when one starts a family -- with a rock star husband and a successful career -- and the other -- who works in a community garden and lives in a boathouse with her boyfriend -- falls ill with breast cancer. On DVD, Blu-ray Disc from Lionsgate.



"Narcopolis" (2015): Eliot Cowan, Jonathan Pryce, James Callis, Elodie Yung. In 2024, when the manufacture and consumption of drugs has been legalized, an elite police unit, known as Drecks, keep the black market dealers off the streets and the licensed drug companies rich. When dreck and former addict Frank Grieves is called to investigate an unidentifiable corpse, he makes a connection to the biggest and most powerful drug producer of them all: The Ambro Company. But Ambro has friends in high places and as his corrupt superiors turn on him, Grieves finds himself cut loose by the law and separated from the people he loves. The only way to clear his name is to find the identity of the dead body and its connection to Ambro. On DVD, Blu-ray from IFC Midnight/Scream Factory.



"The North Star" (2016): Jeremiah Trotter, Thomas C. Bartley, Jr., Lynn Whitfield, Keith David, John Diehl, Clifton Powell. A pair of black slaves make the desperate choice to escape their brutal masters just before the Civil War. Evading brutal slave hunters and with only the light of the North Star as their guide, the pair make the grueling journey across hostile land to the free state of Pennsylvania. From RLJ Entertainment.



"Ratter" (2015): Ashley Benson, Matt McGorry. Shown from the stalker's point of the view, the film follows a graduate student who falls prey to a tech-savvy stalker who hacks into her digital world. The film harnesses the paranoia of today's technology, serving as an uncomfortably relevant warning about a new breed of cyber stalking where at any moment someone could be watching your every move through the devices that keep us connected. Formats: DVD, Digital. From Sony.



"Weaponized" (2016): Tom Sizemore, Mickey Rourke, Johnny Messner, Jon Foo. A damaged homicide detective (Messner) must prevent a grieving father from unleashing a "robotic virus" (that allows soldiers to swap consciousness with a target, giving them temporary, yet complete, control) that he believes will destroy the terrorist cell that murdered his son, but at an unimaginable cost. On DVD, Blu-ray from Cinedigm.
FOREIGN:
"Flowers
" (2015 -- Spain), starring Nagore Aranburu, Itziar Aizpuru, Josean Bengoetxea and Itziar Ituno, is an intensely poetic meditation on love, pain and memory, all expressed through the metaphor of cut flowers. Ane lives a quietly unfulfilled life, trapped in a seemingly loveless marriage, until she suddenly begins to receive bouquets of flowers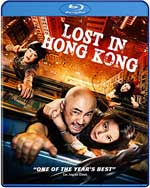 anonymously, once a week. Meanwhile, Tere wants nothing more than a grandchild, but her only son Benat and his wife have other plans. A sudden, tragic event jolts all of their lives into a new reality, and flowers start to appear anonymously once again, but this time, instead of passion, they represent an emotional memory. Spain's submission to the 88th Academy Awards, and the first Academy Award submission in the Euskara (Basque) language. From Music Box Films ... "Lost in Hong Kong
" (2015 -- China), starring Zheng Xu and Wei Zhao, is a Hong Kong road trip comedy. Xu Lai had a dream once: to be an artist and marry the girl of his dreams. Fifteen years later, he's sick of designing bras, humoring his baby-crazy wife and catering to his loopy in-laws. Now on a family vacation that includes his DVD-pirating, aspiring-documentarian brother-in-law, he has a hidden agenda: a chance meetup with his old flame. But ditching his clan for a clandestine hookup might be the least of his worries. There's been a murder and the cops want a word with him. On DVD, Blu-ray from Well Go USA.


FOR THE FAMILY:

What do beards, boxing, saxophones, ice hockey, and nunchucks have in common? They can all be found in "Angry Birds Toons: Season Two - Volume Two" (2015), which features the final 13 mini-episodes from the second season. From Sony ... The Golden Egg mystery continues in "Angry Birds Stella: Season Two" (2015). Stella and her feathered friends make an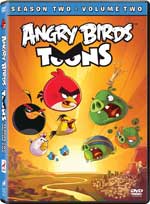 amazing discovery that rocks Golden Island to its molten core -- the location of the lost Golden Egg. It doesn't take long for the flock to find out that the Golden Egg has some serious power -- anything that touches it turns to gold. Features all 13 episodes. From Sony ... In "Piggy Tales: Season Two – Pigs At Work" (2015), go on the job with the well-meaning but absent-minded working pigs of "Angry Birds" and find out how Pig City is constructed (and deconstructed) in this collection of 26 animated shorts. From Sony ... Barbie and her best friends Teresa and Renee transform from hard-working gymnasts to undercover secret agents in the new animated adventure "Barbie in Spy Squad" (2016). When their amazing gymnastics skills catch the eye of a top-secret spy agency, the girls are soon following clues to a gem-stealing cat burglar who has escaped everyone on the case. With their high-tech gadgets, glam disguises and cute robo-pets, it's girl power to the rescue. On DVD, Blu-ray/DVD Combo from Universal ...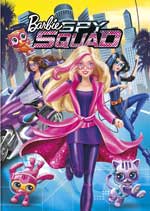 "LEGO Star Wars: Droid Tales" (2015) features five complete episodes of the TV series that awakens the lighter side of the Force. Following the victory celebration in the Ewok village on Endor, at the end of "Star Wars: Return of the Jedi," R2-D2 and C-3PO have gathered to regale Luke, Leia, Han, Chewbacca and the other Rebels with the tales of their adventures that led to the events of S"tar Wars: The Phantom Menace." An accidental kidnapping occurs while the droids are reminiscing, and suddenly you're taken on a new journey that leads to the retelling of the entire Star Wars saga, as told by R2-D2 and C-3PO. From Disney ... "Capture the Flag" (2016) is an animated family film approved by the Dove Foundation. Space travel runs in Mike Goldwing's family: both his father and grandfather were astronauts. But the plucky 12-year-old's estranged grandfather, Frank, has lived a life isolated from his family after missing out on the chance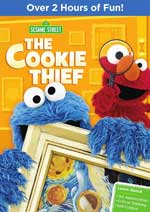 to make history as a member of the Apollo 11 crew. When Mike discovers that an eccentric billionaire plans to fly to the moon, claim its vast, valuable mineral resources, and destroy the American flag planted by the Apollo 11 astronauts, Mike teams with his grandfather, best friends Amy and Marty, and a clever chameleon, and blasts off on an incredible moon-bound mission, determined to thwart the billionaire's evil plan, capture the flag, and reunite his divided family. From Paramount ... In "Sesame Street: The Cookie Thief" (2015), a cookie art museum has just opened on Sesame Street. Surrounded by beautiful cookie paintings, like "Girl With the Cookie Earring," and the "Muncha Lisa," the museum is full of excitement with learning opportunities around each corner. Cookie Monster and his friends feel like they're in a whole new world. But when art suddenly starts to disappear, Cookie Monster quickly becomes a suspect. Can Cookie Monster clear his name? Will they find the missing art in time, or will Cookie Monster be banished from the museum forever? $14.98 from Warner.


SPECIAL INTEREST:
"Sunshine Superman
" (2014) is the true story of legendary skydiver Carl Boenish. Documentary combines Boenis's own 16mm archive footage with detailed re-enactments for an "awe-inspiring" portrait of the man who broke the boundaries of what was deemed humanly possible. The film follows Boenish through his early days as a passionate skydiver to his first experiments with BASE jumping, setting records and developing methods that continue to inspire countless extreme athletes to today. Boenish and wife Jean broke the BASE jumping Guinness World Record in 1984 on the Norwegian "Troll Wall" mountain range. Incredibly,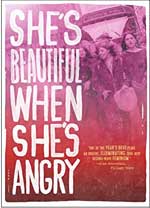 within days, triumph was followed by disaster. On DVD, Blu-ray Disc from Magnolia Home Entertainment ... "She's Beautiful When She's Angry
" (2015) is a provocative and insightful account of the birth of the modern women's liberation movement through to its contemporary manifestations in the new millennium. More than 30 fearless activists at the forefront of the women's movement from 1966-1971 come together and share their stories, their experiences and provide an in-depth look at the history of gender inequality. Directed by Mary Dore, the documentary combines rarely-seen archival footage, a classic soundtrack of the era and the first-person stories of the protests, poetry slams and community meetings that engineered the women's liberation movement and the meaningful social change it sought. Capturing the exhilaration felt by a generation of women who challenged and shed age-old gender role limitations in a surge of rebellious energy, the film features commentary from such women's issues activists and writers as Chude Pamela Allen, Judith Arcana, NonaWillis Aronowitz and Fran Beal. Despite episodes of internal discord, including challenges to leadership and disparity of focus, the movement nevertheless became the voice for the many strands of feminism, from the particular demands of women of color to the struggles over issues of class and lesbian rights. From Music Box Films.


FROM TV TO DVD:

"The Americans Season 3" (2015) is a four-disc set with all 13 episodes of the period drama about the complex marriage of two KGB spies posing as Americans in suburban Washington D.C. shortly after Ronald Reagan is elected President. From Fox .. . "Drunk History Season 3" (2015) includes all 13 episodes of the series that presents historical reenactments from A-list talent as told by inebriated storytellers. Drunken and often incoherent narrations provide a unique take on the familiar and less familiar people and events from our country's great past with unforgettable results. Host Derek Waters, along with an ever-changing cast of actors and comedians, travels across the country to present the rich tales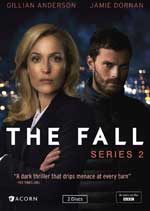 that every city in this land has to offer. In Season 3, Waters and the crew travel around America to get a drunk history lesson in some of the nation's most historical locations. Some of the destinations include New Jersey, Miami, Oklahoma, New Orleans, New Mexico, Cleveland, L.A., and Vegas covering topics that include space, journalism, games, and inventors. Intrepid storytellers include Paget Brewster, Cameron Esposito, Fortune Feimster, Rich Fulcher, Mark Gagliardi, Dan Harmon, Kyle Kinane, and others. Guest appearances by Maya Rudolph, Will Ferrell, Taran Killam, Michael Cera, Natasha Leggero, Jack Black, Dr. Drew Pinsky, Topher Grace, Johnny Knoxville, Adam DeVine, and others. On DVD, Blu-ray from Paramount ... "The Fall, Series 2" (2015) is a two-disc sets with six episodes of the unforgettable psychological thriller starring Gillian Anderson and Jamie Dornan. Anderson mesmerizes as the strong, self-possessed detective, while Dornan proves disturbingly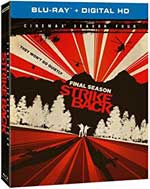 charismatic as Spector, a man who is both a sadistic killer and a loving father. Series 3 is scheduled to air in 2016. On DVD, Blu-ray Disc from Acorn Media ... "Strike Back: Cinemax Season 4" (2013) is a three-disc set with 10 episodes of the series that follows the unlikely alliance between two crack special agents – one an American renegade, the other an elite British spy. From the tropical beaches of Thailand to the towering peaks of the Swiss Alps. "Strike Back" focuses on two members of Section 20, a secret British anti-terrorist organization: Michael Stonebridge (Philip Winchester), a consummate British soldier still struggling to overcome tragedy in his life, and Damien Scott (Sullivan Stapleton), a disgraced U.S. Delta Force operative who has found redemption with S20. In the fourth and final season, Stonebridge and Scott face their biggest assignment yet: A global threat involving a ruthless network of international terrorists. Scott, Stonebridge and their S20 colleagues Philip Locke (Robson Green), Julia Richmond (Michelle Lukes) and Kim
Martinez (Milauna Jackson) try to crack a missing-persons case in Bangkok. But what's on the surface is only the first step in a massive terrorist plot. On DVD, Blu-ray Disc from HBO ... "The Unauthorized Collection 4-Film Set": One of Lifetime's most successful franchises, the "Unauthorized" films explore the real-life journeys of actors launched into superstardom, revealing behind-the-scenes secrets and untold stories. Now in one set: "The Unauthorized Beverly Hills, 90210 Story," "The Unauthorized Melrose Place Story," "The Unauthorized Saved by the Bell Story" and "The Unauthorized Full House Story." $14.98 from Lionsgate.

Check out other March 1-7 DVD releases and reviews at OnVideo.