New on DVD and Blu-ray Week of February 23-29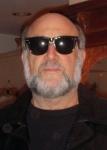 By Harley Lond - 02/23/16 at 03:49 AM CT
THIS WEEK'S THEATRICAL RELEASES:
Upholding the grand cinema tradition of films about hard-working journalists who expose corruption and malfeasance ("All the President's Men" comes to mind immediately) is director Tom McCarthy's "Spotlight," a superbly directed and acted dramatization of the Boston Globe's Pulitzer Prize-winning "Spotlight" team investigation into allegations of child sex abuse within the local Catholic Archdiocese -- child abuse that had been going on for decades and that had been covered up by the Church as well as Boston's legal and government establishment. Like McCarthy's previous outings, "The Station Agent," "The Visitor" and "Win Win," "Spotlight" eschews splash and hyperbole to concentrate on the minute details of the story -- here following the investigative reporters as they go after the facts, digging into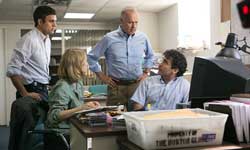 archives and conducting interview after interview -- and slowly building up layer after layer of nuance and mis en scene. The film -- which stars Mark Ruffalo, Michael Keaton, Rachel McAdams, Liev Schreiber, Billy Crudup, Stanley Tucci, John Slattery, Lana Antonova, Jamey Sheridan and Brian d'Arcy James -- has been nominated for six Oscars, including Best Motion Picture of the Year, Best Performance by an Actor in a Supporting Role for Mark Ruffalo, Best Performance by an Actress in a Supporting Role for Rachel McAdams, Best Achievement in Directing for Tom McCarthy, Best Writing, Screenplay Written Directly for the Screen and Best Achievement in Editing. It already has nabbed Outstanding Performance by a Cast in a Motion Picture from SAG, Best Picture at the Broadcast Film Critics Association Awards, won Best Picture and Best Screenplay at both the Los Angeles Film Critics Association Awards and the National Society of Film Critics Awards, and Best Original Screenplay from the Writers Guild. Given that Alejandro González Iñárritu and his "Birdman" won for best director and best film last year, effectively knocking out his "The Revenant," which is clearly the best film this year, and given that "Carol," our second pick for Best Motion Picture of the Year, wasn't nominated by the Academy, we figure that McCarthy and "Spotlight
" will be the winners this year. Extras on the DVD and Blu-ray include "Uncovering the Truth: A Spotlight Team Roundtable," "Spotlight: A Look Inside" and "The State of Journalism." From Universal.

Also due this week: "Secret in Their Eyes
," an American re-imaging of the 2009 Academy Award-winning Argentinian film "The Secret in Their Eyes," here cast as a thriller about a tight-knit team of investigators -- Ray (Chiwetel Ejiofor), Jess (Julia Roberts) and their supervisor Claire (Nicole Kidman) -- who are torn apart when Jess's teenage daughter is brutally and inexplicably murdered. After 13 years, Ray finally uncovers a new lead that he's certain will resolve the case ... but no one is prepared for the shocking final secret in the case. From Universal ... And "The Good Dinosaur
," a meandering Disney animated adventure about an alternate world in which the asteroid that forever changed life on Earth missed the planet completely and giant dinosaurs never became extinct, creating a world where an Apatosaurus named Arlo makes an unlikely human friend.


THIS WEEK'S HIGHLIGHTS:

Two films critical of the 1960s status quo -- one an undiscovered gem, the other a verified classic -- get the Criterion Collection treatment this week. First up is "I Knew Her Well
" (1965), a disarmingly delightful portrait of the days and nights of a party girl in sixties Rome. On the surface, "I Knew Her Well," directed by Antonio Pietrangeli, plays like an inversion of "La dolce vita" with a woman at its center, following the gorgeous, seemingly liberated Adriana (Stefania Sandrelli) as she dallies with a wide variety of men, attends parties, goes to modeling gigs, and circulates among the rich and famous. Despite its often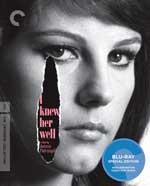 light tone, though, the film is a stealth portrait of a suffocating culture that regularly dehumanizes people, especially women. In a new 4K digital restoration, with uncompressed monaural soundtrack on the Blu-ray. One of the most beloved American films of all time, "The Graduate
" (1967) earned Mike Nichols a best director Oscar, brought the music of Simon & Garfunkel to a wider audience, and introduced the world to Dustin Hoffman. Benjamin Braddock (Hoffman) has just finished college and is already lost in a sea of confusion and barely contained angst when he becomes sexually involved with the middle-aged mother (Anne Bancroft) of the young woman he's dating (Katharine Ross). Visually imaginative and impeccably acted, with a clever, endlessly quotable script by Buck Henry (based on the novel by Charles Webb), "The Graduate" had the kind of cultural impact that comes along only once in a generation. In a new 4K digital restoration, with uncompressed monaural soundtrack on the Blu-ray. Extras include commentary from 2007 featuring Nichols in conversation with filmmaker Steven Soderbergh; audio commentary from 1987 featuring film scholar Howard Suber; a new interview with actor Dustin Hoffman; new conversation between producer Lawrence Turman and actor-screenwriter Buck Henry; "The Graduate at 25," a 1992 featurette on the making of the film; interview with Nichols by Barbara Walters, from a 1966 episode of NBC's "Today" show: excerpt from a 1970 appearance by singer-songwriter Paul Simon on "The Dick Cavett Show"; screen tests; trailer; booklet with an essay by journalist and critic Frank Rich, more.

From Arrow Video via MVD Entertainment comes an anthology series of the unsung heroes of American terror: films that have languished in obscurity or that are at risk of being lost due to lack of source materials. The "American Horror Project
" ensures that these unique slices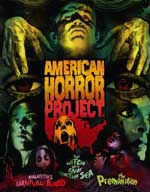 of the American Nightmare are brought back into the public consciousness and preserved for all to enjoy. Volume I of the series presents three tales of violence and madness from the 1970s. "Malatesta's Carnival of Blood" (Christopher Speeth, 1973) sees a family arrive at a creepy, dilapidated fairground in search of their missing daughter, only to find themselves at the mercy of cannibalistic ghouls lurking beneath the park. "The Witch Who Came from the Sea" (Matt Cimber, 1976), stars Mollie Perkins as a young woman whose bizarre and violent fantasies start to bleed into reality -- literally. Every parent's worst nightmare comes true in "The Premonition" (Robert Allen Schnitzer, 1976), a tale of psychic terror in which five-year-old Janie is snatched away by a strange woman claiming to be her long-lost mother. All three represent artistic experimentation at its best and, though there are some lapses in plotting and acting, are thoroughly enjoyable. Newly remastered from the best surviving elements and contextualized with brand new supplementary material. In a Blu-ray/DVD Combo loaded with fascinating extras, including a limited edition 60-page booklet featuring new articles on the films.


Buzzin' the 'B's:
"My All American
" (2015) is the true story of Freddie Steinmark, a young man deemed too small to be an athlete. Steinmark dreams of playing football and brings a fight to the game that is noticed by legendary coach Darrell Royal, leading to a scholarship to play college football. But with a victorious season within reach, Steinmark receives a shocking diagnosis and discovers what it truly means to have the heart of a champion. Stars Aaron Eckhart, Finn Wittrock, Robin Tunney, Sarah Bolger. On DVD, Blu-ray/DVD Combo from Universal ... In "Entertainment
" (2015), starring Gregg Turkington, Tye Sheridan, John C.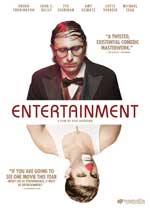 Reilly, Michael Cera and Amy Seimetz, a broken, aging comedian tours the California desert, lost in a cycle of third-rate venues, novelty tourist attractions, and vain attempts to reach his estranged daughter. By day, he slogs through the barren landscape, inadvertently alienating every acquaintance. At night, he seeks solace in the animation of his onstage persona. Fueled by the promise of a lucrative Hollywood engagement, he trudges through a series of increasingly surreal and volatile encounters. On DVD, Blu-ray Disc from Magnolia Home Entertainment ... When a terrorist group kidnaps retired CIA field operative Leonard Turner (Bruce Willis), his son Harry Turner (Kellan Lutz), a government analyst who has been repeatedly turned down for field service, launches his own unsanctioned rescue operation in "Extraction
" (2015) On DVD, Blu-ray Disc from Lionsgate ... Scream Factory has a neat double feature Blu-ray debut this week: "Millennium and R.O.T.O.R.
"
"Millennium" (1989) is a time travel yarn in which an NTSB investigator seeking the cause of an airline disaster meets a warrior woman from 1000 years in the future, starring Kris Kristofferson, Cheryl Ladd and Daniel J. Travanti. "R.O.T.O.R." (1987) revolves around a Robotic Officer Tactical Operation Research prototype robot intended for crime combat that escapes from the development lab and goes on a killing rampage. Stars Michael Hunter, Richard Gesswein ... In "The Serpent and the Rainbow
Collector's Edition Blu-ray" (1988), a Harvard anthropologist (Bill Pullman) is sent to Haiti to retrieve a strange powder that is said to have the power to bring human beings back from the dead. In his quest to find the miracle drug, the cynical scientist enters the rarely seen netherworld of walking zombies, blood rites and ancient curses. Based on the true life experiences of Wade Davis and filmed on location in Haiti. Co-stars Cathy Tyson, Zakes Mokae and Paul Winfield. From Scream Factory.


On the Indie Front:

Set in the cutthroat world of New York publishing, the melodrama "The Girl in the Book
" (2015) follows Alice Harvey, the daughter of a powerful book agent, who finds herself trapped in a job as a junior book editor while trying to overcome her own writer's block. When Alice is unexpectedly asked to manage the re-release of a bestselling novel based on incidents in her own life, the book's author reenters her life and opens a door to painful memories from her past. Stars Emily VanCamp and Michael Nyqvist. From Monarch Home Entertainment.


Foreign:
"The Summer of Sangaile
" (2015) is the official Lithuanian entry for Best Foreign-language Film at the 88th Academy Awards. Seventeen-year-old Sangaile is fascinated by stunt planes. Afraid of heights, she has never dared to even enter in one of the cockpits. At a summer aeronautical show, nearby her parents' lakeside villa, she meets Auste, a local girl of her age, who unlike Sangaile, lives her life to the full with creativity and dare. As the two girls become lovers, Sangaile allows Auste to discover her most intimate secret, and finds in her teenage love the only person to truly encourage her in flying. From Strand Releasing.


For the Family:

In the collection of six new Chuggington adventures "Chuggington: Delivery Dash at the Docks" (2016), Koko is thrilled to be spending the day training with Daley, Chuggington's new express delivery engine. Together they pick up and deliver important packages all around Chuggington, frequenting the bustling docks where Skipper Stu, Chuggington's new Dock Master, is unloading and loading the ship. From Anchor Bay ... In the animated "The Lion Guard: Return of the Roar" (2016), Kion, second-born cub of Simba and Nala, assumes the role of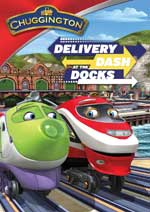 leader of "The Lion Guard," an elite team of animals tasked with preserving the Pride Lands, and assembles a group of unlikely heroes: Bunga the honey badger, Fuli the cheetah, Beshte the hippo and Ono the egret. Together they embark on an adventure in which they use their unique abilities to defend the Pride Lands from predators and maintain balance within the Circle of Life. With the voices of James Earl Jones, Ernie Sabella, Rob Lowe, Gabrielle Union, Max Charles, Joshua Rush, Atticus Shaffer, Diamond White, Dusan Brown. From Disney ... "Be Cool, Scooby-Doo! Season 1 Part 1" (2016) is a two-disc set with thirteen 22-minute episodes of the newest adaptation of the classic, animated kids mystery series. From Warner ... "Shaun the Sheep: Season 2" (2011) is a two-disc set with 40 episodes, from Lionsgate while "Shaun the Sheep: Sheep on the Loose " (2009) features six episodes from Season One: When the gang sneaks out to the nearest amusement park for a day of fun, Shaun and Bitzer must help cover their tracks before the Farmer finds out. From Lionsgate ... In "Transformers Rescue Bots: Adventures in Time and Space (2016), the Rescue Bots take their adventures through time and space with five episodes. Griffin Rock's Autobot first responders -- Chase, Heatwave, Blades and Boulder -- will stop at nothing to protect their Earth friends, even if it means traveling through all of time and space. From Shout! Factory.


Special Interest:

Academy Award-winning director Louie Psihoyos (Best Documentary, "The Cove," 2009), producer Fisher Stevens (TV's "The Blacklist"), and the Oceanic Preservation Society go undercover once again to offer an inside look at the hidden world of endangered species and a detailed analysis of the astronomical industrial growth that is changing the chemistry of the entire planet in "Racing Extinction
" (2015). Using hidden cameras and numerous high-tech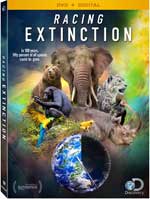 tactics to infiltrate the world's most dangerous black markets to document the link between carbon emissions and species extinction, the documentary reveals stunning, never-before-seen images that truly change the way we see the world. On DVD, Blu-ray Disc from Lionsgate ... "Kung Fu Trailers of Fury" (2016) is a hard-kicking, face-smashing, snake-fisting trailer collection with over two hours of the wildest martial arts mayhem in motion picture history featuring brutal boxers, shaolin poles, fat dragons, iron claws and one-armed masters. From the golden age of kung fu cinema comes this insane tsunami of masters, mobsters, furious vengeance and incredible fighting styles, starring Bruce Lee, Jackie Chan, Lo Lieh, Sammo Hung, Angela Mao, Chuck Norris, Jimmy Wang Yu and Wu Tang, too. These are the most over-the-top and rarely-seen original trailers for Hong Kong classics that include "The Way of the Dragon," "Death Blow," "Two Champions of Shaolin," "Daggers 8," "Snake in the Eagle's Shadow," "Shaolin Wooden Men," "The Story of Drunken Master," "Enter the Fat Dragon," "Brutal Boxer" and many more. On DVD, Blu-ray Disc from Severin Films ... "Walk on By," "What the World Needs Now," "Do You Know the Way to San Jose?" "The Look of Love," "I Say a Little Prayer." What would the world be without these songs? Composer-producer-pianist-singer Burt Bacharach defined the art of songwriting, crafting timeless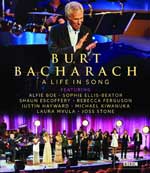 music that captivated, inspired, and cemented his legacy into history's songbook. The concert film "Burt Bacharach: A Life in Song" (2015) celebrates the life and career of Bacharach, and features performances by Joss Stone, Justin Hayward, Alfie Boe, Sophie Ellis-Bextor, Shaun Escoffery, Rebecca Ferguson, Michael Kiwanuka, and Laura Mvula. Filmed at London's Royal Festival Hall in 2015, "A Life in Song" presents on-stage conversations between Bacharach and Michael Grade traversing different aspects of his years in music, interspersed with performances of many of his best loved songs by a diverse cast of artists. The evening culminates in a medley of some of Bacharach's most famous film songs performed by the man himself and his band, and a performance of "That's What Friends Are For" featuring the entire evening's cast. Originally broadcast on BBC4 in November 2015. On DVD, Blu-ray Disc, from Eagle Rock Entertainment. Due Friday, February 26.

Check out other February 23-29 DVD releases and reviews at OnVideo.