New on DVD and Blu-ray Week of January 26-February 1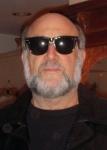 By Harley Lond - 01/26/16 at 04:09 AM CT
THIS WEEK'S BEST BETS:
Nikkatsu, the oldest film studio in Japan, inaugurated a star system in the late 1950s, finding talent and contracting to their Diamond Line for a series of wild genre pictures. "Nikkatsu Diamond Guys - Vol 1" (1958/59) celebrates these "Diamond Guys" with three classic films from directors Seijun Suzuki ("Branded to Kill"), Toshio Masuda ("Rusty Knife") and Buichi Saito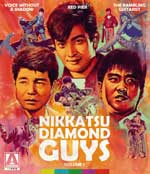 "(Lone Wolf and Cub: Baby Cart in Peril"). An old hand at tough guy action roles, Hideaki Nitani ("Tokyo Drifter," "Massacre Gun") stars in "Suzuki's Voice Without a Shadow." Asako, a former telephone operator, once heard the voice of a murder suspect that has continued to haunt her. Years later her husband invites his boss, Hamazaki, over for dinner and she realizes his voice is suspiciously like that of the killer. Before she can investigate further, Hamazaki is found dead and her husband becomes the prime suspect. Next, 50s subculture icon Yujiro Ishihara ("Crazed Fruit") stars in Masuda's "Red Pier" as "Jiro the Lefty", a killer with a natural talent. Shortly after arriving in Kobe, he witnesses a man die in a crane accident, which turns out to be a cover-up for a murder. Jiro soon finds himself on the run, tailed by a determined cop. Finally, in Saito's" The Rambling Guitarist," mega star Akira Koabyashi ("Battles Without Honour and Humanity") stars as wandering street musician Shinji, who falls in with mob boss Akitsu after saving one of his henchmen in a bar fight. Tasked by Akitsu with evicting an offshore fishery, Shinji finds himself in the middle of a very unusual domestic dispute. High Definition digital transfers of all three films from original film elements by Nikkatsu Corporation
, with original uncompressed mono audio and newly translated English subtitles. In a Blu-ray/DVD Combo from Arrow Video/MVD Entertainment Group.

"Comin' At Ya!
" (1981 - Italy) is a fan-favorite spaghetti western, here in a 35th Anniversary re-release that includes its debut on Blu-ray 3D. Directed by Ferdinando Baldi ("Django") and written, produced and starring spaghetti western legend Tony Anthony. Independently produced, "Comin' at Ya!" was originally released theatrically in 1981 by Filmways Pictures and went on to gross over $12 million domestically in only 200 theaters in North America (over $30 million in 2016 dollars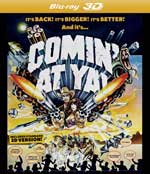 when adjusted for inflation), long before independent films were a regular staple in multiplexes. "Comin' at Ya!" happily embraced the 3-D technology of its time, not only taking advantage of the depth that the technology provided, but also taking every opportunity possible to throw, shoot and point things at the viewer at every possible turn and created a cult classic movie as a result. The new home video version was supervised and produced by Tony Anthony himself and Tom Stern ("In God's Hands"), through his company Sternco 3D. Sourced from a new 4K master, the film boasts a frame by frame digital conversion of the polarized over-and-under format of the original print, sourced from a brand new internegative into the MVC 3D format and new 5.1 surround sound. The story line: Tragedy strikes as two ruthless brothers burst into a chapel and kidnap a bride during her wedding, shooting the groom (Anthony) and leaving him for dead. Hurt and angry, he begins his quest to find his love, and take vengeance upon the wicked. Sound familiar, Mr. Tarantino? On Blu-ray 3D/2D and 2D DVD from MVD Entertainment.


"Night Will Fall
l" (2015) is the story of the incredible efforts made by British cameramen to film and document for the first time the unbelievable atrocities the Allies encountered during the Liberation of the German concentration camps in 1945 at the end of World War II. The Ministry of Information's Sidney Bernstein collaborated with Alfred Hitchcock to make a documentary that was to provide undeniable proof that these horrifying crimes actually happened. For a number of reasons that Andre Singer's powerful film explores, the film was ultimately shelved and languished in British archives for years until the Imperial War Museum completed the film in 2014. In this intimate and emotional film we meet the cameramen and the survivors who participated in the original documentary and tell their unforgettable stories here for the first time. Narrated by Helena Bonham Carter, "Night Will Fall" premiered in January 2015 on HBO and had been released to home video to mark International Holocaust Remembrance Day (January 27). From Warner Archive Collection.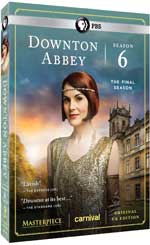 With "Downton Abbey: Season 6" (2016), the top-rated PBS drama of all time approaches its climactic chapter on MASTERPIECE, bringing exciting closure to a remarkable series. Season 6 opens in 1925 with a series of crises reflecting the momentous changes that are transforming society. Women's rights have given Lady Mary and Lady Edith new positions of responsibility: Mary runs the estate, and Edith manages the magazine she inherited from Michael Gregson. Meanwhile, Tom Branson has left for Boston, and newlyweds Lady Rose and Atticus Aldridge are trying their luck in Jazz Age New York. Anna Bates faces a murder charge, though many still suspect her husband. And for the rest of the servants, big doubts hang over their jobs. Will great houses and the fortunes that support them soon be gone? Three-disc set with all nine episodes. On DVD, Blu-ray Disc from PBS Distribution.


BUZZIN' THE 'B'S:

In the self-reflexive "Goosebumps
" (2015), Zach Cooper (Dylan Minnette) finds a silver lining after moving to a small town when he meets next-door neighbor Hannah (Odeya Rush), the daughter of best-selling Goosebumps series author R.L. Stine (Jack Black). Stine is very mysterious and a prisoner of his own imagination -- the monsters that his books made famous are real, and he protects his readers by keeping them locked up in their manuscripts. When the monsters are accidentally unleashed and begin to terrorize the town, it's up to Stine, Zach and Hannah to get them back in their books where they belong. On DVD and Blu-ray from Sony ... In "Burnt
" (2015), starring Bradley Cooper, Sienna Miller, Daniel Bruhl, Riccardo Scamarcio and Omar Sy, a chef assembles a crew together in an attempt to create the best restaurant ever. Chef Adam Jones (Bradley Cooper) had it all and lost it. The former enfant terrible of the Paris restaurant scene had earned two Michelin stars and only ever cared about the thrill of creating explosions of taste. To land his own kitchen and that third elusive star though, Jones will need to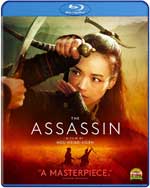 leave his bad habits behind and get the best of the best on his side. On DVD, Blu-ray Disc from Anchor Bay ... "Chi-Raq
" (2015), directed by Spike Lee and starring Nick Cannon, Teyonah Parris, Wesley Snipes, Angela Bassett and Samuel L. Jackson, is a modern day adaptation of the ancient Greek play "Lysistrata" by Aristophanes, set against the backdrop of gang violence in Chicago. After the murder of a child by a stray bullet, a group of women led by Lysistrata organize against the on-going violence in Chicago's Southside, creating a movement that challenges the nature of race, sex and violence in America and around the world.On DVD, Blu-ray Disc from Lionsgate ... "The Assassin
" (2015 -- Taiwan), starring Shu Qi and Chang Chen, is the critically-acclaimed martial arts drama from legendary director Hou Hsiao-hsien; it's Taiwan's submission for Best Foreign Language Film at the 88th Academy Awards. The visually stunning, action-packed film blends tragic historical drama with thrilling swordplay and martial arts in this story of an exiled assassin in 9th-century China who must choose between love or duty when she receives orders to kill betrothed husband-to-be. She must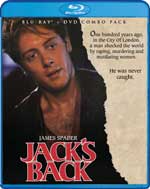 confront her parents, her memories, and her long-repressed feelings in a choice to sacrifice the man she loves or break forever with the sacred way of the righteous assassins.On DVD, Blu-ray Disc from Well Go USA ... Inspired by true events, "A Brilliant Young Mind
" (2015) tells the story of teenage math prodigy Nathan who struggles when it comes to building relationships. In his confusing world, Nathan finds comfort in the predictability of numbers. But after earning a spot to compete in the prestigious International Math Olympiad, he faces new and unexpected challenges, ultimately triumphing in life and love. Stars Asa Butterfield, Rafe Spall, Sally Hawkins, Eddie Marsan. From Sony ... One hundred years ago, Jack the Ripper slashed his way through London's red light district. In "Jack's Back
" (1988), a modern-day maniac is honoring the event by mutilating L.A.'s ladies of the evening. Has Jack the Ripper been reborn? The police are stumped and the prostitutes of L.A. are scared. The only person with a chance of solving the murders has a problem of his own --he's the LAPD's number one suspect. Stars James Spader, Cynthia Gibb. In a Blu-ray/DVD Combo from Scream Factory ... The thriller "Black Mountain Side
" (2014), starring Shane Twerdun, Michael Dickson and Carl Toftfelt, follows a group of archaeologists who uncover a strange ancient structure in Northern Canada and unleash an inexplicable evil. From Monarch Home Entertainment.


FOREIGN FILMS:

From the visionary mind of director Francois Ozon ("Swimming Pool") comes "The New Girlfriend
" (2014 - France), a gender-bending melodrama steeped in suspense and indebted to the eye-popping visuals of Pedro Almodovar, Alfred Hitchcock and Brian De Palma. After mourning the loss of best friend Laura, Claire comes across Laura's husband David (Romain Duris) dressed head-to-toe in his wife's clothes. Unsure whether his new guise is the result of foul play, she threatens to reveal David to Laura's family. But the more time she spends with him, the more Claire becomes seduced by his beautiful new incarnation. As the two become inseparable, Claire wonders whether she is falling for David's alter ego, or perhaps a part of Laura's resurrected soul. Stars Romain Duris, Anais Demoustier, Raphael Personnaz, Isild Le Besco. On DVD, Blu-ray Disc from Cohen Media Group.


SPECIAL INTEREST:

"Brave Miss World" (2015) is the riveting story of former Miss World Linor Abargil who, at the age of 18, survived a violent stabbing and rape -- just before winning the Miss World crown. The compelling film follows her fight to convict her attacker, and her journey from teenage victim to empowered survivor, lawyer and advocate for others whose lives have been impacted by sexual violence. Linor speaks out about rape from the townships of South Africa to Universities in the U.S., where the lack of justice available to survivors of rape is one of the most critical issues of our times. The documentary explores the trauma and stigma of sexual assault, through one young woman's refusal to stay silent. The film is offered in 14 languages on packaged media and through all major digital platforms worldwide. The film was supported by grants from Women In Film, Artemis Rising Foundation, the Kroll Documentary Fund, The Fledgling Fund, the Embrey Family Foundation and the Roy A. Hunt Foundation. Hans Zimmer composed the score, with Ben Harper, Martin Tillman and Daniel Lessner. On DVD, Blu-ray Disc from Netflix. Due January 29.


FROM TV TO DVD:

"Da Vinci's Demons: The Complete Third Season" (2015) is the conclusion of the Starz historical fantasy series that focuses on a young Leonardo da Vinci as he struggles with his inner demons and outside forces in a battle to shape the future. In this final season,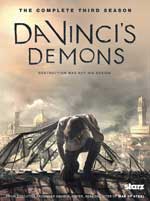 Leonardo da Vinci's world comes crashing down when the city of Otranto is torn apart by an Ottoman invasion. On the battlefield, the Turks use da Vinci's own weapons against him ... the designs for which were stolen by someone he trusted. This betrayal will haunt Leo long after the battle is decided, as will the deaths of loved ones lost in the fighting. When Rome instigates a Crusade against the Turks, he seizes the opportunity to join, but his mission is complicated by a series of grisly murders that terrorize Italy and threaten the Crusade itself. Three-disc set with all 10 episodes, on DVD, Blu-ray Disc from Starz/Anchor Bay ... "The Facts of Life: Season Eight" (1986-87) is a three-disc set with all 24 episodes. Blair, Natalie, Tootie, and Jo say goodbye to their beloved Mrs. G -- and things will never be the same again. When Edna Garrett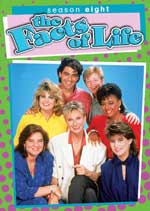 finds love, the girls are understandably overjoyed -- but it turns bittersweet when they realize that their longtime friend and mentor will be leaving them. Ednaís sister, Beverly Ann (Cloris Leachman) steps in to keep an eye on the girls, but as the year passes and graduation from Langley College looms for Blair and Jo, it appears that the winds of change havenít finished blowing just yet. Other highlights of Season Eight include a rockiní trip back to the 1960s, an Eastland girls reunion, guest appearances by George Clooney and pop star Stacey Q., and a surprising murder mystery. From Shout! Factory ... "French Village (Un village francais), Season Two" (2009) is a French series that chronicles the impact of World War II on a small village in central France. The German occupation changes the life of the village of Villeneuve forever, and as its residents come under the pressures of war, they make choices that are inspiring and heartbreaking. In this gripping drama, ordinary citizens become patriots, traitors, Nazi employees or activists. Beginning with the Germans' arrival in June 1940, they endure five years of rationing, fighting and betrayals, and strain to keep some semblance of their existence intact. The war shatters all their lives, but a few of them, even in the shadow of destruction, reach out to find fleeting moments of connection and love. In a four-disc DVD from MHz Home Entertainment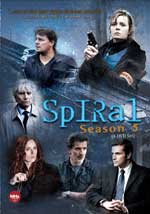 ... Tom Selleck returns as Robert B. Parker's fictional Police Chief Jesse Stone of Paradise, Mass., who here agrees to help the Massachusetts State Homicide Division track down a brutal serial killer in "Jesse Stone: Lost in Paradise" (2015), co-starring Luke Perry, Leslie Hope, Gloria Reuben and William Devane. From Sony ... The acclaimed French police series "Spiral (Engrenages): Season 5" (2014) begins with the shocking double murder of a woman and a girl that plunges everyone into the world of organized crime, narcs and gangs. Captain Laure Berthaud, facing a personal crisis, pursues as her primary suspect a man who is the husband and father of the victims. She also investigates an ATM-robbing gang who could somehow be involved with the murders. Pierre Clement, still in a relationship with Josephine Karlsson, continues to climb the career ladder as a private lawyer with a growing reputation in the legal community. Meanwhile, eager to expose police manipulation in the death of an officer, Judge Roban and Karlsson find themselves working together. The brutal investigations that link them all reveal unexpected connections between some and irrevocable breaks between others. In a four-disc DVD with 12 episodes from MHz Home Entertainment.

Check out other January 26-February 1 DVD releases and reviews at OnVideo.