New on DVD and Blu-ray Week of January 5-11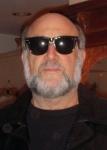 By Harley Lond - 01/06/16 at 04:43 PM CT
THIS WEEK'S THEATRICAL RELEASES:
"Sicario": Beautifully photographed if ultimately empty thriller about an idealistic FBI agent (Emily Blunt), who is enlisted by an elite government task force official (Josh Brolin) to aid in the escalating war against drugs. Kate Macer is a tough, no-holds-barred agent in the Phoenix area whose team inadvertently comes across a Mexican drug cartel house of horrors while on a hostage-freeing mission. Persuaded by her superiors to join up with an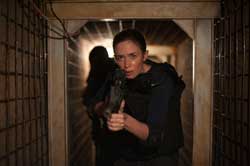 interagency anti-drug task force, she discovers a world of violence and lawlessness (by both the good guys and bad guys) as the group, led by an enigmatic consultant with a questionable past (Benicio Del Toro), ventures into the lawless border area stretching between the U.S. and Mexico to take down a drug lord -- forcing Kate to question everything that she believes about moral justice. The film holds out the dual carrots of fine acting (by the ensemble cast) and a ripped-from-the-headlines story about the corruption and brutality created by the drug trade and the concomitant war on drugs, but -- like the director Denis Villeneuve's "Prisoners" and "Enemy," the film falters as the script dishes up unbelievable human responses to believable situations. On the plus side: The scenes of violence -- and vistas of Southwestern landscapes -- are rendered gorgeously by cinematographer Roger Deakins, all set to a suitably ominous soundtrack by Jóhann Jóhannsson. By the way, in Mexico, Sicario
means hitman. Co-stars Jeffrey Donovan, Jon Bernthal and Victor Garber.

Also due this week: "Infinitely Polar Bear
," about a manic-depressive mess of a father who tries to win back his wife by attempting to take full responsibility of their two young, spirited daughters, starring Mark Ruffalo and Zoe Saldana; "The Walk
," about high-wire artist Philippe Petit (Joseph Gordon-Levitt), who walked in the immense void between the World Trade Center towers in 1974; "The Visit
," a found documentary-style horror suspense thriller about a pair of siblings sent to their grandparents' secluded Pennsylvania farmhouse for a weeklong stay where they quickly discover something is not right with the elderly couple; and "The Green Inferno
," about a group of students on a mission to save a South American tribe from destruction by a multinational corporation but who are captured by the cannibalistic tribe they came to save.


THIS WEEK'S BEST BETS:

In "The Complete Lady Snowblood
", a young woman (Meiko Kaji), trained from childhood as an assassin and hell-bent on revenge for her father's murder and her mother's rape, hacks and slashes her way to gory satisfaction. Rampant with inventive violence and spectacularly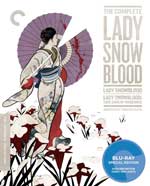 choreographed swordplay, Toshiya Fujita's pair of influential cult classics "Lady Snowblood" (1973) and "Lady Snowblood: Love Song of Vengeance" (1974), set in late 19th- and early 20th-century Japan, respectively, are bloody, beautiful extravaganzas composed of one elegant widescreen composition after another. The first "Lady Snowblood" was a major inspiration for Quentin Tarantino's "Kill Bill" saga, and both of Fujita's films remain cornerstones of Asian action cinema. New 2K digital restorations of both films, with uncompressed monaural soundtracks on the Blu-rays. Inspiring stuff; modern female assasins need to take note of Kaji's style. From the Criterion Collection.


BUZZIN' THE 'B'S:


"Adulterers" (2015): Mehcad Brooks, Danielle Savre, Sean Faris. On a steamy New Orleans afternoon, Sam Deuprey (Faris) decides to surprise his beautiful wife Ashley (Savre) for their anniversary and comes home early. But Ashley is not alone in the bedroom. She and her lover, Damien (Brooks) are about to learn how far a jealous husband will go in this psychological drama about dirty little secrets and uncontrollable passions. From RLJ Entertainment.



"Battle for Skyark" (2015): Caon Mortenson, Taylor Coliee, Garrett Coffey. After mysterious creatures invade the Earth, humanity is forced to live on Skyark, a city in the sky. When a rebellion against Skyark's corrupt human leadership fails, the rebels are exiled to Earth. Rags, the rebel leader's son, steps up to fight the invaders, but soon finds he has a bigger part to play in the fight to save humanity. From Lionsgate.



"Captive" (2015): David Oyelowo, Kate Mara. Drama about the spiritual collision of two lost souls. Brian Nichols (Oyelowo), on the run from police and desperate to make contact with his newborn son, takes recently widowed mother Ashley Smith (Mara) hostage in her own apartment. Fearing for her life and desperately hoping to see her daughter again, she turns to Rick Warren's "The Purpose Driven Life" for guidance. Ashley and her captor face a crossroads where they discover hope and light in the midst of despair in this depiction of a real-life event. From Paramount.



"Close Range" (2015): Scott Adkins. After rescuing his kidnapped niece from a powerful drug cartel, Colton MacReady (Adkins) begins a relentless fight to save his family. The cartel, aided by the corrupt local sheriff and his crew of deputies, descend upon MacReady's secluded ranch with a thirst for revenge, resulting in a non-stop assault and a blow-by-blow survival marathon to protect his loved ones and save his life. On DVD, Blu-ray from XLrator Media.



"Condemned" (2015): Dylan Penn, Ronen Rubinstein, Lydia Hearst, Jon Abrahams, Honor Titus, Genevieve Hudson-Price. Poor-little-rich-girl Maya (Dylan Penn) moves in with her boyfriend in an old, condemned building on Manhattan's Lower East Side inhabited by meth heads, junkies and degenerates. A virus born from the combined noxious waste and garbage infects the building's residents and one by one they succumb to a terrifying pathogen that turns them into bloodthirsty, rampaging killers. On DVD, Blu-ray Disc from RLJ Entertainment.



"Deathgasm" (2015): Milo Cawthorne, James Blake. Two teenage boys form a heavy metal band and unwittingly summon an ancient evil entity known as The Blind One by delving into black magic when they come across a mysterious piece of sheet music. On DVD, Blu-ray from Dark Sky Films.



"Experimenter" (2015): Peter Sarsgaard, Jim Gaffigan, Winona Ryder. At Yale University in 1961, Stanley Milgram (Sarsgaard) designs a psychology experiment that remains relevant to this day, in which people think they're delivering painful electric shocks to an affable stranger (Gaffigan) strapped into a chair in another room. Disregarding his pleas for mercy, the majority of subjects don't stop the experiment, administering what they think are near-fatal electric shocks, simply because they've been told to. With Nazi Adolf Eichmann's trial airing in living rooms across America, Milgram's exploration of authority and conformity strikes a nerve in popular culture and the scientific community.On DVD, Blu-ray Disc from Magnolia Home Entertainment.



"Flesh and Bone" (2015): Ballet is the ultimate optical illusion, graceful and dignified on the outside but brutal, cruel and ruthless underneath. These eight episode of the Starz series rips away the illusion of the dance world and shows us what's behind the curtain. "Flesh and Bone" is a coming-of-age drama about a young ballet dancer with a deeply troubled past; through her eyes, we explore the true underbelly of the dance world and all its self-destructive tendencies. The cast includes 22 accomplished ballet dancers including former American Ballet Theatre soloist Sascha Radetsky and Irina Dvorovenko, also a former American Ballet Theatre principal. Also stars Emily Tyra, Damon Herriman, Tina Benko, Ben Daniels. On two-disc DVD, two-disc Blu-ray from Anchor Bay.



"Kill Game" (2015): Sari Sanchez, Joe Adler, Pierson Fode, Michael Galante, Laura Ashley Samuels. When one of the pranks played by a group of shallow high school teens turns deasdly, an innocent boy is killed and they cover their tracks by masking the incident as a drowning accident. Five years later, a serial killer donning a frightening mask hunts them down one by one in a manner that eerily mirrors the pranks they once pulled in high school. On DVD, Blu-ray from Cinedigm



"Little Dead Rotting Hood" (2016): Bianca A. Santos, Eric Balfour, Romeo Miller aka Lil' Romeo. A sinister take on the classic Brothers Grimm fairy tale. For years, the old woman in the woods has secretly kept the wolves of the forest at bay. But when she dies, the creatures suddenly attack the residents of a nearby small town. As more and more people turn up dead, the townsfolk discover something far more sinister than wolves lurking in the backwoods, and only the woman's granddaughter may have the key to stopping the bloodbath before it's too late. From Cinedigm.



"Mercury Plains" (2014): Scott Eastwood, Angela Sarafyan, Nick Chinlund. A troubled young man is recruited to join a paramilitary group of teens to fight the drug cartels but as the Mexican police close in, he realizes that his only way out is to escape back to America. From Lionsgate.



"Shanghai" (2015): John Cusack, Gong Li, Chow Yun-Fat, Jeffrey Dean Morgan, Ken Watanabe. Nothing is what it seems in the ancient Chinese city of Shanghai a week before the attack on Pearl Harbor. U.S. Secret Agent Paul Soames (Cusack) has just arrived to investigate the murder of his best friend (Morgan), only to become quickly immersed in a web of conspiracy and lies that beset the city. Soames' investigation centers on a charismatic local gangster, Anthony Lan-Ting (Yun-Fat) and his beautiful wife, Anna (Li). Before long, Soames and Anna are involved in an affair and they must race to solve the mystery and make it out of occupied China before the city's collapse. From Anchor Bay.



"Sleeping With Other People" (2015): Jason Sudeikis, Alison Brie, Adam Scott, Amanda Peet, Natasha Lyonne, Adam Brody. Twelve years after their one-night stand, Jake (Sudeikis) and Lainey (Brie) cross paths and realize that they've both become chronic commitment-phobes. Despite their obvious attraction, the two agree to keep their friendship strictly platonic. But as sexual tensions rise, their deal proves to be more difficult than they thought. From Paramount.



"Wrecker" (2016): Anna Hutchison, Drea Whitburn. Best friends Emily and Lesley go on a road trip to the desert but when Emily decides to get off the highway and take a ""short cut," they become the target of a relentless and psychotic trucker who forces them to play a deadly game of cat and mouse. From XLrator Media.
On THE INDIE FRONT
"Susie's Hope
" (2013), starring Emmanuelle Vaugier, Burgess Jenkins and Andrea Powell, is bBased on a moving, true story that led to the successful passing of Susie's Law in North Carolina -- which seeks stricter punishment for animal abusers. The film brings to life the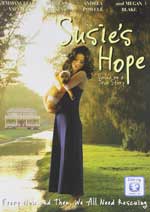 inspirational relationship between pit bull-attack survivor Donna Lawrence and a pit bull-mix puppy found beaten, burned and left to die. Realizing neglect and abuse were to blame for the tragic pit bull attack that Donna had endured just 10 months earlier -- which nearly claimed her life, caused her to miscarry her baby and left her with the inability to have children -- Donna rescues the puppy, naming her Susie. DVD sales benefit the Susie's Hope Nonprofit, a 501(c)(3) charity, to foster awareness of the animal abuse that exists in our nation and to work to end this epidemic. From Green Apple Entertainment ... "Full of Grace
" (2015), starring Noam Jenkins and Bahia Haifi, follows Mary of Nazareth in her last earthly days as she helps the fractious early Church regain their original encounter with The Lord. From Cinedigm.


FOR THE FAMILY:

In "Elmo's World: Elmo Wonders" (2016), Elmo wonders all about the exciting and adventurous world around him. Sesame Street's curious red monster takes preschoolers on a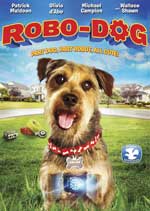 journey to learn all about the sky, weather, doctors, bicycles, jumping and many other things inquisitive little kids like yours ask questions about. Over two hours of fun, this wonderful compilation also features "Elmo's World: Transportation" for the first time on DVD. As an added bonus segment, Elmo's good friend Ernie joins the fun to sing the "I Wonder" song. From Warner ... When genius scientist Tom Austin sees that his son Tyler needs a new best friend, he locks himself in the garage, tinkering with spare parts, and creates the most incredible canine the world has ever seen: "Robo-Dog" (2015). But Tom's greedy ex-boss, Mr. Willis of Epic Industries, finds out that Robo-Dog is powered by a technologically advanced super battery, and he plots to steal it for himself. Stars Patrick Muldoon, Olivia d'Abo, Michael Campion and Wallace Shawn. From RLJ Entertainment.


SPECIAL INTEREST:
"A Brave Heart: The Lizzie Velasquez Story
" (2015) is a documentary that follows the inspiring journey of 26-year-old, 58-pound Lizzie Velasquez from cyber-bullying victim to anti-bullying activist. Born with a rare syndrome that prevents her from gaining weight, Elizabeth "Lizzie" Velasquez was first bullied as a child in school for looking different and, later online, as a teenager when she discovered a YouTube video labeling her "The World's Ugliest Woman." From Cinedigm.


FROM TV TO DVD:

"Agatha Christie's Partners in Crime" (2016) is a two-disc set with six episodes of the new British TV series. An ordinary married couple gets caught up in international intrigue and discovers that they have a knack for crime solving in this charming detective series. Crime-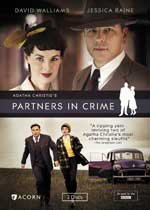 solvers Tommy and Tuppence Beresford are an ordinary married couple living in 1950s Britain at the start of the Cold War. Sometimes bickering but always sweet on each other, they find themselves knee-deep in danger when they stumble into spy craft and end up being rather good at it. In "The Secret Adversary," they search for a missing woman and a recording that could unmask a Soviet hit man. In" N or M?", they must discover which person at a seaside guesthouse has stolen a nuclear bomb. Each adventure abounds with humor, international espionage, visual flair, and chic period fashion. On DVD, Blu-ray Disc from Acorn Media ... "Ancient Aliens: Season 8" (2015) is a two-disc set with 10 episodes. The eighth season continues exploring unexplained phenomena, from enormous manmade caves and unexplainable structures, to crop circles and mathematical and astronomical equations that perplex our leading scientists, to NASA's Kepler space telescope identifying thousands of life-sustaining planets. From Lionsgate ... "It's Always Sunny in Philadelphia Season 10" (2015) is a two-disc set with 10 episodes, from Fox ...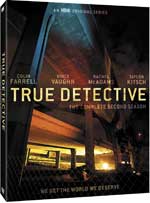 The hit HBO drama series "True Detective: The Complete Second Season" (2015) returns with a new case in which a bizarre murder brings together three law-enforcement officers and a career criminal, each of whom must navigate a web of conspiracy and betrayal in the scorched landscapes of California. Featuring an all new cast, Season 2 stars Colin Farrell as Ray Velcoro, a troubled detective whose allegiances are torn between his masters in a corrupt police department and the mobster who owns him. Vince Vaughn portrays Frank Semyon, a criminal and entrepreneur in danger of losing his empire when his move into legitimate enterprise is upended by the murder of a business partner. Rachel McAdams plays Ani Bezzerides, a sheriff's detective whose uncompromising ethics put her at odds with others and the system she serves. Taylor Kitsch portrays Paul Woodrugh, a war veteran and a highway patrol motorcycle officer, running from a difficult past and the sudden glare of a scandal that never happened. On Three-disc DVD: $59.99, three-disc Blu-ray: $79.98, from HBO.

Check out other January 5-11 DVD releases and reviews at OnVideo.