New on DVD and Blu-ray Week of December 15-December 21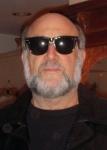 By Harley Lond - 12/15/15 at 01:37 AM CT
THIS WEEK'S THEATRICAL RELEASES:
"Mission: Impossible -- Rogue Nation": Tom Cruise and crew are back in another "Mission: Impossible" movie -- and despite the on-screen weariness of the lead actor -- Cruise seemed like he just wasn't there for most of the film -- the summer tentpole took in close to $200 million, keeping the franchise alive for probably another sequel. This time around the IM organization is shut down by the CIA and agent Ethan Hunt (Cruise) and his team (Jeremy Renner, Simon Pegg, Ving Rhames) race against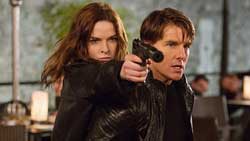 time to stop the rise of a new global threat, The Syndicate, a dangerous network of rogue operatives turned traitors who want to blackmail the world with nuclear weapons. To stop them, Ethan join forces with an elusive, disavowed agent (newcomer Rebecca Ferguson) who may or may not be on his side. As with all the IM movies, the calling card is jaw-dropping stunts and fast-paced action, including a spectacular Airbus stunt and a riveting Moroccan car and motorcycle chase. But the twists and turns are predictable,if not downright silly, there's a great "I can scream louder than you cause I'm acting worse than you" sequence between Cruise and Renner, Simon Pegg still thinks he's in a "Three Flavours Cornetto" trilogy film, and all seemed like they were waiting for a better script to show up on set. There is a spectacular opera scene -- a performance of "Turandot" at the Vienna State Opera, which acts as background for an assassination attempt -- but all in all it's a disappointing venture. Extras for Mission: Impossible - Rogue Nation
include commentary by Tom Cruise and director-screenwriter Christopher McQuarrie and seven featurettes. From Paramount.

Also due this week: "Ted 2
," the sequel to the surprise hit "Ted" (2012) that operates on the premise that more raunch makes for a better movie. Memo to director Seth MacFarlane: not so. The film stars Mark Wahlberg, Seth MacFarlane, Amanda Seyfried, Jessica Barth, Morgan Freeman, Giovanni Ribisi, Patrick Warburton, John Slattery, NFL star Tom Brady, Liam Neeson, Jimmy Kimmel and Jay Leno. From Universal. And then there's "Maze Runner: The Scorch Trials
," the second in the Maze Runner franchise, based on author James Dashner's best-selling book series that takes place in a post-apocalyptic dystopian science fiction world. This is for fanboys and fangirls only. Stars Dylan O'Brien, Thomas Brodie-Sangster, Ki Hong Lee and Kaya Scodelario. From Fox.


THIS WEEK'S BEST BETS:

What do you get if you combine Thanksgiving, American TV star Louise Lasser ("Mary Hartman, Mary Hartman"), killer 80s synths and some of the most gruesome special effects in all of slasher history courtesy of Ed French? Why, it's "Blood Rage
" (1983) of course! Todd and Terry seem like sweet kids -- that is, until one of them takes an axe to face of a fellow patron at the local drive-in. Todd is blamed for the bloody crime and institutionalized, whilst twin brother Terry goes free. Ten years later, as the family gather around the table for a Thanksgiving meal, the news comes in that Todd has escaped -- and he's heading their way. But has the killer twin in fact been in their midst all along? One thing's for sure,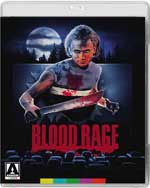 there WILL be blood ... Filmed in 1983 at the tail-end of the slasher golden era but not released until 1987, "Blood Rage" (also re-cut and released to theatres as "Nightmare at Shadow Woods") has been lovingly restored from the original vault materials for its first ever appearance on Blu-ray and DVD. New 2K restoration from original vault materials of three versions of the film: "Blood Rage," the original "hard" version, completely uncut and uncensored in a Blu-ray/DVD world premiere; the R-rated "Nightmare at Shadow Woods" 1987 re-cut, and a third "composite" cut combining all the footage from both "Blood Rage" and "Nightmare at Shadow Woods." From Arrow Video/MVD Entertainment Group ... at the other ends of the cinematic spectrum -- but no less freaky -- is "Burroughs: The Movie
" (1983). Made up of intimate, revelatory footage of the singular author and poet filmed over the course of five years, Howard Brookner's 1983 documentary about William S. Burroughs was for decades mainly the stuff of legend; that changed when Aaron Brookner, the late director's nephew, discovered a print of it in 2011 and spearheaded a restoration. Now viewers can enjoy the invigorating candidness of "Burroughs: The Movie," a one-of-a-kind nonfiction portrait that was brought to life with the help of a remarkable crew of friends, including Jim Jarmusch and Tom DiCillo, and that features on-screen appearances by fellow artists of Burroughs's including Allen Ginsberg, Herbert Huncke, Patti Smith and Terry Southern. New, high-definition digital restoration, on DVD, Blu-ray Disc from The Criterion Collection.

Stephen King surely must have watched "The Car
" (1977) begfore writing (and directing) "Maximum Overdrive" and then Christine." In the film, starring James Brolin, Kathleen Lloyd, John Marley, Elizabeth Thompson, Ronny Cox and R.G. Armstrong, the peaceful tranquility of a small Western town is disturbed when a murderous car wreaks havoc by viciously mowing down innocent victims. The new sheriff, Wade Parent (Brolin), may be the only one who can stop this menace in its tracks. But what Wade Parent doesn't realize is that the driver of this indestructible vehicle is far more dangerous than any man ... because it is driven by pure evil. "The Car" makes its Blu-ray debut this week from Scream Factory ... In the mid-1970s, writer-producer-director-actor Frederick R. Friedel went to North Carolina to film a pair of enigmatic yet startling low-budget thrillers -- "Axe" and "Kidnapped Coed" -- only to see them both presumed lost to shady dealings, sudden tragedies,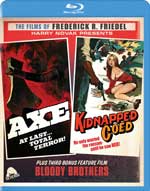 moral outrage and drive-in oblivion. In "Axe," depraved killers on the run hold a young woman and her invalid grandfather hostage in an isolated farmhouse. In "Kidnapped Coed," the teenage daughter of a wealthy family forms a perverse relationship with her abductor. Once thought doomed to drive-in obscurity, fans and grindhouse historians have begun to compare Freidel's films to those of David Lynch and Terrence Malick, and now the complete story behind this strange journey can finally be told. Severin Films is presenting both features restored from their original negatives, plus "Bloody Brothers," Friedel's recut of the two features as one twisted crime epic, loaded with bonus features that reveal the startling saga behind the casts, crews, disastrous fate and surprising rediscovery of these nearly forgotten grindhouse/arthouse classics -- the ultimate look at one of the most fascinating sagas in indie exploitation history. "Axe/Kidnapped Coed
" arrives on DVD, Blu-ray Disc from Severin Films/CAV Distributing) ... From director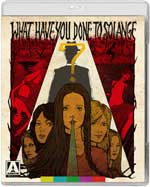 Massimo Dallamano, cinematographer on both "A Fistful of Dollars" and "For a Few Dollars More," comes "What Have You Done to Solange?
" (1975), a giallo classic and the debut feature of actress Camille Keaton ("I Spit on Your Grave"). A sexually sadistic killer is preying on the girls of St. Mary's school. Student Elizabeth witnessed one of the murders, but her hazy recollections of a knife-wielding figure in black do nothing to further the police's investigations. Why is the killer choosing these young women? And what does it have to do with a girl named Solange? The film features all the hallmarks of classic giallo -- the amateur detective, the black-gloved killer -- as well as a lush score from Ennio Morricone. New 2K restoration of the film from the original camera negative. In a Blu-ray/DVD Combo from Arrow Video/MVD Entertainment.

There's two important documentaries coming to Blu-ray this week, both from Synapse Films/CAV Distributing: "Triumph of the Will
(2015 Remaster)" (1935). Leni Riefenstahl's classic piece of historical filmmaking, filmed during the 1934 Nazi Party Rally in Nuremberg, Germany, is considered by many to be one of the most important films ever made. Realized by Paul Joseph Goebbels, Hitler's Reich Minister for Public Enlightenment and Propaganda, this film was created to influence all of Germany to support the power of the Nazi Party. Historically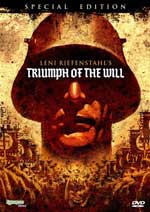 significant and, at times, a horrifyingly manipulative exercise in propaganda for the Nazi regime, "Triumph of the Will" continues to be controversial 80 years after its original release and has been banned in Germany for many decades. Until her death in 2003, Riefenstahl was under fire for her personal relationship with Adolph Hitler, spending her life haunted by the shadow of the Nazi Party. This all-new remastered version is derived from a new 2K scan, digitally corrected and restored under the supervision of film historian and preservationist Robert A. Harris ... "Stalingrad
" (2003), a high-definition presentation of the original three-part 2003 mini-series. The Eastern Front experienced the viciousness of World War II on a scale of unimaginable horror and brutality. The bloodiest and most savage fighting took place in Stalingrad between August 1942 and February 1943. Stalin's city on the Volga had military significance for Hitler, as it carried the name of his enemy and therefore had to be destroyed. The ensuing battle sealed the fates of hundreds of thousands of soldiers and civilians, marked the turning point of World War II, and was the beginning of the end for Nazi Germany. This three-part documentary by award-winning documentary filmmakers Sebastian Dehnhardt, Christian Deick and Jorg Mullner presents both the German and Russian perspective, contains rare footage shot by soldiers during the siege, and reveals new historical facts with moving eyewitness accounts and confessions from some of Stalingrad's last survivors. The Russian archives opened their doors to the filmmakers, granting exclusive access to a wealth of previously unreleased material. Originally broadcast in both Germany and Russia in slightly truncated editions, this Blu-ray contains all three "Stalingrad" documentaries including "The Attack" (54 min.), "The Kessel" (56 min.) and "The Doom" (55 min.) in their original uncut, English dubbed versions.


BUZZIN' THE 'B'S:

There's a pair of oldies heading up the 'B' releases this week: Scream factory has the DVD and Blu-ray debut of "Zombie High
," (1987), a humorous thriller about the bizarre happenings that occur in a prestigious boarding school. It seems to Andrea Miller (Madsen) that the upper-classmen act like robots. They're the perfect students -- dedicated, involved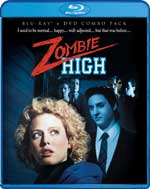 and loyal. Their clothes are perfectly pressed and their hair is perfectly styled. It seems that the teachers have something to do with this ingratiating behavior. And when Andrea, the new kid at school, sees her friends turning into clones, she starts to suspect the worst. Stars Virginia Madsen, Richard Cox, Sherilyn Fenn, Scott Coffey and Paul Feig. ... Christopher Lee, Herbert Lom, Soledad Miranda, Maria Rohm, Klaus Kinski, Fred Williams. In 1970, cult director Jess Franco and screen legend Christopher Lee collaborated on what they promised would be the most faithful adaptation of Bram Stoker's novel ever filmed. The result was "Count Dracula
" (1970). From its remarkable performances -- including Lee as the Count, Herbert Lom as Van Helsing, Soledad Miranda as Lucy, Maria Rohm as Mina, and authentic madman Klaus Kinski as Renfield -- to its lush locations and atmosphere of sinister sensuality, it remains perhaps the most spellbinding version of Dracula in movie history. Now fully restored and re-mastered in high-definition for the first time ever. From Severin Films.


On THE INDIE FRONT

In "Time Out of Mind
" (2014), starring Richard Gere, Ben Vereen and Jena Malone, a homeless man (Gere) seeks refuge at Bellevue Hospital, a Manhattan intake center for homeless men, where his friendship with a fellow client helps him try to repair his relationship with his estranged daughter. From IFC Films ... In "Slow Learners
" (2015), starring Adam Pally and Sarah Burns, two close friends and co-workers who are embarrassingly unlucky at love, hatch a plan to transform themselves over the course of a sex-and-alcohol-fueled summer into the cool, confident people they aspire to be. Also from IFC Films ...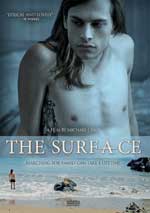 In "The Surface
" (2014), starring Harry Hains, Michael Redford and Nicholas McDonald, Evan Jones, a child orphan who, for years, was shifted from one foster home to another, is now a disaffected college student living with his wealthy boyfriend, Chris. Their social and financial disparities have made their relationship increasingly volatile despite their mutual love for one another. While sifting through old relics at an elderly man's yard sale, Evan finds an 8mm movie camera. The man offers to teach Evan how to use it if he comes back the following week. Upon returning, Evan meets the man s 43-year-old son, Peter. They strike up a conversation and Peter gives him reels of old 8mm movies that are collecting dust in the garage. The home movies, featuring a young Peter and his boyhood friend, touch a nerve with Evan. Evan begins to live vicariously through the home movies and his friendship with Peter soon turns romantic. Evan's relationship with his boyfriend Chris splinters as he pushes for greater understanding of himself and the notions of family, love and fulfillment. From Aimes Media/ Ariztical Entertainment.


FOREIGN:

In "Tokyo Fiancée
" (2014 -- France), starring Pauline Etienne and Taichi Inoue, a young Japanophile Belgian woman in Tokyo falls into a whirlwind romance with a Francophile Japanese student. The young, pixie-like Amelie (Etienne) is in love with all things Japanese, which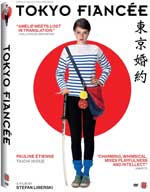 prompts her to buy a one-way ticket to Tokyo in order to completely immerse herself in Japanese culture. She offers to work as a French tutor, and soon finds herself enjoying a passionate relationship with her only student, the charming Rinri (Inoue). As the two explore the joys (and awkwardness) of their first real romance and the colorful city around them, many cultural barriers fall ... but some still remain. From First Run Features ... In director Jean-Jacques Annaud's "Wolf Totem
" (2015 -- China/France), his film adaptation of Jiang Rong's best-selling novel, a young Beijing student is sent to live among the nomadic herdsmen of Inner Mongolia. Caught between the advance of civilization from the south and the nomads' traditional enemies -- the marauding wolves -- to the north, humans and animals, residents and invaders alike, struggle to find their true place in the world. Shot entirely on location in Inner Mongolia. Stars Shaofeng Fen, Shawn Dou. On DVD, Blu-ray Disc, 3D Blu-ray from Sony.


SPECIAL INTEREST:

Inside a cramped gym, the clacking sounds of hollow plastic balls whirling at 80 mph are punctuated by exclamations of victory and bitter cries of defeat. Welcome to the hidden world of competitive ping pong. Three fiercely committed teenagers battle their way through the world of elite table tennis. With devoted parents by their side, they have traded normal teenage life for a chance to represent their country on the world's biggest athletic stage: the Olympics. The documentary "Top Spin
" (2014) takes an inside look at one of America's favorite pastimes, turns it on its head, and reveals a coming-of-age story where success and failure come down to mere millimeters. From First Run Features ...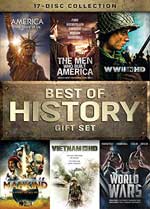 The "Best of History Gift Set" is a 17-disc collection that features an in-depth look at some of the most significant events in U.S. and world history, including six acclaimed HISTORY programs: "The Men Who Built America," "America The Story of Us," "Mankind: The Story of All of Us," "The World Wars," "WWII in HD" and "Vietnam in HD". Featuring over 43 hours of programming. $119.98 from Lionsgate ... Get a thorough understanding of how the Bible was shaped with the 16-disc "HISTORY Bible Collection," containing more than 38 hours of programming -- including "Bible Stories from the Old Testament," "Christianity: The First Two Thousand Years," "Banned from the Bible," "Mysteries of the Bible," "Bible Secrets Revealed," "Mary of Nazareth," "Jesus: His Life," "The Execution of Jesus" and "God vs. Satan: The Final Battle." $119.98 from Lionsgate ... The "HISTORY War Collection" is an immersive 17-disc set that digs deep into the twists and turns of America's most significant and deadly conflicts -- from the American Revolution, the Mexican-American War, the War of 1812, the Civil War, and the Spanish-American War to WWI, WWII, and the Vietnam and Korean Wars. Featuring over 42 hours of programming culled from over 20 HISTORY documentaries, with special guest narrators Edward Herrmann, Oscar de la Hoya, and Sam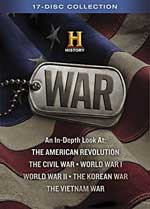 Rockwell on several programs. It's an informative and eye-opening tour of America's military role through all of its major wars, examining how warfare evolved from the time of the American Revolution into modern times, as we learn the stories of the countless brave Americans who put their lives on the line to defend their country and their beliefs. $119.98 from Lionsgate ... From the director of "Waiting for 'Superman' and the Academy Award-winning "An Inconvenient Truth" comes this highly inspiring and deeply moving documentary about courage, survival, and empowerment."He Named Me Malala
" (2015) tells the remarkable true story of teenage Malala Yousafzai, who was attacked by Taliban gunmen in Pakistan for advocating for girls' education. Rather than be silenced, Malala emerged as a global voice for the education rights of all children, and in 2014, she became the youngest-ever Nobel Peace Prize recipient. The documentary offers an intimate look into Malala's life both before and following the attack. From Fox.

Check out other December 15-December 21 DVD releases and reviews at OnVideo.