New on DVD and Blu-ray Week of December 8-December 14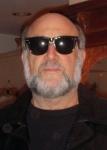 By Harley Lond - 12/08/15 at 12:18 AM CT
THIS WEEK'S BEST BETS:
Kinji Fukasaku ("Battle Royale") gave the world Japan's answer to "The Godfather" with "Battles Without Honor and Humanity" (1973), a violent yakuza saga that has influenced filmmakers from Quentin Tarantino to Takashi Miike. Made within just two years, the five-film series brought a new kind of realism and ferocity to the crime genre in Japan, revitalizing the industry and leading to unprecedented commercial and critical success. Fukasaku and his team broke with the longstanding studio tradition of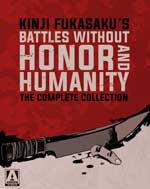 casting marquee idols as honorable, kimono-clad heroes, defending their gang bosses against unscrupulous villains, and instead adapted true accounts torn from the headlines, shot in a documentary-like style, and with few clear-cut heroes or villains. The vibrancy and dynamism of the filmmaking, plus its shocking violence, Shakespearean plotlines, and wide tapestry of characters, launched a revolutionary new genre, establishing the series as one of the great masterpieces of world crime cinema. Thirteen Blu-ray disc limited edition box set
, $149.95 from Arrow Video/MVD ... The highly-anticipated restoration of the underground film classic "Thundercrack!
" (1975), the world's only underground kinky art adult horror film, complete with four men, three women and rampaging circus animals. With the initial setup of an atmospheric gothic tale -- a dark and stormy night breakdown featuring a creepy old house on the hill -- it quickly turns into an eerie orgy of graphic humor, horror and sex. A tour de force of underground filmmaking with a plot beyond description, this film fully exposes itself with amazing dialogue and trash-noir lighting through which to peer at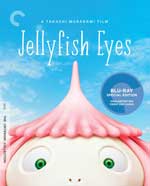 the pickles, the puke and the polymorphs. In 1975, Curt McDowell and writer-actor George Kuchar created the exceptionally perverse and utterly brilliant "Thundercrack!," a film not recommended for those with tender sensibilities. A true cult classic that has shocked, excited and amazed audiences worldwide for 40 years, this presentation is the first ever official North American video release. Stars Marion Eaton, George Kuchar, Melinda McDowell, Mark Ellinger, Mookie Blodgett, Ken Scudder, Moira Benson. On DVD, Blu-ray Disc fro Synapse Films/CAV Distributing ... Takashi Murakami, one of the most popular artists in the world, made his directorial debut with "Jellyfish Eyes
" (2013) taking his boundless imagination to the screen in a tale that is about friendship and loyalty at the same time as it addresses humanity's penchant for destruction. After moving to a country town with his mother following his father's death, a young boy befriends a charming, flying, jellyfish-like sprite -- only to discover that his schoolmates have similar friends, and that neither they nor the town itself are what they seem to be. Pointedly set in a post-Fukushima world, Murakami's modest-budgeted special effects extravaganza boasts unforgettable creature designs and carries a message of cooperation and hope for all ages. On DVD, Blu-ray Disc, with a new, high-definition digital master, with 5.1 surround DTS-HD Master Audio soundtrack on the Blu-ray. From The Criterion Collection.

Also due this week: "Speedy
" (1928), the last silent feature to star Harold Lloyd -- and one of his very best, in which he plays a good-natured but scatterbrained New Yorker who canít keep a job. He finally finds his true calling when he becomes determined to help save the city's last horse-drawn trolley, which is operated by his sweetheart's crusty grandfather. From The Criterion Collection ... the Blu-ray debut of "You Can't Take It with You
" (1938) directed by Frank Capra and starring James Stewart, Jean Arthur, Lionel Barrymore and Edward Arnold. All-new 4K restoration, presented in collectible 24-page digibook packaging with rare photos and a new essay by film historian Jeremy Arnold. From Sony.


THIS WEEK'S THEATRICAL RELEASES: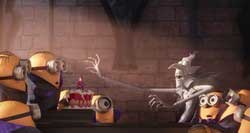 "Minions
": The breakout stars from the "Despicable Me" franchise headline their own animated movie that follows the saga of the Minions and how they evolved through the ages, perpetually serving (and accidentally eliminating) the most despicable of masters. Continuously unsuccessful at keeping these masters -- from T. rex to Napoleon -- the Minions find themselves without someone to serve and fall into a deep depression. But one Minion named Kevin has a plan, and he -- alongside teenage rebel Stuart and lovable little Bob -- ventures out into the world to find a new evil boss for his brethren to follow. Great fun for the little ones (and adults with little ones). With the voices of Sandra Bullock, Jon Hamm, Michael Keaton, Allison Janney, Steve Coogan, Jennifer Saunders, Geoffrey Rush, Pierre Coffin. From Universal.

"Ant-Man
": Yet another action hero from the never-ending Marvel universe. When a petty crook named Scott Lang gets his hands on a formula that enables him to shrink down to an insect's size, Hank Pym, the original Ant-Man and inventor of the formula, comes along to mentor Scott in taking over the role to become a crimefighter and defender of the world. Stars Paul Rudd, Michael Douglas, Evangeline Lilly, Corey Stoll, Bobby Cannavale, Judy Greer, Michael Pena, Anthony Mackie. From Disney.


BUZZIN' THE 'B'S:

In "Partisan
" (2015), starring Vincent Cassel, Florence Mezzara and Jeremy Chabriel, 11-year-old Alexander (Chabriel) lives in a sequestered, dystopian commune, alongside other children, their mothers, and charismatic leader, Gregori (Cassel). Gregori teaches the children how to raise livestock, grow vegetables, work as a community -- and how to kill. As Alexander nears his first job as an assassin, he begins to question the ways of the commune, particularly Gregori's quiet but overpowering influence. Threatened by Alexander's increasing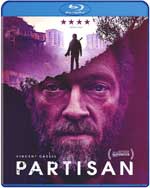 unwillingness to fall in line, Gregori's behavior turns erratic and adversarial toward the child he once considered a son. On DVD, Blu-ray Disc from Well Go USA ... "One & Two
" (2015), starring Kiernan Shipka, Timothee Chalamet and Elizabeth Reaser, is a Southern Gothic science-fiction film in which two siblings discover a supernatural escape from a troubled home, but find their bond tested when reality threatens to tear their family apart. Zac and Eva live in a confined, isolated world under the constant watch of a father who rules with strict routine and discipline. They live for nightfall, for moments of escape, and rely on each other for moments of levity. After a long dormant illness returns, their mother, once a beacon of light and joy, struggles to unite the family in an increasingly somber home. As their father searches for a divine answer to the heartbreaking circumstances of his crumbling world, Zac and Eva steal moments to explore their burgeoning otherworldly abilities and to dream of a life free of limitations. On DVD, Blu-ray Disc from IFC Midnight/Shout! Factory ... In "One Eyed Girl
" (2014), a young psychiatrist on the brink of a nervous breakdown after the death of a patient to whom he was inappropriately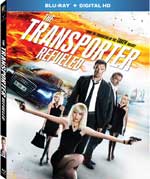 close meets a mysterious teenager and the representative of a secret church that promises salvation to even the most troubled of its members ... but a series of a tragedies befalls the group after he joins. Stars Steve Le Marquand, Sara West, Mark Leonard Winter, Tilda Cobham-Hervey, Craig Behenna. On DVD, Blu-ray Disc from Dark Sky Films ... In the sequel "The Transporter Refueled
" (2015), starring Ed Skrein, Ray Stevenson, Loan Chabanol, Gabriella Wright and Tatiana Pajkovic, Frank Martin (Skrein) is the best driver money can buy, willing to deliver anything for a price. But when his father (Stevenson) is kidnapped by a gang of gorgeous thieves, Frank must shift his skills into overdrive to rescue him. On DVD, Blu-ray/DVD Combo, from Fox ... In "Knock Knock
" (2015), starring Keanu Reeves, Lorenza Izzo and Ana de Armas, when a devoted husband and father is left home alone for the weekend, two stranded young women unexpectedly knock on his door for help. What starts out as a kind gesture results in a dangerous seduction and a deadly game of cat and mouse, wreaking havoc upon his life and turning a married man's dark fantasy into his worst nightmare. From Lionsgate.


FOREIGN:

In "Blind
" (Norway -- 2015), Ingrid -- lithe, beautiful, and married to an up-and-coming architect -- is a woman contending with the recent loss of vision. While attempting to navigate a world without sight, she spends her days reconstructing the visual world by writing salacious stories that slowly morph into fantasies about her husband and other characters that may or may not actually exist. When real-life crashes into Ingrid's creations, she must finally come to terms with her new reality. Screenwriter Eskil Vogt's ("Oslo, August 31," "Louder Than Bombs") highly acclaimed directorial debut. Stars Ellen Dorrit Pettersen, Henrik Rafaelsen, Vera Vitali, Marius Kolbenstvedt. From Icarus Films.


SPECIAL INTEREST:

In "Xmas Without China
" (2013), two families living worlds apart in the same community collide when pride and mischief inspire Chinese immigrant Tom Xia to challenge the Jones family to celebrate Christmas without any Chinese products. Fed up with toy and food recalls, the Jones family accepts the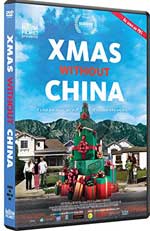 consumer mission-impossible and is drawn into a surprising intercultural exchange with the Xia family. As the Joneses wrestle with the escalating influence of China in their lives and Tom struggles to get beyond the stereotypes, he realizes that he's on a deeper journey to understand the complexities of his own divided loyalties between the U.S. and China. In English and Mandarin, with English subtitles. From Bullfrog Films/Icarus Films ... Based on a widely republished New Yorker essay by best-selling novelist Jonathan Franzen, the documentary "Emptying the Skies
" (2015) exposes the rampant poaching of migratory songbirds in southern Europe. Songbird populations have been drastically declining for several decades, with a number of species facing imminent extinction. This poignant documentary explores the wonder of these tiny globe-trekking marvels, millions of which are unlawfully slaughtered each year for large sums on the black market, and follows the intrepid squad of pan-European bird-lovers waging a secret war against poachers, disrupting illegal trapping to free as many as possible. From Music Box Films.


FROM TV TO DVD:

For two seasons (1976-1978) and 37 episodes, Don Rickles brought his distinctive brand of comedy to NBC-TV as the star of "CPO Sharkey." Politically incorrect before the term existed, Rickles' character, Chief Petty Officer Otto Sharkey, a 24-year naval veteran, had pretty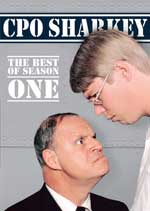 much seen and heard it all, and he whipped his recruits into shape at the San Diego naval training center with his sharpened shards of wisdom. "CPO Sharkey: The Best of Season One" delivers six complete episodes as they originally aired on NBC, highlighting Rickles' snappiest sitcom performances. Episodes include "Oh Captain My Captain," where the chauvinistic Sharkey meets his new commanding officer, who turns out to be a woman; "The Dear John Letter," in which Chief Robinson (Harrison Page) suspects Sharkey to be a smooth ladies man; "Goodbye Dolly," featuring an inflatable doll that causes a ruckus in the barracks until everyone's favorite Chief Petty Officer quickly deflates the situation; "Sunday in Tijuana," with some South of the Border jail time for the men of Company 144; "Sharkey Boogies on Down," where Rickles tests his dance moves at a disco for Chief Robinson's birthday; and "Sharkey's Secret Life," in which the recruits are convinced that Sharkey may be gay after he purchases a toupee from a mysterious, shoulder-purse-toting wig salesman. On DVD, $12.95 from Time Life ... "Family Guy Season 13" (2014-15) is a three-disc set with 18 episodes. From Fox ... "Hannibal: Season Three" (2015) is a four-disc DVD, three-disc Blu-ray with all 13 episodes of the series based on the characters and elements appearing in the novel "Red Dragon." Stars Mads Mikkelsen as the iconic Hannibal Lecter, Hugh Dancy, Gillian Anderson, and Laurence Fishburne. Hannibal (Mikkelsen) is on the run in Europe -- accompanied by his psychiatrist,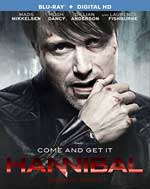 Bedelia Du Maurier (Anderson) -- sporting a new identity, but servicing the same insatiable appetite. As the lives of Will (Dancy) and Jack (Fishburne) converge toward Hannibal again, each with their own motivations to catch him once and for all, their deadly dance turns in startling and unexpected ways. From Lionsgate ... "The Unauthorized Full House Story" (2015), starring Garrett Brawith, Justin Mader, Justin Gaston, Stephanie Bennett, Writtney Wilson, Jordyn Ashley Olson, is a "tell-all" TV movie based on the 90s sitcom that showcases the "Full House" stars' rise to fame and their attempts to balance life on and off the screen. "Full House" is more popular than ever with an eagerly anticipated Netflix continuation "Fuller House." The movie also explores the warm bond that grew between the actors over the eight-year run of the show. From Lionsgate.

Check out other December 8-December 14 DVD releases and reviews at OnVideo.