New on DVD and Blu-ray Week of December 1-December 7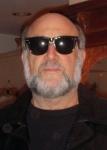 By Harley Lond - 12/01/15 at 01:48 AM CT
THIS WEEK'S THEATRICAL RELEASES:

The last few years have seen a resurgence of the documentary as a bearer of truth and beauty; this year alone has given us "Best of Enemies," "Going Clear: Scientology and the Prison of Belief," "Iris," "The Wolfpack," "Steve Jobs: The Man in the Machine," "Citizenfour" and "Sinatra: All or Nothing at All." Add to that list "Amy," the incredible story of six-­time Grammy-award winner British singer-songwriter Amy Winehouse, directed by BAFTA award­-winning director Asif Kapadia ("Senna"). Kapadia had unprecedented access to archival footage, performance videos, audition tapes, and personal testimonies by Winehouse, her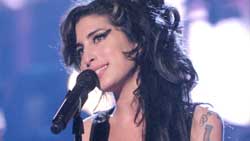 friends and family, to weave together the intimate and moving story of Winehouse, an incredible Jazz-soul singer whose troubled life led to her death from alcohol poisoning in July 2011 at the age of 27. Winehouse wrote and sung from the heart using her musical gifts to analyse her own problems, and the combination of her raw honesty and talent resulted in two award-winning and chart-topping albums. The documentary follows Winehouse from child prodigy through troubled teen years to success, documenting her rise to fame, the intrusion of the media into her life, her troubled relationships with her father and husband, and her descent into substance abuse. It's a sad, affecting story of wasted potential, not to be missed. Extras for Amy

include previously unseen performances, deleted scenes and commentary with director Kapadia. From Lionsgate.

Also due this week: the very scary "Goodnight Mommy
," an Austrian thriller about a pair of twins who are not sure that the woman who has just returned from the hospital, swathed in bandages after face surgery, is really their mother ... and "Mistress America
," the latest outing from director Noah Baumbach, about a lonely college freshman in New York (Lola Kirke) who comes under the spell of her footloose soon-to-be stepsister (Greta Gerwig) and her wacky schemes.


THIS WEEK'S BEST BETS: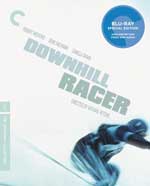 Though not one of our favorite Michael Ritchie films (we prefer "Smile" and "The Candidate") "Downhill Racer
" (1969) is an exciting sports film featuring astonishing alpine locations and a young Robert Redford in one of his earliest big-screen roles. Redford stars as David Chappellet, a ruthlessly ambitious skier competing for Olympic gold with an underdog American team in Europe, and Gene Hackman provides tough support as the coach who tries to temper the upstart's narcissistic drive for glory. Ritchie's first theatrical feature makes its Blu-ray debut this week from The Criterion Collection.


BUZZIN' THE 'B'S:

In "Tokyo Tribe
" (2014 -- Japan), set in a futuristic Japan, territorial street gangs form opposing factions collectively known as the Tokyo Tribes. When one of the gang leaders breaks the fragile peace, it triggers a brutal street war for supremacy. Based on a popular Manga series and told almost entirely in rap verse, the film is an ingenious mash-up of Yakuza gang violence, martial arts action and hip-hop musical. Stars Ryohei Suzuki and Young Dais. On DVD, Blu-ray Disc from XLrator Media ...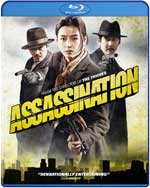 The South Korean colonial-era espionage drama "Assassination
" (2015 -- South Korea) follows a group of exiled rebels, who in order to assassinate an enemy army commander in Japanese-occupied Korea in 1933, must break a killer out of prison, all the while trying to discover who amongst their midst is a traitor. On DVD, Blu-ray Disc from Well Go USA ... In "Some Kind of Beautiful
(aka How to Make Love Like an Englishman)" (2015) Richard (Pierce Brosnan) is a successful college professor who gives up a steady stream of one-night-stands and beautiful undergrads for fatherhood with much younger Kate (Jessica Alba). Three years later when Kate falls in love with someone else and moves out, she sends her sister, Olivia (Salma Hayek), to make sure Richard is properly caring for their son. Assuming Richard is back to his irresponsible playboy lifestyle, Olivia is shocked when she starts to fall in love with him. On DVD, Blu-ray Disc from Lionsgate ...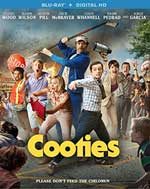 When a cafeteria food virus turns elementary school children into little killer savages, a group of misfit teachers must band together to escape the playground carnage in "Cooties
" (2015), a misfired horror-comedy starring Elijah Wood, Rainn Wilson, Alison Pill, Jack McBrayer and Leigh Whannell. On DVD, Blu-ray Disc from Lionsgate ... "War Pigs
" (2015), starring Dolph Lundgren, Luke Goss, Chuck Lidell and Mickey Rourke, is an action-thriller that follows a rag-tag band of military misfits lead by disgraced Army Captain Jack Wosick (Goss) on a World War II mission to capture a Nazi-developed super weapon, the V3, which could give the Germans an insurmountable advantage against the Allies. On DVD, Blu-ray/DVD Combo from Cinedigm ... In the period piece "The Guardsman
" (2015 -- China), the Chinese emperor travels in disguise to understand the problems that his people face but his enemies discover his identity and team up with Japanese pirates to assassinate him. Now, it's up to a group of loyal warriors to protect their Emperor and bring peace to the kingdom. From Lionsgate ... A young woman returns home after her mother's death to nurse the father who abused her in "Where Children Play
" (2015), starring Teyonah Parris, Brian White, Leon Robinson and Macy Gray. From RLJ Entertainment ...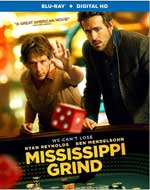 "Mississippi Grind
" (2015), starring Ryan Reynolds, Ben Mendelsohn, Sienna Miller, Analeigh Tipton and Alfre Woodard, is a well wrought road trip down the Mississippi river as two men go for broke in the high-risk world of gambling for the chance to win the prize of a lifetime. Down-­on-­his-­luck gambler Gerry (Mendelsohn) and his hot-streak buddy Curtis (Reynolds) hit the road for New Orleans, on the hunt for the big payday. On riverboats and racetracks they chase women and thrills -- before risking it all in the wager of their lives. On DVD, Blu-ray Disc from Lionsgate ... In "Zero Tolerance
" (2015), starring Dustin Nguyen, Gary Daniels and Scott Adkins, two former para-military operatives, Johnny and Peter, search Bangkok to find the killers of Johnny's daughter, Angel. But when Angel turns out to have a darker past than her name suggests, her father will stop at nothing to uncover the truth, avenge her death, and restore her reputation. From Lionsgate.


FOREIGN:
"Olvidados
(Forgotten)" (2015 -- Bolivia), starring Damian Alcazar, Rafael Ferro, Carla Ortiz, Tomas Fonzi, Bernardo Pena, Carlotto Cotta and Ana Calentano, is a stirring drama that exposes the repression that flourished in Latin America in the 1970s. After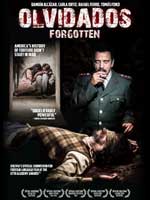 suffering a heart attack, retired General Jose Mendieta (Alcazar) is haunted by his dark past as an officer in Operation Condor, the CIA-backed campaign of political repression in Latin America that was responsible for executions, torture, and imprisonments in the 1970s. It is estimated that over 400,000 people were imprisoned and 30,000 forcibly disappeared as a result of these government actions. In a letter to his son Pablo (Pena), Mendieta confesses the role he played in the abduction, persecution, and execution of countless men and women during his posting to Chile. Journalist Marco (Cotta) and his pregnant wife Lucia (Ortiz) are among those who were arrested, along with their activist friend Antonio (Fonzi) and revolutionary Andrea (Calentano). They suffer terribly under Mendieta and his cohort Sanera (Ferro), which leads to a cascade of betrayals, secrets, and stolen lives that spans generations. From Cinema Libre Studio.


FOR THE FAMILY:

In "Get Santa
" (2014), starring Jim Broadbent, Rafe Spall, Ewen Bremner and Warwick Davis, a father and son team up to save Christmas once they discover Santa Claus sleeping in their garage after crashing his sleigh and finding himself on the run from the police. From Lionsgate ... "Teenage Mutant Ninja Turtles: Revenge!" (2015) is a two-disc set with the last 12 episodes from Season Three of Nickelodeon's hit-animated series. $19.99 from Paramount.


SPECIAL INTEREST:
"Roger Waters The Wall
" (2015) is a brand new feature film written and directed by Pink Floyd founder Roger Waters and Sean Evans. The film unfolds on many levels -- an immersive and undeniably epic concert experience of the classic Pink Floyd album, a road movie of Waters' reckoning with the past and an anti-war protest film, highlighting the human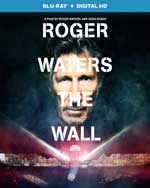 cost of conflict. The film received a one night only global cinema release in September, where hundreds of thousands of fans worldwide witnessed the impact of The Wall in a special cinematic event. Shot during "The Wall Live" sold-out 2010-13 world tour and seen by over 4 million fans at 219 shows over a period of three years, the show was the highest grossing tour by any solo artist in history. The film, shot in 4K and mixed in Dolby Atmos, features never-before-seen concert footage and includes the hits "Another Brick in the Wall Part 2," "Comfortably Numb" and "Run Like Hell." Beyond the music, the film follows Waters as he embarks on a deeply personal pilgrimage and reflects on the impact of war with his own family. Woven throughout the film, Waters travels to France to the site where his grandfather is buried, and Italy to a memorial for his father -- both lost to war. The journey offers a revealing, candid portrait of a man who is passionately and unapologetically anti-war. Available on DVD and two-disc Blu-ray. From Universal ... "Jerusalem" (2015) is a new documentary from National Geographic that brings one of the world's oldest, most fabled cities and a holy center of three major religions to life in 3D. Filmed in 3D for IMAX and giant-screen theaters. Discover why this tiny piece of land is sacred to Jews, Christians and Muslims through the experiences of three young Jerusalem women -- one Muslim, one Jewish and one Christian -- as they celebrate the city's vibrant life and various holiday traditions. Join world-renowned archaeologist Dr. Jodi Magness as she explores underground tunnels and ancient ruins to solve some of the city's greatest mysteries. Find out why, after thousands of years, Jerusalem and the Holy Land continue to stir the imagination of billions of people. Features unprecedented access to the city's holiest sites, as well as rare and breathtaking aerial footage. Narrated by Benedict Cumberbatch. On DVD, 3D Blu-ray/Blu-ray Disc, 3D Blu-ray/Blu-ray/DVD Combo from MPI/Film Buff ...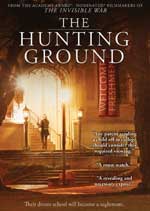 "The Hunting Ground
" (2015) is an expose of rape crimes on U.S. college campuses, their institutional cover-ups, and the devastating toll they take on students and their families. Weaving together verite footage and first person testimonies, the film follows the lives of several undergraduate assault survivors as they attempt to pursue -- despite incredible push back, harassment and traumatic aftermath -- both their education and justice. The documentary was written and directed by Kirby Dick. On DVD, Blu-ray Disc from Radius/Anchor Bay.

Check out other December 1-December 7 DVD releases and reviews at OnVideo.