New in Theaters November 25: Creed, The Good Dinosaur, Victor Frankenstein
By Chris Kavan - 11/25/15 at 11:33 AM CT
There is plenty to give thanks for over the extra-long holiday weekend. Thanksgiving brings us a boxing icon in hard-hitting spinoff that may be a franchise starters, Pixar's latest offering that is likely to be just as popular as their previous films and a campy new take on a very old horror story. With Bond, Katniss and crazy Christmas hijinks also hanging around, it should be a very good weekend for Hollywood and hopefully we'll all have something to be thankful about this year.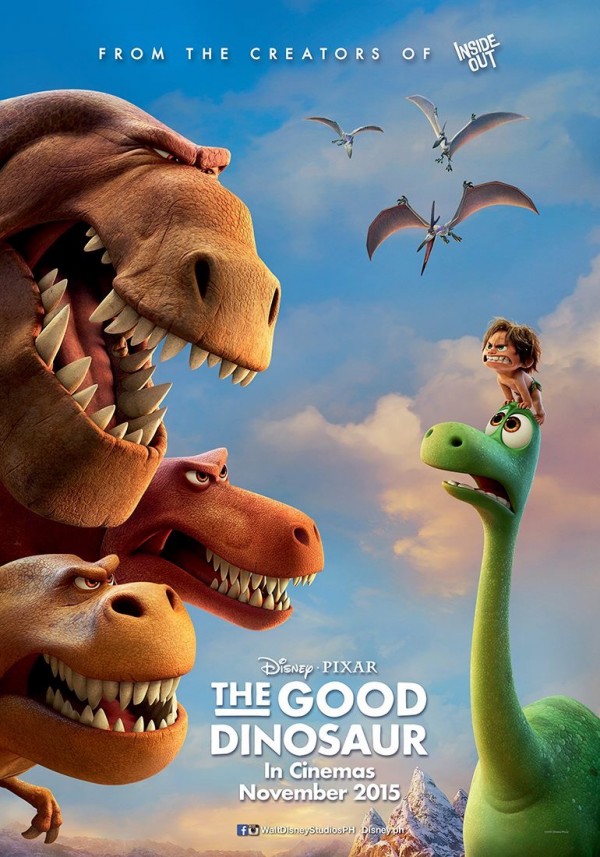 THE GOOD DINOSAUR Pixar has already had one certified hit this year with Inside Out (currently $851.4 million worldwide) and has one of the best track records out of any studio. I see no reason why The Good Dinosaur won't continue this trend. The film comes out over Thanksgiving - when families are together - when they're not enjoying the bounty on the table or shopping - they need something to do and The Good Dinosaur is the obvious choice. The film essentially asks what would have happened if the dinosaurs hadn't been wiped out - and how they would get along with humans. The voice talent looks great - Steve Zahn, Sam Elliott, Anna Paquin, Frances McDormand, Jeffrey Wright with Raymond Ochoa and newcomer Jack Bright taking on the roles of Arlo and Spot our main dinosaur/human dynamic duo. Even up against Creed and Hunger Games I have no doubt The Good Dinosaur will dominate this extended holiday weekend. We'll see how it stacks up against their previous films, but I have no doubt it will also be a smash hit.

CREED I admit, when I first heard about Creed, I wasn't at all interested. The last attempt to revive the Rocky franchise (Rocky Balboa) left me wanting. However, I think Creed is going so succeed mainly because Rocky (Sylvester Stallone, in his iconic role) isn't the focus. He plays a role, yes (similar to Micky in the original Rocky) but the film (if you couldn't tell by the title) focuses on Adonis Johnson (Michael B. Jordon) son of legendary boxer Apollo Creed and how he tries to live up to his father's name while also stepping out of his shadow. The trailers really do make the film looks like a winner - lots of drama and good characters development. If adults aren't saddled with children for The Good Dinosaur - I have a good feeling this might be the next best thing. Granted, The Hunger Games and Bond are still out there, but Creed seems to cater to a more adult crowd. While it will likely fall short of The Good Dinosaur and Mockingjay - Part 2, the reviews have been stellar and I think Creed will still pack quite a punch over the extended holiday weekend.


VICTOR FRANKENSTEIN That leaves us with the outlier, Victor Frankenstein. The classic monster take is told from the perspective of Igor (Daniel Radcliffe) as he becomes entangled with the life and plans of the brilliant Victor Frankenstein (James McAvoy) - as he creates the monster that will forever bear his name. By all accounts, the main actors ham up the entire proceedings - meaning if you are looking for a dark, serious take on the story - you've come to the wrong place. The film was delayed - never a good sign - and reviews have been pretty terrible. I doubt this will place in the top five and is destined for a quick turnaround and will probably debut on home viewing in the near future.


The Thanksgiving holiday weekend is traditionally one of the most robust of the year. I see no reason why this year will be any different as there are plenty of strong films opening. I'll be back Sunday with the results.