New on DVD and Blu-ray Week of November 17-November 23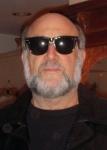 By Harley Lond - 11/17/15 at 02:47 AM CT
THIS WEEK'S THEATRICAL RELEASES:
Director Guy Ritchie's "The Man from U.N.C.L.E." isn't really "The Man From U.N.C.L.E." It's actually a feature film prequel to the very popular -- and hip for its time -- 1960s spy spoof TV series of the same name (starring Robert Vaughn and David McCallum), and as such has to be evaluated as a standalone thriller -- U.N.C.L.E. doesn't appear until the fading moments of the film. That being said, this U.N.C.L.E. is a distant relative to Ritchie's "Sherlock Holmes," offering a mix of action, slapstick, comedy and tongue-in-cheekery that
worked so well in that 2009 Robert Downey Jr.-Jude Law adventure, but that here just doesn't congeal. At the height of the Cold War in the early 1960s, a neo-Nazi criminal group is working on creating a nuclear bomb to upset the fragile balance of power between the United States and Soviet Union. Called into action are CIA agent Napoleon Solo (Henry Cavill) and KGB agent Illya Kuryakin (Armie Hammer), who are forced to work together to track down a German scientist responsible for the bomb. Their only lead is the scientist's daughter (Alicia Vikander), and the threesome travel from East Germany to Italy to put the criminal organization out of business. With a humdrum, by-the-numbers storyline and zero chemistry between the three leads, this U.N.C.L.E.
is all style and little substance. Solo's flip retorts and Kuryakin's outbursts of anger grow tiresome after awhile, and even the cool cars, the stunning clothes and the gorgeous scenery cant pull this from a quagmire of spy drudgery. Co-stars Elizabeth Debicki, Jared Harris and Hugh Grant. Even the extras are weak, with a couple behind-the-scenes featurettes, the highlight being a brief foray into how the filmmakers tried to recreate "'60s Cool." From Warner.

Also due this week: Director Ken Loach's "Jimmy's Hall
," a true story about a freewheeling young activist who builds a dance hall that develops a socialist and free-spirited reputation during 1920s and 30s Ireland. From Sony; and "We Are Your Friends
," about an aspiring 23-year-old DJ (Zac Efron) who spends his days scheming with his childhood friends and his nights working on the one track that will set the world on fire. From Warner.


THIS WEEK'S BEST BETS:
"In Cold Blood
," Truman Capote's best seller, a breakthrough narrative account of real-life crime and punishment, became an equally chilling film in the hands of writer-director Richard Brooks in 1967. Cast for their unsettling resemblances to the killers they played, Robert Blake and Scott Wilson gave authentic, unshowy performances as Perry Smith and Richard Hickock, who in 1959 murdered a family of four in Kansas during a botched robbery. Brooks brought a detached, documentary-like starkness to this uncompromising view of an American tragedy and its aftermath; at the same time, stylistically "In Cold Blood" is a filmmaking master class, with clinically precise editing, chiaroscuro black-and-white cinematography by the great Conrad L. Hall and a menacing jazz score by Quincy Jones. The disturbing and harrowing film -- which still haunts my memory these many decades since I first saw it on the big screen -- arrives in new DVD and Blu-ray editions with a new 4K digital restoration, with 5.1 surround DTS-HD Master Audio soundtrack on the Blu-ray. From The Criterion Collection ...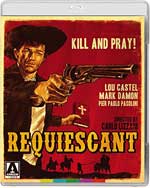 "Requiescant
" (1967), directed by Carlo Lizzani ("Wake Up and Kill," "The Hills Run Red"), is one of finest Spaghetti Westerns from the Golden Age of post-Neo-realism Italian cinema. As with most of its ilk, "Requiescant" -- Latin for "Rest in Peace" -- is a revenge melodrama, but Lizzani throws in for good measure a soupcon of politics, ethics, religion, misogyny, and battles for freedom and justice. Lou Castel plays a young man who was raised to be a pacifist by a travelling preacher after his family was massacred by a group of Confederate misfits bent on enslaving Texas' Mexican population. When his step-sister runs away, he follows her to the heart of evil in San Antonio, where he discovers that he has a natural talent for gunfighting, which in turn leads him to a bloody and unexpected confrontation with his past. While Castel is naif-killer, Mark Damon is terrific as a suave, sadistic and psychopathic aristocratic villain, Franco Citti is truly nasty as his henchman, and the great Italian filmmaker Pier Paolo Pasolini males a rare acting turn as a stoic revolutionary priest. In a new 2K restoration from the original camera negative, with optional English and Italian soundtracks in uncompressed PCM mono audio. From Arrow Video/MVD Entertainment.


BUZZIN' THE 'B'S:
"Living in Oblivion
: The 20th Anniversary Edition" (1995), starring Steve Buscemi, Catherine Keener, Dermot Mulroney, James Le Gros, Peter Dinklage and Danielle Von Zerneck, is an inventive, hilarious look behind the scenes of the movie-making business that takes place during one day on set of non-budget movie. The leading man has just had a disastrous one-night stand with the leading lady; the cinematographer is breaking up with the assistant director; the director's mother has wandered onto the set; and the little person hired for the dream sequence has a big attitude. From Shout! Factory ... "Dark Film Mysteries" features 11 film noir classics for $19.98: "Woman on the Run" (1950), "Quicksand" (1950),
"Detour" (1945), "Inner Sanctum" (1948), "Kansas City Confidential" (1952), "The Stranger" (1946), "Fear in the Night" (1947), "The Strange Woman" (1946), "The Red House" (1947), "The Strange Love of Martha Ivers" (1946) and one of the moodiest, blackest thrillers ever made, Fritz Lang's steamy and fatalistic "Scarlet Street" (1945). From Film Chest Media Group ... "Gene Autry Movie Collection 12
" is a two-disc set, $19.97. Gene Autry is the only entertainer with all five stars on Hollywood's Walk of Fame, one each for Radio, Recording, Motion Pictures, Television and Live Performance. He was the silver screen's first singing cowboy and is credited with creating the genre of the musical B Western. As the star of 89 feature films, Gene brought music, comedy and action to each of his roles. Autry's rollicking big screen adventures and unforgettable tunes are brought home in these four classics, fully restored and uncut from Autry's personal film archives, in their DVD debuts: "The Sagebrush Troubadour" (1935), "Ride, Ranger, Ride" (1936), "Yodelin' Kid from Pine Ridge" (1937) and "Gold Mine in the Sky" (1938). From Timeless Media Group ... In "White of the Eye
" (1987), starring David Keith and Cathy Moriarty, a sound expert is targeted as the prime suspect of a series of brutal murders of local suburban housewives who were attacked and mutilated in their homes. As he desperately tries to prove his innocence, his young wife starts to uncover mysteries of her own. In a Blu-ray/DVD Combo from Scream Factory ... During a blizzard at Christmas, a man becomes snowbound with his ex-wife, her wealthy suitor, his former mother-in-law and his daughter in "Merry Ex-Mas" (2014), starring Kristy Swanson, Dean Cain, Lochlyn Munro, Jodi Lyn O'Keefe, Shannon Kummer. From Monarch Home Entertainment.


ON THE INDIE FRONT:

In "A Horse Tale
" (2015), starring Charisma Carpenter, Patrick Muldoon, Dominique Swain and Mandalynn Carlson, an uptight city accountant, struggling to raise his teenage daughter on his own, moves to the country to help a friend save his family stables before ruthless bank managers shut it down. Approved for all ages by the Dove Foundation. From Lionsgate ... What happens when a college psychology study goes shockingly wrong? Based on the notorious true story, "The Stanford Prison Experiment
" (2015) stars Billy Crudup as Stanford University professor Dr. Philip Zimbardo, who, in 1971, cast 24 student volunteers as prisoners and guards in a simulated jail to examine the source of abusive behavior in the prison system. The results
astonished the world, as participants went from middle-class undergrads to drunk-with-power sadists and submissive victims in just a few days. Co-stars Ezra Miller, Olivia Thirlby, Tye Sheridan, Keir Gilchrist, Michael Angarano, Ki Hong Lee, Thomas Mann. From IFC Films ... In "Swim Little Fish Swim
" (2014), starring Dustin Guy Defa, Lola Bessis, Brooke Bloom and Anne Consigny, a dysfunctional family -- where the wife is a hardworking nurse who resents her husband for being an irresponsible, overgrown adolescent, incapable of holding down a job, and the husband is an atypical, idealistic musician who fancies himself a misunderstood artist and a New Age visionary -- comes further unglued when a 19-year-old French artist and the daughter of a world famous painter, who is trying to make it in New York and get away from an overbearing mother, moves into the couple's tiny Chinatown apartment. From IndiePix ... In "Santa's Little Helper" (2014), starring WWE superstar Mike "The Miz" Mizanin, Diva Paige and AnnaLynne McCord, a slick-talking businessman who loses his job is given the chance of a lifetime -- to be Santa's second-in-command. But to earn the coveted position, he'll have to wage an outrageous battle against a scheming elf who wants the gig for herself. From Fox.


SPECIAL INTEREST:

Mary Tyler Moore's stage and screen career is paved with a slew of awards and nominations: Moore has earned seven Emmys (two for her role of the beloved Laura Petrie on "The Dick Van Dyke Show" and four for "The Mary Tyler Moore Show"), three Golden Globes (one for" Ordinary People," "The Mary Tyler Moore Show," and "The Dick Van Dyke Show" respectively), a Tony Award ("Whose Life Is It Anyway?"), and an Academy Award Nomination ("Ordinary People"). Behind the scenes, Moore devoted her life to the American Diabetes Association. "Mary Tyler Moore: A Celebration" (2014) features dozens of classic clips -- plus comments from Betty White, Ed Asner, Valerie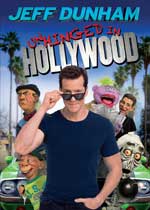 Harper, Cloris Leachman, Gavin MacLeod, John Amos, Carl Reiner, Dick Van Dyke, and Mary Tyler Moore herself. Plus, Oprah Winfrey recounts Mary Tyler Moore's critical role in inspiring Oprah—and millions of others—as TV's first independent career woman. From PBS Distribution ... Jeff Dunham's wildly dysfunctional family, including Walter, Peanut, Bubba J, Little Jeff and Achmed the Dead Terrorist, has performed all over the world. Now, for the first time, they're heading to one of the strangest places on Earth: Hollywood, California. In "Jeff Dunham's Unhinged in Hollywood" (2015), his iconic characters take over the framed Dolby Theater, home to film and television's greatest awards shows, and find themselves in true culture shock: Achmed lets celebrity go to his head, Bubba J is lost in LA-LA-land, and Walter would rather be anywhere else. On DVD, Blu-ray Disc from Universal.


FROM TV TO DVD:

In "Christmas Mix" (2014), starring Haylie Duff, Tilky Jones, Maureen McCormick and Jim O'Heir, a cynical radio host is banished to Idylwild, Colorado, where his on-air spats with a hopeless romantic, and their antagonistic relationship, sparks the interest of the whole town. From Monarch Home Entertainment ... "McHale's Navy: The Complete Series" (1962-66) is a 21-disc set with all 138 episodes, $169.99 from Shout! Factory ... "The Rebel: Season Two" (1960-61) is a six-disc set featuring all 40 episodes from "The
Rebel's" second and final season, $34.99. The series chronicled the adventures of former Confederate soldier Johnny Yuma (Nick Adams). Haunted by his experiences in the Civil War, the young and intense Yuma wanders the West in search of causes to champion, wrongs to be righted ... and his own inner peace. With a revolver and a double-barreled shotgun at the ready, Yuma is more than a match for anyone who crosses his path. From Shout! Factory ... "Sgt. Bilko/The Phil Silvers Show: The Final Season" (1958-59) Five-disc set with all 36 episodes from the classic fourth and final season. One of the quintessential classics of television's golden age, this Emmy-winning comedy is filled to the brim with laughs, brought to you by comic genius Phil Silvers in his signature role as Master Sergeant Ernest G. Bilko. Bilko and his lovable platoon find themselves in for a change in Season 4 when they transfer to California's Camp Fremont. Of course, Bilko's crazy schemes will continue -- but will Colonel Hall (Paul Ford) have the last laugh? Featuring cameo appearances by some of Hollywood's biggest superstars, including Dean Martin and Lucille Ball. From Shout! Factory.

Check out other November 17-November 23 DVD releases and reviews at OnVideo.